Democracy
Mother writes a powerful open letter to 'the mom sending her unmasked kids to school this fall'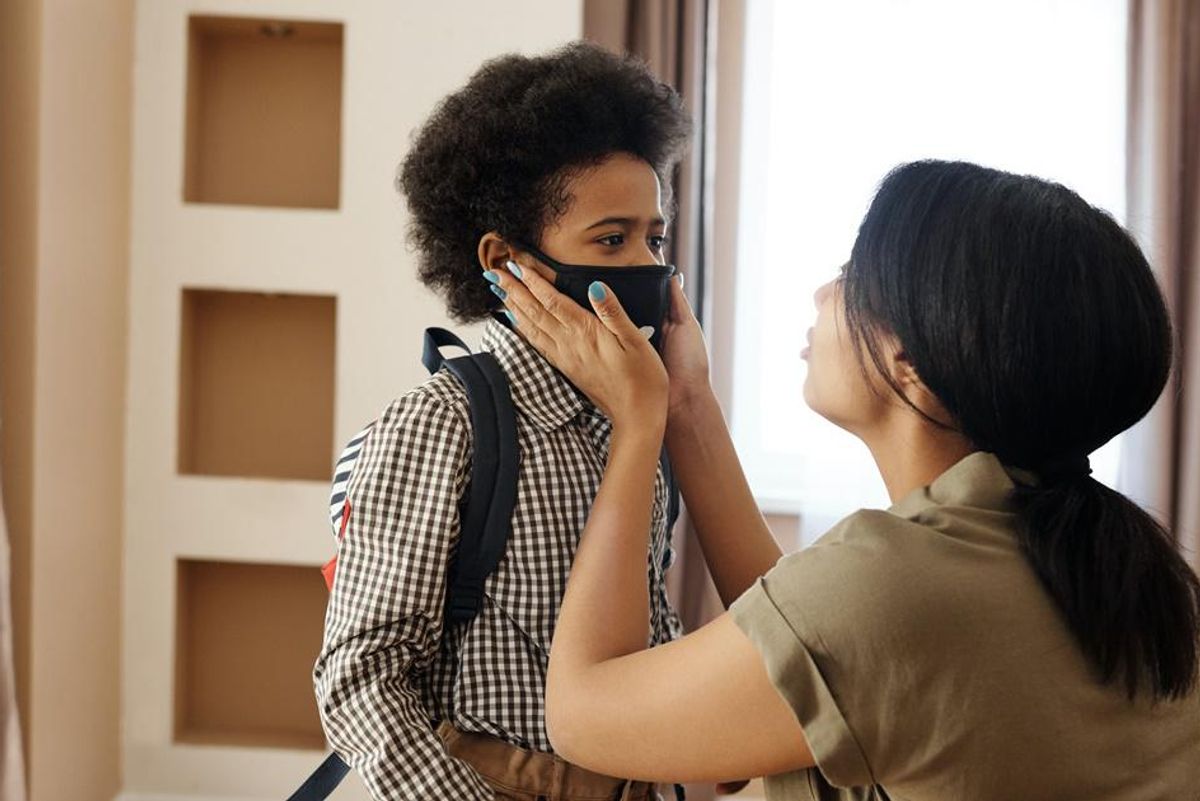 via Pexels
As kids begin returning to school after a year that was disrupted by the pandemic, masks have become a hot-button issue. While a majority of parents (63%) believe their child's school should require unvaccinated students and staff to wear masks, millions of kids will be attending schools where they are optional.

There is no mask mandate in most U.S. states, so districts are free to do what they choose to protect children.
Currently, vaccines aren't available for children 11 and under and only 30% of kids 12 through 17 are fully vaccinated.
---
Due to the spread of the Delta variant, the CDC is recommending universal indoor masking for all students ages two and up regardless of vaccination status.
"I do think that mask mandates or universal masking in the school setting should be enforced ... there are still a lot of very susceptible individuals that will be attending school in person," Dr. Tina Tan, professor of pediatrics at Northwestern University, said according to CNBC.
However, even though the country's top doctors and scientists say that kids should wear masks in school to protect themselves and to prevent them from spreading the virus to others, millions will go maskless in schools this year.
Today Parents contributor, jthreeNMe from Tampa, Florida, wrote a powerful open letter to the parents who send their kids to school without masks. The message is even more important in her area because Tampa has recently hit its highest 7-day case average of the entire pandemic.
Hillsborough County's COVID-19 data appears to show a "pandemic of the unvaccinated," according to Mike Wiese, an e… https://t.co/eEQubR7h4U

— FOX 13 Tampa Bay (@FOX 13 Tampa Bay) 1629387905.0
Over 1400 cases were linked to students and staff after school resumed last week.
Here's an edited version of the letter, you can read the entire piece at Today.

Please rethink your decision. And, if you do, and you come to the same non-masking conclusion, I just ask this of you… Please encourage your child not to mock mine for wearing one.

Your kid is following your guidance, which is to trust that corona isn't going to be the thing to take them (or anyone close to them) out. And mine is following mine, which is to be wary that it just might and to be understandably cautious ... just in case.
The mother points out that asking your kids to be accountable to themselves and others is one of the most important learning experiences that children have in school. Sending them maskless upends one of the major goals of their educational experience.
Another school year tainted by corona gives each of us, parents and students and even administrators and teachers alike, another shot at proving just how capable we are of putting our dissimilarities aside and our strength at the forefront, zooming in and focusing on what it is we do have in common in order to grow -- not just in relation to education but us as 'whole people' humans living as close to harmony as possible with one another.
One of the most important things a parent can do is teach their child that they are not the center of the universe and that they have a responsibility to others. If not, the child will grow up entitled and when they come to the harsh realization that the world doesn't revolve around them, they're in for some major pain.
Studies show that kids raised to be entitled wind up becoming unhappy adults.
If there's anything to be gained from this difficult time as a parent is that it's an opportunity to teach your child real responsibility at a time when it matters the most. Kids can tell when their parents are being part of the problem and they want to do what's right and to be "good." Give these kids the opportunity to stop the spread of the virus and let them know they're doing what's right for themselves and their community.