True
Maria Ducasse of Brooklyn is an inspiring example of how one person can unite a community to ensure no one loses their pet because of hardship.
Three years ago, she founded East New York Dog Lovers a nonprofit that has grown to have 29 foster homes, 200 volunteers, and helped reconnect more than 50 dogs with their people. It's a safety net where struggling pet owners get emergency fostering, help with medical bills, and food for their fur babies.
"Our biggest mission is to end pet surrendering," Maria told Chewy. "So whatever help may be needed—food, vet care, whatever you need to keep your pet at home—we are willing to supply and help you."
Maria has arranged for people struggling with homelessness, domestic violence, and medical emergencies to connect with fosters who care for their pets until they're back on their feet. Her hard work keeps families intact and pets safe.
"We just keep getting bigger," Maria says. "Every time we go out there and help somebody, they're like, 'I'm in—how can I help?'"
Maria's wonderful work was recently profiled by Chewy in the video above entitled, "A Day in the Life of a Community Pet Foster."
From Your Site Articles
Related Articles Around the Web
Courtesy of Farwiza Farhan
True
Growing up in Indonesia, Farwiza Farhan always loved the ocean. It's why she decided to study marine biology. But the more she learned, the more she realized that it wasn't enough to work in the ocean. She needed to protect it.
"I see the ocean ecosystem collapsing due to overfishing and climate change," she says. "I felt powerless and didn't know what to do [so] I decided to pursue my master's in environmental management."
This choice led her to work in environmental protection, and it was fate that brought her back home to the Leuser Ecosystem in Sumatra, Indonesia — one of the last places on earth where species such as tigers, orangutans, elephants and Sumatran rhinoceros still live in the wild today. It's also home to over 300 species of birds, eight of which are endemic to the region.
"When I first flew over the Leuser Ecosystem, I saw an intact landscape, a contiguous block of lush, diverse vegetation stretched through hills and valleys. The Leuser is truly a majestic landscape — one of a kind."
She fell in love. "I had my first orangutan encounter in the Leuser Ecosystem," she remembers. "As the baby orangutan swung from the branches, seemingly playing and having fun, the mother was observing us. I was moved by the experience."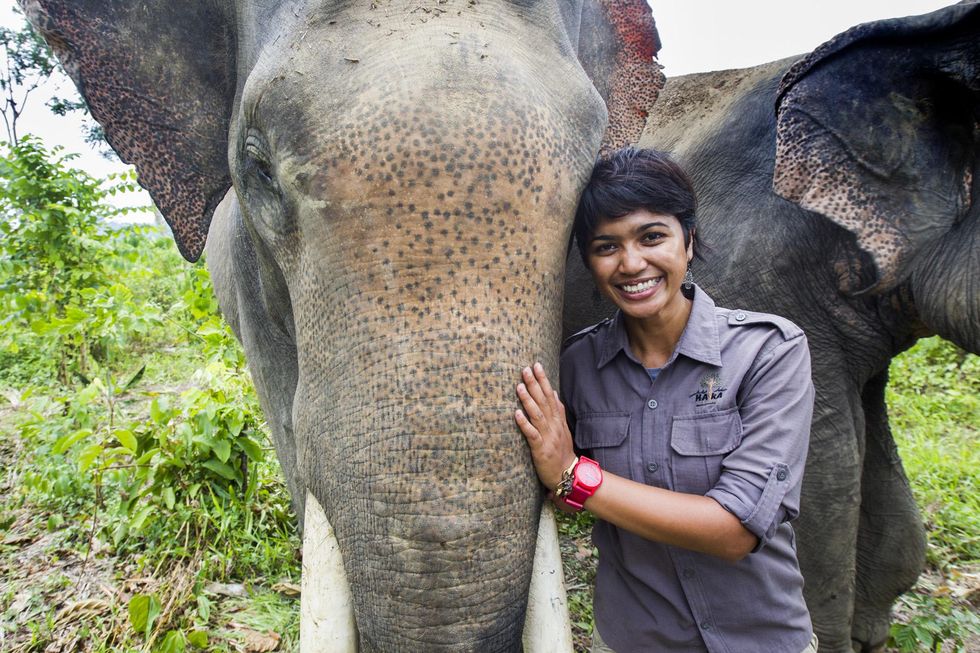 Courtesy of Farwiza Farhan
"Over the years," she continues, "the encounters with wildlife, with people, and with the ecosystem itself compounded. My curiosity and interest towards nature have turned into a deep desire to protect this biodiversity."
So, she began working for a government agency tasked to protect it. After the agency dismantled for political reasons in the country, Farhan decided to create the HAkA Foundation.
"The goals [of HAkA] are to protect, conserve and restore the Leuser Ecosystem while at the same time catalyzing and enabling just economic prosperity for the region," she says.
"Wild areas and wild places are rare these days," she continues. "We think gold and diamonds are rare and therefore valuable assets, but wild places and forests, like the Leuser Ecosystems, are the kind of natural assets that essentially provide us with life-sustaining services."
"The rivers that flow through the forest of the Leuser Ecosystem are not too dissimilar to the blood that flows through our veins. It might sound extreme, but tell me — can anyone live without water?"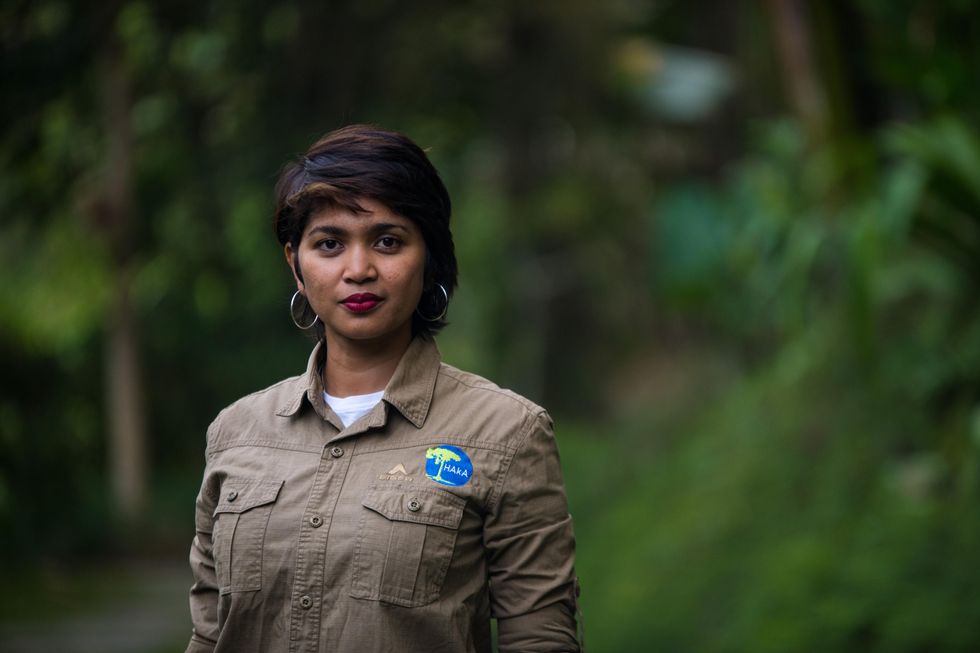 Courtesy of Farwiza Farhan
So far, HAkA has done a lot of work to protect the region. The organization played a key role in strengthening laws that bring the palm oil companies that burn forests to justice. In fact, their involvement led to an unprecedented, first-of-its-kind court decision that fined one company close to $26 million.
In addition, HAkA helped thwart destructive infrastructure plans that would have damaged critical habitat for the Sumatran elephants and rhinos. They're working to prevent mining destruction by helping communities develop alternative livelihoods that don't damage the forests. They've also trained hundreds of police and government rangers to monitor deforestation, helping to establish the first women ranger teams in the region.
"We have supported multiple villages to create local regulation on river and land protection, effectively empowering communities to regain ownership over their environment."
She is one of Tory Burch's Empowered Women this year. The donation she receives as a nominee is being awarded to the Ecosystem Impact Foundation. The small local foundation is working to protect some of the last remaining habitats of the critically endangered leatherback turtle that lives on the west coast of Sumatra.
"The funds will help the organization keep their ranger employed so they can continue protecting the islands, endangered birds and sea turtle habitats," she says.
To learn more about Tory Burch and Upworthy's Empowered Women program visit https://www.toryburch.com/empoweredwomen. Do you know an inspiring woman like Farwiza? Nominate her today!
A FaceTime from her daughter is the best surprise this mom could ask for. Why? Because unbeknown to her, the daughter arrived back home from college in secret. And she shared this touching impromptu reunion with TikTok for everyone to enjoy.
The video shows a mom in the kitchen, answering a Facetime call from her daughter, her face appearing in close-up. We know what's about to happen (the caption reads "Surprising my mom that I'm back home from uni"), but still the anticipation is delightful.
And it doesn't take long for the mom to realize what's going on. As she turns her back from the camera for just one second, the daughter zooms out and waits. When mom turns back around, she instantly knows what's up, and off she runs out of frame, followed by an equally surprised little brother.
It's no wonder the video went viral. One commenter summed up it by saying, "families that actually LIKE each other are my favorite."
You might be wondering: How did the daughter manage to sneak into her room without mom noticing? The question gets answered at the end (which is arguably the best part of the video, second to mom's excitement).
As mom jolts out of the frame to hug her daughter in the next room, out of nowhere comes dad, beaming with a smile that lets us know he was definitely in on the plan. From the look on their faces as they share mischievous looks, I'd say we know where the daughter gets her prankster streak from.
Get stories worth sharing delivered to your inbox
Get stories worth sharing delivered to your inbox