Culture
New York private school shows students how to refer to non-parental guardians in the most inclusive way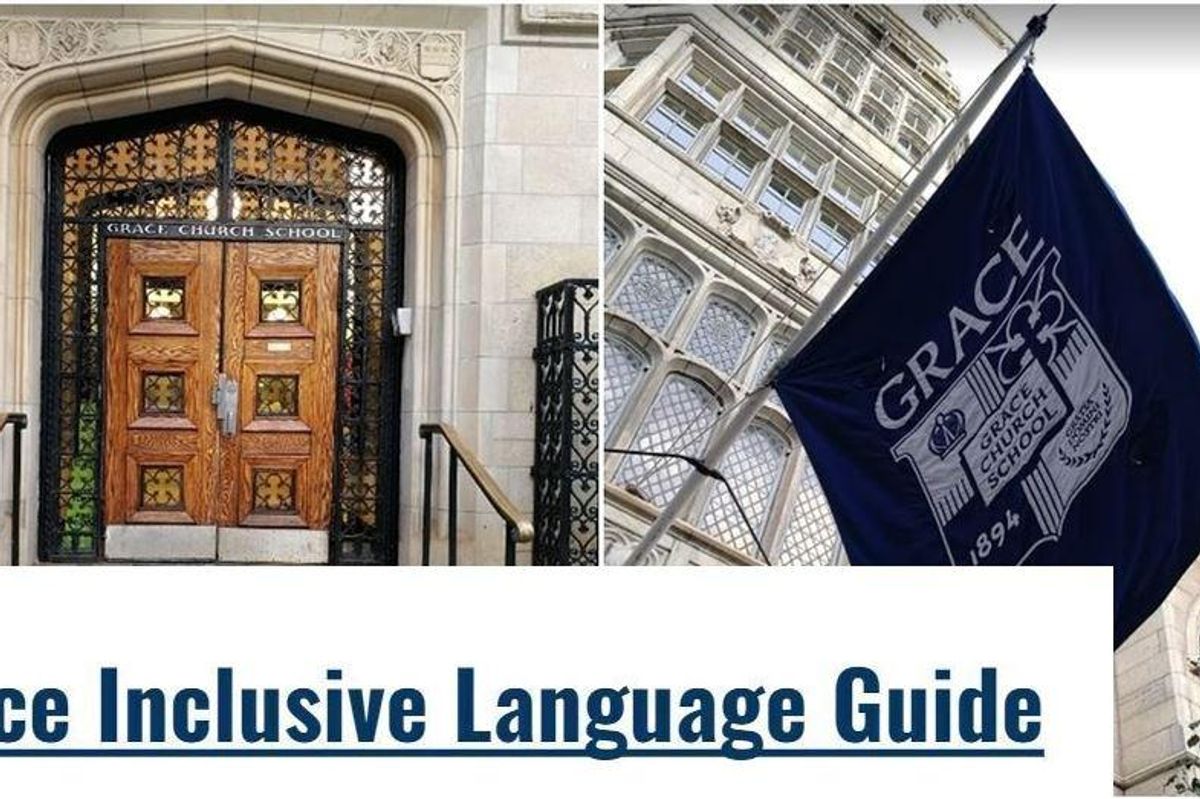 via Google Maps
A private K through 12 school in the NoHo district of Manhattan has become the subject of controversy after handing out a 12-page "inclusive language guide" to its students and parents. But the fact is, there's nothing "controversial" about it.

The sticking point for many was that it asks students and faculty to refrain from using gendered words like "mom," "dad," and "parents," in the school environment because they make "assumptions" about kids' lives at home.
Instead, Grace Church School prefers faculty and students use terms like "grown-ups" or "folks."
---
"Families are formed and structured in many ways. At Grace Church School, we use inclusive language that reflects this diversity. It's important to refrain from making assumptions about who kids live with, who cares for them, whether they sleep in the same place every night, whether they see their parents, etc.," the guide says.
The school would also prefer students and faculty refer to a babysitter or and nanny as a "caregiver" or "guardian."
The school wants to move people away from using gendered language, so instead of calling groups of students as "boys and girls" or "ladies and gentlemen" they should be referred to as "people," "folks," "friends," "readers," or "mathematicians."
The guide also suggests that people use the correct phrasing when asking about someone's ethnicity. Instead of asking, "What are you? Where are you from?" the question should be, "What is your cultural/ethnic background? Where are your ancestors/is your family from?"
The guide has been the subject of media scrutiny, causing an uproar among some readers of the New York Post who used it as another claimed example of "cancel culture." After all, many parents understandable think that asking their children to refrain from using gendered terms such as "mom" or "dad" is a bit much.
But when you navigate through the misleading information several news outlets took in framing this story, it's clear that Grace Church School was doing the opposite of canceling anyone or anything. Rather, they were opening a dialogue of inclusivity for students who may have single parents, foster parents, different forms of guardians, parents of differing gender identities and so on.
Grace Church School, East Village, Manhattan. 📷: @arielle.sophia via IG https://t.co/uoZ0YAHHEV

— NYCgo: the Official Guide to NYC (@NYCgo: the Official Guide to NYC) 1537617925.0
Of course, several parents and educators applauded the decision. A teacher who commented on the New York Post article found the inclusive language guide helpful.

"As an nyc teacher, a large amount of my students are in foster care or live with other relatives. I have made the mistake of calling a foster parent 'mother' to a student," she wrote. "The student defensively said 'she not my mom.' They were obviously so upset. Needless to say I felt awful.
"It takes some practice to not say 'parent', but 'guardian' instead. Guardian is a much better word. There's no need to give further hurt to students who live in uncertain or conventional circumstances," she added.
Those who favor this type of inclusivity would agree with the head of the school, George Davidson who addressed the controversy in a statement.
"The Inclusive Language Guide at issue in the press, which we shared with you this fall, comes from that place in our hearts and mission," read a statement from George Davison, the head of school. "It is designed to help the adults in the community find words to affirm and unite."
On a deeper level, the controversy over the language guide mirrors the current state of American society. It seems as though attempts to make the country more inclusive can sometimes have the reverse effect. In the end, what matters most is whether children at the school are learning and feel loved.
The Grace Church school ranks among the top in private Christian Schools in New York City, so there's no question it's doing right by its students, and that's what matters most.