Pop Culture
Watch Mister Rogers totally win over a tough, skeptical senator in 6 minutes
"I'm supposed to be a pretty tough guy, and this is the first time I've had goosebumps in the past two days."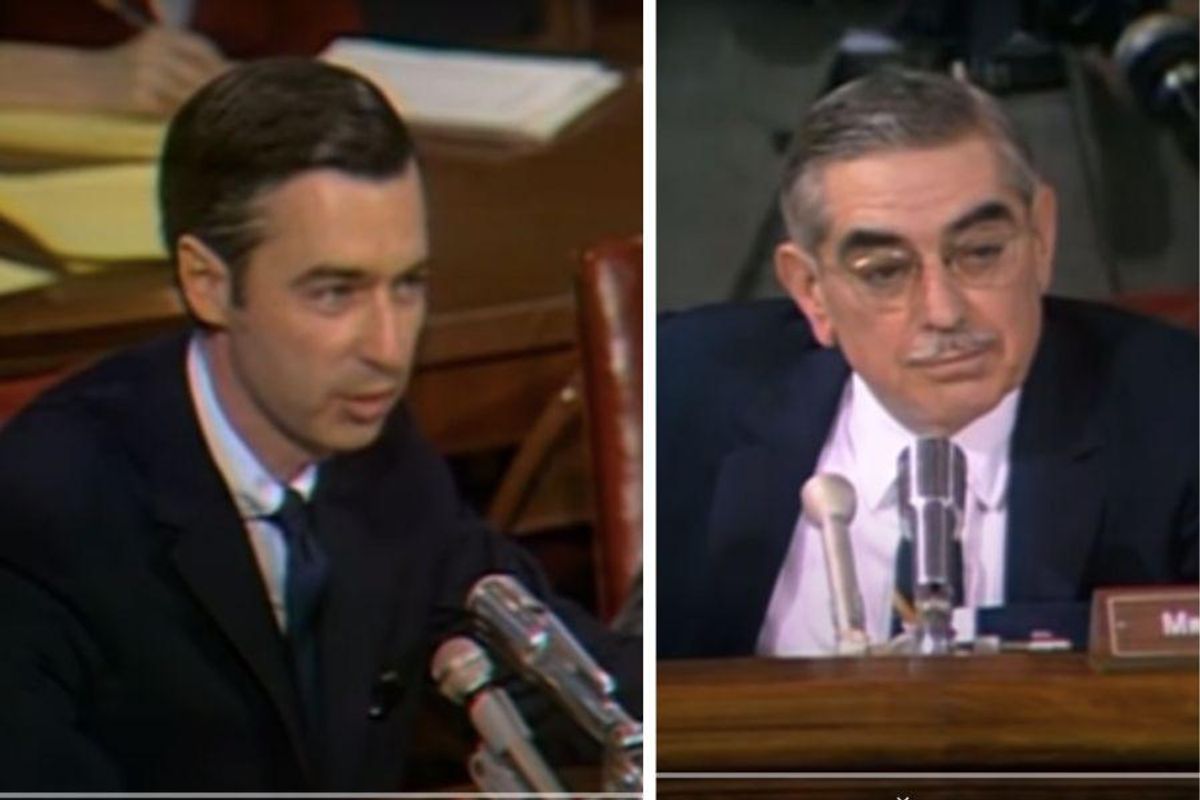 On May 1, 1969, Fred Rogers sat before the Senate Subcommittee on Communications to make the case for funding children's educational programming. His show, Mister Rogers' Neighborhood, had recently become nationally syndicated, and the program relied on the $20 million in government funding allotted to public broadcasting. That funding was on the chopping block, with President Nixon wanting to cut it in half, so Rogers went to Washington, D.C., to advocate for the funding before Congress.
In a video clip of Rogers' testimony, we can see how subcommittee chairman Senator John O. Pastore sat across from Rogers, appearing somewhat disinterested. He had never heard of or seen Mister Rogers' Neighborhood and wasn't familiar with Rogers himself.
"Alright Rogers, you have the floor," he said in an almost condescending tone.
---
(Side note: Who in their right mind condescends to Mister Rogers? Granted, Senator Pastore didn't know who he was and the world hadn't yet realized his wholesome amazingness yet, so it's somewhat forgivable. Still funny to see it, though.)
For six minutes, we watch Fred Rogers work his calm, compassionate magic on the committee. As he methodically and eloquently made his argument, Pastore became transfixed and ultimately transformed.
Rogers described how he speaks to children on his show and how he felt that showing people working out their emotions was much more dramatic than gunfire.
"I feel that if we in public television can only make it clear that feelings are mentionable—and manageable—we will have done a great service for mental health," he said. "I'm constantly concerned about what our children are seeing, and for 15 years, I have tried—in this country and in Canada—to present what I feel is a meaningful expression of care."
The senator was moved by Rogers' words. "I'm supposed to be a pretty tough guy, and this is the first time I've had goosebumps in the past two days," he said.
By the end, Pastore was totally on board. "I think it's wonderful," he concluded. "I think it's wonderful. Looks like you just earned yourself the $20 million."
Watch how Rogers did it:
It's not just that Rogers explained himself well. According to Jean Greaves, Ph.D., specialist in Industrial-Organizational Psychology and author of "Emotional Intelligence 2.0," Rogers used four specific skills to connect with the committee members and influence their decision-making.
Greaves wrote that Rogers utilized self-awareness by knowing—and sharing—his own expertise and experience with children's programming. He stayed focused and kept his emotions in check, even while sharing his feelings, which used the skill of self-management. Utilizing social awareness, Rogers read his audience and understood what they valued. ("Mr. Rogers understood he was addressing a senator who was more than just the decision maker—he was a man who used to be a boy, a man who had a family, and a senator whose sworn duty was to represent the needs of Americans," Greaves wrote.) Finally, he used relationship management to make a personal connection with the senator, telling him he trusted him to read his statement and acknowledging that they shared the same concern for the quality of children's television programming.
Having watched countless hours of Mister Rogers' programming myself and being a lifelong fan of both the show and the man, my hunch is that those emotional intelligence skills were simply a part of who he was. And thanks to the funding for PBS that he helped procure, his "meaningful expressions of care" helped millions of kids gain greater emotional intelligence themselves.
Just a wonderful, decent, delightful man who loved children just exactly the way they are. What a gift he was to us all.