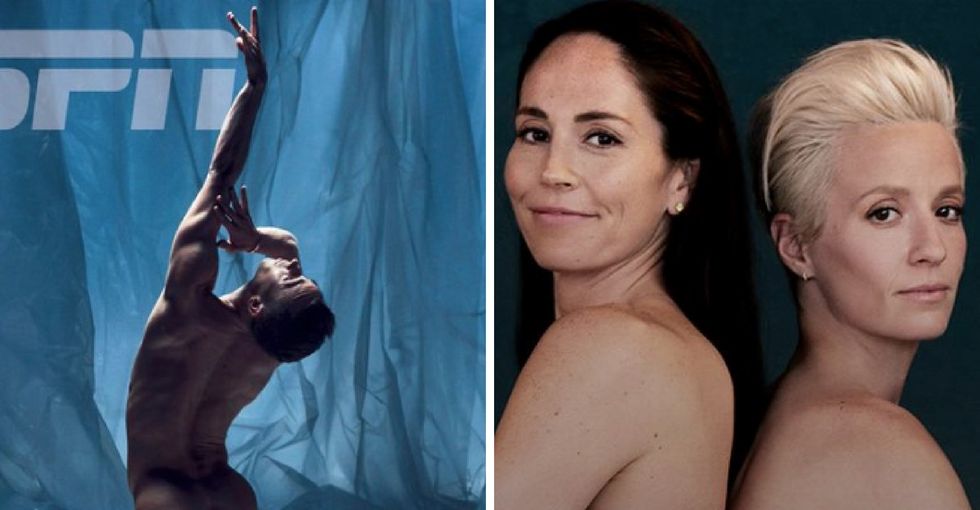 Warning: Some images in this article show partial nudity and may be NSFW.

What does an athlete look like?

Tall? Short? Slender? Buff? There's no right or wrong answer, really. They come in various sizes, shapes, colors, sexual orientations, and genders, with all sorts of abilities and disabilities too.

ESPN magazine has been helping challenge misperceptions about athletes and their bodies since its annual Body Issue debuted in 2009. And this year's edition is continuing to push boundaries in exciting ways.  






For the first time, same-sex partners appear together in the much-anticipated issue.
WNBA star Sue Bird and her partner soccer player Megan Rapinoe snapped pics for the publication, and the photos are pretty darn fantastic.
---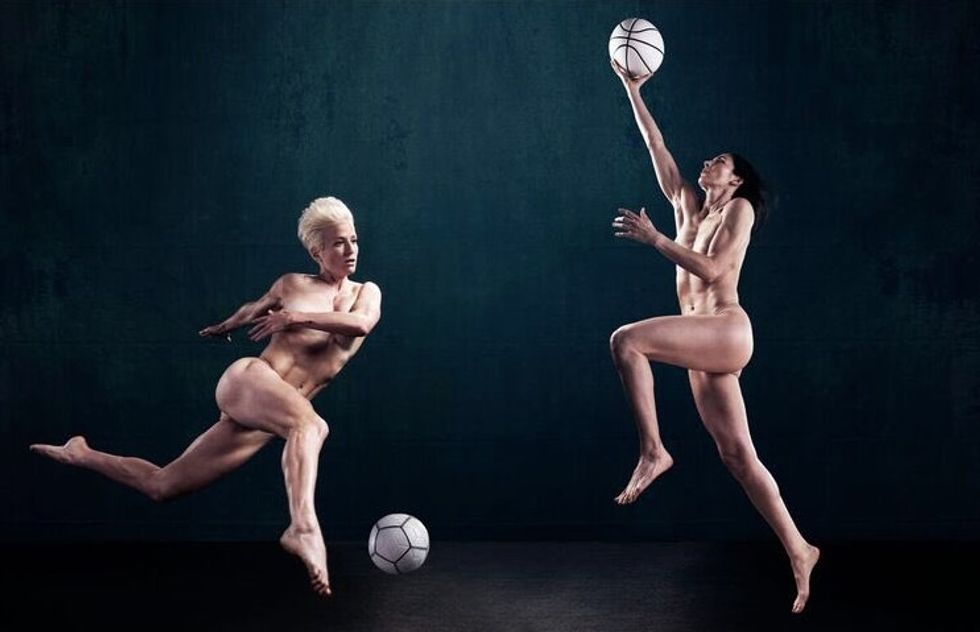 Photo by Mark Seliger/ESPN.
The magazine has also made strides to celebrate different body types and athletes with varied experiences outside of sports.
Tennis player Esther Vergeer, who uses a wheelchair, graced its pages in 2010. MLB player Prince Fielder's appearance in the 2014 issue sparked the body positive hashtag #HuskyTwitter into existence.
Prince Fielder repping for beefy dudes in the buff on the cover of ESPN's Body Issue http://t.co/yqjDnZ8C0u http://t.co/6mn4vcrdEq

— New York Post (@New York Post)1404849382.0
Transgender triathlete Chris Mosier continued breaking down barriers in 2016 with his feature in the magazine.
"Now I feel very comfortable in my own skin," Mosier explained. "I think the reason I felt so inspired to do it is that I'm finally at a place where I feel very comfortable with my body. And as a trans person, being in a body that didn't really fit me for 29 years, now I feel very comfortable in my own skin."
Blazing these trails matters.
Young people are watching sports — and reading magazine spreads. And when they can see themselves in the stars on a soccer field, or Olympians in an ice skating rink, it makes big dreams much more achievable.
"I think it's important to do these things first," Rapinoe told ESPN for this year's issue. "It's important for people to come out. Visibility is important."
Check out a preview gallery of the 2018 Body Issue before it hits stands on June 29.