popular
Kanye West is building low-income houses that will look like they're straight out of 'Star Wars.'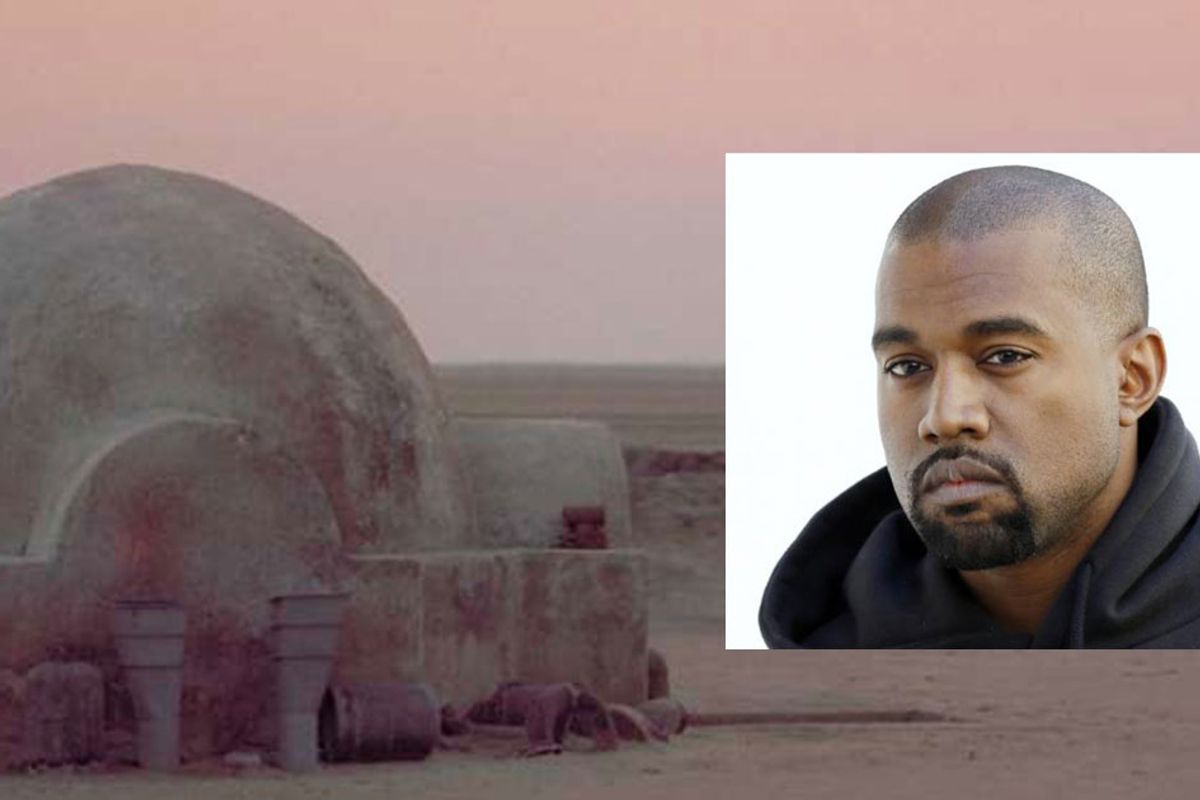 California has a housing crisis. Rent is so astronomical, one San Francisco company is offering bunk bedsfor $1,200 a month; Google even pledged$1 billion to help tackle the issue in the Bay Area. But the person who might fix it for good? Kanye West.
The music mogul first announced his plan to build low-income housing on Twitter late last year.
"We're starting a Yeezy architecture arm called Yeezy home. We're looking for architects and industrial designers who want to make the world better," West tweeted.
we're starting a Yeezy architecture arm called Yeezy home. We're looking for architects and industrial designers wh… https://t.co/0DGrDZ9DEz

— ye (@ye) 1525637422
---
But this isn't just any low-income housing. It has a twist. A very big, "Star Wars"-themed twist.

The homes are currently being built in an undisclosed California location, though West recently met with investors in San Francisco. Renderings of the home were postedon Instagram by fashion designer Jalil Peraza. The posts have since been deleted, but we're certain they're going to mimic a certain galaxy far, far away.
The prefabricate structures are going to resemble Luke Skywalker's childhood home on Tatooine from "A New Hope" and might also be used as a place for homeless to live, according to the New York Post.
Kanye West wants to build 'Star Wars'-inspired low-income housing https://t.co/6ZE8rSuduk https://t.co/9uxUh0z8E3

— New York Post (@New York Post) 1562869424
West showed off the homes in a recent interview with Forbes, which describes them as "a trio of structures that look like the skeletons of wooden spaceships. They're the physical prototypes of his concept, each oblong and dozens of feet tall."

"West has been working with a team to design prefabricated structures that sport the same austere aesthetic, with the goal of deploying them as low-income housing units," Zack O'Malley Greenburg wrote in Forbes. "He tells me they could be used as living spaces for the homeless, perhaps sunk into the ground with light filtering in through the top."
The fact that the houses mimic Skywalker's home isn't too out of left field. West has slipped "Star Wars"references into his songs, and even says his house in Hidden Hills has "wabi-sabi vibes."
While there seems to be an impulse to not take West seriously — he's been called "crazy" more than anyone should — these houses sound alot better than paying $1,200 for the same sleeping arrangement as summer camp.