Family
The rapper's outbursts were frustrating, but they revealed a deeper problem.
Rapper Kanye West often finds himself as a point of discussion in the media, but this week was different.
During two concerts, Kanye West underperformed for fans and instead declared his support for Donald Trump, lashed out at Hillary Clinton, and complained about Jay Z and Beyoncé. After angering millions of fans, it was announced that rest of the "Saint Pablo" tour was cancelled, and West was hospitalized for exhaustion, reportedly suffering from temporary psychosis from sleep deprivation. Many immediately attributed West's outbursts to him vying for attention, but it's clear the rapper's recent outbursts are likely evidence of deeper issues that need professional attention.
Kanye's behavior, while often inexcusable, does not exempt him from getting the help he needs.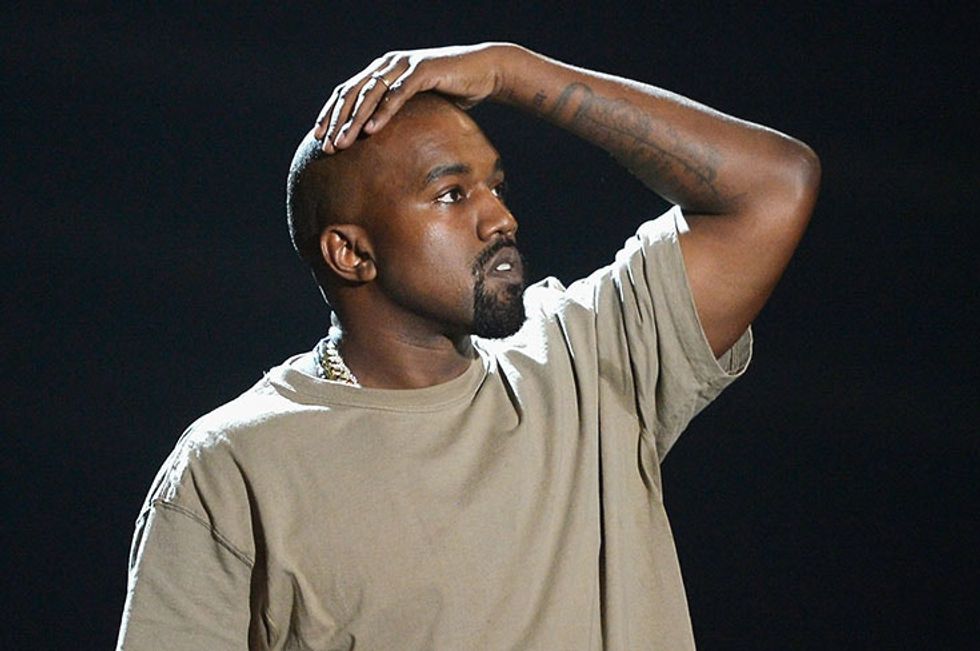 </div></div></div><p>As an artist, Kanye, albeit talented, has constantly exhibited waves of <a href="http://www.huffingtonpost.com/joshua-adams/kanyes-rant-is-male-fragility_b_9095608.html" target="_blank">male fragility</a> and a blatant <a href="http://www.telegraph.co.uk/fashion/people/kanye-west-under-fire-for-multiracial-women-only-model-casting/" target="_blank">disregard for black women</a>. On the same note, he's <a href="http://www.latimes.com/entertainment/music/posts/la-et-ms-kanye-west-katrina-anniversary-george-bush-black-lives-matter-20150827-htmlstory.html" target="_blank">called out racism</a>, <a href="http://www.upworthy.com/yo-imma-let-you-finish-but-kanye-west-has-the-best-quote-about-pink-of-all-time">criticized antiquated gender norms</a>, and has been a game changer in the hip-hop genre.</p><p>He's a complicated figure, but regardless of his often contradictory views, Kanye is still a human who deserves to get help when he needs it.</p><p><strong>It's estimated that <a href="https://www.ncbi.nlm.nih.gov/pmc/articles/PMC4215700/" target="_blank">5%-10% of African-American men</a> face depression, but evidence of mental health services for black people across the globe is low. </strong> While issues like poverty and racism only add fuel to the fire for mental health issues in the black community, many find it difficult to talk about those issues and find help.</p><p>During one of Kanye's recent performances on stage, he brought out Kid Cudi, another <a href="https://www.upworthy.com/kid-cudi-opens-up-about-depression-in-a-heartfelt-facebook-post">black male artist that recently opened up about depression and mental health</a>. Kid Cudi's openness about his issues sparked a <a href="https://www.buzzfeed.com/tamerragriffin/you-good-man-black-men-mental-health?utm_term=.quEReKDP5#.fh3ml0jRo" target="_blank">viral hashtag, #YouGoodMan</a>, where many black men opened up about their mental health issues.</p><div><div class="push-wrapper--mobile" data-card="image" data-reactroot=""><img type="lazy-image" data-runner-src="https://assets.rebelmouse.io/eyJhbGciOiJIUzI1NiIsInR5cCI6IkpXVCJ9.eyJpbWFnZSI6Imh0dHBzOi8vYXNzZXRzLnJibC5tcy8xOTUyMzY5NS9vcmlnaW4uanBnIiwiZXhwaXJlc19hdCI6MTY3Mzg3Mzk3OX0.mJKHEzNSqfHjXMpfH9G9aK7pdsoSxyLIryoM_nAg7_g/img.jpg?width=980" id="d3f5e" class="rm-shortcode" data-rm-shortcode-id="a7d5b29ed865b46c2f086a51c00d9e8a" data-rm-shortcode-name="rebelmouse-image"><div class="image-caption"><p>Photo by Kevin Winter/Getty Images.</p></div></div></div><p>Kid Cudi isn't as polarizing a figure as West and, thus, was heavily supported when he was going through difficult times. <strong>But likability shouldn't be the qualifier for getting help. </strong>By only providing help to those we like, we miss the opportunity to create a society that chooses support over judgment.</p><p>I myself struggle with giving Kanye the benefit of the doubt, given his random outbursts and questionable views on issues that are important to me. Then I remember his existence as a black man in this country.</p><h2>In many ways, African-American men have long been seen as undeserving of empathy for their human struggles.</h2><p>For years, black men have been told they shouldn't be emotional, their strength and endurance against anything is what makes them a man, and mental health certainly isn't a point of discussion. Much of this is due to racism and the effects of hypermasculinity in the black community, where mental health is still heavily stigmatized — though many black women and men are actively working to change that narrative.</p><div><div class="push-wrapper--mobile" data-card="image" data-reactroot=""><img type="lazy-image" data-runner-src="https://assets.rebelmouse.io/eyJhbGciOiJIUzI1NiIsInR5cCI6IkpXVCJ9.eyJpbWFnZSI6Imh0dHBzOi8vYXNzZXRzLnJibC5tcy8xOTUyMzY5Ni9vcmlnaW4uanBnIiwiZXhwaXJlc19hdCI6MTY1MTc3NDY2N30.ww-pH9dY-sic38l_U9sR-RH6JcXn0EJmR0IMYv9KaAc/img.jpg?width=980" id="21a44" class="rm-shortcode" data-rm-shortcode-id="8250828950afabd95f3a5e01d63008ae" data-rm-shortcode-name="rebelmouse-image"><div class="image-caption"><p>Photo by Victor Boyko/Getty Images for Vogue.</p></div></div></div><p>We aren't sure what caused Kanye to have such a public outburst, and speculating isn't our job. What we should do is acknowledge his outbursts were unusual and that he deserves to get the help he needs.</p><p><strong>If we only believe folks who lead perfect lives and never say ridiculous things deserve empathy and a chance for help, we miss the opportunity to spread humanity. </strong></p><p>West, like so many others, isn't just the job he does. He's a dad, a husband, and more importantly, a human being. By giving him the respect and space to get help, we show that choosing empathy over judgment is a feasible and necessary option.</p><p>You don't have to like West, but you should give him a chance for a healthy life at peace. All people deserve that. </p>