Heroes
Dr. Biden's response to the sexist op-ed suggesting she drop her title was pure perfection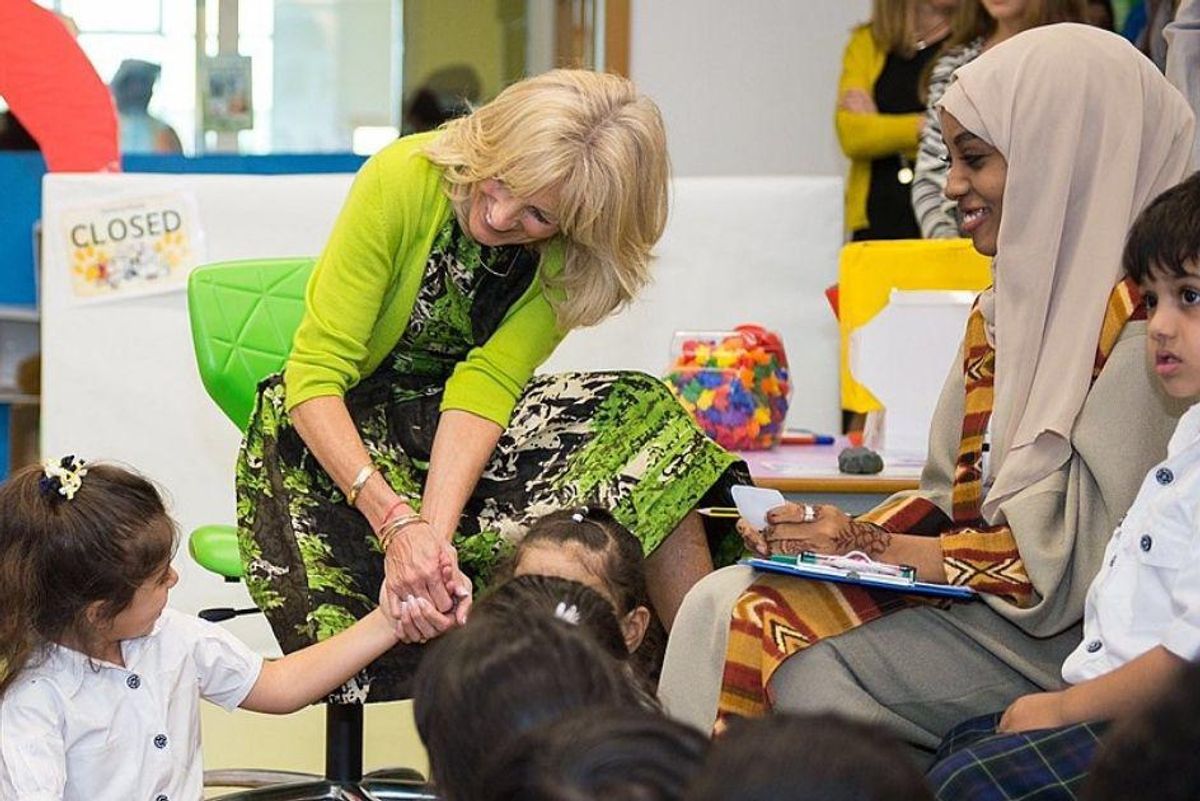 The White House
If you missed the Wall Street Journal op-ed this weekend that set social media discussions ablaze, here's a brief recap:
Joseph Epstein, a professor emeritus at Northwestern University, penned an opinion piece titled "Is There a Doctor in the White House? Not if You Need an M.D." that was bafflingly sexist in both its premise and its delivery. After an opening line that read, "Madame First Lady—Mrs. Biden—Jill—kiddo: a bit of advice..." he proceeded to explain how the doctorate that Dr. Jill Biden earned is not the same as having an M.D., and so she should cease using the title of "Dr."
The entire op-ed reeked of condescension (referring to a grown adult as "kiddo" is rude under any circumstances) and misogyny (imagine addressing an accomplished man in such a manner). It was also just a bizarre and cringe-inducing take overall. Epstein shared how he'd somehow fallen into a 30-year teaching job at Northwestern with just a B.A. degree, whined about the standards for doctorate degrees (which he himself does not have), complained about honorary doctorates (which he does have) and claimed that Dr. Biden using her title of doctor feels "fraudulent" and "comic," despite the fact that she literally has a doctorate in education and teaches at a university where professors with doctorates are generally referred to as "Dr."
People pounced in righteous outrage, and understandably so. Women with doctoral degrees of all kinds changed their handles to include their doctor title. Women and men alike explained why the piece was so incredibly problematic. Female former students of Epstein's shared their experiences in his classes, adding credence to the accusations of misogyny.
---
Epstein's article seemed more like a rant you'd read in the comments on a YouTube video rather than a serious op-ed in a well-reputed journalistic outlet. What was the point of publishing such a take? It almost feels purposefully designed to get a rise out of the of the left's "politically correct cancel culture," which is just dumb, but here we are. "Look at everyone losing their minds over an academic title, " as if this guy didn't manufacture the controversy in the first place. Seriously, nobody actually cared that she was using her "Dr." title before he made it a thing. Gaslighting at its finest.
While the public reacted as expected, Dr. Biden was quiet about it for nearly two days. Then she put out a one-sentence tweet that was honestly the best possible response she could have given. "Together, we will build a world where the accomplishments of our daughters will be celebrated, rather than diminished," she wrote.
Together, we will build a world where the accomplishments of our daughters will be celebrated, rather than diminished.

— Dr. Jill Biden (@Dr. Jill Biden) 1607904455.0
While the beauty of her response is its dignified simplicity, it's also powerful in what it didn't say.
Dr. Biden didn't address, mention, or even allude to Joseph Epstein. While she could have, she didn't get caught up in the mess of debates over sexism, misogyny, mediocre white men failing up in academia, the WSJ editorial dumpster fire, etc., like everyone else on social media. She didn't take the bait or provide any oxygen to the op-ed. She didn't give Epstein any of the attention he seemed so desperate for. Without actually saying it, she basically said, "This drivel is not worthy of my energy," which is exactly how you should handle drivel that isn't worth your energy.
And yet, she did address it. When you are in the public eye and the topic of an article that everyone is talking about, it would be odd to pretend that's not happening. She just addressed it in a way that hit at the heart of the issue, cutting out all the b.s. and acknowledging the fact that women having their accomplishments diminished is something that needs to change. She made it about looking forward and building a future that's better than the past, which is exactly where we need to keep our focus.
Finally, she provided a contrast to what we've become accustomed to seeing in our public discourse, and especially from the White House. In a situation where she could easily have slam-dunked a guy who quite honestly deserved it, she went high. The class and dignity of her tweet highlight a sea change as we leave the era of embarrassing, insulting Twitter rants filled with constant grievances. The maturity is refreshing.
Well done, Dr. Biden. Not only have to earned your title, you've also earned the respect of the people you will be serving.