popular
Present Biden delivered the speech Americans have been waiting for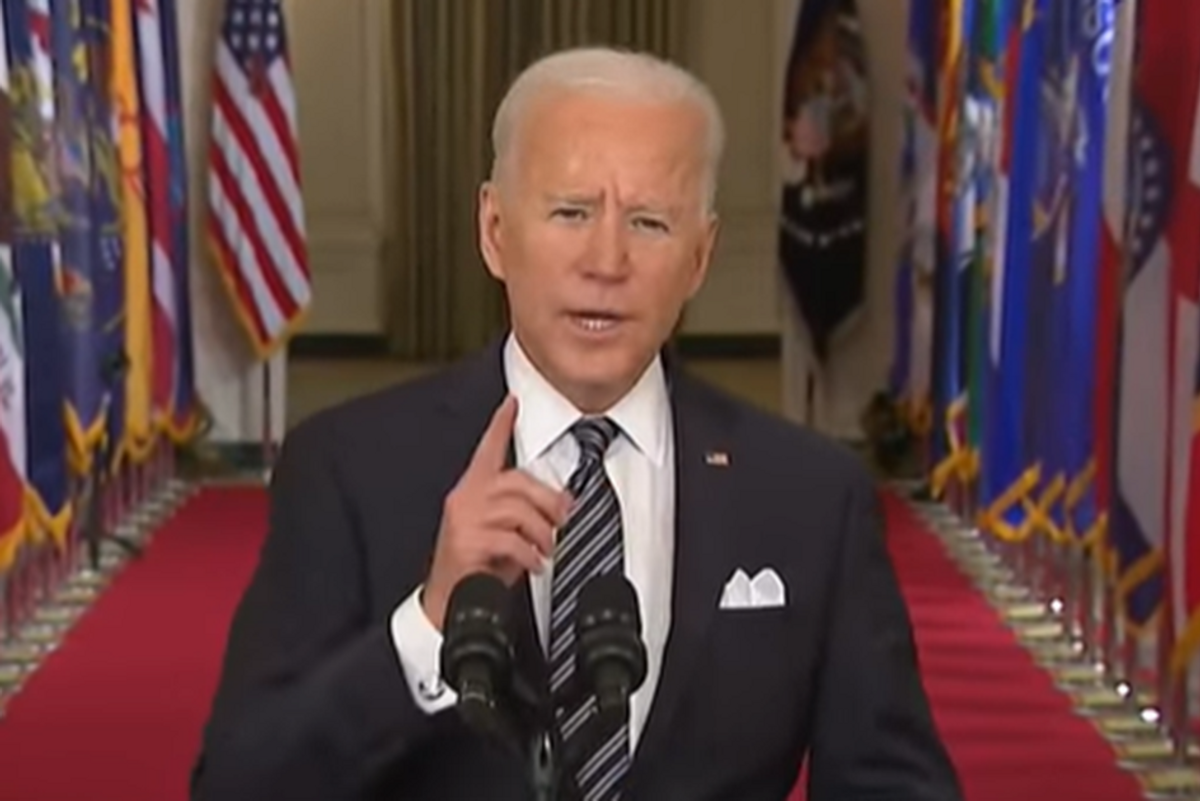 via CNBC / YouTube
President Biden marked the year anniversary of the COVID-19 pandemic by delivering his first prime-time address Thursday evening from the East Room of the White House

The speech was a solemn commemoration of the lives lost in the pandemic and the struggles Americans have faced for the past year. But the speech also marked a turning point as Americans are finally beginning to see the light after a long, dark night caused by the virus.
Biden summed up the succinctly with one line: "Finding light in the darkness is a very American thing to do."
---
In the loss, we've seen how much there is to gain — in appreciation, respect, and gratitude. Finding light in the… https://t.co/dLYFHNZOs5

— President Biden (@President Biden) 1615516517.0
At the beginning of the speech, Biden showed how far we've come since last March when the country suffered under chaotic leadership.

"A year ago, we were hit with a virus that was met with silence and spread unchecked, denials for days, weeks, then months," Biden said. "That led to more deaths, more infections, more stress, and more loneliness."
He signaled the difference in empathy between him and his predecessor by brandishing a card he carries in his pocket that contains an updated number of Americans who've died from the virus. It now stands at over 527,000.
Biden noted the number of deaths was greater than two world wars, the Vietnam War, and 9/11 combined.
Much like he did on the campaign trail, he showed he understands what the average American has been going through over the past year. "The things we used to do that always filled us with joy have become things we couldn't do," he mourned. "It broke our hearts."
President Joe Biden addresses nation on first anniversary of Covid shutdownwww.youtube.com
He then described a path forward marked by truth, faith in science, and continued vigilance to fight the virus in the final stretch.

"We know what we need to do to beat this virus; tell the truth, follow the science, work together," he said. "You're owed nothing less than the truth."
He took time to tout his administration's achievements in fighting the virus. While normally, this type of gesture by a sitting president would be seen as political grandstanding, a plurality of Americans believe his administration has done a good job.
The latest NPR/PBS NewsHour/Marist survey, found that sixty-two percent of Americans approve of how Biden is handling the pandemic.
"Now, because all the work we've done, we'll have enough vaccine supply for all adults in America by the end of May," he said. "That's months ahead of schedule."
Biden also proudly proclaimed he was going to "beat" his original goal of getting 100 million shots in people's arms in his first 100 days in office, by having it done in just 60.
The president also announced he has directed states to make all adult Americans eligible to receive coronavirus vaccines no later than May 1.
Finally, Biden gave Americans the shot in the arm they really need by providing a date by which he believes a sense of normalcy will return.
"If we do our part, if we do this together, by July the 4th there's a good chance you, your families, and friends will be able to get together in your backyard or in your neighborhood and have a cookout and a barbecue and celebrate Independence Day," the president said.
He called it a day we could declare "independence from this virus."
He ended the speech with a call to remain vigilant in the final months of the pandemic by getting vaccinated, washing your hands, and wearing a mask.
"I promise you, we'll come out stronger," Biden said. "With a renewed commitment to one another, to our communities, and to our country. This is the United States of America ... from the bottom of my heart, I believe this, that there's nothing we can't do when we do it together."