Democracy
Jill Biden successfully fooled the media and her own staff on an April Fool's Day flight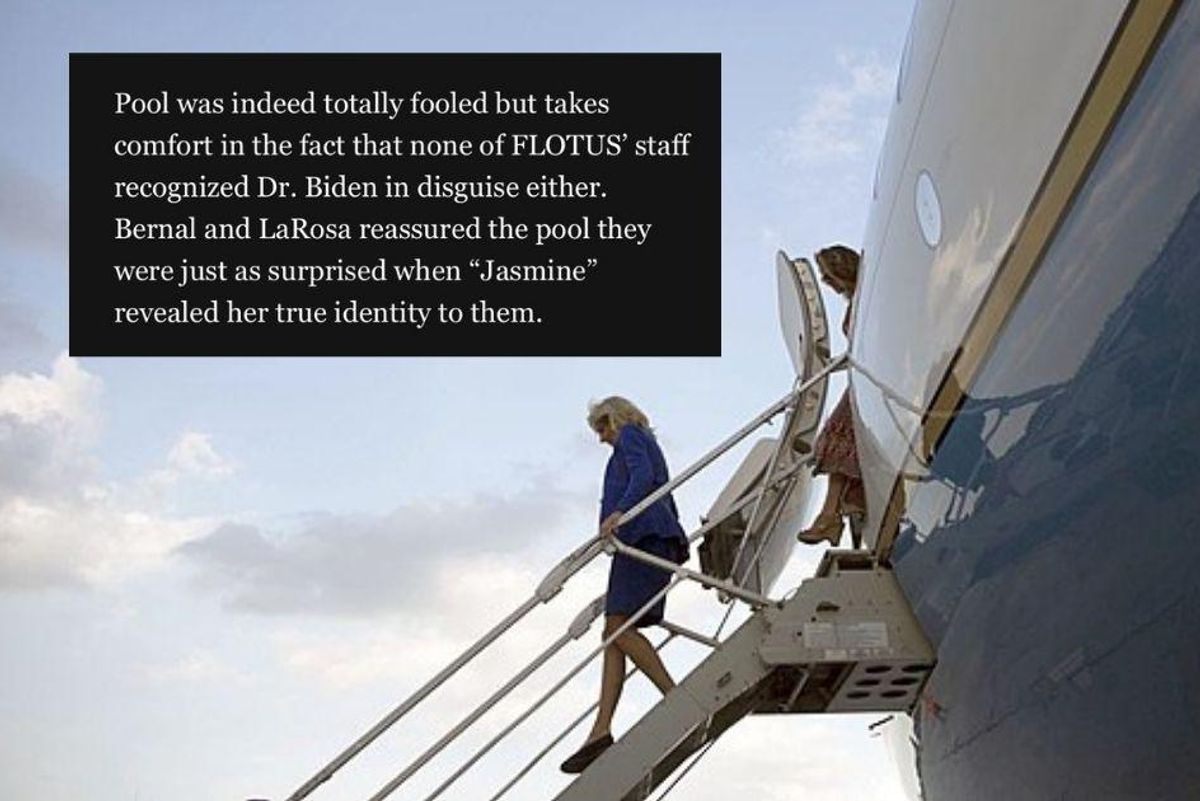 Apparently, we have an avid—and able—prankster in the White House.
First Lady Jill Biden visited California this week, meeting with farmworkers and support COVID vaccination efforts.
On the flight back to Washington, DC, members of the press and Jill Biden's staff were treated to Dove ice cream bars during the meal service. A flight attendant who was dressed in black with short black hair and a black mask handed out the bars. Her name tag read "Jasmine."
Little did passengers know that the hair was a wig, the name was a ruse, and they didn't recognize the fact that Jill Biden herself had handed them their frozen treats.
A few minutes after handing out the bars, Biden took off the wig, laughed, and said, "April Fool's!"
---
It's not every day you can say you got pranked by the First Lady of the United States. @Emilylgoodin, pooler extrao… https://t.co/VRvBKadFwI

— Katie Rogers (@Katie Rogers) 1617327850.0
The First Lady loves a good prank. Once, during her husband's first term as Obama's vice president, she stuffed herself into an overhead before a flight on Air Force Two, surprising the first person to open the bin to stow their luggage.

Biden wrote about that prank in her 2019 memoir, "Where the Light Enters."
"I had arrived at Joint Base Andrews early, coming straight from teaching my classes, and was the first one there," she wrote, "As I boarded Air Force Two, I looked around and had an idea. The overhead bins were small, but I knew if I scrunched up enough, I could cram myself into one."
With the help of a chair, a table, and a Naval aide—as well as some ballet barre classes—she did just that.
"When the first person opened the bin to stow his roller bag, I popped halfway out and screamed, 'Boo!' — though it was hard to get it out through my laughter," Biden wrote.
"Still, my surprise had the intended effect: this poor soul let out a high-pitched shriek and stumbled backward into his seat, a look of utter shock on his face."
Biden grew up in a family of pranksters who reveled in April Fool's Day, so she comes by it naturally. Joe Biden himself has remarked on his wife's traditional celebration of the holiday. In a 2014 interview with Rachel Ray, Biden confessed, "What I worry about when I wake up on April Fool's Day is: 'What in the hell is Jill gonna do this time?' You think I'm joking. I am not joking."
Now she's brought some of that lighthearted fun into the White House as First Lady.
She wrote in her memoir that the White House is "a serious place, with serious people, doing serious work," and that if you aren't careful, all that seriousness can grind you down.
"I've always believed you've got to steal the joyful moments when you can," Biden wrote. "Life is difficult, and if you sit around waiting for fun to show up, you'll find yourself going without it more often than not."

Jill Biden seems determined to bring a special touch to various holidays in her new role, which seems quite befitting her identity as a teacher. On Valentine's Day, her White House lawn decor—oversized conversation hearts with inspiring words like KINDNESS, COURAGE, COMPASSION, and HEALING—and chat with reporters made headlines.
Laughter is healing, and after a year of tragedy and struggle for the nation and the world due to the coronavirus pandemic, we could all use some extra fun and laughter. Thank you, Dr. Biden, for reminding us that serious work doesn't mean we can't enjoy simple, silly joys with our friends and colleagues.