popular
That's why Verizon is launching a gaming tournament.
Courtesy of Verizon
True
If someone were to say "video games" to you, what are the first words that come to mind? Whatever words you thought of (fun, exciting, etc.), we're willing to guess "healthy" or "mental health tool" didn't pop into your mind.
And yet… it turns out they are. Especially for Veterans.
How? Well, for one thing, video games — and virtual reality more generally — are also more accessible and less stigmatized to veterans than mental health treatment. In fact, some psychiatrists are using virtual reality systems for this reason to treat PTSD.
Secondly, video games allow people to socialize in new ways with people who share common interests and goals. And for Veterans, many of whom leave the military feeling isolated or lonely after they lose the daily camaraderie of their regiment, that socialization is critical to their mental health. It gives them a virtual group of friends to talk with, connect to, and relate to through shared goals and interests.
In addition, according to a 2018 study, since many video games simulate real-life situations they encountered during their service, it makes socialization easier since they can relate to and find common ground with other gamers while playing.
This can help ease symptoms of depression, anxiety, and even PTSD in Veterans, which affects 20% of the Veterans who have served since 9/11.
Watch here as Verizon dives into the stories of three Veteran gamers to learn how video games helped them build community, deal with trauma and have some fun.
Band of Gamers www.youtube.com
Video games have been especially beneficial to Veterans since the beginning of the pandemic when all of us — Veterans included — have been even more isolated than ever before.

And that's why Verizon launched a challenge last year, which saw $30,000 donated to four military charities.
And this year, they're going even bigger by launching a new World of Warships charity tournament in partnership with Wargaming and Wounded Warrior Project called "Verizon Warrior Series." During the tournament, gamers will be able to interact with the game's iconic ships in new and exciting ways, all while giving back.
Together with these nonprofits, the tournament will welcome teams all across the nation in order to raise money for military charities helping Veterans in need. There will be a $100,000 prize pool donated to these charities, as well as donation drives for injured Veterans at every match during the tournament to raise extra funds.
Verizon is also providing special discounts to Those Who Serve communities, including military and first responders, and they're offering a $75 in-game content military promo for World of Warships.
Tournament finals are scheduled for August 8, so be sure to tune in to the tournament and donate if you can in order to give back to Veterans in need.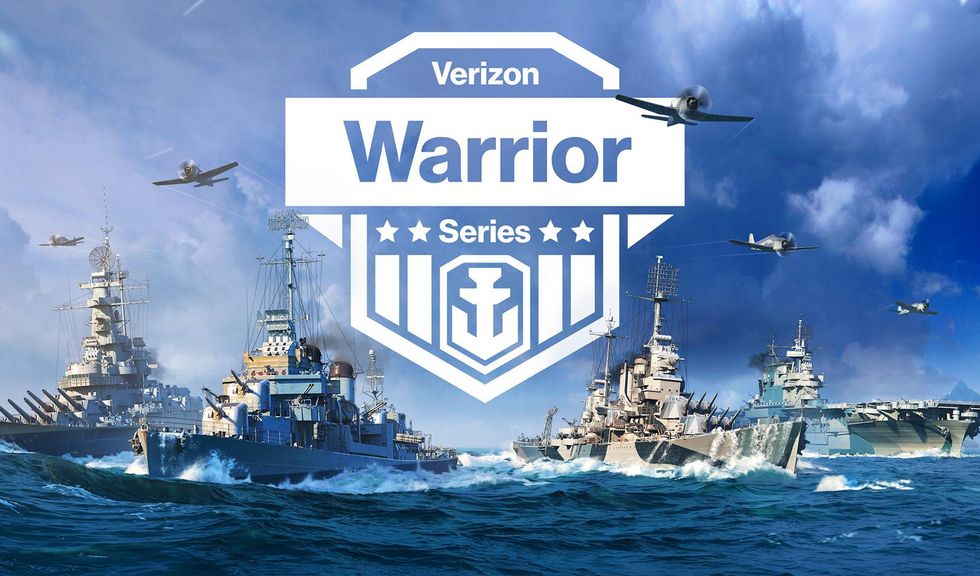 Courtesy of Verizon
Ready for the weekend? Of course, you are. Here's our weekly dose of good vibes to help you shed the stresses of the workweek and put yourself in a great frame of mind.
These 10 stories made us happy this week because they feature amazing creativity, generosity, and one super-cute fish.

1. Diver befriends a fish with the cutest smile
Hawaiian underwater photographer Yuki Nakano befriended a friendly porcupine fish and now they hang out regularly.


2. Denver police are handing out gift certificates to auto parts stores instead of 'fix-it' tickets
Police in Denver, Colorado have a new program designed to improve public safety as well as the relationship between the police and those they serve. Instead of issuing tickets, officers will now have the option to hand out $25 gift cards in situations where people are pulled over for minor "fix-it" violations.
Read the whole story on Upworthy.
3. Stunned wildlife lover set up a camera in a bird box and it got 41 million views
43-year-old John Chadwick started live-streaming footage of birds with their chicks so his family could watch their progress before they flew the nest. But just weeks after uploading the videos to YouTube, he racked up millions of views from around the world. "It's gone a little bit bonkers," John said. "I only wanted to show my neighbors, friends, nieces, and nephews what the birds were up to. I had no idea the films would attract such interest."
UK wildlife fan sets up camera inside bird box- attracting 41 MILLION fans worldwide! | SWNS www.youtube.com
4. Dad with impaired mobility can walk his newborn after crafty teens built him a 'wheestroll'
Jeremy King, 37, of Germantown, Maryland has experienced difficulty with his balance after having surgery for a brain tumor. To help him take his newborn on a walk, a group of students at Bullis School in Potomac, Maryland built him a "wheelstroll," a car seat attachment that connects to his wheelchair.
Read the whole story at Upworthy.
High School Students Create Wheelchair Stroller for Teacher's Husband www.youtube.com
5. American gymnast Suni Lee made history, winning gold in the all-around
Suni Lee, 18, a Team USA member from Minnesota, became the Olympic all-around gymnastics champion on Thursday. Lee is the first Hmong American athlete to ever compete in the Olympics and the first Asian American to win the gold in the Olympics' all-around competition. "It feels super crazy, I definitely didn't think I'd be here in this moment with the gold medal," Lee said after her win. "I'm just super proud of myself for making it here because there was a point in time when I wanted to quit."

Read the whole story at Upworthy.
6. An Israeli woman donated a kidney to a Gaza boy
Harel Segal, a kindergarten teacher from northern Israel, donated her kidney to a three-year-old Palestinian boy from the Gaza Strip. She hopes her choice will inspire others to be more humane in a land of perpetual conflict.
7. Two big ships from British Columbia launched an expedition to clean up the Great Pacific Garbage Patch

The three-month-long, multimillion-dollar venture will test a new system to trap ocean plastics and load them onto vessels. If the system works, the plan is to build bigger versions for larger-scale cleanups.
8. Tunisian teen swimmer shocks with surprise gold, and his family's reaction is everything
Ahmed Hafnaoui had the swim of his life at just the right time on Sunday. After eeking into the men's 400-meter medal race in last place out of the eight finalists, the 18-year-old swimmer from Tunisia shocked everyone by taking home the gold in the event at the Tokyo Olympics.
9. Hundreds of 'tiny homes' have been built to help provide shelter for struggling Los Angeles residents

Los Angeles is the latest city to experiment with micro-homes to provide secure accommodations for unhoused people while they get back on their feet. The colorful homes of the Alexandria Park Tiny Home Village are capable of housing 200 residents in 103 one- or two-person units.
10. California Congressman introduces legislation for a four-day workweek

Citing pilot programs that have yielded positive results, Democratic Congressman Mark Takano introduced legislation on Wednesday that would reduce the standard workweek from 40 hours to 32 hours.
Get stories worth sharing delivered to your inbox