More
You're never too old to follow your dreams.
All her life, Dorothy Williams dreamed of being a star. Now 90 years old, she finally got her chance.
Thanks to "America's Got Talent," the nonagenarian had the opportunity to perform in front of a massive live crowd (not to mention the millions of viewers watching on TV). She wasn't about to let this golden opportunity go to waste.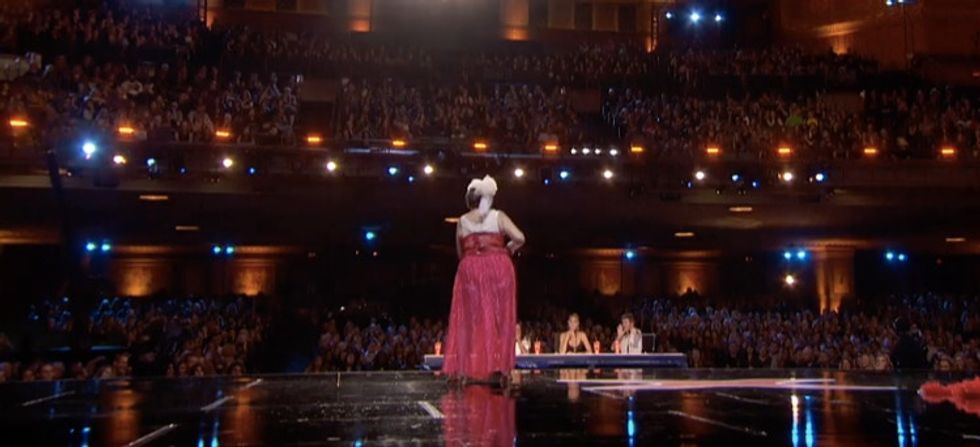 <p class="image-caption">Image from "America's Got Talent"/YouTube.</p><h2>For 1 minute and 19 seconds, all eyes were on Dorothy.</h2><p>Her routine was met with raucous cheers from start to finish. Audience members gasped, clapped, and roared as <strong>Dorothy performed a strip tease</strong> (complete with nipple tassels, whaaaat?!) on the stage. She exuded joy, standing as living proof that <strong>you can be amazing at any age.</strong></p><p><img type="lazy-image" data-runner-src="https://assets.rebelmouse.io/eyJhbGciOiJIUzI1NiIsInR5cCI6IkpXVCJ9.eyJpbWFnZSI6Imh0dHBzOi8vYXNzZXRzLnJibC5tcy8xOTUyMjUyMS9vcmlnaW4uZ2lmIiwiZXhwaXJlc19hdCI6MTYxMTQyNTU0NX0.qP28V60J6GCWF_7ti1pdCDKBUM__rBQtbvP1EQklwY4/img.gif?width=980" id="96f94" class="rm-shortcode" data-rm-shortcode-id="6067b678380b3d9c184eac1ae1f271ae" data-rm-shortcode-name="rebelmouse-image"></p><p class="image-caption">GIF via "America's Got Talent"/YouTube.<br></p><p>"A star is born tonight!" host Nick Cannon exclaimed as the crowd again erupted into applause. It was a good night for Dorothy. A very, very good night.</p><h2>Watch Dorothy do her thing in the video below, and be sure to stay tuned for the emotional ending.</h2><p> <span style="display:block;position:relative;padding-top:56.25%;" class="rm-shortcode" data-rm-shortcode-id="37a0e9938248456362437a5029279458"><iframe type="lazy-iframe" data-runner-src="https://www.youtube.com/embed/WLh6qqJRELA?rel=0" width="100%" height="auto" frameborder="0" scrolling="no" style="position:absolute;top:0;left:0;width:100%;height:100%;"></iframe></span><br></p>