Wellness
Inspired by her grandmother, this nurse refuses to let fear stand in her way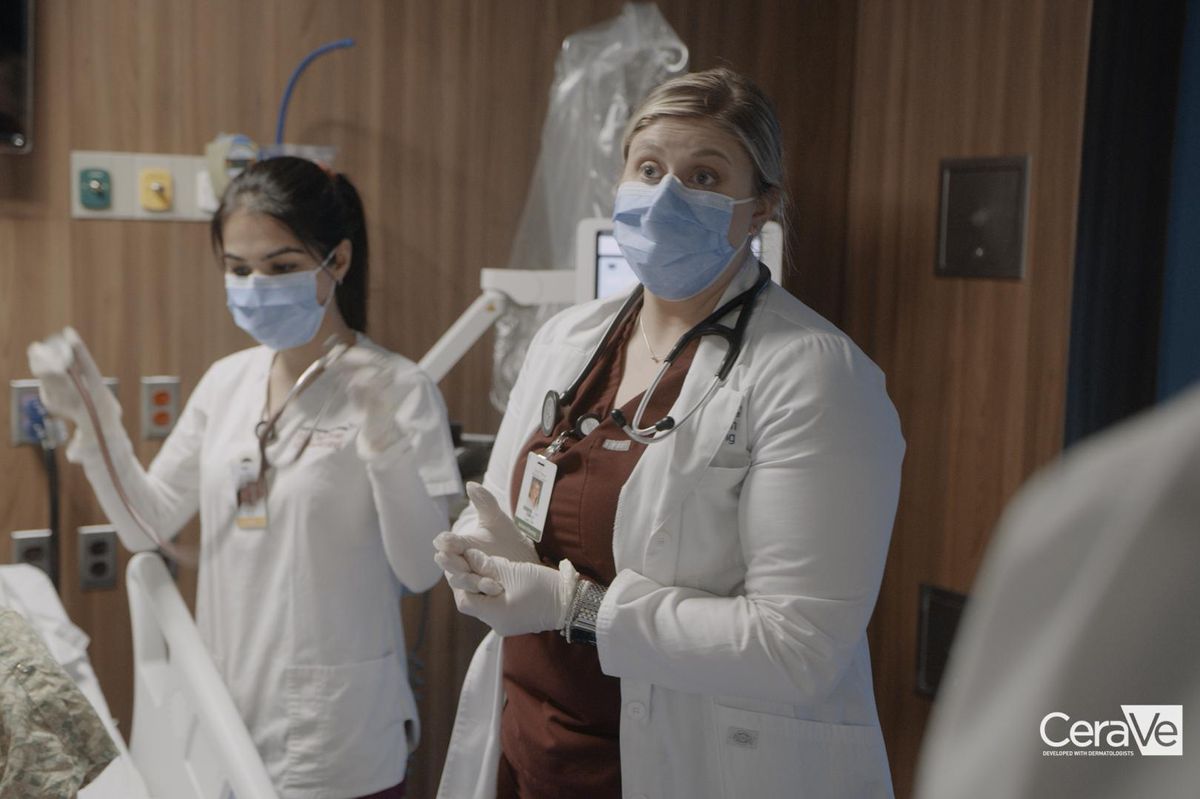 Courtesy of CeraVe
True
Have you ever wondered what drives nurses to do what they do? We took a walk in one nurse's shoes to get a better understanding of what makes her truly remarkable.
Emily Danz of Fort Lee, New Jersey, grew up watching her Yiayia ("grandmother" in Greek), battle heart disease. As a child, she listened with curiosity and amazement as the doctors explained cardiac procedures and outcomes to her family.

---
Then, when she was old enough to drive, Danz became responsible for taking Yiayia to and from her doctor's appointments and hospital visits.
Inspired by all she learned about her grandmother's journey, Danz decided to enter nursing school after graduating high school—a decision that made her grandmother burst with pride.
"She told me when I graduated nurse practitioner school that it was one of the greatest things she witnessed in all 89 years of her life," said Danz. "She knew I'd go far and do well."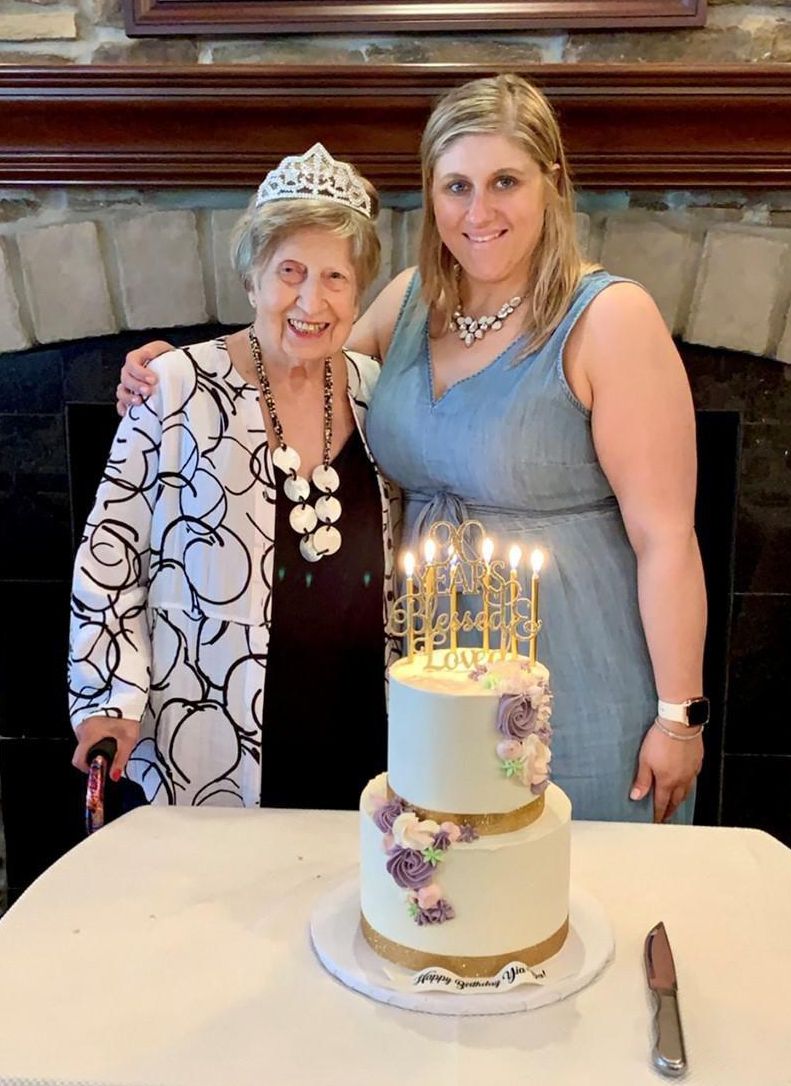 Courtesy of Emily Danz
And she has. Nurse Danz has used her childhood experiences as an onlooker to her grandmother's care as a springboard into caring for others. The very first patient she cared for after graduating nursing school in 2014 was suffering from an active tuberculosis infection. Although tuberculosis is curable and preventable, it's also highly contagious and transmittable by air. It takes the inhalation of only a few of these germs to become infected.
"I remember being petrified to walk into that room," said Danz.
Fortunately, an experienced nurse mentor gave her a pep talk that she will never forget—in fact, she says, it shaped the entire trajectory of her career.
"[She told] me not to be afraid and that caring for a tuberculosis patient is like caring for any other patient, but just with a special mask and gown. From that day on, I realized that there was no reason to ever be afraid or scared of a patient, and I actually took care of that patient every time I worked for the entirety of their stay — which was over three months."
Emily | Heroes Behind the Masks presented by CeraVewww.youtube.com
Years later when she found herself working in a hospital during a global pandemic, Nurse Danz channeled that early experience to get her through the fear of caring for patients infected with COVID-19.
"When I was assigned [my first] COVID patient, it was like my very first day of nursing all over again … my mind quickly traveled to the pep talk I was given and reminded me of the oath I took to care for patients no matter the situation," said Danz. "I continue to carry this empathy with me every day for every single patient I care for—it is something instilled in me."
Danz, who has also become an instructor to nursing students in their last year of nursing school, recognizes the importance of seeing every patient as an individual and not just a number. She teaches these students bedside clinical skills and medication administration, focusing clearly on arming them with the confidence to interact with patients comfortably, no matter the situation.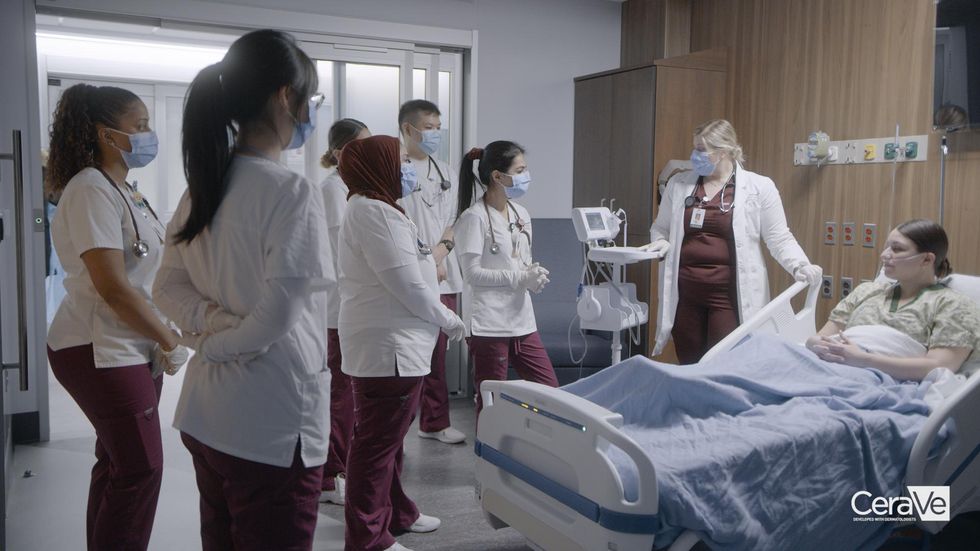 Courtesy of CeraVe
"From day one, I learned not to be afraid and it has helped me tremendously throughout my career. In every single class, I make sure to tell my students stories, events and real-life scenarios I've been through to prepare and engage them. It is imperative that the new nurses coming into the field are confident and empathetic. When you're afraid, patients sense it and it affects their healing," said Danz.
The goal of CeraVe's Heroes Behind the Masks Chapter 2: A Walk In Our Shoes campaign is to highlight exceptional nurses like Nurse Danz and recognize the profound impact they have on their patients and communities. Follow along this week for more stories and to learn about CeraVe's ongoing commitment to the nurse community here.