More
For five months, no one visited this premature baby. So her nurse committed the ultimate act of love.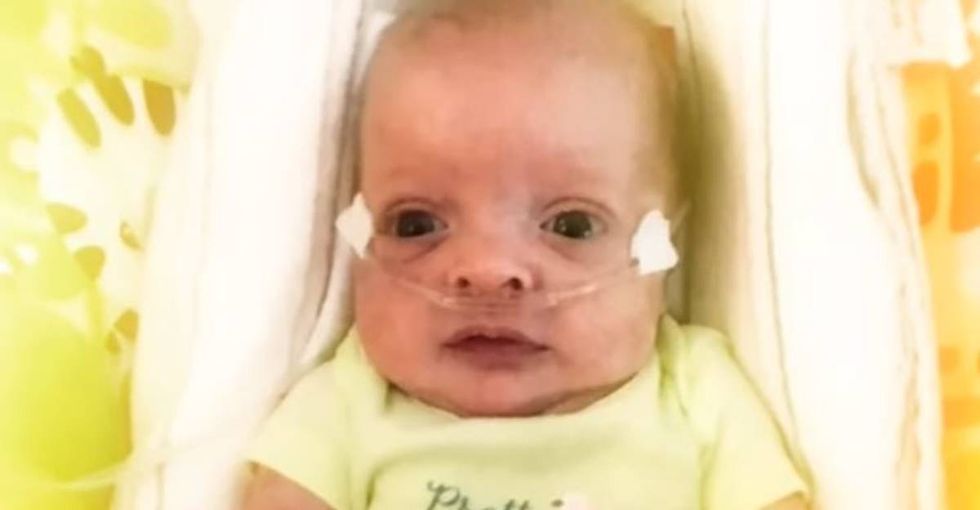 Baby Giselle was born at just 29 months and weighed only one pound 14 ounces. She was born to a drug-addicted mother and stayed in the NICU for a few months before being transferred to Franciscan Children's Hospital in Boston for acute rehab.
After Giselle was transferred, her parents stopped coming to see her. For five months, the only caregivers Giselle knew were the nurses at  Franciscan Children's Hospital.
[rebelmouse-image 19471979 dam="1" original_size="729x474" caption="via Franciscan Children's / YouTube" expand=1]via Franciscan Children's / YouTube
---
It appeared as though Gisele would be moved into foster care after her treatment, but her nurses wanted to give her a shot at going home with a forever family. So they approached 40-year-old senior nursing director Liz Smith with a plan.
"A few of the nurses at Franciscan Children's Hospital approached me and asked, 'Have you met Giselle?' and I said, 'No. Why?' and they said, 'She needs a medical foster home and you two are the perfect pair,'" she told CBS Boston.
Smith had been unable to have a child and her insurance wouldn't cover in vitro fertilization so she thought there was little chance she'd be a mother.
"Literally, Gisele crossed my path in a stroller and we locked eyes and that was it," Smith told CBS Boston. So Smith began visiting Gisele every day after work and a connection grew between the two.
[rebelmouse-image 19471980 dam="1" original_size="662x419" caption="Franciscan Children's / YouTube" expand=1]Franciscan Children's / YouTube
Smith had been reluctant to consider adoption, but after meeting Gisele her mind quickly changed.
"I remember certain nights, one in particular, when she was hooked up to the feed and I was walking by the mirror and the thought went into my head of losing her," Smith wrote on the hospital's website. "It made me sick to my stomach. You can't just love a certain percentage. You have to give it your all."
In October 2018, the adoption was finalized and Smith, who is now 45, and Giseele, who's happy and healthy at 2, are one happy family.
"We talk about the power of love, but to witness how it can transform a life and to witness how it has transformed her life and mine is unbelievable," Smith told CBS Boston