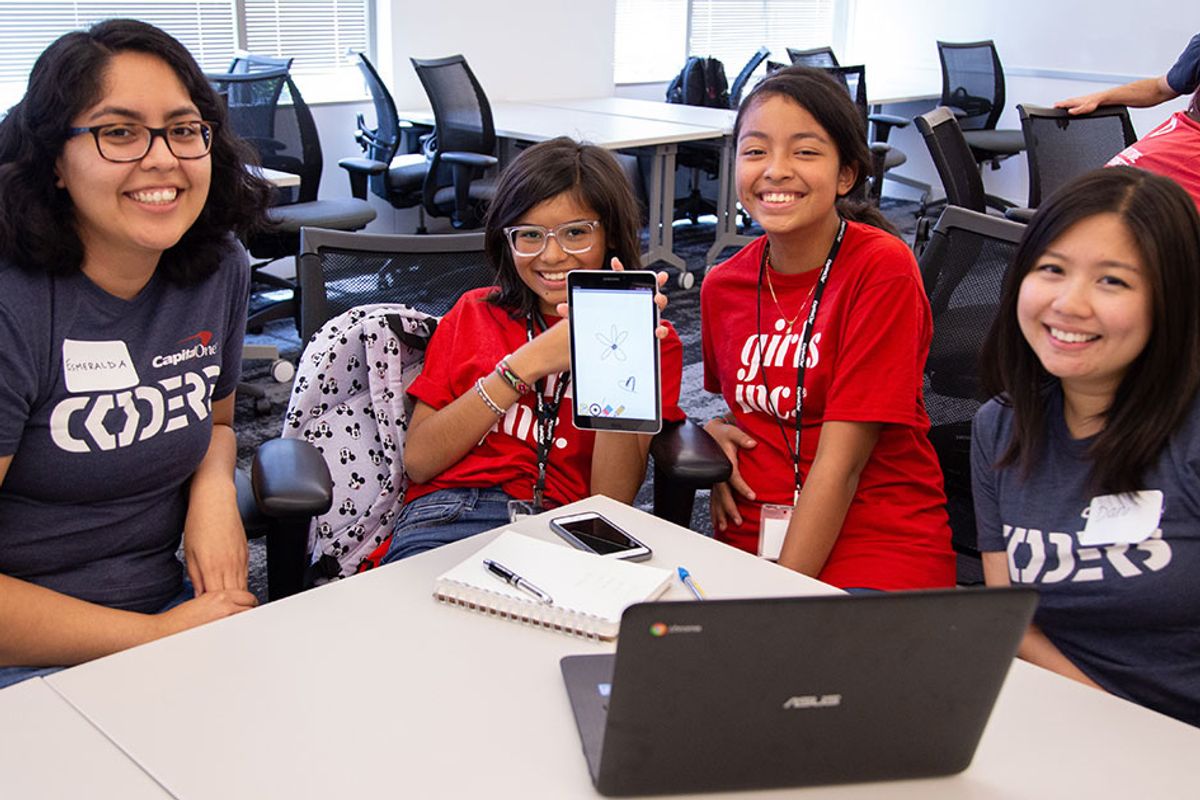 Courtesy of Capital One
True
Capital One
Eighth grader Ailyn Moreno wants to save the planet, but she wasn't sure how she'd go about it until recently.
As a student at the Dallas Environmental Academy in Texas, Moreno knew she was interested in STEM (science, technology, engineering, and math), specifically science and engineering, but there are so many career choices that exist within these broad categories. She knew she wanted to hone in on her passion, but wasn't exactly sure how to apply her academic learning to the real world.
Then one of her teachers told her about Girls Inc., a nonprofit that empowers girls ages six to 18 to value themselves, take risks, and discover and develop their inherent strengths. Through long-lasting mentoring relationships, a pro-girl environment, and research-based programming, girls become equipped to navigate gender, economic, and social barriers, and grow up healthy, educated, and independent.
Moreno was connected to the Eureka! STEM program at Girls Inc. of Dallas, which offers an intensive, five-year program to build a girls' confidence and skills through hands-on opportunities in STEM. She thought it "would open so many doors," so she decided to join.
---
From the moment she began the summer program, Moreno felt like she was seeing how careers in STEM, like doctors and software engineers, function in the real world. This helped her get a better sense of what areas she might want to pursue down the road.
During the first week, they focused on nursing and occupational therapy. "At every point of the day, we were always doing something fun and interesting," says Moreno. "We practiced giving shots to a football, pretending it was a real human being."
The Eureka! STEM program also gave Moreno the opportunity to participate in Capital One Coders. Through this program, volunteers work one-on-one with the girls, helping them explore coding and computer design technology, and build their own apps. The girls receive hands-on experience with app-building tools using algorithms and get the opportunity to ask the Capital One mentors questions about future career plans. "The mentors were really nice," says Moreno. "They guided us through the whole process of programming and controlling the apps [we made]."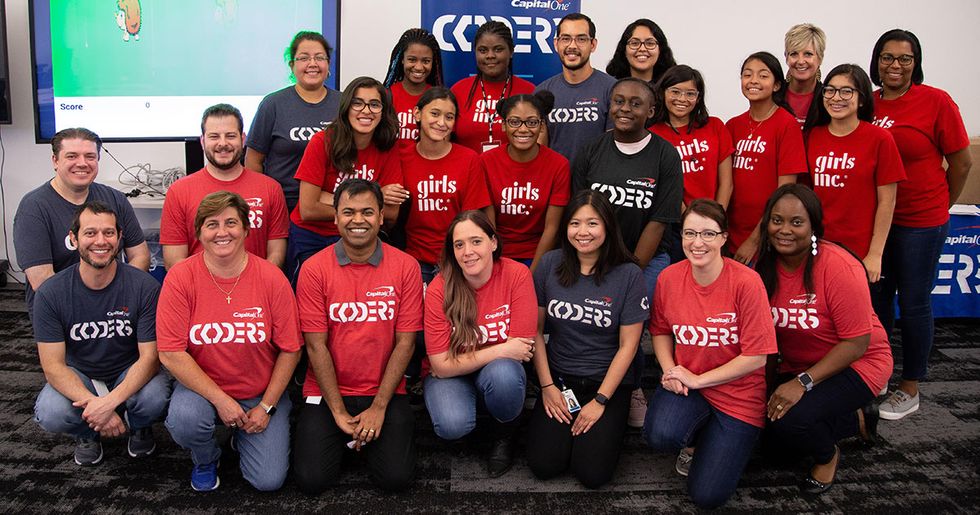 Courtesy of Capital One
Capital One Coders is part of Capital One's Future Edge initiative, which helps more Americans acquire the skills and resources they need to succeed in a technologically-driven economy.

Dallas isn't the only place where Capital One offers a Mentor Day like this with Girls Inc. Capital One Café locations in San Francisco have worked with Girls Inc. on the island of Alameda in the San Francisco Bay area since 2018. After two successful financial literacy workshops with the girls, they decided to bring professionals from STEM-related fields within Capital One to a Mentor Day.
Denise Evans, a Capital One Café Ambassador in San Francisco who helps oversee the partnership with Girls Inc., says she loves helping people gain the tools they need to be successful. Expanding Capital One's reach into a mentorship program was a huge step in that direction.
"I'm always trying to find ways to empower young girls," says Evans. "I feel like [they're] our future."
The idea was to inspire these girls to look outside the box for career possibilities. For example, Evans says many of them didn't realize science and engineering careers existed at Capital One. Others, like Moreno, knew they liked STEM, but had no idea how that interest could turn into a career or what fields were available to them.
Throughout the partnership program with Girls Inc., Evans also noticed how important it was for the girls to have women mentors who have been professionally successful. "To see another female in that role helps them see that there are possibilities that they can achieve, too," she says.
"If we do get more women in STEM, that means [more] equality gender-wise, so that women are offered the same opportunities that men have," says Moreno.
At the end of the partnership program, there's a showcase day where students speak about their experiences, share their projects and apps they made with their families and friends, and even compete for awards. After the festivities, each girl receives a certificate for all they've accomplished.
But Evans says they leave with much more than that. She feels many walk away with a sense of, "Oh I can do this!" meaning they can achieve whatever career dreams they may have. It's why she's pushing for the Capital One Coders program to work with more nonprofits, offer job shadowing experiences for young people, and ultimately open more doors that might've been previously closed to them.
"If you have those doors and the doors are open, then that's going to lead them in the right direction," says Evans.
The program certainly did just that for Moreno, who now has clarity of what she wants to be when she grows up. "I want to become an environmental engineer and help find more ways to save our planet," she says.
To learn more about Capital One's community efforts, go to www.capitalone.com/about.