Courtesy of Farwiza Farhan
True
Growing up in Indonesia, Farwiza Farhan always loved the ocean. It's why she decided to study marine biology. But the more she learned, the more she realized that it wasn't enough to work in the ocean. She needed to protect it.
"I see the ocean ecosystem collapsing due to overfishing and climate change," she says. "I felt powerless and didn't know what to do [so] I decided to pursue my master's in environmental management."
This choice led her to work in environmental protection, and it was fate that brought her back home to the Leuser Ecosystem in Sumatra, Indonesia — one of the last places on earth where species such as tigers, orangutans, elephants and Sumatran rhinoceros still live in the wild today. It's also home to over 300 species of birds, eight of which are endemic to the region.
"When I first flew over the Leuser Ecosystem, I saw an intact landscape, a contiguous block of lush, diverse vegetation stretched through hills and valleys. The Leuser is truly a majestic landscape — one of a kind."
She fell in love. "I had my first orangutan encounter in the Leuser Ecosystem," she remembers. "As the baby orangutan swung from the branches, seemingly playing and having fun, the mother was observing us. I was moved by the experience."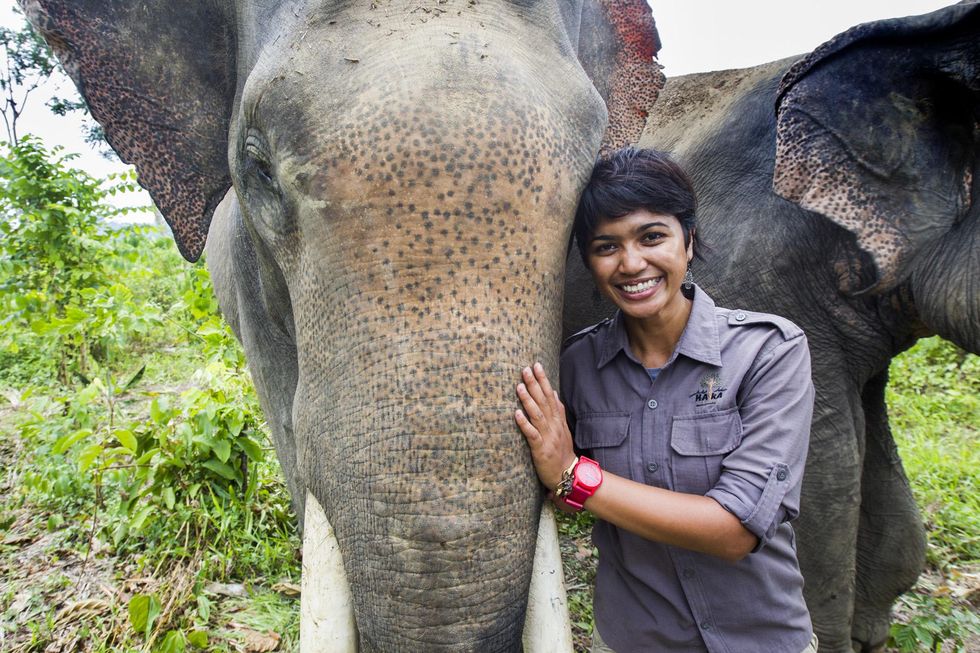 Courtesy of Farwiza Farhan
"Over the years," she continues, "the encounters with wildlife, with people, and with the ecosystem itself compounded. My curiosity and interest towards nature have turned into a deep desire to protect this biodiversity."
So, she began working for a government agency tasked to protect it. After the agency dismantled for political reasons in the country, Farhan decided to create the HAkA Foundation.
"The goals [of HAkA] are to protect, conserve and restore the Leuser Ecosystem while at the same time catalyzing and enabling just economic prosperity for the region," she says.
"Wild areas and wild places are rare these days," she continues. "We think gold and diamonds are rare and therefore valuable assets, but wild places and forests, like the Leuser Ecosystems, are the kind of natural assets that essentially provide us with life-sustaining services."
"The rivers that flow through the forest of the Leuser Ecosystem are not too dissimilar to the blood that flows through our veins. It might sound extreme, but tell me — can anyone live without water?"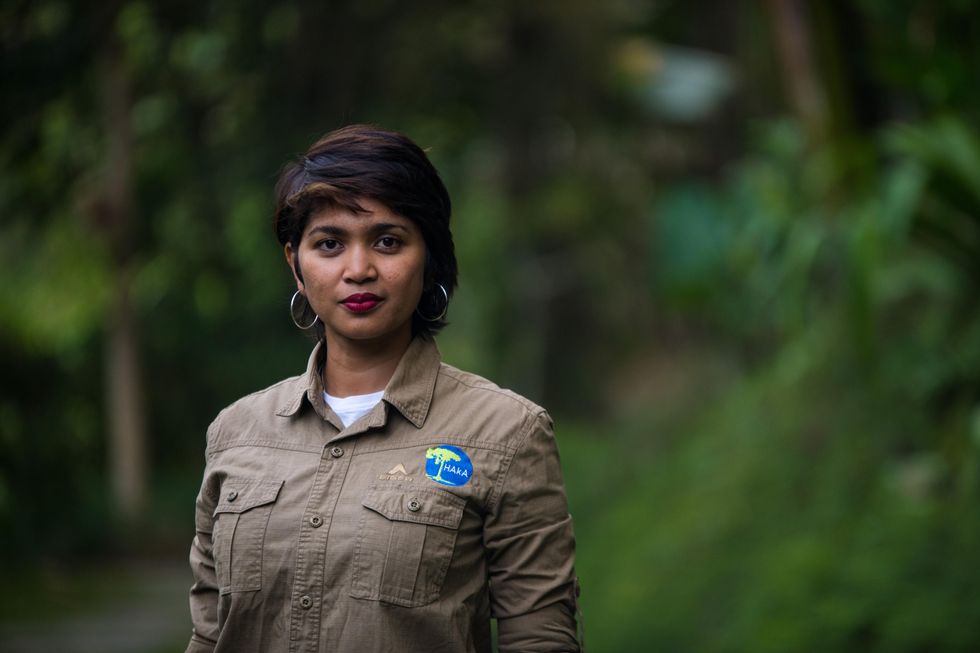 Courtesy of Farwiza Farhan
So far, HAkA has done a lot of work to protect the region. The organization played a key role in strengthening laws that bring the palm oil companies that burn forests to justice. In fact, their involvement led to an unprecedented, first-of-its-kind court decision that fined one company close to $26 million.
In addition, HAkA helped thwart destructive infrastructure plans that would have damaged critical habitat for the Sumatran elephants and rhinos. They're working to prevent mining destruction by helping communities develop alternative livelihoods that don't damage the forests. They've also trained hundreds of police and government rangers to monitor deforestation, helping to establish the first women ranger teams in the region.
"We have supported multiple villages to create local regulation on river and land protection, effectively empowering communities to regain ownership over their environment."
She is one of Tory Burch's Empowered Women this year. The donation she receives as a nominee is being awarded to the Ecosystem Impact Foundation. The small local foundation is working to protect some of the last remaining habitats of the critically endangered leatherback turtle that lives on the west coast of Sumatra.
"The funds will help the organization keep their ranger employed so they can continue protecting the islands, endangered birds and sea turtle habitats," she says.
To learn more about Tory Burch and Upworthy's Empowered Women program visit https://www.toryburch.com/empoweredwomen. Do you know an inspiring woman like Farwiza? Nominate her today!
Courtesy of Ms. Lopez
True
Marcella Lopez didn't always want to be a teacher — but once she became one, she found her passion. That's why she's stayed in the profession for 23 years, spending the past 16 at her current school in Los Angeles, where she mostly teaches children of color.
"I wanted purpose, to give back, to live a life of public service, to light the spark in others to think critically and to be kind human beings," she says. "More importantly, I wanted my students to see themselves when they saw me, to believe they could do it too."
Ms. Lopez didn't encounter a teacher of color until college. "That moment was life-changing for me," she recalls. "It was the first time I felt comfortable in my own skin as a student. Always remembering how I felt in that college class many years ago has kept me grounded year after year."
It's also guided her teaching. Ms. Lopez says she always selects authors and characters that represent her students and celebrate other ethnicities so students can relate to what they read while also learning about other cultures.
"I want them to see themselves in the books they read, respect those that may not look like them and realize they may have lots in common with [other cultures] they read about," she says.
She also wants her students to have a different experience in school than she did.
When Ms. Lopez was in first grade, she "was speaking in Spanish to a new student, showing her where the restroom was when a staff member overheard our conversation and directed me to not speak in Spanish," she recalls. "In 'this school,' we only speak English," she remembers them saying. "From that day forward, I was made to feel less-than and embarrassed to speak the language of my family, my ancestors; the language I learned to speak first."
Part of her job, she says, is to find new ways to promote acceptance and inclusion in her classroom.
"The worldwide movement around social justice following the death of George Floyd amplified my duty as a teacher to learn how to discuss racial equity in a way that made sense to my little learners," she says. "It ignited me to help them see themselves in a positive light, to make our classroom family feel more inclusive, and make our classroom a safe place to have authentic conversations."
One way she did that was by raising money through DonorsChoose to purchase books and other materials for her classroom that feature diverse perspectives.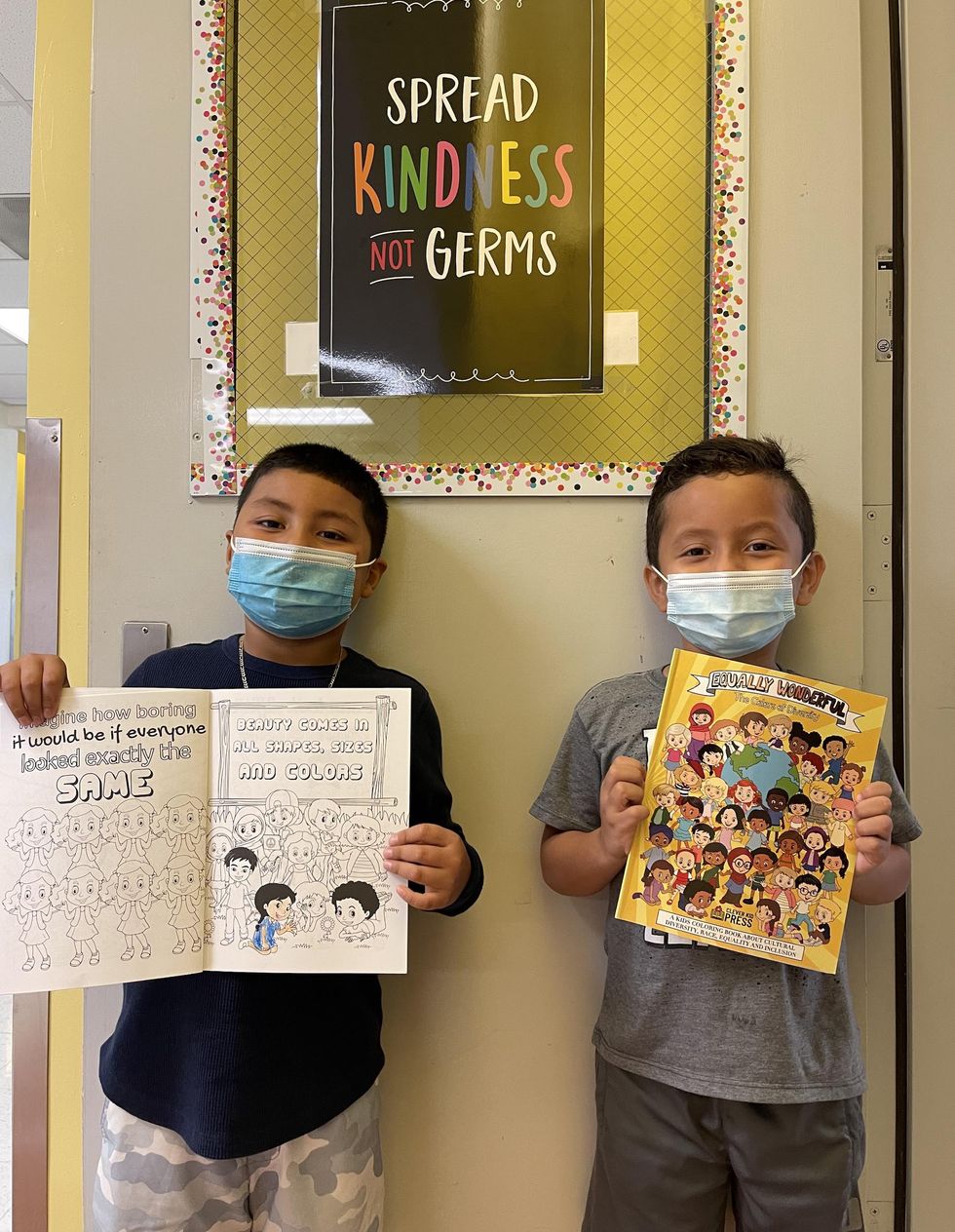 Courtesy of Ms. Lopez
The Allstate Foundation recently partnered with DonorsChoose to create a Racial Justice and Representation category to encourage teachers like Ms. Lopez to create projects that address racial equity in the classroom. To launch the category, The Allstate Foundation matched all donations to these projects for a total of $1.5 million. Together, they hope to drive awareness and funding to projects that bring diversity, inclusion, and identity-affirming learning materials into classrooms across the country. You can see current projects seeking funding here.
When Ms. Lopez wanted to incorporate inclusive coloring books into her lesson plans, The Allstate Foundation fully funded her project so she was able to purchase them.
"I'm a lifelong learner, striving to be my best version of myself and always working to inspire my little learners to do the same," she says. Each week, Ms. Lopez and the students would focus on a page in the book and discuss its message. And she plans to do the same again this school year.
"DonorsChoose has been a gamechanger for my students. Without the support of all the donors that come together on this platform, we wouldn't have a sliver of what I've been able to provide for my students, especially during the pandemic," she says.
"My passion is to continue striving to be excellent, and to continue to find ways to use literature as an anchor, depicting images that reflect my students," she says.
To help teachers like Ms. Lopez drive this important mission forward, donate on DonorsChoose.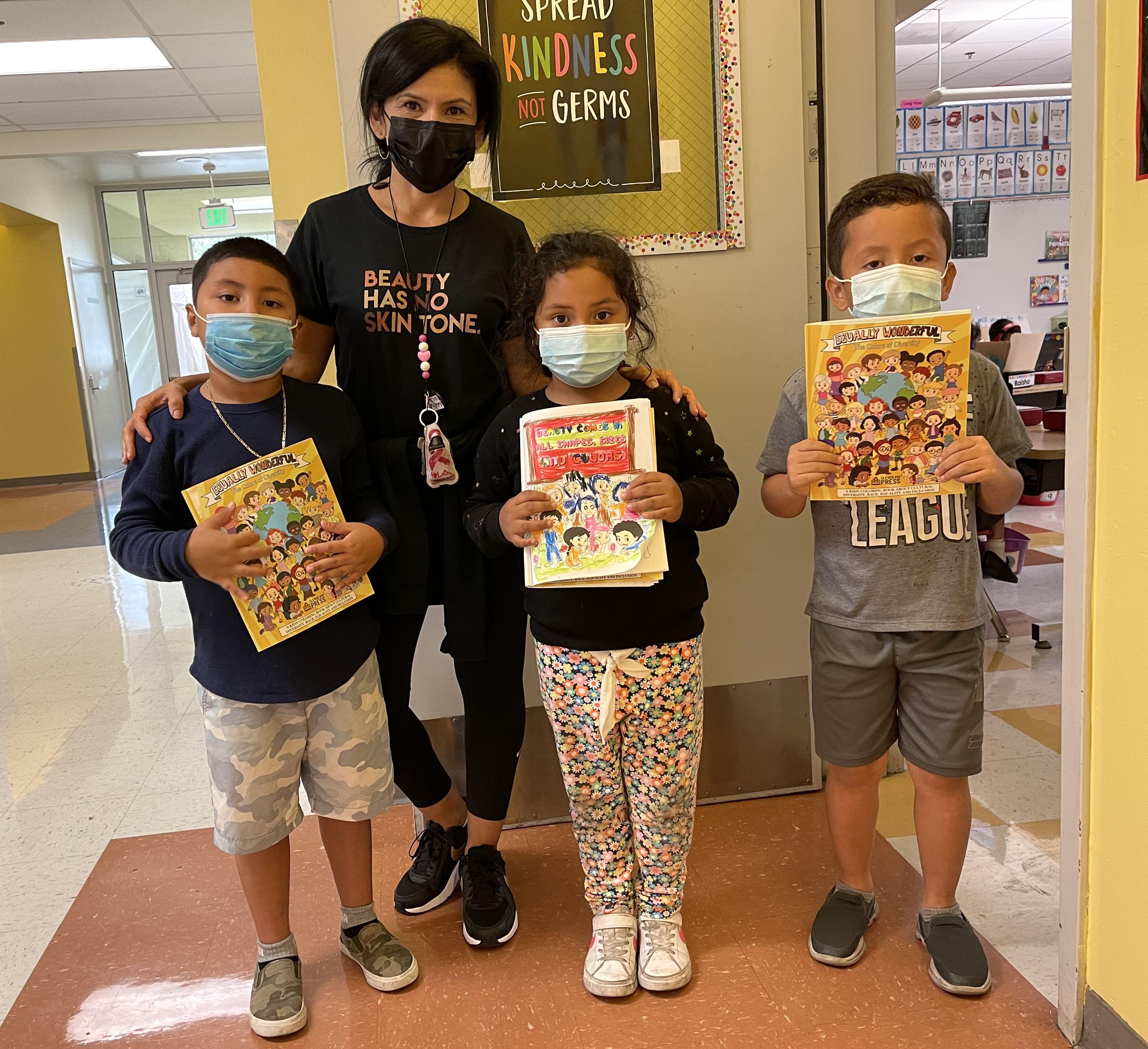 Courtesy of Ms. Lopez
From Your Site Articles
Related Articles Around the Web
When I conceived my first born, I was elated. I took four at-home tests to confirm the news, peeing on my hand four times — and on four different sticks. I rushed to the city to tell my husband, with a congratulatory card and a few goodies in a yellow gift bag. There was a pacifier, a bottle, and an adorable Big Bird brush and comb set. And I called my doctor within hours. I scheduled an ultrasound the following week. But when I told everyone else the news, they wanted to know about my unborn baby's sex. Did I want a boy, they asked, or a girl?
I said I didn't care because I didn't. I wanted a child, to be sure. A happy, healthy baby who could (and presumably would) grow to become a happy, healthy kid. But everyone was focused on colors. On labels. Would I be a dance mom or a soccer mom? Would my shower be decorated with pink balloons or blue? And while I learned at my 20-week checkup that I was having a daughter — that I would be having a baby girl — I didn't identify as a "girl mom." My daughter is 8 and I still don't. Because sex doesn't define my daughter. It doesn't dictate her interests or mine, and it doesn't affect how I parent. I treat my son and daughter (more or less) the same. Because I'm not a boy mom or a girl mom, I'm just Mom, and that's an important distinction.
It is a paradigm shift we all should make.
You see, the insistence on gendering your child is odd and forced. I mean, in doing so parents find a sense of security. Of stability. They "relate" to one another's struggles and plights. But my daughter (and son's) sex doesn't define them. Their parts do not determine how they play or their worth — i.e. when my daughter was little she climbed trees and scuffed her knees; my son says his favorite color is pink and he plays with trucks and baby dolls — and their assigned sex isn't any more reflective of their personality than their nose or forefinger. It is a biological component, a physical part of their makeup and DNA.
Plus, when we refer to ourselves as boy moms or girl moms we support and reiterate stereotypes, i.e. boys are rambunctious and rowdy while girls are emotional and sensitive. The former likes potty humor while the latter should cook and clean, and this is dangerous. It repeats history and the message of old, outdated tapes. It reaffirms that in our society there are sex-specific roles, and this sets back our girls yet again, teaching them what they aren't, what they should be, and what they can't do. It teaches our sons to be cold and callous and emotionally withdrawn.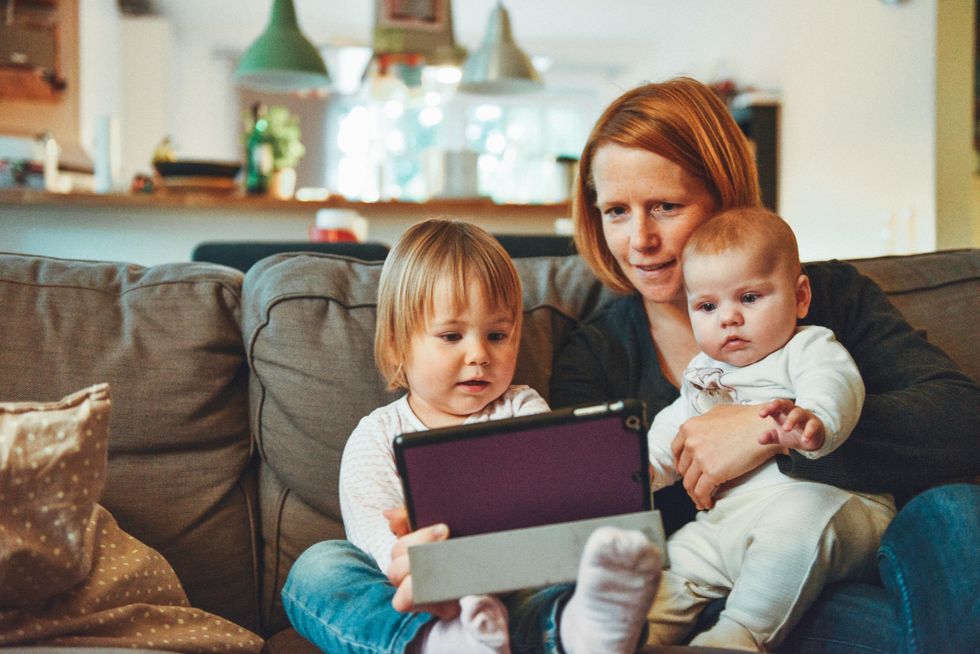 two babies and woman sitting on sofa while holding baby and watching on tabletPhoto by
Alexander Dummer
on
Unsplash
There's also another problem with these labels, i.e. when we refer to ourselves as boy moms and girl moms we (unwittingly) force our children into boxes which they may not fit. While many children's "gender identity aligns with their assigned gender... for some children, the match between their assigned gender and gender identity is not so clear," an article by Healthy Children states. Telling them what they are and who they should be can create inner turmoil. It can cause children to feel scared, angry, isolated, misunderstood, helpless, hopeless, and alone.
"Young people who are transgender feel powerfully that they are not the gender assigned to them at birth," an article by the Child Mind Institute states. "Even young children might say, 'No, I'm really a boy' or 'No, I'm really a girl' [and] as they get older, they may feel extremely uncomfortable in their bodies," the article continues. "Th[is] disconnect between their experienced gender and their assigned gender can result in acute distress called gender dysphoria... which can be a source of profound suffering."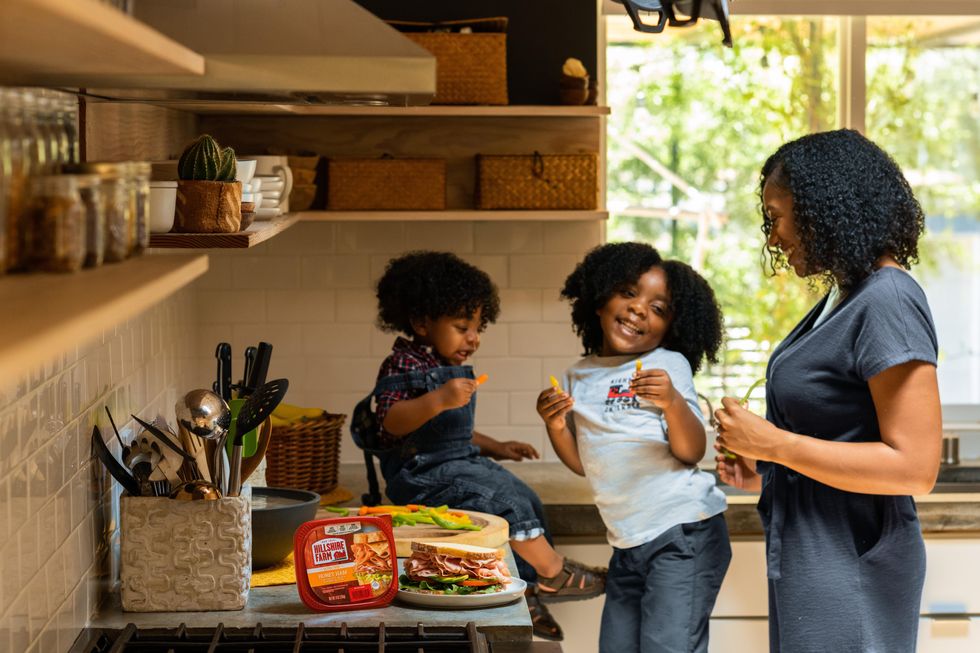 woman in white t-shirt standing beside woman in black and white stripe shirtPhoto by
Hillshire Farm
on
Unsplash
So instead of labeling your children and yourself, consider just going. Just doing. Just being #Mom. Because our children deserve a happy, healthy childhood. They deserve the chance to roam and play and develop on their own, and they should become well-rounded people not because of labels or boundaries but in spite of them. I want my oldest to explore her love of science and math. Right now, I just want my youngest to stop licking strangers and eating dirt. But she will, if she wants. He will, as he grows, and that's because I'm not a boy mom or a girl mom. I'm just Mom — a person and parent who loves her children unconditionally. A person and parent who loves her children, no matter what.
From Your Site Articles
Related Articles Around the Web
A FaceTime from her daughter is the best surprise this mom could ask for. Why? Because unbeknown to her, the daughter arrived back home from college in secret. And she shared this touching impromptu reunion with TikTok for everyone to enjoy.
The video shows a mom in the kitchen, answering a Facetime call from her daughter, her face appearing in close-up. We know what's about to happen (the caption reads "Surprising my mom that I'm back home from uni"), but still the anticipation is delightful.
And it doesn't take long for the mom to realize what's going on. As she turns her back from the camera for just one second, the daughter zooms out and waits. When mom turns back around, she instantly knows what's up, and off she runs out of frame, followed by an equally surprised little brother.
It's no wonder the video went viral. One commenter summed up it by saying, "families that actually LIKE each other are my favorite."
You might be wondering: How did the daughter manage to sneak into her room without mom noticing? The question gets answered at the end (which is arguably the best part of the video, second to mom's excitement).
As mom jolts out of the frame to hug her daughter in the next room, out of nowhere comes dad, beaming with a smile that lets us know he was definitely in on the plan. From the look on their faces as they share mischievous looks, I'd say we know where the daughter gets her prankster streak from.
Get stories worth sharing delivered to your inbox
Get stories worth sharing delivered to your inbox