More
A Tinder troll called her out on an 'ugly dress.' The tables turned so quickly you'll get whiplash.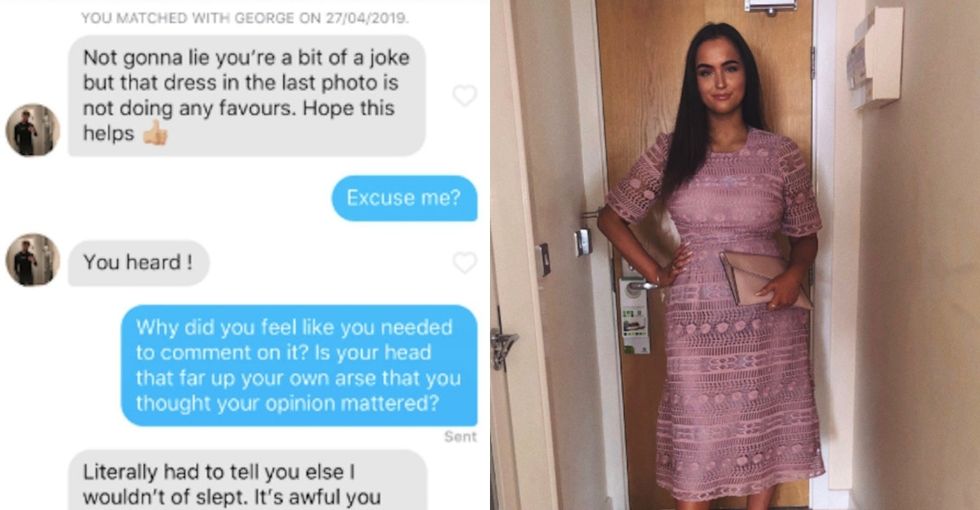 The internet dating scene is a minefield. On one hand, you could meet someone who's awesome and kind and exactly who you're looking to spend the next two hours to twenty five years with. On the other, sometimes you get scammers and liars.
---
And worse yet, sometimes you just get a jerk who's out to ruin your day for reasons that are neither apparent or important.
In other words, a troll.
That's exactly what happened to Thea Lauryn Chippendale, a 20-year-old looking for friendship (and more?) on the stormy seas of Tinder. Instead of saying "hello" or trying to open with a corny pick-up line, one guy she matched with tried a different tack: Insulting her photos.
"Not gonna lie, you're a bit of a joke, but that dress in the last photo is not doing any favours. Hope this helps," read the guy's opening volley.
[rebelmouse-image 19469773 dam="1" original_size="750x998" caption="Image of Thea in this bangin' dress via her Twitter.." expand=1]Image of Thea in this bangin' dress via her Twitter..
Thea's response was a very understated "excuse me?" which should have immediately led to an apology, but instead George (that's the guy's name) doubled down, insisting "you heard me" before saying that he "couldn't have slept" if he didn't tell Thea to "shop somewhere decent" for dresses.
Here's the entire exchange:
[rebelmouse-image 19469775 dam="1" original_size="750x1059" caption="Image via Thea's Twitter." expand=1]Image via Thea's Twitter.
Confidential to George: this sounds like a personal problem that you should absolutely see someone to talk about. Insomnia is no joke. But neither is the fact that you feel like you need to put women down in order to make yourself feel better. This attempt at negging is just so ugly and transparent. Perhaps it's time to log off Tinder and take a good hard look in the mirror for a while!
You know what though? This story isn't about George. It's about the fact that as soon as Thea posted evidence of this toxicity to social media, people rallied around her to prove that trolls like George aren't in the majority. One of those people wasn't a person at all. It was a brand called ASOS, the designer of the very dress Thea was wearing in the picture.
And if there's one thing we know about the future, it's that good things sometimes happen when brands develop disembodied voices and venture out into the twitter-sphere to make (reasonable) dreams come true.
@theachippendale Here's to finding our perfect match 😉🍾 Thea babe, let's talk. Check your DMs…

— ASOS (@ASOS) 1556718168.0
That DM led to something really cool. ASOS started using Thea's picture as an advertisement for the dress.
[rebelmouse-image 19469776 dam="1" original_size="750x420" caption="Image via ASOS." expand=1]Image via ASOS.
Of course this is a total marketing ploy, but who's to say all marketing ploys are awful and ill-advised? In the end, it turned the tables on some unnecessary vitriol and made Thea more confident about herself.
'I'm just so grateful to everyone else for how amazing they've been and how positive and lovely everyone has been. It's been absolutely incredible," Thea told Grazia.
So what if that also sells a few more dresses?