Most Shared
A billionaire is wiping out the debt of an entire 2019 college class. AOC says they shouldn't need an 'act of charity.'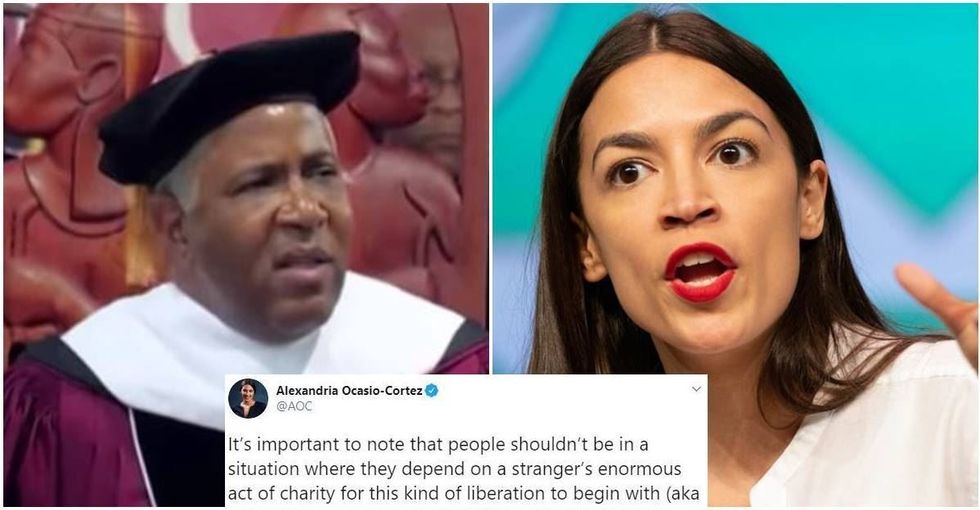 In an astonishing display of generosity, billionaire Robert F. Smith announced that his family is providing grants to wipe out the student debt of the entire 2019 class at Morehouse College.
Smith made the announcement while giving a commencement speech at the all-male historically black college in Atlanta, Georgia on Sunday, May 19. It was met by an enthusiastic cheer from the 400 graduating seniors.
"My family is going to create a grant to eliminate your student loans," Smith said. According to the college, Smith pledges to donate $40 million to the graduates.
---
Smith is the founder of Vista Equity Partners, a private equity firm with over $46 billion in assets.
While Smith's donation is an incredible show of generosity, it also highlights the tremendous burdens faced by millions of many college and trade-school graduates. Americans owe $1.4 trillion in college debt. That's more than they owe on car loans or credit cards.
The average college senior now owes $29,000 in student loan debt and the average bachelor's degree holder takes 21 years to pay off their loans.
Student debt prevents young Americans from starting businesses, buying homes, or saving for retirement. It also forces them to make hasty career decisions so they can stay afloat.
Freshman Democratic Representative Alexandria Ocasio-Cortez used Smith's generous donation to highlight the student debt crisis.
It's important to note that people shouldn't be in a situation where they depend on a stranger's enormous act of ch… https://t.co/4dcWjh4shb

— Alexandria Ocasio-Cortez (@Alexandria Ocasio-Cortez) 1558285034.0
She also saw the donation as an experiment to see how debt-free graduates behave as opposed to those who leave college under extreme financial stress.
Every Morehouse Class of 2019 student is getting their student debt load paid off by their commencement speaker. T… https://t.co/8EaxuZxSNn

— Alexandria Ocasio-Cortez (@Alexandria Ocasio-Cortez) 1558285034.0
Ocasio-Cortez campaigned in favor of creating tuition free college and trade schools as well as eliminating all student debt. It's an issue that's close to home for her, because she's still paying off her degree from Boston College where she graduated in 2011.
For the cost of the GOP's tax bill, we could forgive ALL the student loan debt in the United States. #TuesdayThoughts

— Alexandria Ocasio-Cortez (@Alexandria Ocasio-Cortez) 1526397199.0
Vermont Senator Bernie Sanders echoed Ocasio-Cortez's statement at a town hall in Montgomery, Alabama.
"A very kind gentleman, a billionaire, forgave the debts of students at Morehouse," the Democratic presidential candidate said. "What he did was very generous, but the truth is that private charity alone is not going to solve a problem in which some 40 million Americans are struggling with right now."
"The time again is long overdue to stop the punishment of millions of people who did nothing wrong except try to get the best education that they could," he continued.
Bernie Sanders: "A very kind gentleman, a billionaire, forgave the debts of students at Morehouse. What he did was… https://t.co/99NkxhxXdP

— The Hill (@The Hill) 1558384778.0