More
A 9-year-old asked Steph Curry why his shoes aren't available in girls' sizes. He made her a promise and kept it.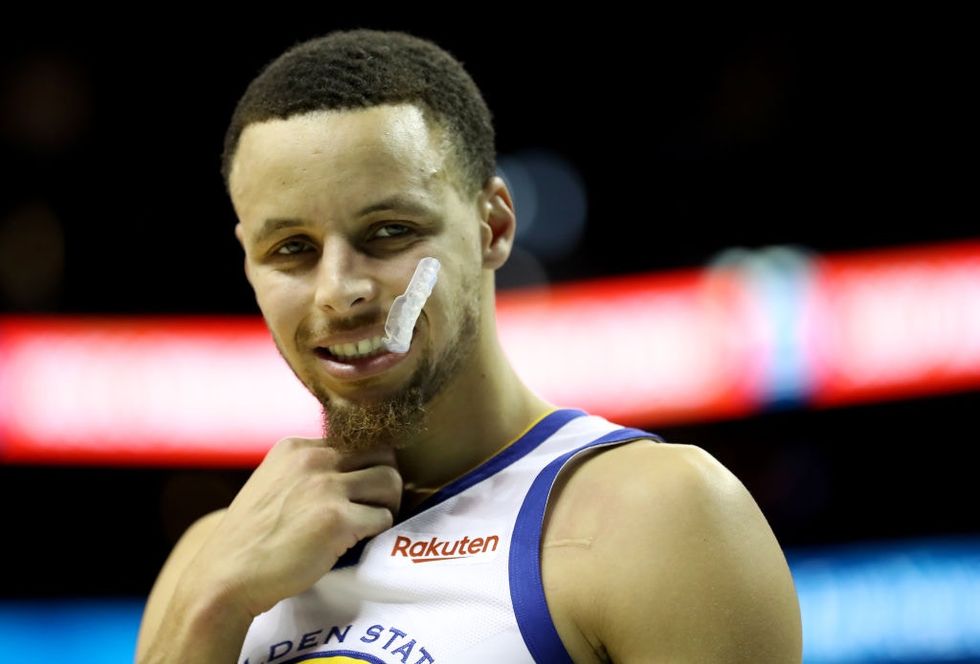 Photo by Streeter Lecka / Getty Images
Last November, we shared the story of how a young girl's letter to Steph Curry convinced the two-time NBA MVP to create shoes for girls. Now, Curry has made good on his promise.
It started when nine-year-old basketball fanatic Riley Morrison from Napa, California went online to pick up a pair of Under Armour Curry 5 shoes, but there weren't any available in the girls' section of the site.
So she wrote a letter to Curry asking him to create a pair of Curry 5's for girls. Her father posted the letter to Instagram.
---
My name is Riley (just like your daughter), I'm 9 years old from Napa, California. I am a big fan of yours. I enjoy going to Warriors games with my dad. I asked my dad to buy me the new Curry 5's because I'm starting a new basketball season. My dad and I visited the Under Armour website and were disappointed to see that there were no Curry 5's for sale under the girls section. However, they did have them for sale under the boy's section, even to customize. I know you support girl athletes because you have two daughters and you host an all girls basketball camp. I hope you can work with Under Armour to change this because girls want to rock the Curry 5's too.
Curry wrote back to Riley saying he's working with Under Armour to "fix the issue" and added there's "something special in the works for International Women's Day on March 8."
Appreciate you helping us get better Riley! We got you. #MoreToCome https://t.co/UBoTklvwhg

— Stephen Curry (@Stephen Curry) 1543502029.0
I appreciate your concern and have spent the last 2 days talking to Under Armour about how we can fix the issue. Unfortunately, we have labeled smaller sizes as "boys" on the website. We are correcting this NOW! I want to make sure you can wear my kicks proudly — so I am going to send you a pair of Curry 5's now AND you'll be one of the first kids to get the Curry 6. Lastly, we have something special in the works for International Women's Day on March 8, and I want you to celebrate with me! More to come on that, but plan to be in Oakland that night! All the Best!
Curry made good on his promise, releasing the Under Armour Icon Curry 6 "United We Win" sneaker on International Women's Day.
The shoe's sock liner and sole includes a drawing by Riley of two girls holding a basketball that reads "Rock the Currys," "Girl Power" and "Be Bold."
Inspired by 9-year old Riley Morrison's letter to @stephencurry30 asking why his sneakers were not listed in the gi… https://t.co/pIYH5B6ps0

— SoleCollector.com (@SoleCollector.com) 1552013285.0
Steph Curry unveils Curry 6 shoes designed with 9-year-old Riley Morrison for #InternationalWomensDay.… https://t.co/9cnn6cqiav

— Inside Edition (@Inside Edition) 1552093200.0
"It's been amazing. It's a really special experience. I never imagined that this would happen," Riley said at a pop-up shop in Oakland, California where Curry surprised her with her own pair of the sneakers. "I'm really happy I wrote that letter."
The sneakers are not just a phenomenal example of what can happen when women demand equal representation in the world of athletics, the shoes also support a great cause. Sales from the sneaker will go toward a scholarship for a college-bound girl in the Bay Area.