True
Making new friends as an adult is challenging. While people crave meaningful IRL connections, it can be hard to know where to find them. But thanks to one Facebook Group, meeting your new best friends is easier than ever.
Founded in 2018, NYC Brunch Squad brings together hundreds of people who come as strangers and leave as friends through its in-person events.
"Witnessing the transformative impact our community has on the lives of our members is truly remarkable. We provide the essential support and connections needed to thrive amid the city's chaos," shares Liza Rubin, the group's founder.
Despite its name, the group doesn't just do brunch. They also have book clubs, seasonal parties, and picnics, among other activities.
NYC Brunch Squad curates up to 10 monthly events tailored to the specific interests of its members. Liza handles all the details, taking into account different budgets and event sizes – all people have to do is show up.
"We have members who met at our events and became friends and went on to embark on international journeys to celebrate birthdays together. We have had members get married with bridesmaids by their sides who were women they first connected with at our events. We've had members decide to live together and become roommates," Liza says.
Members also bond over their passion for giving back to their community. The group has hosted many impact-driven events, including a "Picnic with Purpose" to create self-care packages for homeless shelters and recently participated in the #SquadSpreadsJoy challenge. Each day, the 100 members participating receive random acts of kindness to complete. They can also share their stories on the group page to earn extra points. The member with the most points at the end wins a free seat at the group's Friendsgiving event.

If you want to meet the group in person, NYC Brunch Squad, along with many other locally-based New York groups, is participating in the upcoming Facebook IRL event on December 2. This pop-up experience in New York City's West Village will provide a space to discover new hobbies, find new friends, and connect with others around the things they love.
Learn more about the event and sign up to attend here.
Not in the New York area but still want to get involved? As a result of NYC Brunch Squad's popularity, the group is expanding across the country.
"With a robust community established in NYC, we're now excited to announce our expansion with pop-up events in the works in 15 additional cities. What's more, we're launching a travel club, extending our mission to foster connections beyond the city limits and to help people build life-changing friendships in new and exciting places," Liza says.
If you're ready to make new meaningful connections, join NYC Brunch Squad! You might just meet your new best friends.
Joy
He tries making himself so small in the kennel until he realizes he's safe.
Health
Let's start with the unspoken and uncomfortable fact that miscarriages at home usually happen in a toilet.
Joy
"We appreciate your concern but please do not knock on our door.."
Get stories worth sharing delivered to your inbox
Education
It's usually a bad thing to land in a mound of fire ants at 80 mph. But not if you're Joan Murray.
Canva
You have a 50% chance of surviving a fall of 48 feet, roughly equaling a 4-story building. The mortality rate rushes all the way up to 90% when you fall 84 feet, the distance of a 7-story building.
So if you're falling from a whopping 14,500 feet, just over two-and-a-half miles, you can safely bet that you're most definitely not getting out alive.
But one
woman
did. And that's not even the
wildest
part of her story.
In 1999, a woman and skydiving enthusiast named Joan Murray, 47, had traveled to North Carolina to embark upon her 37th free-fall, with the purpose of testing out new equipment.
In 1999, skydiver Joan Murray's parachute malfunctioned, causing her to fall 14,500 feet.

Her backup parachute opened at 700 feet, but it quickly deflated and she continued to plummet towards the ground at 80 miles per hour.

Miraculously, Murray survived the fall thanks to the… pic.twitter.com/C5zCSIt0DA

— Morbid Knowledge (@Morbidful) November 29, 2023
After carefully packing and prepping, Murray made her jump. Only when she pulled the cord for her parachute, nothing happened. There she was, hurtling towards the Earth at 80 mph.
According to a Star News article reporting the incident, Murray was finally able to release her emergency chute at 700 feet, but that only "swung her out of control."
In a display of cosmic irony, Murray eventually slammed into the ground onto a live mound of fire ants. You can't make this stuff up.
But incredibly, Murray survived the fall. Most of her bones were shattered, her teeth fillings flew out, her face was severely bitten by ants and she fell into a coma for two weeks…but she survived. As for how she survived such a harrowing fall, her doctor simply wrote "miracle" on her file.
And while Murray's survival is no doubt miraculous, evidence suggests that those fire ants were the little angels behind it.
TIL: On Sept 25, 1999, American skydiver Joan Murray fell 4400 m when her chute failed and landed on a mound of fire ants. Doctors said the >200 stings she received caused an adrenaline surge that kept her heart beating. She survived after 20 surgeries and 17 blood transfusions. pic.twitter.com/0V63ePZyOg

— Legends Of Surgery (@SurgeryLegends) March 21, 2020
Murray had remained conscious after her fall (yikes) and reported that she could feel the burning sensation of the army of ants stinging her. Eventually, it was the unbearable pain of the stings, not the insane fall, that made her pass out.
When paramedics arrived on the scene, they saw Murray completely covered in hundreds of thousands of fire ants—and around 200 stings on her body. It was believed that the venom from their stings not only shocked her heart (thus keeping it beating) but caused her body to produce more adrenaline until help came.
Perhaps the most unbelievable part of this story is that Murray actually skydived again only two years after this disaster. She also turned down an offer to retire with disability from her job and Bank of America and continued her banking career that extended over 20 years.
Though Murray passed away in May of 2022, she is still remembered not only for her amazing survival, but her optimistic outlook on life.
As she shared with "People" following the accident, "Sometimes we take life for granted. I truly have fun putting my shoes on in the morning."
May we all find a way to find the same positivity…perhaps without the fire ants.
Dommei's innovative designs are empowering children to unleash their artistic potential.
Imagine a world where a simple backpack becomes a canvas for imagination and a tool for learning. That's the world Dommei has created.

Born out of a desire to blend creativity with everyday utility, Dommei is not just another company; it's a hub of innovation. In a time when screens often dominate our children's attention, Dommei brings back the joy of tangible, hands-on creativity.
Each backpack from Dommei is more than a bag; it's a gateway to worlds of space, oceans, dinosaurs, and more. It's where art meets education, and ordinary backpacks transform into extraordinary masterpieces, empowering children to unleash their artistic potential and explore new horizons.
During the 2020 pandemic, when the world seemed to pause, Dommei hit the play button on creativity and innovation. The company's journey began with a question: How can we turn everyday objects into something extraordinary? Inspired by the grandeur and innovation symbolized by the Crystal Palace of the first World Expo, Dommei decided to reinvent something as simple as a backpack into a canvas of imagination and learning.
At its core, Dommei stands on three pillars: create, have fun, and share. It's not just about making a product; it's about creating an experience that blends joy with education. The brand encourages children and adults alike to explore their creativity, turning personal expression into an interactive adventure. By marrying practicality with play, Dommei backpacks are more than just storage; they're tools for storytelling, learning, and sharing experiences. Each backpack is a celebration of personal expression, underlining the brand's commitment to making education not only accessible but also enjoyable.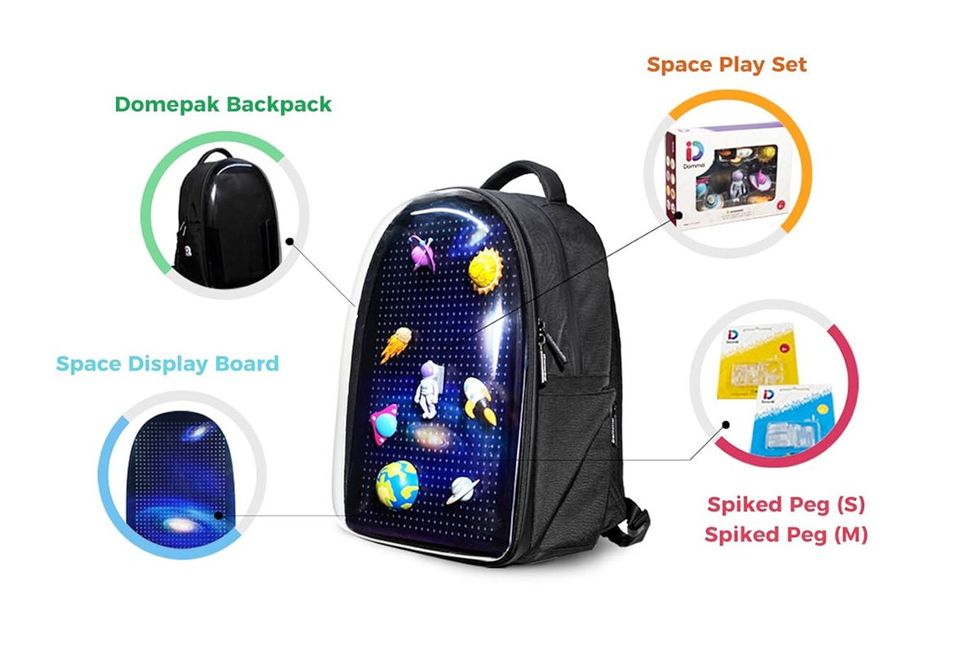 Blast off into a universe of learning and creativity with the Space Domepak Kit! This isn't just a backpack; it's a launchpad for young astronauts' imaginations. Loaded with a space-themed display board, stellar toys, and tools for connecting, the Space Domepak turns the mystery of the cosmos into an interactive adventure. It's perfect for those little dreamers who gaze up at the stars and wonder.
By bringing the wonders of the universe to their fingertips, this kit encourages curiosity, learning, and creativity, making the vastness of space feel a little closer and a lot more personal. It's not just carrying a backpack but a galaxy of possibilities.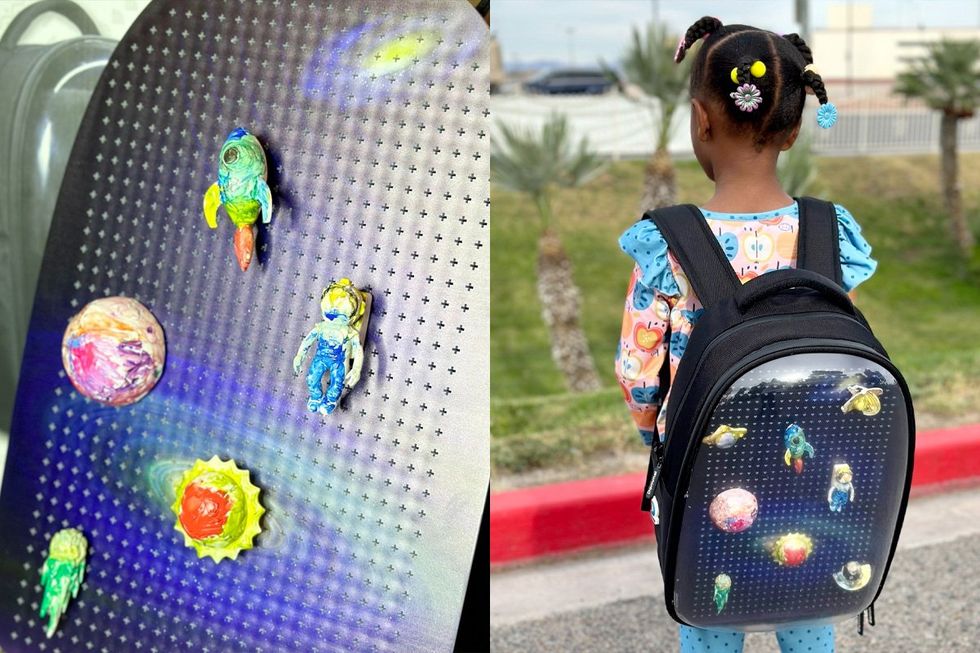 Dive into the deep blue with the Ocean Domepak Kit, where every zip opens up a world of underwater exploration. This kit is more than a backpack; it's an oceanic expedition for young explorers! It is packed with marine-themed toys, a vibrant display board, and tools inviting interaction
It's a treasure trove for budding marine biologists. Kids discover and learn about mysterious marine species, fostering a love for our oceans and their creatures. It's a hands-on experience that brings the ocean's wonders to the surface, igniting a wave of curiosity and care for the aquatic world.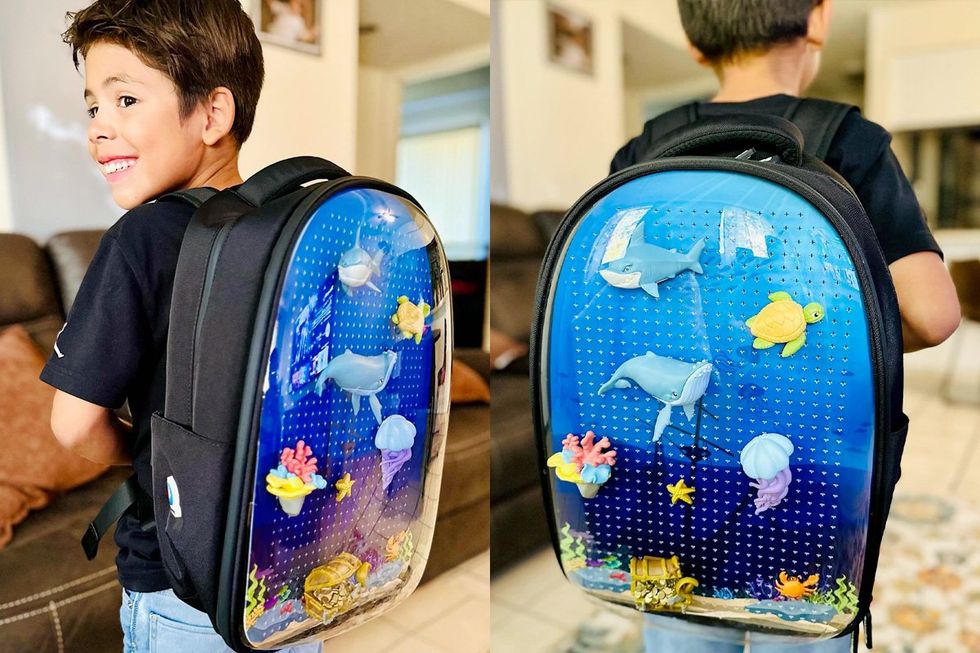 Step back in time with the Dinosaur Domepak Kit, a prehistoric playground for the little paleontologist in your life. This isn't just any backpack; it's a time machine to when dinosaurs roamed the Earth. Loaded with dinosaur-themed toys, a prehistoric display board, and tools for hands-on learning, it brings the ancient world of dinosaurs into the present.
This kit makes learning about these magnificent creatures fun and accessible, sparking a fascination with natural history. It's more than a journey into the past; it's an exploration of a world that once was, igniting a lifelong passion for discovery and science.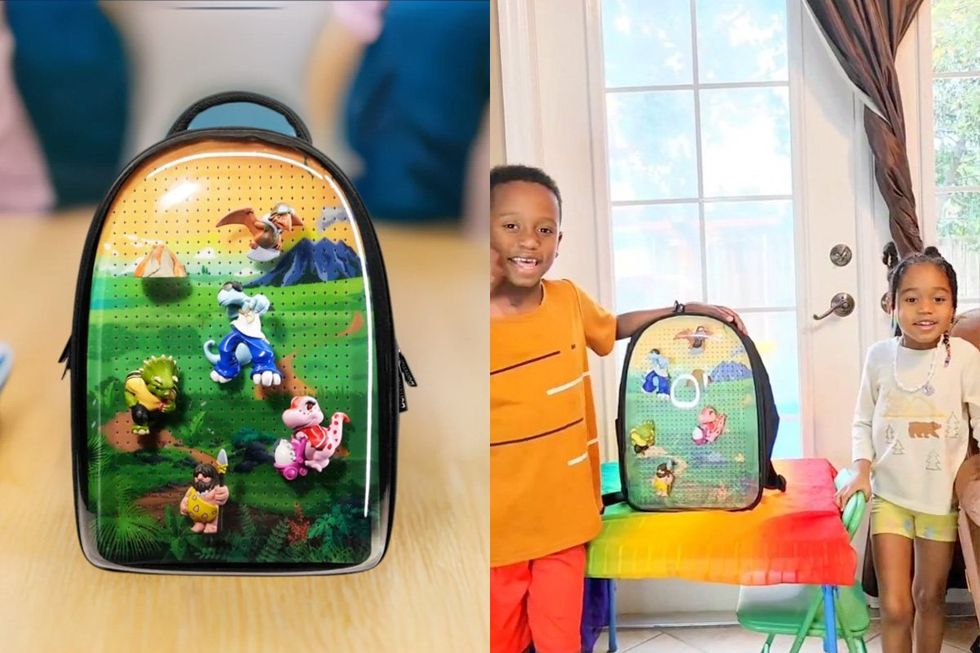 Meet the chameleon of backpacks: the Combo Domepak Kit. This ingenious creation adapts to whatever your child's heart desires, be it the cosmos, the deep sea, or the age of dinosaurs.

Each kit comes with a variety of themes, making it a jack-of-all-trades in the world of creative learning. It's not just versatile; it's a playground for the imagination. Whether your little one is an aspiring astronaut today or a marine biologist tomorrow, this backpack evolves with their changing passions. It's a celebration of their growing interests, offering a canvas that's as dynamic and creative as their young minds.
For the little artist with a big imagination, the Plus Domepak Kit is a masterpiece waiting to happen. This isn't just a backpack; it's an artist's studio on the go. With its comprehensive set, including a DIY painting kit, it turns every outing into an opportunity for artistic expression.

The Plus Domepak isn't just about carrying supplies; it's about carrying ideas and dreams. Whether it's painting a prehistoric landscape or a starry galaxy, this kit combines art, education, and endless fun. It's perfect for nurturing creativity, blending the joy of making art with the thrill of learning something new every day.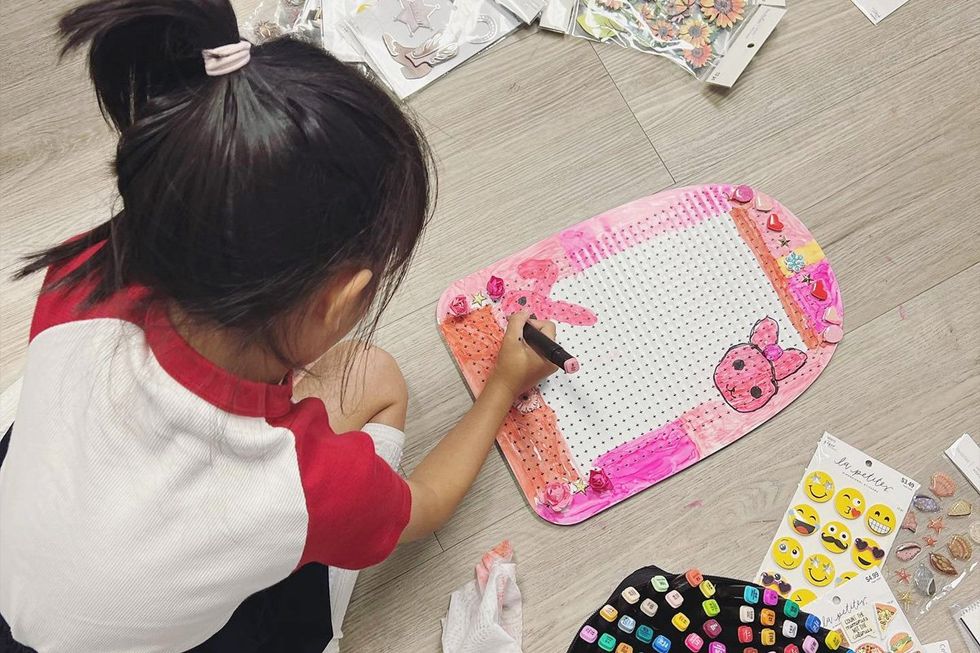 Dommei's backpacks are more than just bags; they're windows to worlds of creativity and learning. Each one is a unique adventure, inviting kids to explore, create, and grow.

So, why settle for ordinary when your child can carry a masterpiece? Click here to dive into Dommei's world and see where creativity takes you.
Family
Some adults say it's healing their inner child, but there's something in the popular Australian kids' show for everyone.
Get stories worth sharing delivered to your inbox