Joy
His aunt died on Thanksgiving and his 'rap' about how the family handled it is hilarious
The 95-year-old's 'bold, creative decision' to die on Thanksgiving when the whole family was at her house led to this chaotic masterpiece.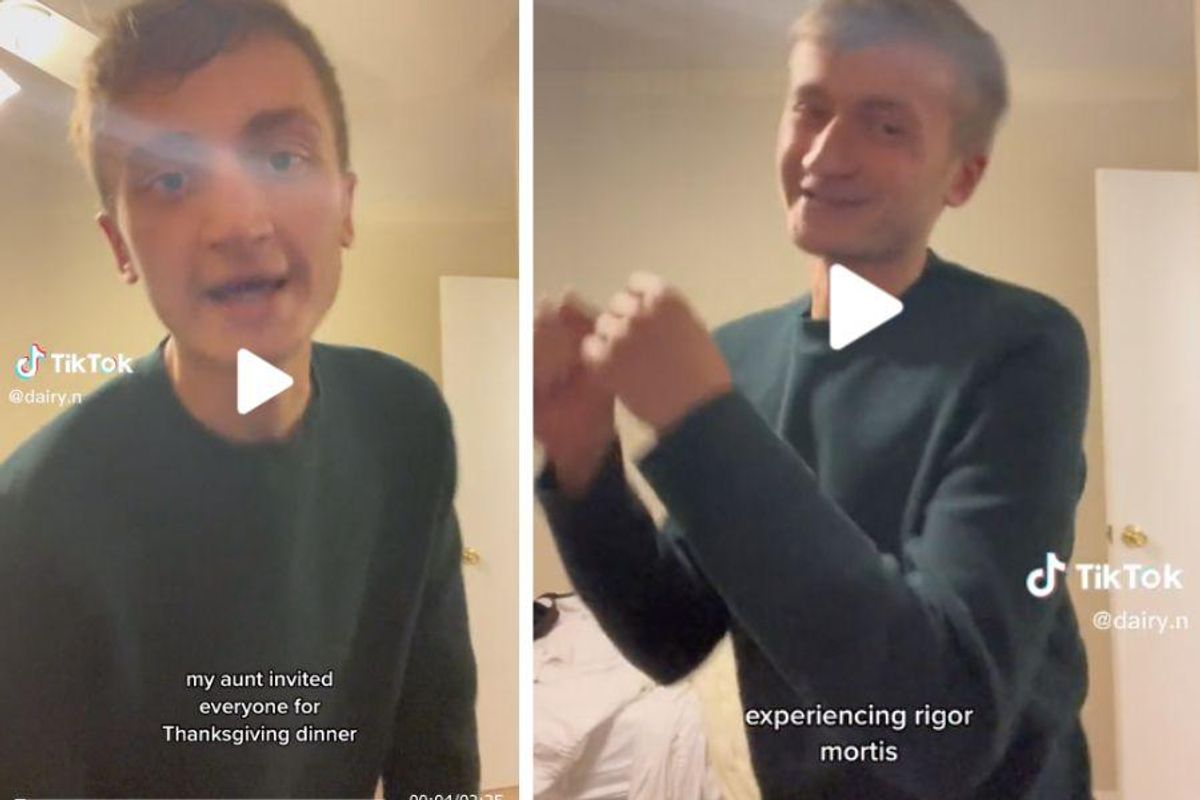 A loved one dying on a holiday isn't normally something to laugh about, but there are exceptions to every rule. This video is one of them.
TikTok user Darien (@dairy.n) shared a story about his family's Thanksgiving Day that is so gloriously bizarre and delightfully real, it's hard not to laugh, despite the fact that it's about his aunt dying. The fact that he tells the tale in the style of a "One thing about me" rap is extra hilarious, and judging by the comments of some of the 6.7 million people who've watched it, it's struck people's funny bones.
Dark humor? A little bit. But his aunt was 95 and she died of natural causes, which helps the hilarity feel not quite so inappropriate. She also apparently had a fabulous sense of humor that she used to cope with her own difficulties throughout her life, so the video is more like a fitting tribute than a what-the-heck storytelling.
---
There is plenty of what-the-heck here, though. I tell you, I was not prepared.
It's one of those videos you simply have to see—and process—for yourself. Off we go:
@dairy.n

This is a healthy way to process things right?
OK, but that rigor mortis dance? Epic.
One thing that's so relatable about this video is that so many things are happening at once, and you can picture exactly what it must have been like to be there. The grieving, of course, but also the logistics of "What do we do with her body?" and the "Well, we already have all of this food and we need to eat anyway," is just totally real. People don't talk about the practical parts of someone dying like this very often, but it's part of the death process. And when it's a very old person whose time has naturally come, it's not really a tragic death, so a little humor—especially if the person would have appreciated it—can be a totally appropriate way to handle it.
Darien posted a follow-up video to explain a little bit about who his aunt was, which makes the viral video all the better.
@dairy.n

You better apprecciate how earnest im being because from here on out it's silly hours.
If you're not familiar, the Holodomor was a deliberate famine in which Stalin's regime starved nearly 4 million Ukrainians in 1932 and 1933. After being largely ignored for decades, in recent years it has been officially recognized as a genocide against the Ukrainian people.
Here's a YouTube video of her playing piano at age 92. Impressive.
Auntie Taissa clearly lived a good long life, and what better way for a performer to go out than with a viral video about you that brings people joy?