Pop Culture
TikTok star's surprising method for finding good Chinese food is blowing people's minds
Yelp can be a helpful tool for scoping out food joints, but maybe not in the way you think.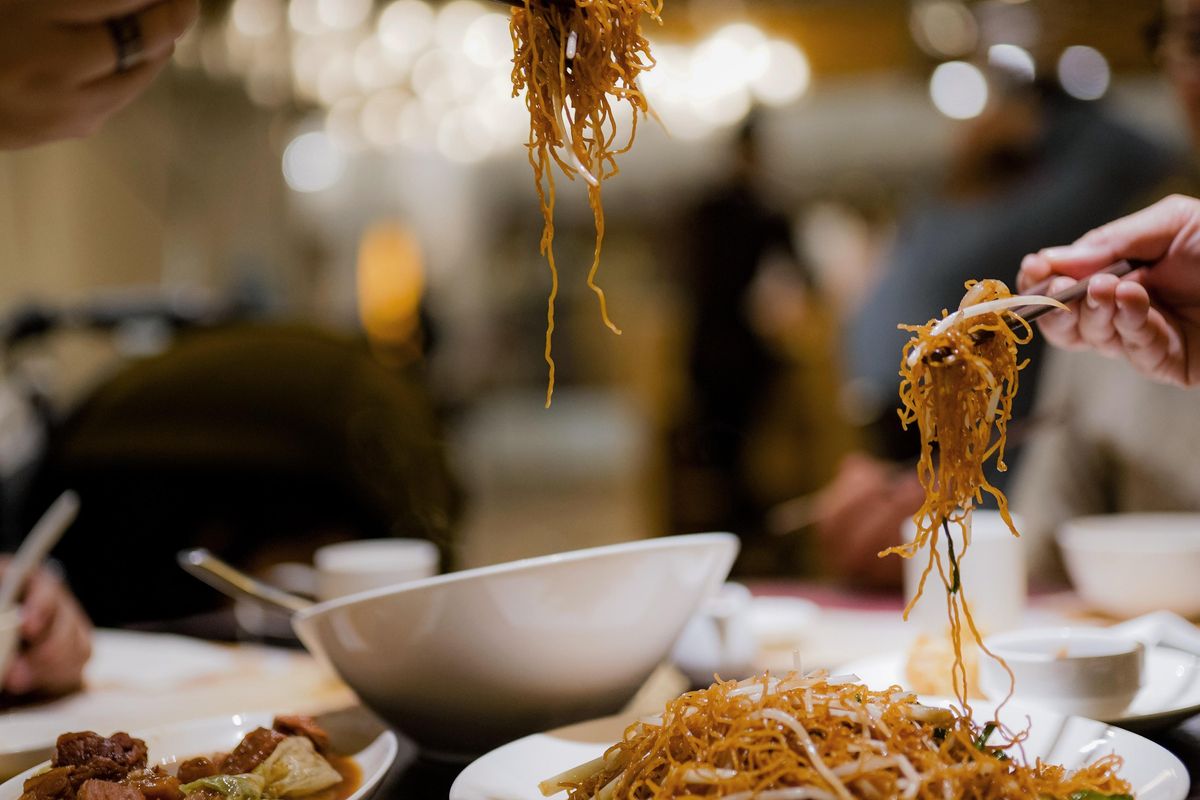 Content creator Freddy Wong has a brilliantly easy way to find authentic Chinese food.
As he reveals in a mega viral video that's racked up 9.4 million views on TikTok and 7.7 million views on Twitter, the trick (assuming you live in a major metropolitan area) is to "go on Yelp and look for restaurants with 3.5 stars, and exactly 3.5 stars." Not 3. Not 4. 3.5.
He then backs up his argument with some pretty undeniable photo evidence.
First, he pulls up an image of a Yelp page from P.F. Chang's. With only 2.5 stars, one can tell the food is "obviously bad." Alternatively, Din Tai Fung—a globally recognized Michelin-starred Chinese restaurant—has four stars.
Sounds good right? Wrong. In this case, "too many stars" means that "too many white people like it," indicating that the restaurant is being judged on service rather than food quality. According to Wong, if "the service is too good, the food is not as good as it could be."
He then pulls up the Yelp page for a couple of local Chinese restaurants, both of which have 3.5 stars. The waiters at these establishments might "not pay attention to you," he admits, adding that they might even be "rude." But, Wong attests, "it's going to taste better."
"The dumplings here are better [than Din Tai Fung's]. I've been here," he says of the 3.5 star Shanghai Dumpling House. Considering his Twitter profile boasts a "James Beard Award winning KBBQ Gourmand'' title, it seems like he knows what he's talking about.
So, why is this 3.5 rule the "sweet spot"? As Wong explains, it all comes down to different "cultural expectations."
"In Asia, they're not as proactive. They're not going to come up to you, they're not going to just proactively give you refills, you need to flag down the waiter," he says, noting the different interpretations of service.
"People on Yelp are insufferable," he continues, arguing that "they're dinging all these restaurants because the service is bad," but the food is so good that it balances out the bad service. Hence, a 3.5-star rating. His reasoning is arguably sound—people do often give absurdly scathing reviews that in no way accurately reflect a restaurant's food quality.
"A good Yelp review doesn't mean it's a good restaurant — it simply means the restaurant is good at doing things that won't hurt their online rating," Wong said in an interview with Today, adding that "highly rated Yelp restaurants are often those with counter service and limited menus, minimizing potential negative interaction with staff."
He also added the caveat, "I don't have anything against those places, but I think people who only eat at the 'highest rated' restaurants on online review sites are only eating at the most boring restaurants."
A ton of people in the comments seem to back Wong's theory.
this gels with my experiences in socal, i actively look for reviews like 'too spicy' or 'hostess was rude' that's the good stuff right there

— permanent handle (@chakazula) September 13, 2022

100% accurate, some say
Plus, the theory seems to not be limited to just Chinese restaurants, further implying that maybe there's more of a cultural misunderstanding, rather than any real lack of quality.

No drink refills but the food is fire.

2.8 is the new 5
One of the gifts that our modern world provides is the opportunity to truly experience and appreciate other cultures. Since food is easily one of the most accessible (and enjoyable) ways to do that, perhaps we should prioritize seeking authenticity, rather than rely on a flawed and superficial rating system.
As Wong told Today, "I hope it encourages people to go out and eat more food from not only Chinese restaurants, but restaurants representing the whole world of cultural cuisines."