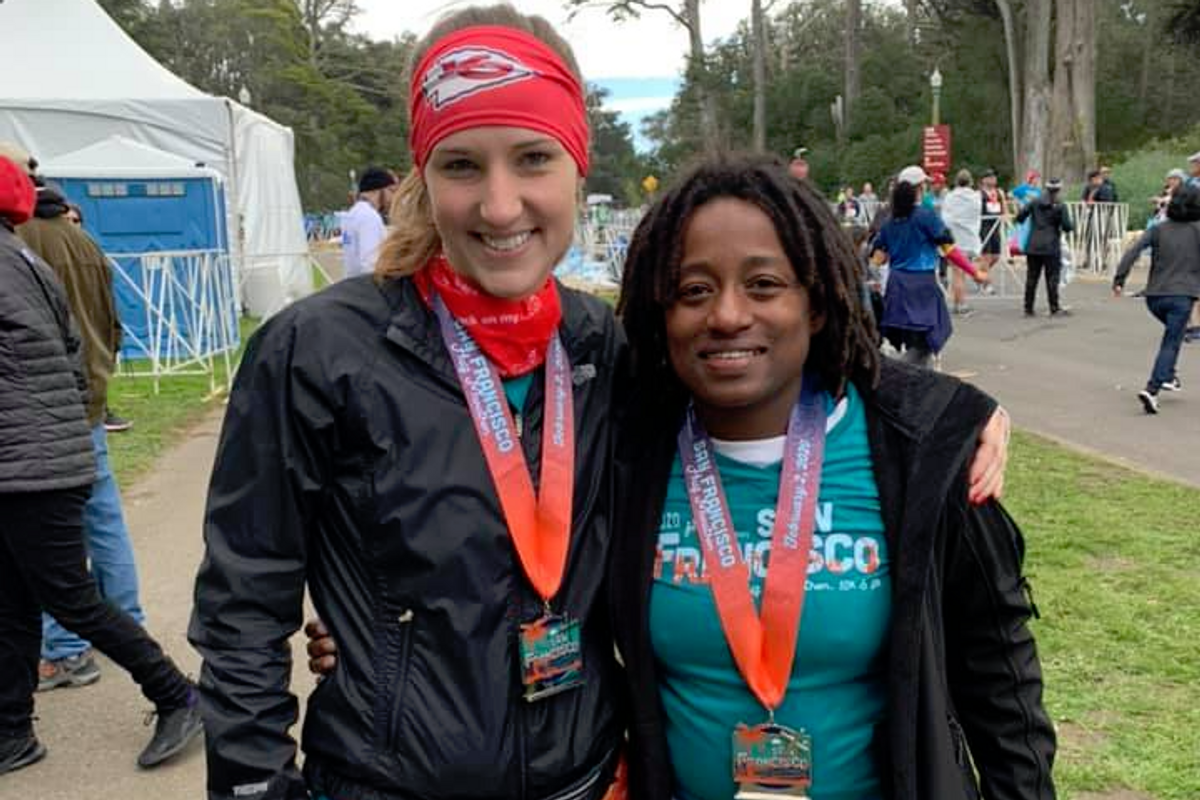 Courtesy of Back on My Feet
True
Having graduated in the top 10% of Reserve Officer Training Corp (ROTC) cadets nationwide in 2012, Pat Robinson was ready to take on a career in the Air Force full speed ahead.
Despite her stellar performance in the classroom and training grounds, Robinson feared other habits she'd picked up at Ohio University had sent her down the wrong tracks.

First stationed near Panama City, Florida, Robinson became reliant on alcohol while serving as an air battle manager student. After barnstorming through Atlanta's nightclubs on New Year's Eve, Robinson failed a drug test and lied to her commanding officer about the results.
Eleven months later, she was dismissed. Feeling ashamed and directionless, Robinson briefly returned home to Cleveland before venturing west to look for work in San Francisco.
After a brief stint working at a paint store, Robinson found herself without a source of income and was relegated to living in her car. Robinson's garbage can soon became littered with parking tickets and her car was towed. Golden Gate Park's cool grass soon replaced her bed.
"My substance abuse spiraled very quickly," Robinson said. "You name it, I probably used it. Very quickly I contracted HIV and Hepatitis C. I was arrested again and again and was finally charged and sentenced to substance abuse treatment."
---
Two failed attempts to get clean later, Robinson knew she desperately needed to pick herself up. During her third stay at a substance abuse treatment facility, Robinson learned of Back on My Feet — a nonprofit that combats homelessness through the power of running — who was there to extend a hand.
After working through the 12-step program for 60 days, Robinson labored through running her first mile after joining Back on My Feet.
"I kept asking myself while I was running — am I trying to kill myself?" Robinson said. "I couldn't remember the last time I ran. But the volunteers were all happy and wanted to get to know me. I was all skeptical and quiet and questioning why they were so happy."

As she continued to run with Back on My Feet, Robinson realized that their joy came from a genuine sense of support and encouragement between the volunteers.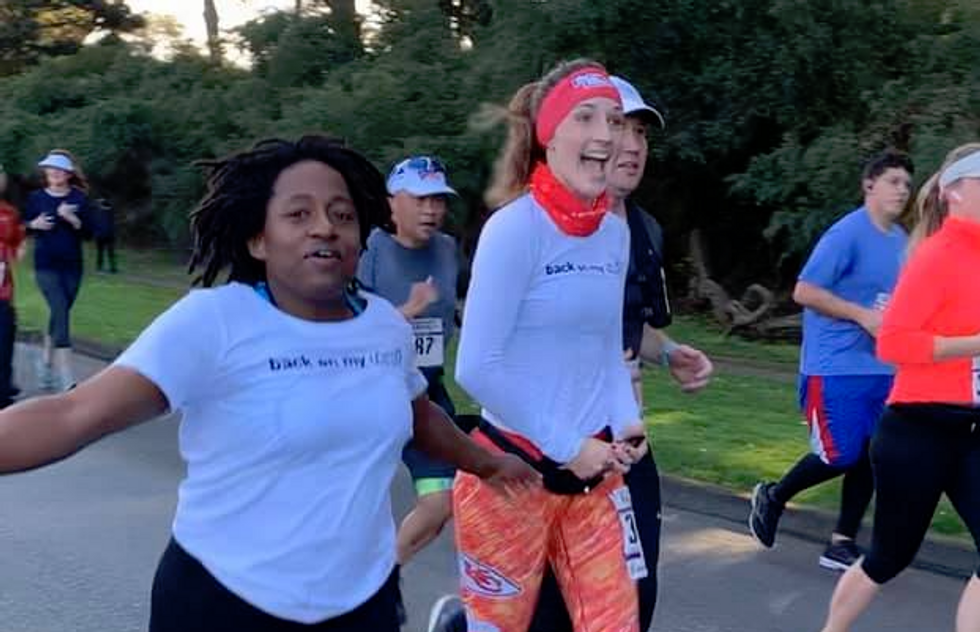 Courtesy of Back on My Feet
"Members were pushing each other beyond our limitations," Robinson said. "I was still doing treatment for Hepatitis C and HIV and I had to just set my pain aside and push myself every single moment otherwise I would give myself an excuse to be stagnant and depressed."

After she received treatment for Hepatitis C, Robinson's energy level skyrocketed. She began studying to be a personal trainer, taking fitness classes and worked with Back on My Feet to rebuild her professional and financial outlook by creating a resume and going through credit reports and housing applications.

Back on My Feet also set Robinson up with financial literacy workshops at the Capital One Cafe in San Francisco.
"They definitely motivated me to see a financial life beyond my imagination but instead a reality of wealth," Robinson said.
Capital One has partnered with Back on My Feet's since 2017 and helps its members establish themselves financially. Back on My Feet members have the chance to sit with Cafe ambassadors for one-on-one sessions to answer their questions and go over personal financial necessities like balancing a budget, managing credit and making a plan for financial independence.

"They are people who are starting all over again from scratch and we are here to give them clarity for whatever questions they may have," said Denza Young, a San Francisco Capital One Cafe ambassador. "Capital One truly is reimagining banking because everything they do: their belief system, their challenges... everything is connected to their money. When they can get clarity on whatever it is that gives them their hurdles it helps them set their goals and think about self-care differently."
In addition to offering free workshops, Capital One provides grant support to Back on My Feet. In May, Back on My Feet awarded Capital One with its Corporate Pacesetter award.
"It is no surprise that this nonprofits' values align closely with ours in bringing humanity to banking and empowering our customers in their journey to be financially successful," said Nerissa Davis, West Coast Market Executive for the Capital One cafe network. "We are so proud of the people we are able to support through our partnership with Back on My Feet and look forward to continuing our journey together to make a difference in the community."
This partnership has empowered members like Robinson to pursue personal, professional and financial goals that they once saw as unattainable.
Robinson began training for The Giant Race and received word just days before running her first half-marathon that she had been hired as a personal trainer at a local fitness studio.
With her new-found path, Robinson now had confidence to achieve a goal that once seemed unthinkable.

"To me, crossing that finish line meant the culmination of salvation," Robinson said. "If you would have told me five years ago that my life was going to be spared and that I would be given the courage and ability to cross any finish line, I would've deemed you crazy, even though I was the one truly in psychosis."
Her personal progress aside, for Robinson, it's the impact she has on others that means the most.

"The accomplishment that I'm most proud of is being able to give back to Back on My Feet by leading Workout Wednesdays," Robinson said. "People call this my career, but I call it a blessing."
While the COVID-19 pandemic forced her fitness studio to close, Robinson continues to help those around her through leading socially distant runs with Back on My Feet members. She has also been creating a video for San Francisco Community Health to send to their clients so they can exercise at home.Since March, she has cooked and distributed hundreds of meals to support people in her neighborhood facing homeless — a challenge she knows all too well.
"I haven't touched a harmful substance in three years and to me that means freedom," Robinson said. "To anyone who is currently struggling with addiction or experiencing housing insecurity, ask for help, and know that help is on the way. Don't be afraid."