Family
This Instagram model's video of her panic attack is hard to watch. And absolutely necessary.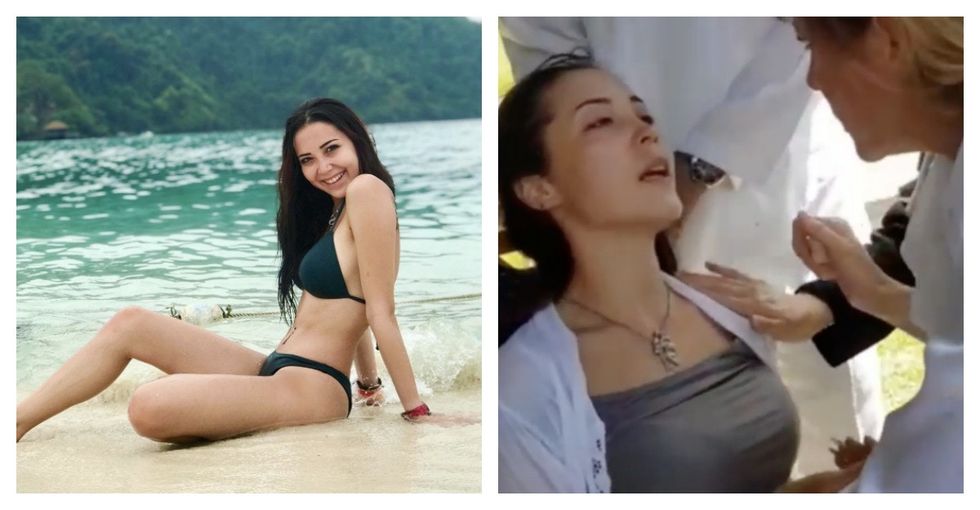 When you scroll through Malaysian Instagram model Kharina K's photos, it appears she lives her best life most of the time.
After all, that's why she's paid the big bucks to endorse various products — brands want to be associated with a beautiful woman who seems to lead an awesome, charmed life. But there's a lot going on behind Kharina's smile and fun-loving demeanor, and not all of it is "rainbows and sunshine," as she puts it.
Two days ago, Kharina posted a video of herself in the midst of an intense panic attack, in fact, she called it one of "THE WORST panic attacks I'd ever had." If you've experienced a panic attack before, you know how terrifying it can be and how vulnerable it can make you feel. You can have symptoms that are akin to someone having a heart attack — sweating, rapid heartbeat, shortness of breath, pain in your chest, and an overwhelm sense of doom.  
---
Considering all that, it's somewhat surprising that an Instagram model, who makes a living off of having a seemingly perfect life, would show herself in such an "imperfect" light. However, she did it for an important reason — to help dispel the stigma that still exists around mental illness in parts of the world, especially in her home country of Malaysia.
"You guys see most of my life as rainbows and sunshine (cuz no one likes to post the bad parts anyways) , however this is my reality," she writes in her Instagram post alongside the video. "Constantly having anxiety and being fine one minute, and like this the next. I try to post as much as I can about mental health to bring AWARENESS to it because it is REAL, and is not taught very well in Malaysia, however I have never been able to show you guys until now."
She goes on to say that she's incredibly lucky to have such a strong support system around her, but it's hard to have an illness that people rarely see manifest on the outside. It can leave those who live with it feeling incredible isolated and like they don't deserve care.
However, the more public figures who post candid things like this are not only reminding other sufferers that they're not alone, they're helping to keep what many seem like a difficult subject in the foreground of the global conversation. And the more a subject's talked about the faster the remaining stigma will dissipate into nothing.
As of this writing, Kharina's video on Twitter has over 3.82 million views and 67,000 shares. But she's far from the only one who's taken the courageous step to share their mental health journey.
This May, in honor of Mental Health Awareness month, hundreds of thousands of people have already created similar posts where they reveal what mental illness they struggle with daily. The posts, many of which you can find tagged #mentalhealthawareness and #mentalhealth and #fightintheopen, advocate for better awareness around these "hidden" illnesses so that people living with them can feel more supported and seen.
If you've got some time after reading this, whether or not you live with a mental illness, it would do you good to scroll through some of the posts, and remember, you never know what someone's grappling with behind their curated social media presence.