True
This story was originally shared on Capital One.
Inside the walls of her kitchen at her childhood home in Guatemala, Evelyn Klohr, the founder of a Washington, D.C.-area bakery called Kakeshionista, was taught a lesson that remains central to her business operations today.

"Baking cakes gave me the confidence to believe in my own brand and now I put my heart into giving my customers something they'll enjoy eating," Klohr said.
While driven to launch her own baking business, pursuing a dream in the culinary arts was economically challenging for Klohr. In the United States, culinary schools can open doors to future careers, but the cost of entry can be upwards of $36,000 a year.
Through a friend, Klohr learned about La Cocina VA, a nonprofit dedicated to providing job training and entrepreneurship development services at a training facility in the Washington, D.C-area.
La Cocina VA's, which translates to "the kitchen" in Spanish, offers its Bilingual Culinary Training program to prepare low-and moderate-income individuals from diverse backgrounds to launch careers in the food industry.
That program gave Klohr the ability to fully immerse herself in the baking industry within a professional kitchen facility and receive training in an array of subjects including culinary skills, food safety, career development and English language classes.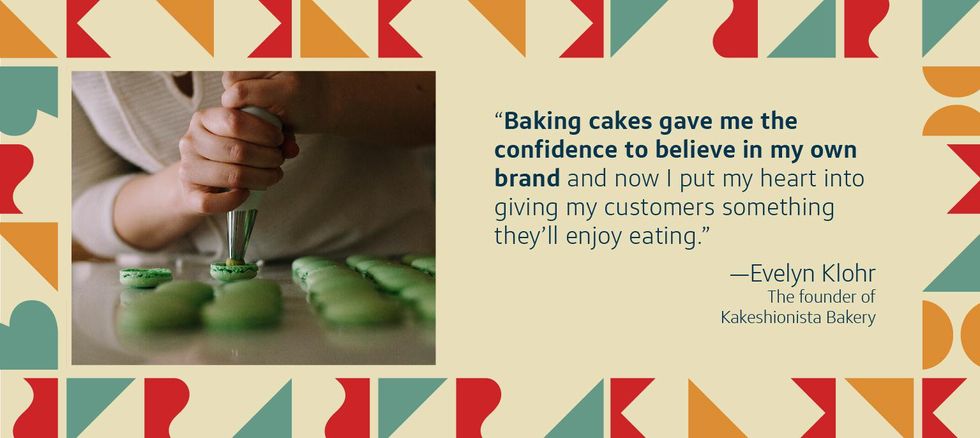 Photo courtesy of Capital One
The organization also offers participants the opportunity to enroll in its Culinary Small Business Incubator, a 9-week training course that teaches participants to create and scale their own food-based startups.
During that program, LA Cocina VA provides participants with support for developing the internal operations of their businesses and provides a shared kitchen for community members to rent space at affordable rates.
Patricia Funegra, who founded La Cocina VA in 2014, said that helping people like Klohr is exactly why she wanted to create the incubator.
"I have firsthand experience of the difficulties of being an immigrant and person of color in America," said Funegra. "At the same time, I also know the enormous opportunities that exist here to improve people's lives."
With the help of funding from Capital One, the center has been able to support 160 participants since opening with roughly 85% of graduates being hired for jobs in the food industry upon completion.
La Cocina VA also received support from Capital One's Community Finance team as it provided financing for the construction of Gilliam Place, an affordable housing unit in which La Cocina VA moved its operations into in 2020.
After moving into Gilliam Place, Funegra launched the Zero Barriers Training and Entrepreneurship Center, a hub for startup founders that includes a kitchen incubator and a community cafe to provide workforce development opportunities for residents.
That support comes as part of the Capital One Impact Initiative, a multi-million dollar commitment to support growth in underserved communities and advance socioeconomic mobility by closing gaps in equity and opportunity.
La Cocina VA students also worked alongside Capital One Cafe ambassadors to learn skills in management and personal finance.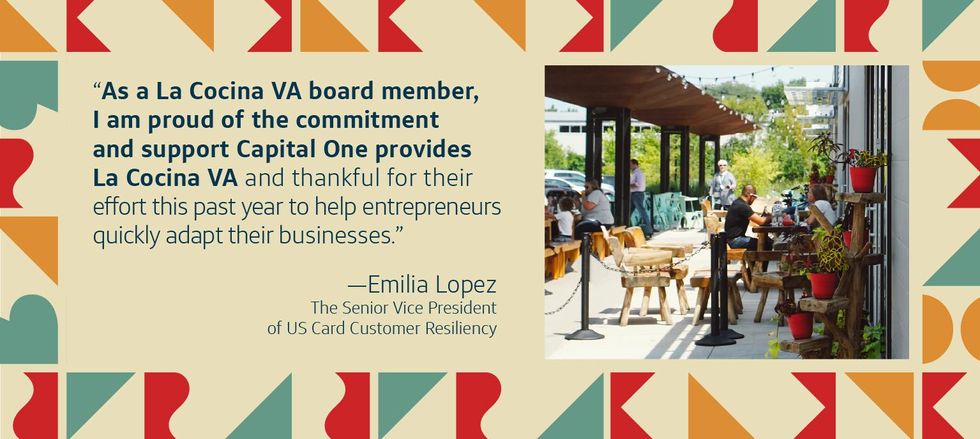 Photo courtesy of Capital One
"The COVID-19 pandemic forced entrepreneurs, especially people of color and immigrants, to shift their entire business models just to survive," said Emilia Lopez, the Senior Vice President of US Card Customer Resiliency, who serves on La Cocina VA's Board of Directors. "As a La Cocina VA board member, I am proud of the commitment and support Capital One provides La Cocina VA and thankful for their effort this past year to help entrepreneurs quickly adapt their businesses to support alternative dining options."
La Cocina VA is also in constant communication with employers, partners, hotels and restaurants to make them aware of their pipeline of graduates.
"La Cocina VA taught me not just the physical work that goes into baking and cooking but also how to have a good understanding to mentally and financially launch my business," said Klohr. "They're helping me make those connections and I know they'll always have my back."
This article originally appeared on 11.21.16



Photographer Katie Joy Crawford had been battling anxiety for 10 years when she decided to face it straight on by turning the camera lens on herself.
In 2015, Upworthy shared Crawford's self-portraits and our readers responded with tons of empathy. One person said, "What a wonderful way to express what words cannot." Another reader added, "I think she hit the nail right on the head. It's like a constant battle with yourself. I often feel my emotions battling each other."
So we wanted to go back and talk to the photographer directly about this soul-baring project.
It was Crawford's senior year in college. She decided to make herself the central subject of her thesis. She became determined to realistically capture the crippling effects of her anxiety with her "My Anxious Heart" photo series.
"I just firmly believe that the stigma with mental illness needs to be eliminated," Crawford says.
She hopes the series will help others who may be struggling with anxiety. She wants people to know they're not alone.
These haunting photos are also meant to encourage those suffering with anxiety to reach out to others who perhaps don't understand what anxiety feels like. The more we can understand each other, the more we can help each other out.
Here again are Crawford's 12 poignant self-portraits and captions that show what anxiety feels like for her:
1. "They keep telling me to breathe. I can feel my chest moving up and down. Up and down. Up and down. But why does it feel like I'm suffocating? I hold my hand under my nose, making sure there is air. I still can't breathe."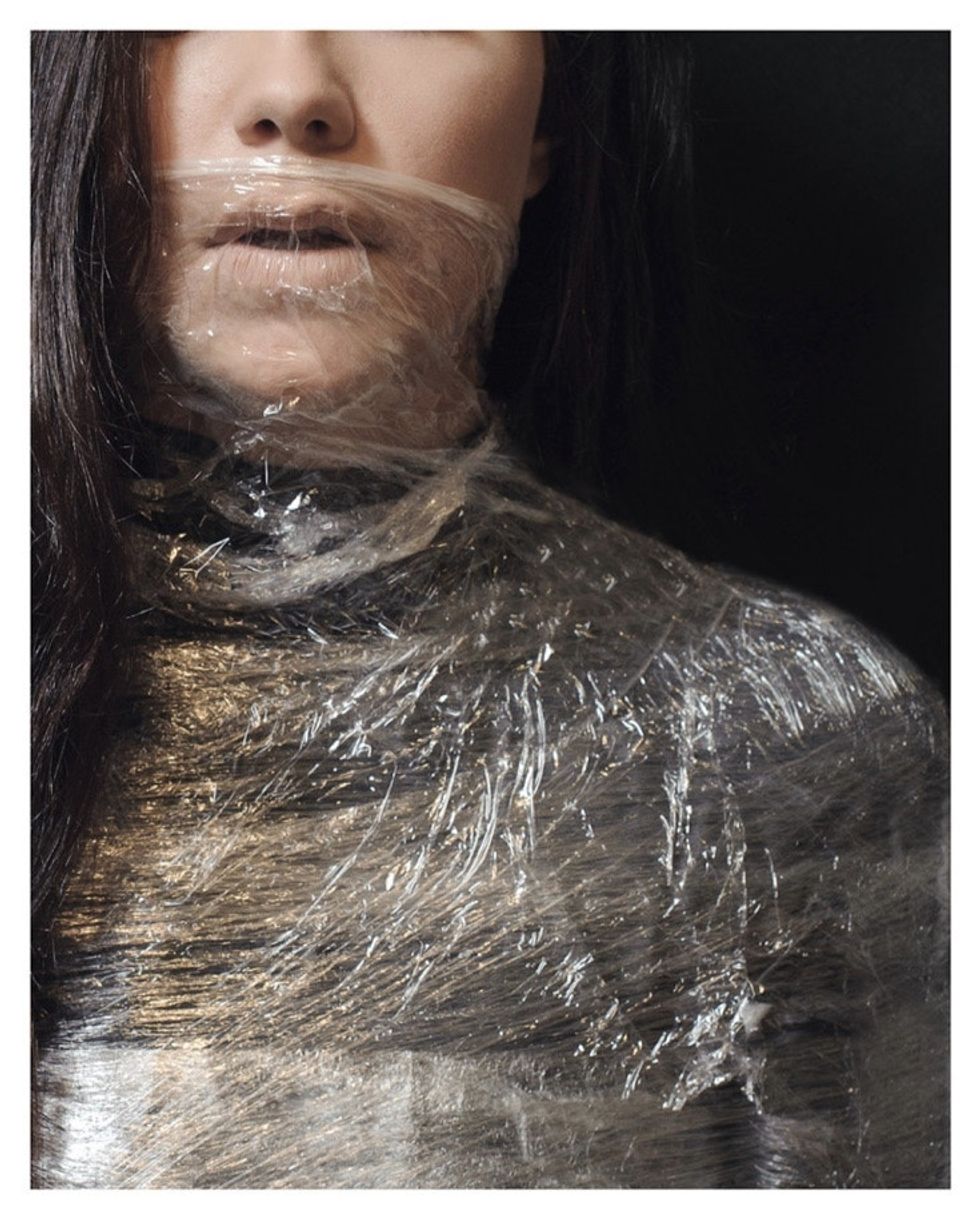 2. "My head is filling with helium. Focus is fading. Such a small decision to make. Such an easy question to answer. My mind isn't letting me. It's like a thousand circuits are all crossing at once."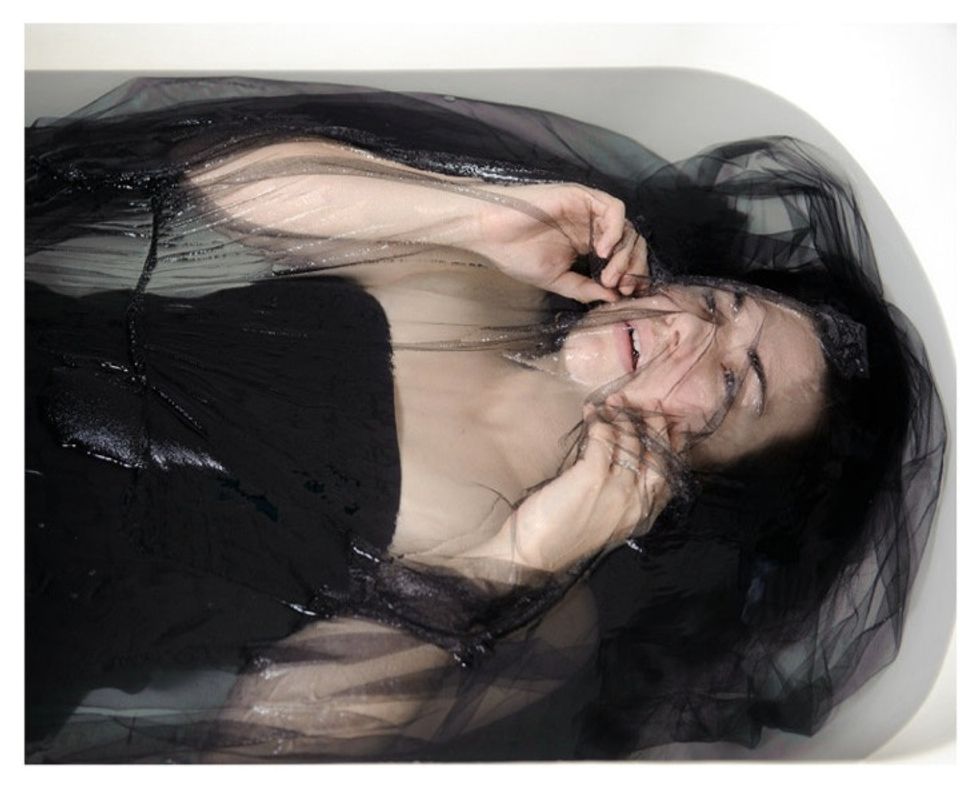 3. "It's strange — in the pit of your stomach. It's like when you're swimming and you want to put your feet down but the water is deeper than you thought. You can't touch the bottom and your heart skips a beat."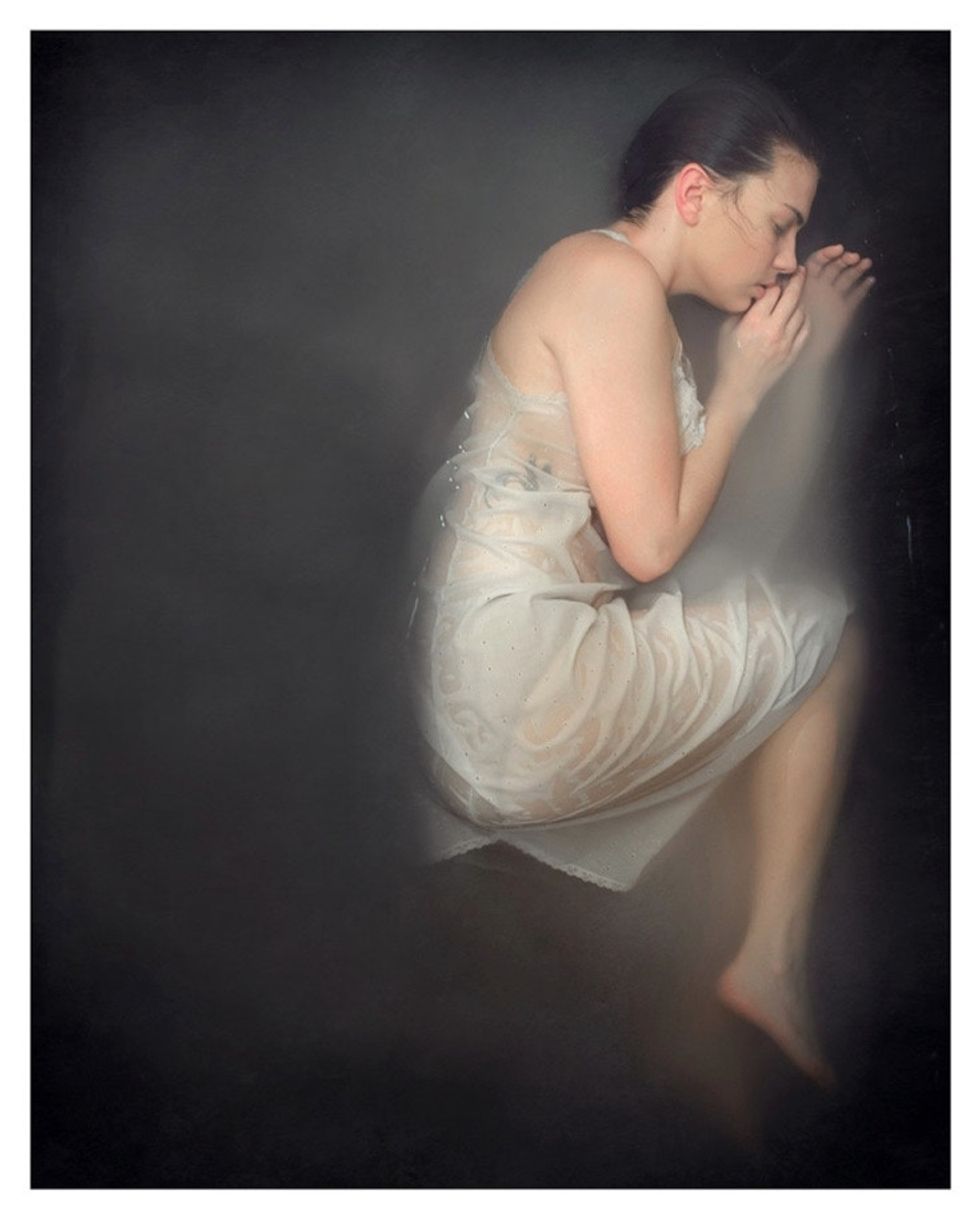 4. "You were created for me and by me. You were created for my seclusion. You were created by venomous defense. You are made of fear and lies. Fear of unrequited promises and losing trust so seldom given. You've been forming my entire life. Stronger and stronger."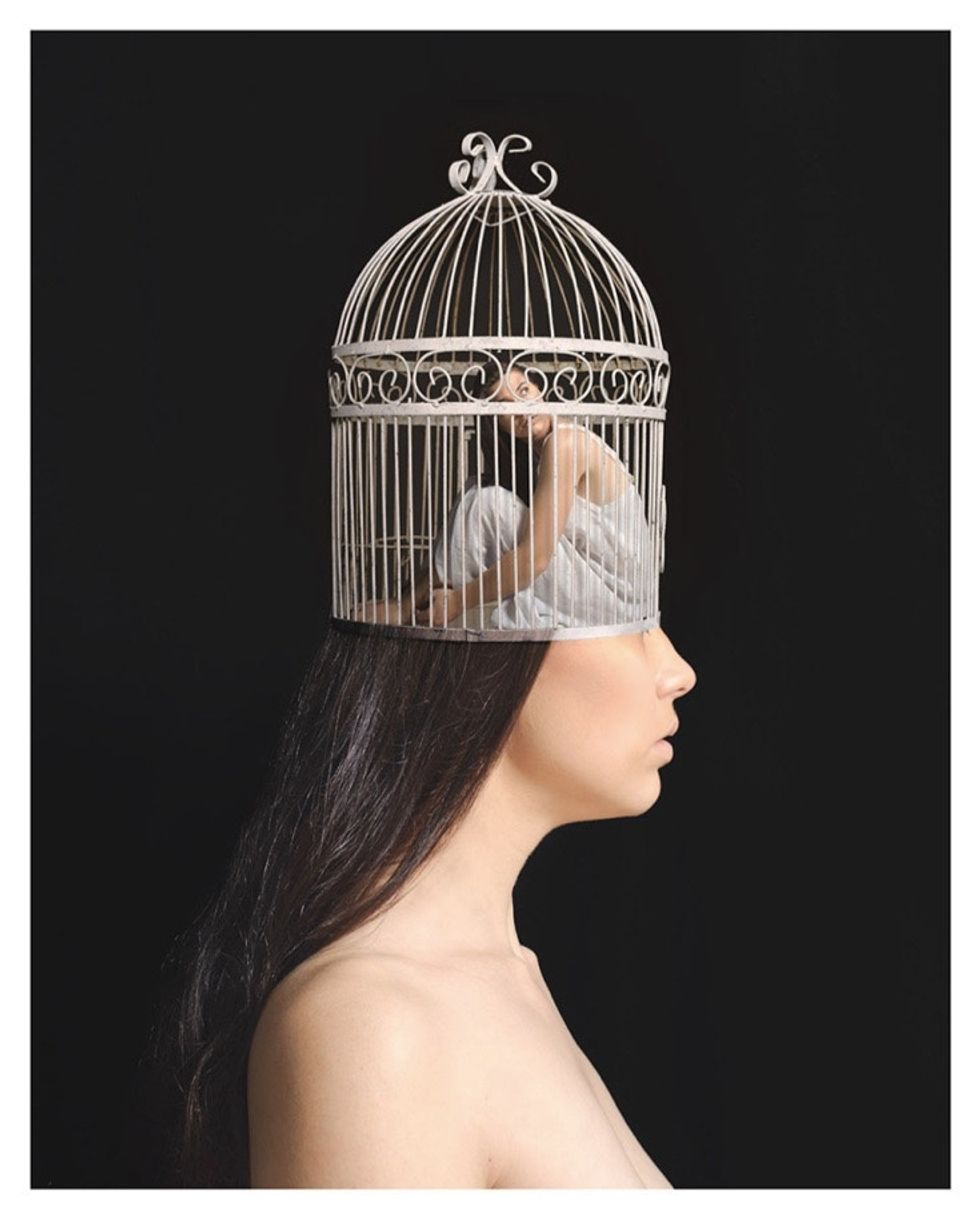 5. "A glass of water isn't heavy. It's almost mindless when you have to pick one up. But what if you couldn't empty it or set it down? What if you had to support its weight for days … months … years? The weight doesn't change, but the burden does. At a certain point, you can't remember how light it used to seem. Sometimes it takes everything in you to pretend it isn't there. And sometimes, you just have to let it fall."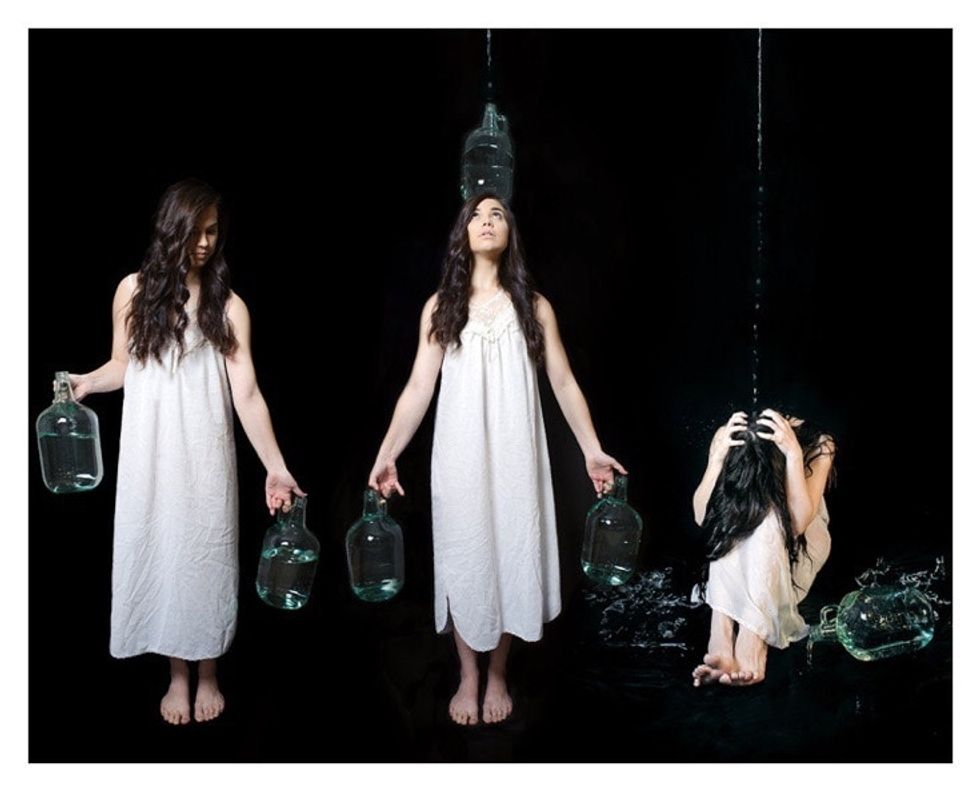 6. "A captive of my own mind. The instigator of my own thoughts. The more I think, the worse it gets. The less I think, the worse it gets. Breathe. Just breathe. Drift. It'll ease soon."
—7. "I'm afraid to live and i'm afraid to die. What a way to exist."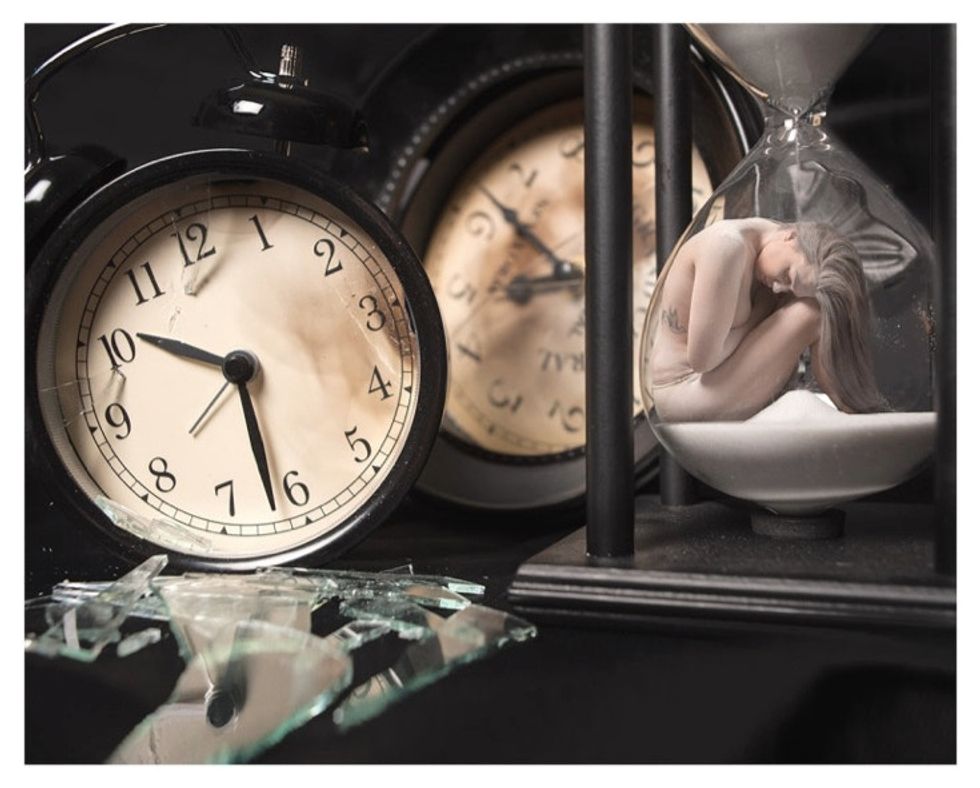 8. "I was scared of sleeping. I felt the most raw panic in complete darkness. Actually, complete darkness wasn't scary. It was that little bit of light that would cast a shadow — a terrifying shadow."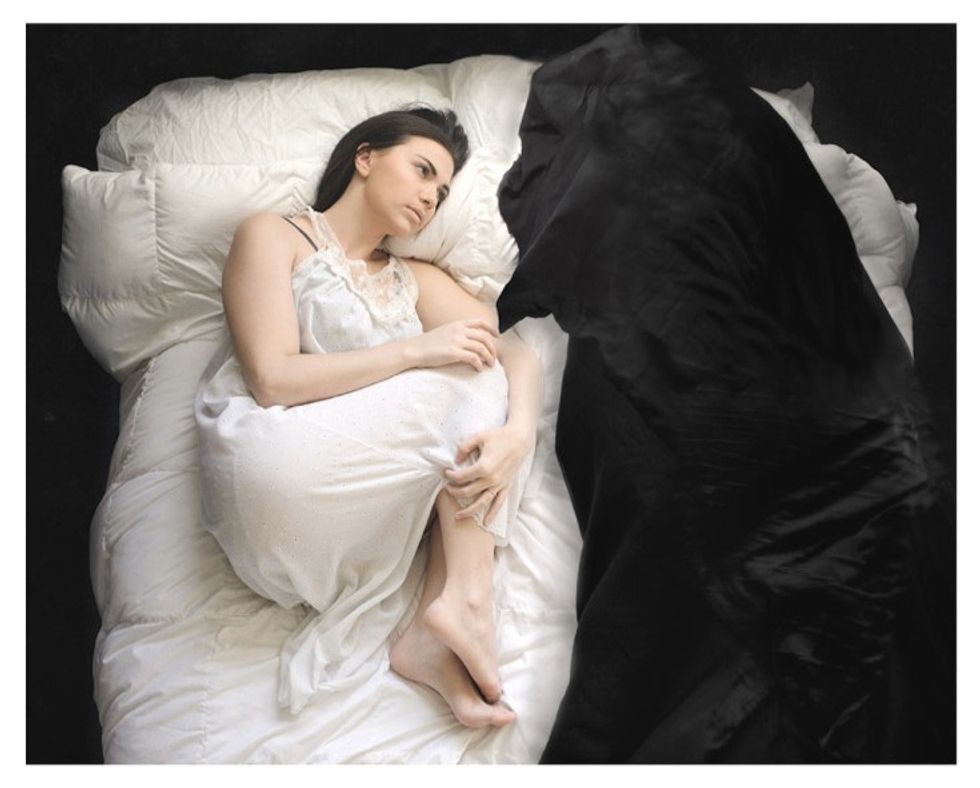 9. "No matter how much I resist, it'll always be right here desperate to hold me, cover me, break down with me. Each day I fight it, "You're not good for me and you never will be." But there it is waiting for me when I wake up and eager to hold me as I sleep. It takes my breath away. It leaves me speechless."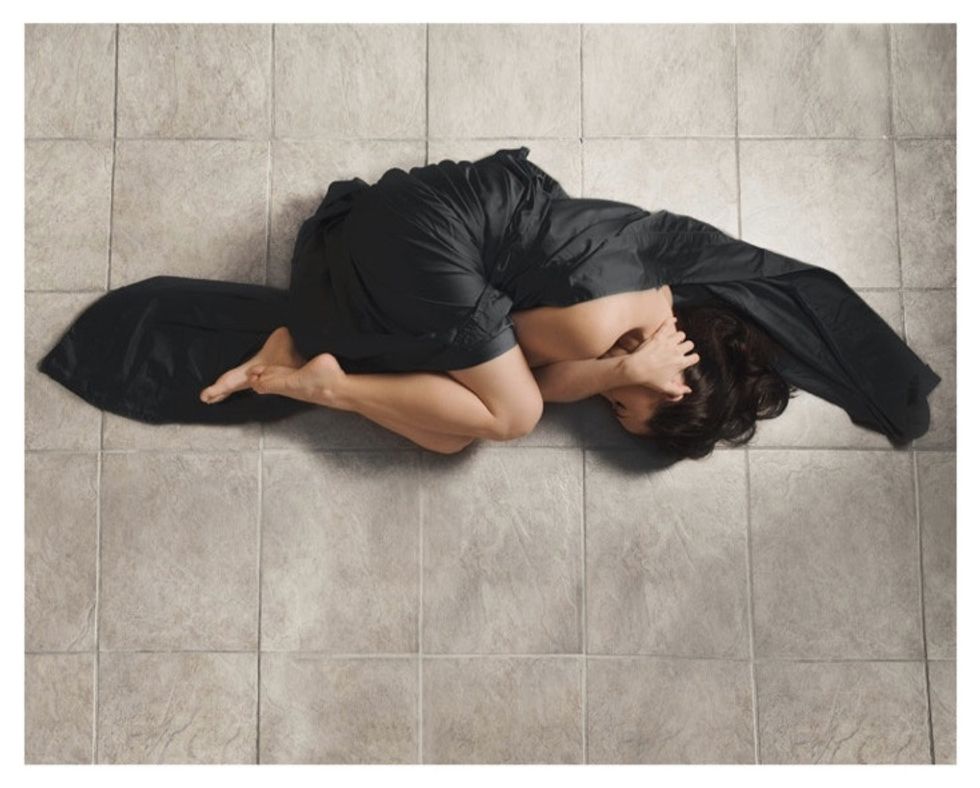 10. "Depression is when you can't feel at all. Anxiety is when you feel too much. Having both is a constant war within your own mind. Having both means never winning."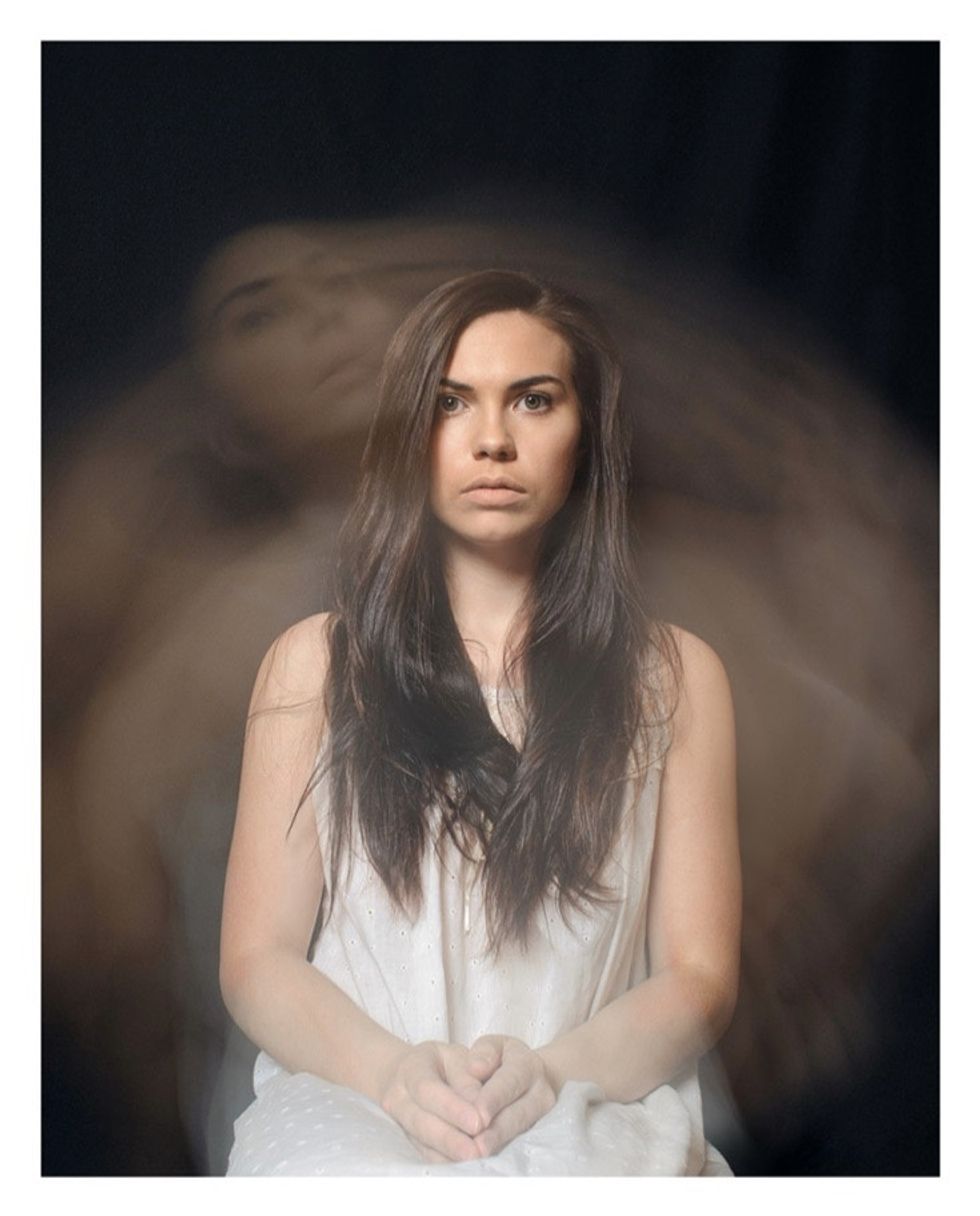 11. "Cuts so deep it's like they're never going to heal. Pain so real, it's almost unbearable. I've become this … this cut, this wound. All I know is this same pain; sharp breath, empty eyes, shaky hands. If it's so painful, why let it continue? Unless … maybe it's all that you know."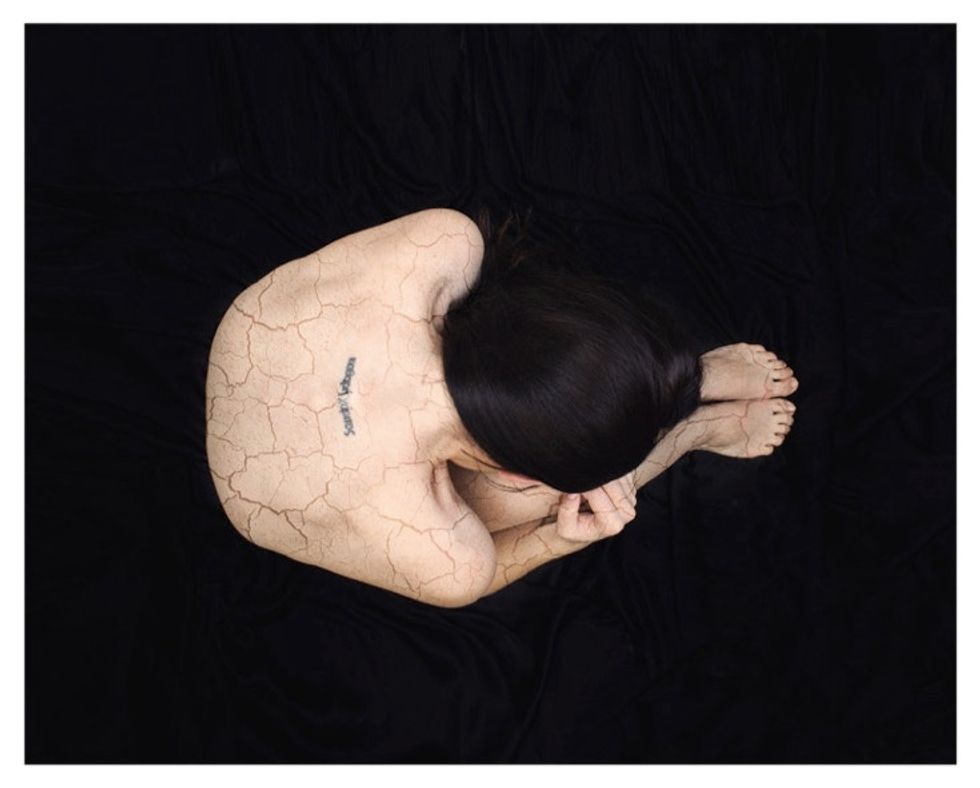 12. "Numb feeling. How oxymoronic. How fitting. Can you actually feel numb? Or is it the inability to feel? Am I so used to being numb that i've equated it to an actual feeling?"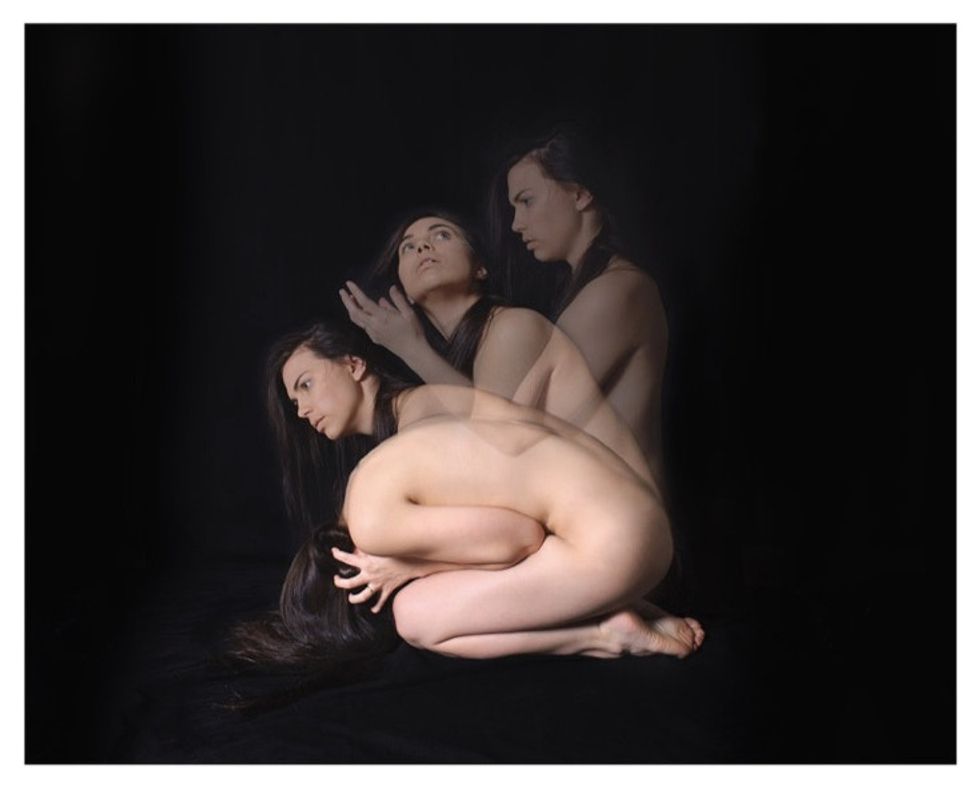 "I've had a lot of people say that my photographs are too beautiful for what anxiety actually is. That's OK to feel that way, I think they are too! I didn't set out to make it look like the monster I felt," Crawford says. "I wanted clean and simple explanations. I wanted them to almost look numbing, because that's where I was."
Crawford goes to therapy once a week. And she's not ashamed of that. She's also not ashamed to admit that she sits in her car each time, deciding whether she'll attend her appointment or not.
She ultimately does go in and feels better every time. "It's like this thing you've been battling alone is finally being defeated in some way," Crawford says.
The process of creating these deeply literal photographs helped Crawford identify her fear and figure out what led to her anxiety attacks. Although she didn't realize it at the time, she was developing new coping skills even while shooting these self-portraits.
It's important to understand that everyone is struggling with something. We're never alone, no matter how lonely we feel.
"Get help. Always get help," Crawford says. "There are so many resources out there. There is no reason to be ashamed that you need help. If mental illness was treated like physical illness, there would be no more stigma."
By putting her struggles with anxiety out there for the world to see, Crawford is able to help others. She says that feeling alone has changed the way she lives her life.
True
When a pet is admitted to a shelter it can be a traumatizing experience. Many are afraid of their new surroundings and are far from comfortable showing off their unique personalities. The problem is that's when many of them have their photos taken to appear in online searches.
Chewy, the pet retailer who has dedicated themselves to supporting shelters and rescues throughout the country, recognized the important work of a couple in Tampa, FL who have been taking professional photos of shelter pets to help get them adopted.

"If it's a photo of a scared animal, most people, subconsciously or even consciously, are going to skip over it," pet photographer Adam Goldberg says. "They can't visualize that dog in their home."
Adam realized the importance of quality shelter photos while working as a social media specialist for the Humane Society of Broward County in Fort Lauderdale, Florida.
"The photos were taken top-down so you couldn't see the size of the pet, and the flash would create these red eyes," he recalls. "Sometimes [volunteers] would shoot the photos through the chain-link fences."

That's why Adam and his wife, Mary, have spent much of their free time over the past five years photographing over 1,200 shelter animals to show off their unique personalities to potential adoptive families. The Goldbergs' wonderful work was recently profiled by Chewy in the video above entitled, "A Day in the Life of a Shelter Pet Photographer."
Get stories worth sharing delivered to your inbox