popular
The story behind this viral photo shows why mom-shaming needs to stop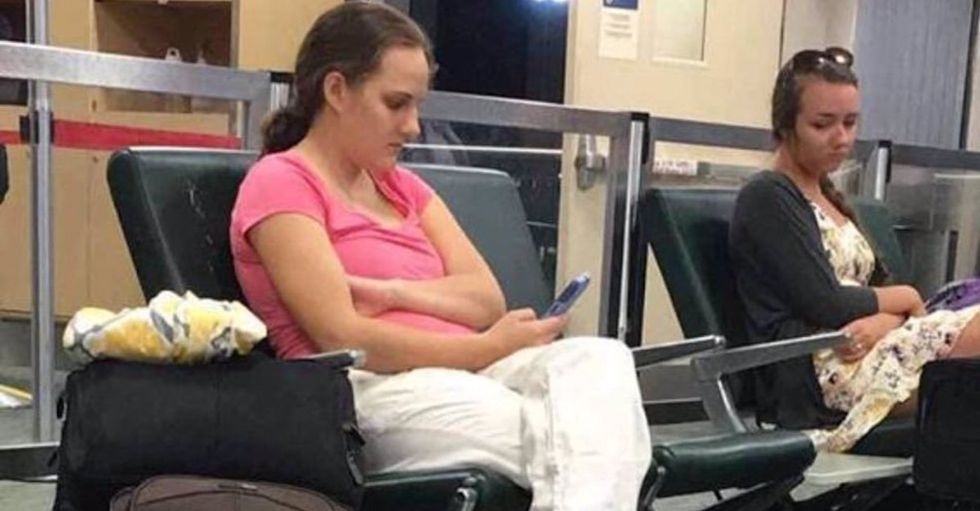 It was just one tiny fraction of a moment, captured in time. And it didn't look good.
Back in 2016, a man in a Colorado airport took a photo of a mom browsing her cellphone, her young infant squirming on a blanket on the ground in front of her. His original post (which has since been removed) was uploaded to Facebook with the caption: "Albert Einstein said, 'I fear the day that technology will take on our humanity ... the world will be populated by a generation of idiots.'"
Everyone is on Facebook talking about the mom who put her baby on the floor in an airport. https://t.co/MjUfs9lodu

— Ebz (@Ebz) 1470678683.0
Sure, absent any context, background, or explanation, the photo seemed to show a mom so uninterested in her child she'd rather check Facebook than pick her up off the floor.
---
But is that really what was happening?
Once the photo hit the internet, it went viral — and out came the pitchforks. The mom, Molly Lensing, was under attack.
Suddenly Lensing's parenting skills were being questioned by thousands of strangers online. She was labeled an "idiot" and a "terrible parent" by commenters. Her photo became the "parenting fail" of the week.
But in an interview with Today, Lensing says those people didn't know the whole story.
At the moment that the photo was taken, Lensing's flights had been delayed for almost an entire day — 20 hours, to be exact — due to a computer systems issue. Her infant daughter, Anastasia, "had been held or in her carrier for many hours," Lensing explained. "My arms were tired. She needed to stretch."
As for the cellphone? "I had to communicate with all the family members wondering where the heck we were," she said. Perfectly reasonable, right?
But here's the thing:
It shouldn't matter that Lensing had a "good explanation." Mom-shaming has got to stop.
The man who took Lensing's photo did not ask her permission, did not know her, and certainly had no idea what her day up until that moment was like. He had no way of knowing what she was doing on her phone. He had no idea that Lensing is actually a pediatric nurse.
Not all moms go viral and get flooded with thousands of hateful messages from around the world, but a recent study shows that over two-thirds of moms have been criticized to some degree for their parenting decisions.
Nearly everything seems to be fair game: formula instead of breastfeeding, breastfeeding in public, yelling or not yelling, letting kids watch videos on iPads, not doing enough to keep them occupied at restaurants. And, apparently, taking your eyes off your kid for a few minutes to send an important text message and to give them a bit of time to stretch out on the floor.
Sarah Clark, the co-director of the mom-shaming study (officially titled "Mom shaming or constructive criticism? Perspective of mothers"), suggested to Yahoo! that, while there are a few hard rights and wrongs in parenting ("don't let your kids eat razor blades," for example, is an obvious hard right), disagreements in the gray areas can cause some parents to doubt their decisions and lash out defensively.
Collectively, we've all got to do better.
"I know that I am the best momma to my girls, and I know that I cherish them and am raising them the best I can," Lensing said, now a year or so removed from her viral moment.
It's all any of us can do, so let's start cutting each other a little bit of slack.