Innovation
Nike's culture of innovation has done it again.
via Nike
True
As one of the world's largest sports brands, Nike is in a unique position to play a significant role in creating a more sustainable world. Nike has taken on this monumental responsibility by relentlessly pursuing its waste-reducing Move to Zero policy. The company's ultimate goal is zero carbon and zero waste, all in an effort to help protect the future of sport.

"Athletes around the world are telling us that climate change is impacting them and their ability to perform at their best," Seana Hannah, VP Sustainable Innovation, NIKE, Inc., said in a statement shared with Upworthy. "As part of our commitment to serve the athletes by offering more sustainable options and meeting our bold, science-based impact targets, we're introducing a material innovation that can be adapted to different lifestyle and performance purposes."
Over five years of research went into the development of Nike Forward and the company believes the positive environmental effects will be well worth the wait.
The all-new Nike Forward platform is the brand's latest advancement in over 30 years of sustainability-minded innovations, and the most significant Nike apparel innovation since Dri-Fit.The proprietary technology is based on engineering innovations that deliver big results.
In short, Nike hacked existing needle punching machinery to connect multiple thin layers by entangling them together to make a new, uncompromising performance-ready textile.
roar-assets-auto.rbl.ms
The total of Forward's innovations reduces carbon output by an average of 75% compared to traditional Nike fleece. This is achieved using 70% recycled content by weight, solution-dyed fibers rather than traditional dye methods and the lower material basis weight of Forward. In plain language, the process is much simpler than traditional knit or woven processes, drastically reducing the number of resources needed to create the material.
But Forward isn't just about reducing environmental impact during the manufacturing process. For the launch pieces, the brand also considered the end of its garments' lives by removing metal zippers and aglets so they're easier to recycle.
"Sustainability sits at the foundation of Nike's business, and we believe circularity is the future of sustainability, "John Donahoe, CEO, NIKE, Inc. said in a statement.
The sustainability of the Forward platform has the potential to significantly reduce the company's carbon footprint for years to come. In keeping with Nike's goals, Forward looks to "make the world better for athletes" while also being a superior product that "makes athletes better."
Forward's multiple thin-layer construction makes for warm and lightweight garments, and the flexibility of the platform will allow Nike to create a custom experience for athletes where materials can be adjusted to meet their unique needs.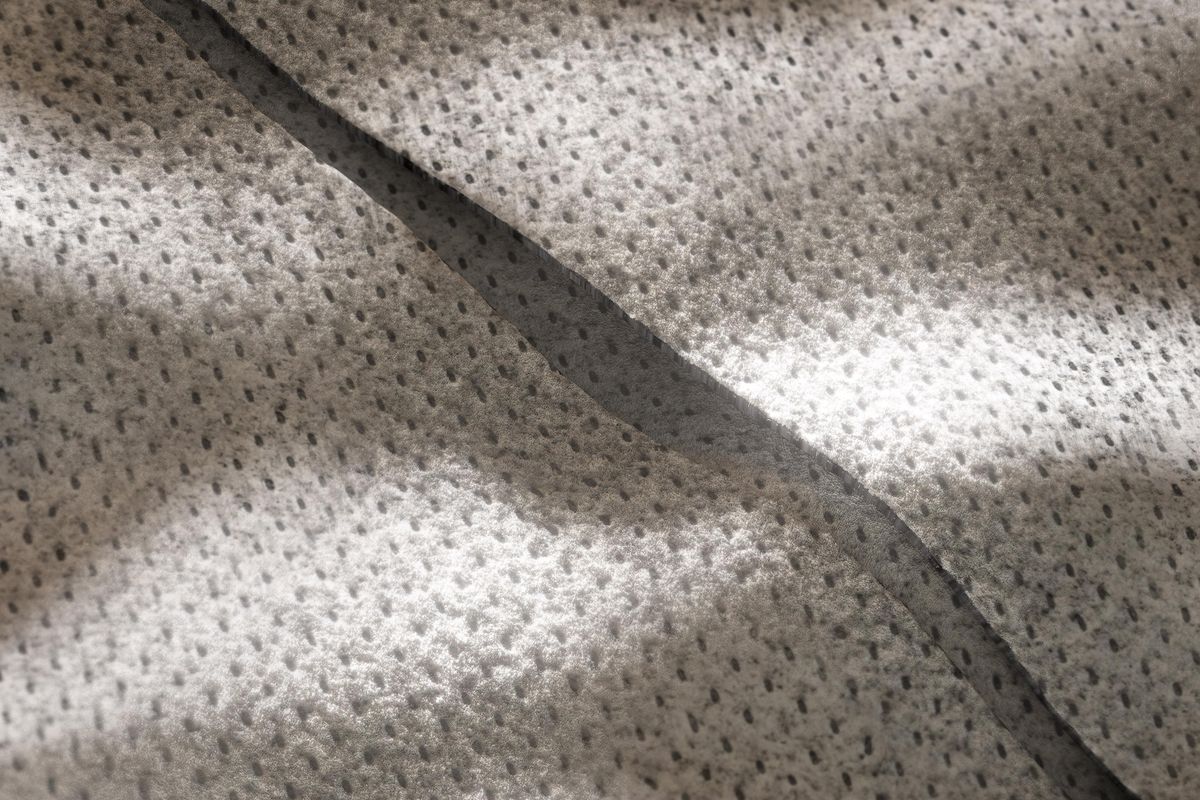 via Nike
The first Forward garment that athletes across the world will be able to experience is an iconic grey hoodie, as Nike calls it, "the uniform of sport and style around the globe." The Forward hoodie is manufactured using zero water in the dyeing and finishing processes. The company believes it's a rare product where sustainability doesn't come with sacrifices in comfort, style, or performance.
The hoodie is just the start of the Forward movement for Nike. "Today, it's a hoodie. Tomorrow, it could be anything," Aaron Heiser, VP of global apparel product merchandising, said in a video produced by Nike.
The hoodie will help introduce the world to Nike's latest revolution that it hopes will make an impact that will be felt for years to come.
For Nike, it's just the latest advancement in the brand's culture of innovation that underscores its commitment to taking action in creating a better world.
"We believe this platform has the potential to reset the way we think about material and apparel," Aaron Heiser, Nike's VP of global apparel product merchandising, said in a statement. "This is the biggest Nike apparel innovation since Dri-Fit 30 years ago and has huge potential to transform the industry in the way that Air and Flyknit did for Nike footwear."
Nike Forward releases globally on September 22, 2022. Shop the collection at nike.com/nikeforward.
Pop Culture
Romance doesn't always come easily, does it?
Science
How we can create equity for all communities?
All images provided by Adewole Adamson
True
Adewole Adamson, MD, of the University of Texas, Austin, aims to create more equity in health care by gathering data from more diverse populations by using artificial intelligence (AI), a type of machine learning. Dr. Adamson's work is funded by the American Cancer Society (ACS), an organization committed to advancing health equity through research priorities, programs and services for groups who have been marginalized.
Melanoma became a particular focus for Dr. Adamson after meeting Avery Smith, who lost his wife—a Black woman—to the deadly disease.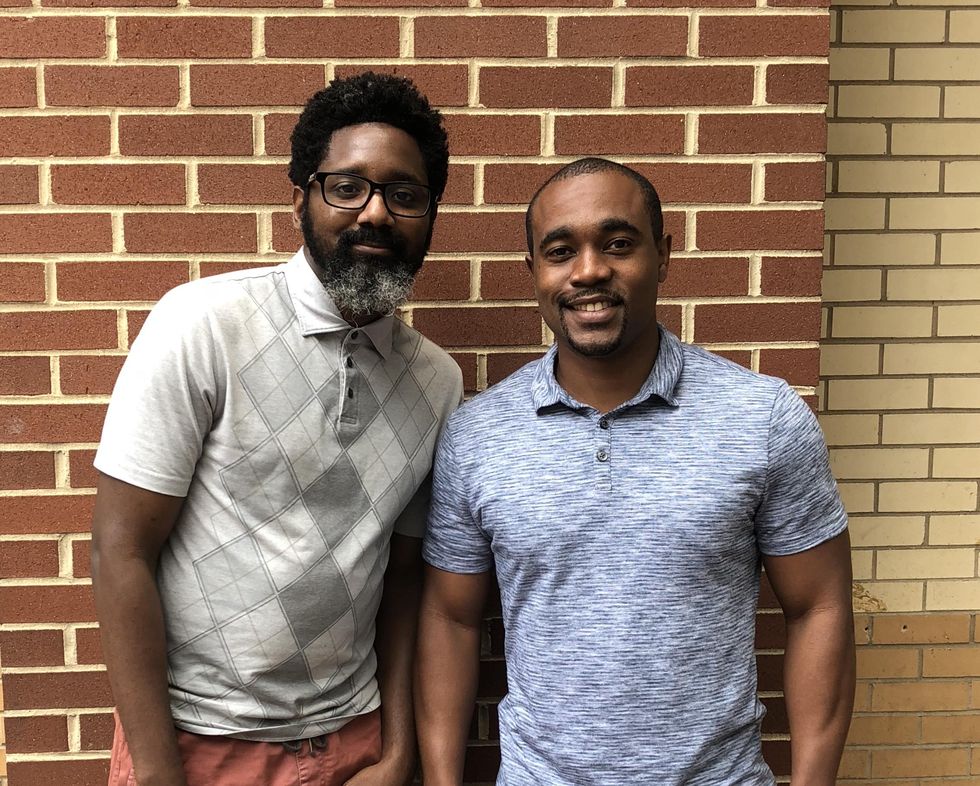 Avery Smith (left) and Adamson (sidenote)
This personal encounter, coupled with multiple conversations with Black dermatology patients, drove Dr. Adamson to a concerning discovery: as advanced as AI is at detecting possible skin cancers, it is heavily biased.
To understand this bias, it helps to first know how AI works in the early detection of skin cancer, which Dr. Adamson explains in his paper for the New England Journal of Medicine (paywall). The process uses computers that rely on sets of accumulated data to learn what healthy or unhealthy skin looks like and then create an algorithm to predict diagnoses based on those data sets.
This process, known as supervised learning, could lead to huge benefits in preventive care.
After all, early detection is key to better outcomes. The problem is that the data sets don't include enough information about darker skin tones. As Adamson put it, "everything is viewed through a 'white lens.'"
"If you don't teach the algorithm with a diverse set of images, then that algorithm won't work out in the public that is diverse," writes Adamson in a study he co-wrote with Smith (according to a story in The Atlantic). "So there's risk, then, for people with skin of color to fall through the cracks."
Tragically, Smith's wife was diagnosed with melanoma too late and paid the ultimate price for it. And she was not an anomaly—though the disease is more common for White patients, Black cancer patients are far more likely to be diagnosed at later stages, causing a notable disparity in survival rates between non-Hispanics whites (90%) and non-Hispanic blacks (66%).
As a computer scientist, Smith suspected this racial bias and reached out to Adamson, hoping a Black dermatologist would have more diverse data sets. Though Adamson didn't have what Smith was initially looking for, this realization ignited a personal mission to investigate and reduce disparities.
Now, Adamson uses the knowledge gained through his years of research to help advance the fight for health equity. To him, that means not only gaining a wider array of data sets, but also having more conversations with patients to understand how socioeconomic status impacts the level and efficiency of care.
"At the end of the day, what matters most is how we help patients at the patient level," Adamson told Upworthy. "And how can you do that without knowing exactly what barriers they face?"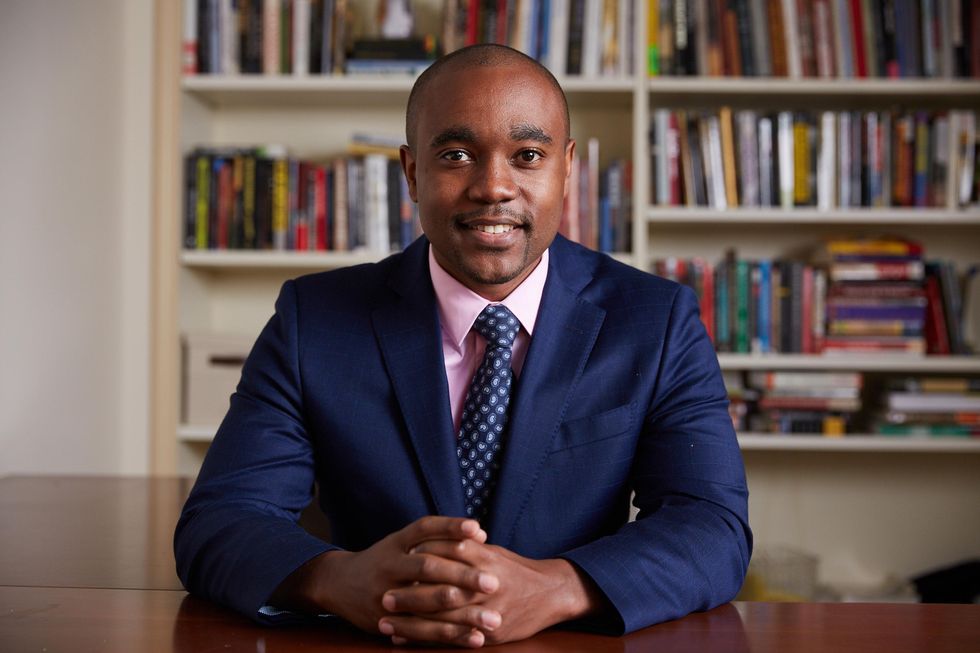 "What matters most is how we help patients at the patient level."https://www.kellydavidsonstudio.com/
The American Cancer Society believes everyone deserves a fair and just opportunity to prevent, find, treat, and survive cancer—regardless of how much money they make, the color of their skin, their sexual orientation, gender identity, their disability status, or where they live. Inclusive tools and resources on the Health Equity section of their website can be found here. For more information about skin cancer, visit cancer.org/skincancer.
Joy
"I asked her if I could help assist her. So I kinda went through the steps of helping her out."
via Cleveland County Sheriff's Office
Just like rotary phones, shopping malls and popcorn you heat on the stove, stick shifts (or manual transmissions as the pros call 'em) may soon be a thing of the past. A report in The Atlantic shows that in the year 2000, manual transmissions accounted for 15% of the new and used cars sold by Carmax.

In 2020, that figure dropped to just 2.4%.
The sad thing is that countless people will never experience the pleasure of driving a manual transmission. There's something to be said about the feeling of actually driving and controlling a vehicle with a stick shift. It's a sensation you can't get behind the wheel of an automatic.
Manual cars are also cheaper, less likely to be stolen and have lower maintenance costs.
Given the manual transmission's decline in popularity, seeing a teen learning how to drive one warms the heart. That may be why Cleveland County Deputy Kendrae Traylor of Oklahoma City, Oklahoma, went out of his way to help a stalled teen learn how to drive her manual transmission.
Traylor and his partner, Ryan Graham, came across the stalled car in the middle of the road recently and pulled up to investigate.
"We came across a stranded vehicle, wondered what was going on with it. Made contact with this young female, brand new driver of a standard, didn't know what she was doing," Traylor said in a post shared by Cleveland County Sheriff's Office. "I asked her if I could help assist her. So I kinda went through the steps of helping her out."
Traylor helped the girl pull the car into an empty parking lot where he taught her how to drive her stick shift with confidence.
"Once we were in an empty parking lot, I helped her step-by-step understand how to drive a manual transmission," he continued.
"You want me to talk you through it? I can do that," Traylor can be heard saying in his partner's bodycam. The footage was later shared by the Sheriff's Department where Traylor got a lot of love for being such a wonderful public servant.
\u201cDeputy Kendrae Traylor with the Cleveland County Sheriff's Office helped a new driver learn how to drive a stick shift after finding her stalled in the middle of the road.\n\nhttps://t.co/poj4EX83Zh\u201d

— KOKH FOX 25 (@KOKH FOX 25) 1663844401
"I love it. He was so patient and now she will be," Jennifer Rachel Trum commented on a TikTok post of the footage. "I know Kendrae through some friends, he's such an amazing guy and an outstanding Deputy," brianramos0315 added.
"She will never forget your calm and caring lesson! Thank you for protecting and serving!" Stephanie Anne Morros said.
This story was especially touching for me because when I was 18 years old, I got my first car, a 1989 Toyota Tercel that had a manual transmission. My dad gave me an hour-long lesson on how to drive the car and then told me to take it home, alone. It was normally a 20-minute drive, but it took me more than an hour because I kept stalling in the middle of traffic.
The drive home was one of the scariest experiences of my life. I couldn't get the car going at a traffic light and all the cars behind me were beeping as the light switched from green back to red.
I would have loved to have been helped by a kind deputy like Traylor during my fateful first trip alone in a manual transmission. Good news is, I made it home alive and I love driving a manual transmission so much that my next three cars were all sticks.
Pop Culture
What would certain icons look like if nothing had happened to them?
Get stories worth sharing delivered to your inbox
Get stories worth sharing delivered to your inbox