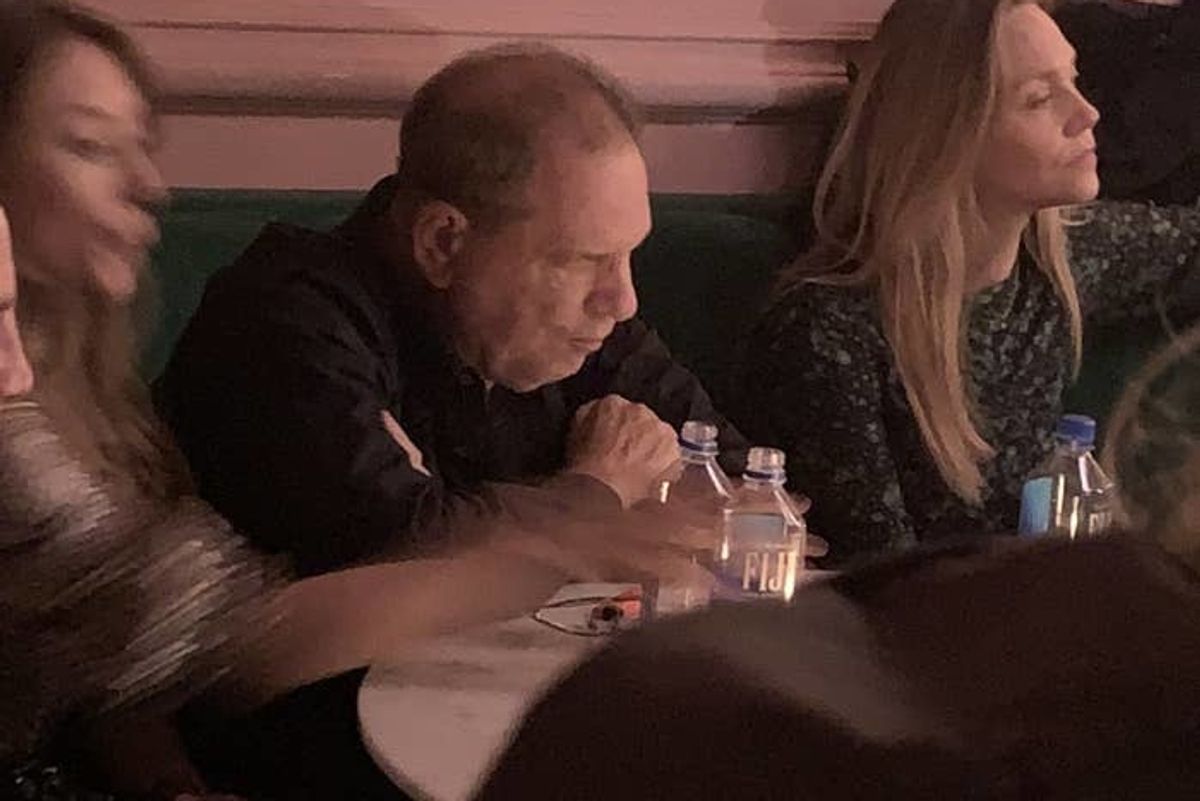 Some say that cancel culture doesn't exist. You can complain about somebody's bad behavior all you want, but at the end of the day, the person who has abused their power is going to stay in power. Case in point, Harvey Weinstein who's just walking around and doing his thing while he awaits his January trial for sexual assault and rape. Things like attending actor showcases in Manhattan.
When Weinstein showed his face at Actors Hour, stand-up Kelly Bachman called out Harvey Weinstein during his set. Bachman, a sexual assault survivor, felt she couldn't let it slide. "It's my job to name the elephant in the room," she said during her set. "I have been raped, surprisingly by no one in this room, but I've never gotten to confront those guys. So, just a general fuck you." She received boos, and someone even told her to shut up.
---
Keep getting new followers today is it because my tweets are so fire? lol fuck Weinstein and thanks @ambercrollo IL… https://t.co/c2DBTSfg02

— Kelly Bachman (@Kelly Bachman)1571946554.0
Weinstein was also confronted by attendees Zoe Stuckless and Amber Rollo, who were both kicked out for approaching him.
Let me explain that one more time, an event that was supposed to support actors and artists invited a serial rapist… https://t.co/kXAgMukgIg

— Downright Rude (Amber Rollo) (@Downright Rude (Amber Rollo))1571930673.0
I restrained myself, now that I'm sober I no longer throw drinks or fists. There was a woman at the table with him… https://t.co/N4ycjGXUiM

— Downright Rude (Amber Rollo) (@Downright Rude (Amber Rollo))1571930724.0
4. Holy cow, I'm just seeing this video.... Zoe Stuckless (@revoltchild) confronted Harvey Weinstein at the show..… https://t.co/7QXmdDpLE8

— Yashar Ali 🐘 (@Yashar Ali 🐘)1572008421.0
Alexandra Laliberte, host of Actors Hour, later apologized in a lengthy Instagram post. She said she "did not consider the underlying implications of Mr. Weinstein's presence and was naively overwhelmed by the entire situation that unfolded." Weinstein will not be returning to the event.
While the venue didn't do anything to make the people who complained feel safe and supported, they did receive support on Twitter for having the guts to call him out. Celebrities, including Weinstein accuser Rose McGowan, as well as non-celebrities have been calling Bachman the hero we all need.
@bellykachman Kelly Bachman and Zoe Stuckless are heroes. They stood up to the Monster HW at a comedy show. Kelly w… https://t.co/hIx0KyVXbA

— rose mcgowan (@rose mcgowan)1571963818.0
This woman called out Harvey Weinstein in person, right to his face, and I'm in love. Thank you, @bellykachman. https://t.co/angu3l9flD

— Alyssa Milano (@Alyssa Milano)1571972837.0
@bellykachman @ambercrollo You are a fucking hero. Truly.

— Busy Philipps (@Busy Philipps)1571997144.0
@bellykachman @ambercrollo Wish there was someone filming the crowd so we could see the faces of those boo'ers. W… https://t.co/0vuqGBSfLU

— devon sawa (@devon sawa)1571979586.0
I am floored and inspired by this woman's bravery. Weinstein was in the room. 👏👏👏 @bellykachman https://t.co/aF4kmOOqi9

— Nikki Glaser (@Nikki Glaser)1571979107.0
If you were ever confused about what white privileged looks like, Harvey Weinstein went to a young actors event expecting a chill evening.

— Chris Redd (@Chris Redd)1571994249.0
@bellykachman @ambercrollo Fuck it up, goddess. Fuck. It. Up.

— The Sassiest Semite (@The Sassiest Semite)1571960839.0
@bellykachman @ambercrollo You go, girl! Thank you for not being intimidated. We women will not back down. We will not shut up.

— Lou Godbold (@Lou Godbold)1571947116.0
Bachman says she was just saying what needed to be said. "I was really trying to just say something, and in the moment, I really felt like I could have said more, and I really felt like I had let down other survivors by not saying more," she told CNN. "They're my heroes for speaking out and I hope I did right by them in some way."
It's almost as if this event was one giant metaphor for the Harvey Weinstein scandal. Sure, those who spoke out at the event were silenced at first, but ultimately, their voices were heard louder because they had the courage to do the right thing and speak out.