Culture
To the 1 in 8 deeply misguided men who think they could score on Serena Williams
Overconfident dudes, be humbled.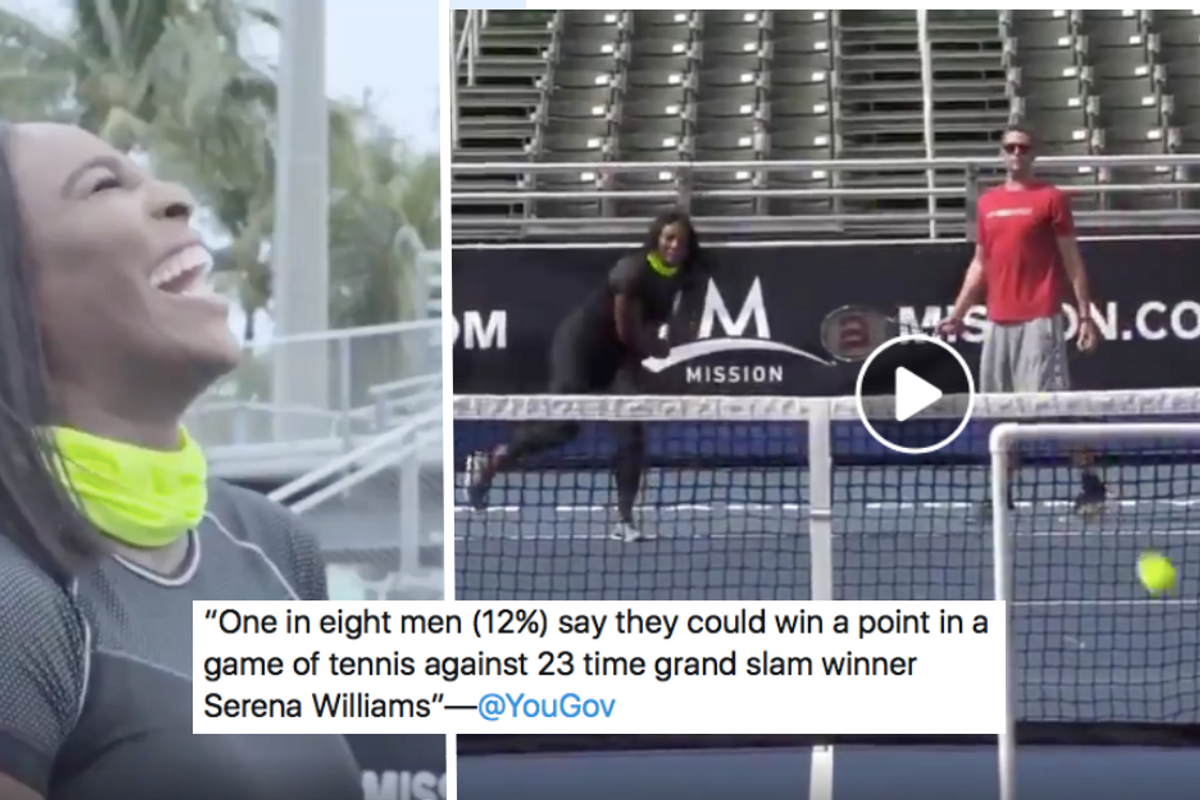 Some people apparently don't understand just how unbelievably good Serena Williams is on the tennis court.
Why they don't understand this is unclear. She holds more open era Grand Slam titles than any other tennis player, male or female. She's set Olympic records, ranking records, age records, prize money earnings records—the woman is a record-breaking machine. (Fun fact: Williams is the highest paid female athlete of all time, having earned $86 million in prize money during her career. The next highest is Maria Sharipova, with $38 million in prize money. If that's not total dominance, I don't know what is.)
Her list of tennis championships is a mile long. You don't even have to follow tennis to know that Serena Williams is a freaking powerhouse of a tennis player, not to mention one of the greatest athletes of all time.
And yet, there are dudes who believe they could take her on.
---
Not professional tennis player dudes, but average, sit-around-binge-watching-TV-shows-like-the-rest-of-us dudes. And more than a tiny handful of them, apparently. In a survey of 1,732 British men and women conducted by Yougov.com, a full one in eight men responded they definitely could score a point against Serena Williams if they met her on the tennis court.
@YouGov "One in eight men (12%) say they could win a point in a game of tennis against 23 time grand slam winner Se… https://t.co/yy7S6gNfL8

— Miriam Heddy's Tired Of Purity Politics🔥 (@Miriam Heddy's Tired Of Purity Politics🔥) 1562954235.0
That's 12 percent of the male respondents who are out of their everlovin' minds. Another 14 percent indicated they weren't sure if they could score against her or not. (Seriously? Not sure? Remember we're talking about Serena Freaking Williams here?) Thankfully a solid 74 percent understood they are mere mortals while Serena Williams is a tennis goddess. But what's up with the 26 percent who think they might stand a chance?

To the dudes who are convinced they could score against Serena Williams, please watch this video. The first minute is all in good fun, as three guys attempt to return one of Williams' wicked serves. (Spoiler: They can't.) But it's the second half that will shatter any delusions you have that you'd be likely to score against this G.O.A.T. tennis pro.
Watch Serena hit a tennis can off of a moving cart and a man's head. Watch Serena smash a not-even-full water balloon hanging from a string. Watch Serena swish a tennis ball through a basketball hoop from halfway up the stadium. This woman's power and precision are scary. She may have an infectious smile and an exuberant laugh, but you should be scared of Serena the Tennis Goddess, dudes.
Seriously. Watch and be humbled:
Serena Williams just being one of the greatest athletes of all time...