popular
The Reunited States asks what is really dividing Americans and what must be done to fix it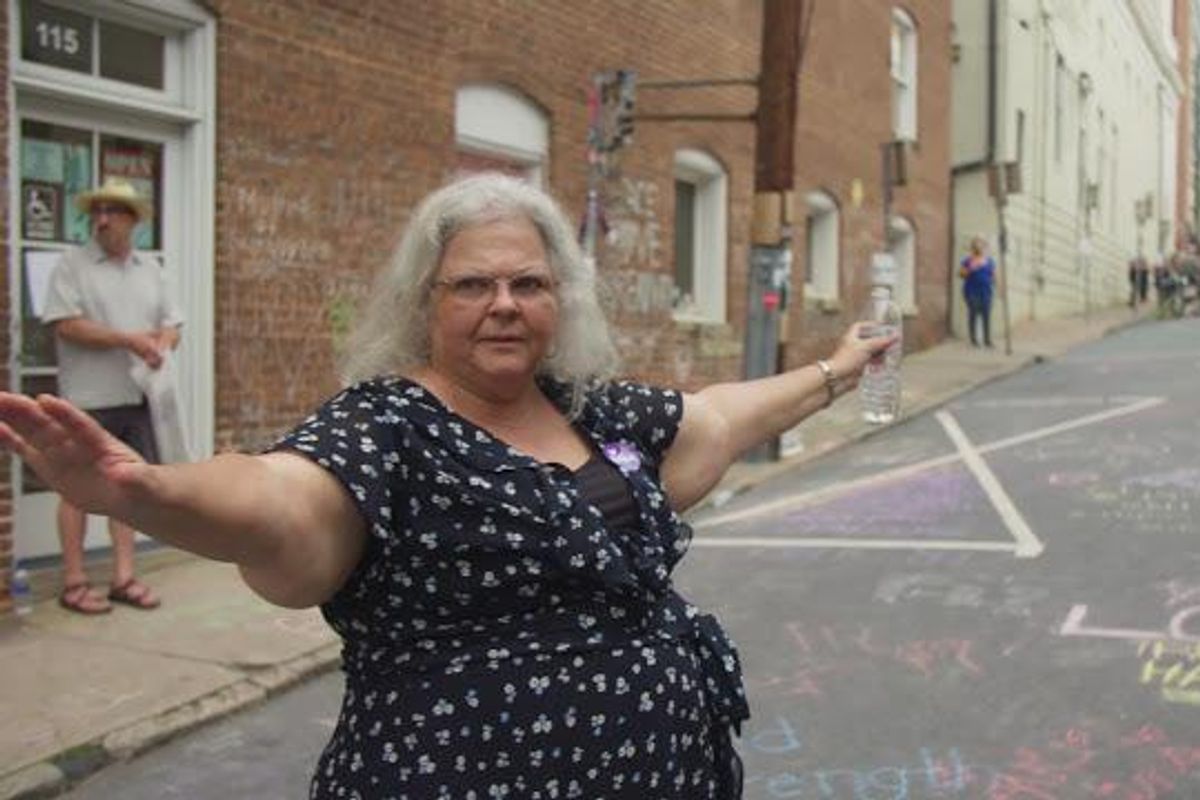 image via Reunited States film
At first glance, Ben Rekhi's new documentary The Reunited States is an optimistic, love-letter with a message about hope, unity and piecing back together our tattered political landscape. But underneath that feel-good surface is a hard truth: Our dysfunctional politics is only a reflection of the culture it represents. And if we want to fix it, we have to fix ourselves first. Achieving any sense of unity means letting go of our own prejudices, and most challenging of all, actually listening to those we disagree with.

"The political divisiveness started as a grassroots movement that became reflected in the actions and positions of elected officials," Rekhi told Upworthy in a phone interview. "Not only do you have rights as citizens you have responsibilities."
---
THE REUNITED STATES - Trailerwww.youtube.com
Rekhi chose four real life stories to help make his point in the film:
Susan Bro, whose daughter Heather Heyer was murdered in the Charlottesville protests against white supremacy, picks up her daughter's mantle of advocacy to explore the roots of racism, all while processing her grief in the lead up to trial of her daughter's killer.
Erin and David Leaverton leave behind their comfortable suburban lives to travel with their young children in an RV across America to have sometimes uncomfortable dinners with people who are different from them politically, racially and culturally to find out what's really driving a wedge between us. Part of that answer stems from David himself, a former Republican political operative who says he decided to get out of politics after seeing how his own work was explicitly designed to push Americans further apart in the pursuit of power.
Greg Orman, a political independent who runs for governor and the U.S. Senate in Kansas, fighting against the pressures of a two-party system.
Steven Olikara, founder and president of the Millennial Action Project. MAP's stated goal is to bring together young leaders from across the political spectrum in order to "transcending the tribalism" that has created a seemingly insurmountable divide in our modern politics.
"We really wanted to spotlight the everyday heroes who are doing this work," Rekhi said. "This is a citizens' movement and those of us taking responsibility for our thoughts, words and actions. That kind of self-awareness is something we hope comes of that."
The film was inspired by the book The Reunited States of America, written by Mark Gerzon, who also appears in the film.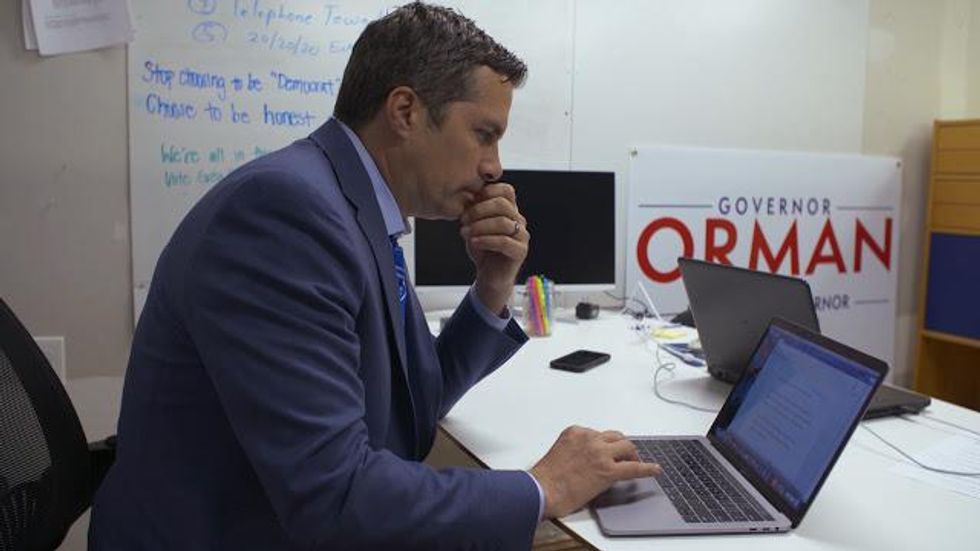 Greg Orman campaigns during The Reunited States
To its credit, one of the major obstacles the film challenges head on is the idea that what divides us can be cured by something as simple as a conversation and a hug. It's not that there are "two Americas" as the political cliche goes: there are seemingly countless Americas, separated by economics, race, religion, age and, of course, geography. Technology has been further dividing that split by pushing us into echo chambers that reinforce our own prejudices and create a digital divide amongst those with the most social media savvy and access to the high-speed internet and devices required to have a voice online.
One of the most surprisingly emotional moments in the film occurs when Bro sits down to have dinner with the Leaverton family. We've grown to admire all three of them over the course of the documentary but their worlds collide in a way that shows just how difficult reconciliation can be, even for people who have made it their mission to heal our political and cultural wounds.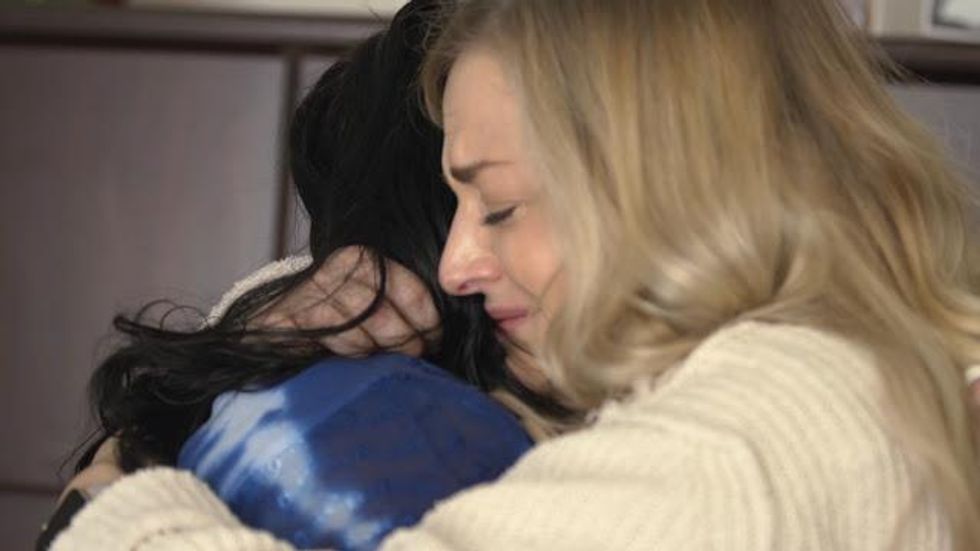 Erin Leaverton is a scene from The Reunited States
Promoting the film itself has resulted in some unexpected controversy. It turns out that the only thing political pundits hate more than the "other side" are those willing to cross the divide. One of the film's producers, Van Jones, found himself unexpectedly under attack while promoting the film on "The View" last week. Jones, a former Obama official, have been criticized by the Left for working with members of the Trump Administration on prison reform. Jones, a vocal critic of Trump, defended his work, saying it has resulted in the release of an estimated 50,000 individuals from prison. Work, he points out, that can be measured in actual lives changes, as opposed to points scored from attacking someone on social media or cable television.
A clip of View co-host Sonny Hostin telling Jones "Black people don't trust you anymore," because of his work with Trump quickly went viral after the segment. Jones said he felt "ambushed" by the attack from Hostin and her view co-host Ana Navarro, ironically, herself a longtime Republican strategist.
.@VanJones68 defends himself against criticism over giving Trump credit for his work in the Black community, despit… https://t.co/ruOidQ7XHq

— The View (@The View) 1612548683.0
"The business model is geared toward the most inflammatory voices," Rekhi said when asked about "The View" segment and some of the reactions on social media. "Ten percent of the people on social media are getting 90 percent of the air-time. Negative news is being amplified because of our instincts to pay attention to danger. It can also be part of what brings us back together. To work through these divides is not easy. A lot of this is directed toward friends and family, the people closest to us. It's not sustainable."

The Reunited States tells a powerful story about America but it's not an easy one. We've all read a book or seen a movie that we absolutely had to share with others. The truth is, when we're do that we're almost always proselytizing, either insisting that others come around to our long held views, or playing the role of enchanted neophyte, spreading the word of some new slogan we're convinced is a magic bullet to all that ails us (and them).
That's not the kind of film
The Reunited States
is. It's honestly the kind of movie you might want to watch by yourself, or with your family. Which is perfect in quarantine time. There are many vital conversations to be had with others and many voices that deserve to be heard. The film does an excellent job of exploring that theme, even if it's one we've probably heard in some form or another. Where the film really excels is in its message to challenge ourselves, explore our own biases and be open to moving past them. In other words, be the kind of American you want other Americans to be.