Joy
Why people are talking about this video of a football star giving clothes to a homeless woman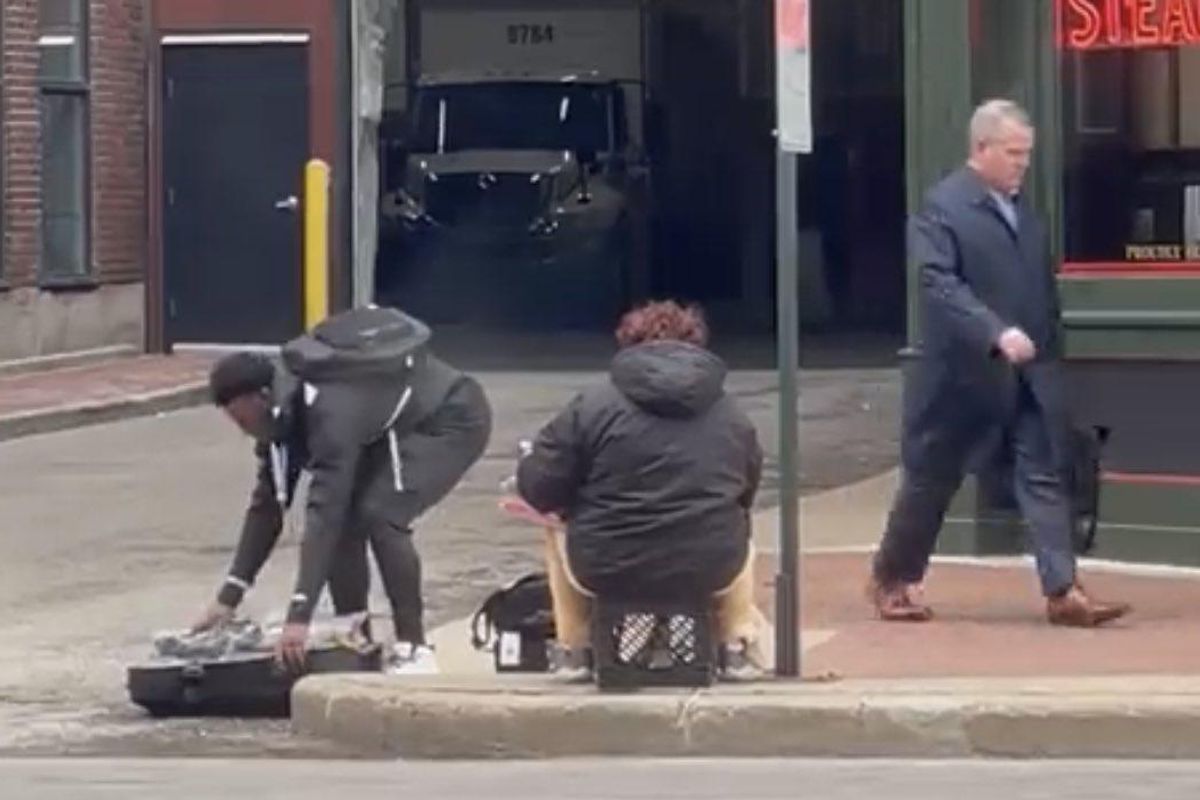 Screenshot/Twitter
There are a lot of folks in the public eye who know how to look like a good person when the cameras are on, but when the limelight goes away they can be someone totally different. In reality, it's what you do when no one is watching that is the true test of your character.

In the case of former Liberty University quarterback and NFL draft prospect Malik Willis, he's clearly the type of guy that does good things when he isn't in the spotlight.
Last week, Willis was in Indianapolis, Indiana for the NFL Scouting Combine at Lucas Oil Stadium. The combine is a huge deal for former college players looking to get in the NFL. It's an opportunity for them to show off their skills on the field in the hopes of making it on a team.
On Thursday, Willis was caught on video on a street corner, handing a woman sitting on a milk crate some fresh shirts out of a suitcase. According to Willis, she was there with her son.
---
Was having lunch yesterday and saw one of the Combine guys helping out someone on some hard times\u2026\n\n@malikwillis being great even when nobody is watching. How can you not be a fan of this guy?pic.twitter.com/BmFzUM66NU

— Ryan Lacey (@Ryan Lacey) 1646327504
"I walked past her on the way to the Nike suite and I chopped it up with them and I walked out with a suitcase and whatnot," Willis said on NFL Network Thursday. "I felt bad because I saw her son. It was a pregnant lady and she was homeless."
"I was just like, 'Shoot, I don't have no money, but I can give you a couple of shirts," he added.
Willis said he had no idea that he was caught on video.
"I just felt like I had to do that," Willis said. "I mean, I'm at a position right now where I'm not worried about much of anything except getting better. So, if I can help her out any way, I felt like I had to."
Some people noted that while Willis was helping the woman out, another guy in a suit just walked on by without a care in the world.
Picture worth a thousand words pic.twitter.com/Wgo0Hab9um

— Ravi Mahapatra (@doctor_rpm) March 3, 2022
At a time when NFL scouts are judging players not only on their on-the-field performance but off-the-field leadership skills, Willis showed that he's about a lot more than just football. He appears to be someone that would use his privilege as a professional athlete to help those who are less fortunate.
Last week, he gave a great answer when asked about the responsibility that comes with being a team's franchise quarterback.
Malik Willis gave us all the aesthetics at the NFL Combine.pic.twitter.com/3e6fWpLhAk

— Cameron Hogwood (@Cameron Hogwood) 1646381048
"I mean, you're the face of the franchise, literally. You're the face of the city. So, you've got to understand everything that comes with that and making sure you're doing all the right things and making sure you're doing your job," Willis said in his combine media interview, according to ESPN.
Willis' future looks bright in the NFL; the quarterback is one of the highest-ranked players at his position and it's rumored he'll wind up with the Pittsburgh Steelers, Washington Commanders or the Denver Broncos.
Scouts on the field say that he is an agile, durable quarterback with a great arm. But off the field, he appears to be a man of character who's ready to shine while playing a position that demands incredible leadership abilities.