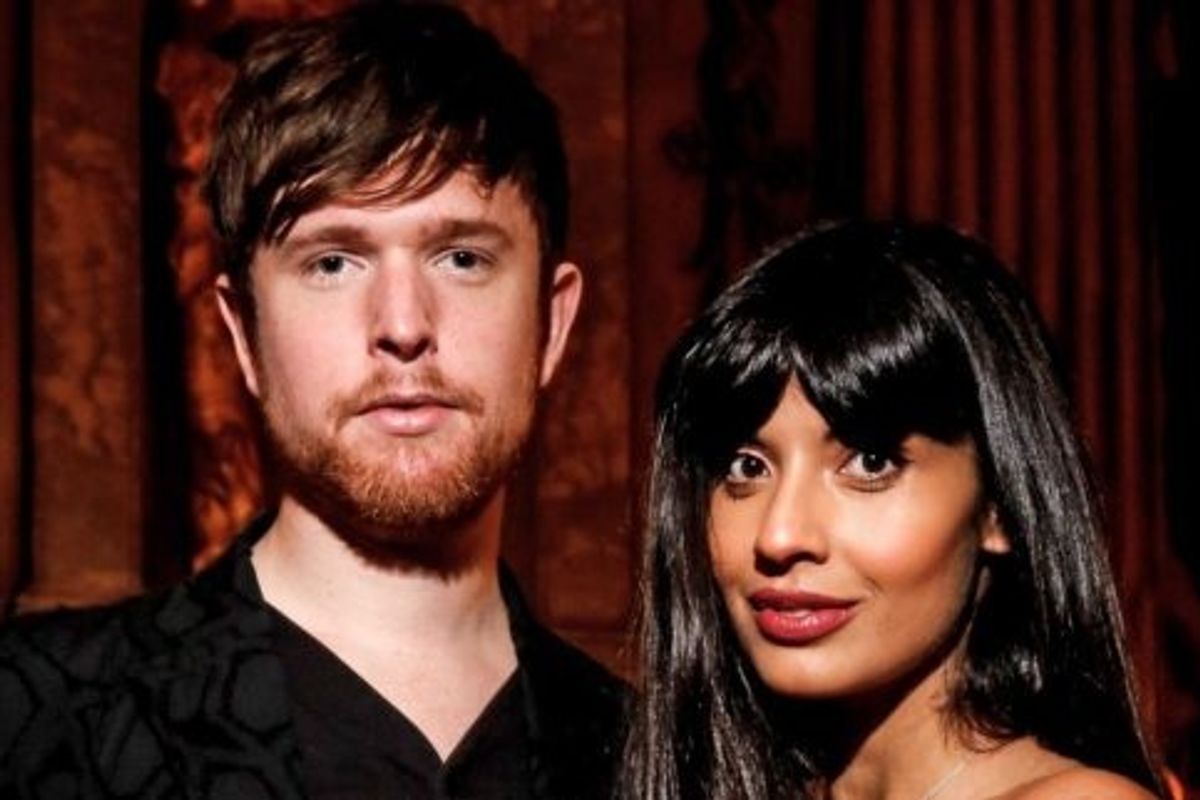 You know the old saying, "Behind every successful man is a good woman?" Well, sometimes that good woman is right there alongside the man, putting in just as much effort as the man. Her work and effort shouldn't be relegated to a footnote. Musician James Blake, who has been dating the Good Place actress and activist Jameela Jamil since 2015, just laid out why partners deserve credit for their work.
Billboard Tweeted a clip of an interview with Blake. "Backstage at ACL Music Festival, @jamesblake discusses his latest album 'Assume Form,' how his girlfriend Jameela Jamil inspired the record, and teases new music. #ACLFest," Billboard Tweeted. The only problem is, Jamil didn't "inspire" the album. She actually worked on it, something Blake mentioned in the interview. "She has an incredible musical instinct. She's like a mini Rick Rubin in her own way," Blake told Billboard. "And … I'm not just saying this because she's my girlfriend. … She has a credit on the album itself. And it's not just a kind of shoutout. It's genuine, you know, work."
---
Blake corrected the publication, making sure Jamil's work got properly acknowledged. "Not just inspired it - she actually worked on it. I even said it in the interview, but people focus on 'inspired' because the idea of the 'muse' is so romantic and pervasive," he Tweeted back.
But he didn't stop there. Blake pointed out that many partners go uncredited, even though thy put in as much (or more) work than the people getting all the glory. "In addition, women who help their partners with their album, being a sounding board and often their only emotional support during the process, almost invariably go uncredited, while majority male producers come in and make a tiny change to a track and they're Mr. golden balls," Blake said.
"Shout out to all the partners who selflessly placated a musician during a very self absorbed process like creating an album, who got the title 'muse' afterwards which basically amounts to being an object of affection while the musician exercises their 'genius'," he finished. Blake just summed up hashtag relationship goals in three Tweets.
Jamil is actually also credited as a producer on the album, which Blake also confirmed on Twitter. It kind of makes it even more b.s. that she'd be referred to as "inspiration."
Blake even gave Jamil credit way back in January when the album was released, because he's all supportive like that.
Jamil was touched that Blake said something. "I love this man a lot. He's a proper feminist," she wrote on Twitter.
Jamil wasn't the only person who was impressed. Some musicians were even inspired to give their partners credit as well.
Chocolate and flowers are nice, but getting properly acknowledged for your efforts is the ultimate grand romantic gesture.