Photo courtesy of Capital One
True
Growing up in Virginia, Dominique Meeks Gombe idolized her family physician — a young Black woman who inspired Meeks Gombe to pursue her passion for chemistry.
While Meeks Gombe began her career working in an environmental chemistry lab, after observing multiple inefficient processes in and around the lab, she took the initiative to teach herself to code in order to automate and streamline those issues.
That sparked her love for coding and imminent career shift. Now a software engineer at Capital One, Meeks Gombe wants to be a similar role model to her childhood mentor and encourage girls to pursue any career they desire.
"I'm so passionate about technology because that's where the world is going," Meeks Gombe said. "All of today's problems will be solved using technology. So it's very important for me, as a Black woman, to be at the proverbial table with my unique perspective."
Since 2019, she and her fellow Capital One associates have partnered with the Capital One Coders program and Girls For A Change to teach coding fundamentals to middle school girls.
The nonprofit's mission is aimed at empowering Black girls in Central Virginia. The organization focuses on designing, leading, funding and implementing social change projects that tackle issues girls face in their own neighborhoods.
Girls For a Change is one of many local nonprofits that receive support from the Capital One Impact Initiative, which strives to close gaps in equity while helping people gain better access to economic and social opportunities. The initial $200 million, five-year national commitment aims to support growth in underserved communities as well as advance socioeconomic mobility.
Through the Capital One Coders program, girls can gain early access to computer science education which can directly inspire their confidence levels and interest in computer science.
In fact, a report from Code.org says that Black and Hispanic students who take computer science classes before college are seven times more likely to major in computer science.
When the COVID-19 pandemic hit, Meeks Gombe helped to develop a virtual curriculum that included breakout rooms with custom games and quizzes. In her role as a lead teacher for Girls For A Change, Meeks Gombe's visibility as a Black technologist and leader is helping to create a lasting impact on her students.
"Just having girls see the variety of career opportunities led by people who look like them opens up that possibility. There's a connection made when girls see me in a role that they don't usually associate themselves with. I can't reach every girl, but I want them to know that they can do this," Meeks Gombe said.

Capital One Vice President of HR Technology, Maureen Jules-Perez echoed Meeks Gombe's perspective. For Jules-Perez, who served on the organization's board for a few years before becoming the new Board Chair of Girl's For a Change this year, the mission of the nonprofit parallels her motto of "Tech For Good" which uses tech to improve social, environmental, and economic outcomes. The organization's long-term programs give girls the option to see themselves as artists, entrepreneurs and technologists, among other career opportunities.

"I came from a similar background so I feel like I'm one of those girls," said Jules-Perez. "I know what it's like to have someone champion you, but also the opposite feeling of knowing someone who doesn't think you're worthy. I'm haunted by the thought that there's a Black girl or a person of color who doesn't feel seen or doesn't think the world wants them. Girls For A Change prepares Black girls for the world."
Beyond helping girls see their potential as future technologists, Girls For A Change's CEO Angela Patton is working hard on her action-oriented vision to help realize the unmet needs of all girls in Central Virginia.
Her focus is particularly on what she calls "at-promise" youth who have natural gifts and innate potential where their circumstances don't define their identities. For more than a decade, Patton has supported at-promise girls with incarcerated fathers through Dance With Dad, a rehabilitation program founded by a group of young girls who wanted to invite their jailed fathers into their lives on their own terms and define their futures. The girls, Patton explained, wrote to a police sheriff to allow them to hold a dance with their fathers in jail. More than a decade since the program began, not one of the fathers had been reincarcerated again.
"We're teaching girls to elevate their voices," said Patton. "We want them to experience the moment where they feel ownership and empowerment so that they can change their own lives."
Girls For A Change has partnered with Capital One since 2017 to connect girls with career and life opportunities for which they otherwise may not have access or insight.
Since the partnership began, Capital One has supported 15 different programs with Girls for A Change. Seven of these programs were Capital One Coders camps and nearly 80 Capital One Tech associates have supported Girls For A Change girls over the last few years through those programs.
"For some of the girls aging out of the Girls For A Change program, they had a chance to do mock interviews with Capital One associates and get feedback for entry-level positions," said Patton. "I love that I have resources to point my girls to so that they can have a chance at better outcomes."
All together, now: who runs the world?
GIRLS.
True
Often, parents of children with special needs struggle to find Halloween costumes that will accommodate medical equipment or provide a proper fit. And figuring out how to make one? Yikes.
There's good news; shopDisney has added new ensembles to their already impressive line of adaptive play costumes. And from 8/30 - 9/26, there's a 20% off sale for all costume and costume accessory orders of $75+ with code Spooky.
When looking for the right costume, kids with unique needs have a lot of extra factors to consider: wheelchair wheels get tangled up in too-long material, feeding tubes could get twisted the wrong way, and children with sensory processing disorders struggle with the wrong kind of fabric, seams, or tags. There are a lot of different obstacles that can come between a kid and the ability to wear the costume of their choice, which is why it's so awesome that more and more companies are recognizing the need for inclusive creations that make it easy for everyone to enjoy the magic of make-believe.
Created with inclusivity in mind, the adaptive line is designed to discreetly accommodate tubes or wires from the front or the back, with lots of stretch, extra length and roomier cut, and self-stick fabric closures to make getting dressed hassle-free. The online shop provides details on sizing and breaks down the magical elements of each outfit and accessory, taking the guesswork out of selecting the perfect costume for the whole family.
Your child will be able to defeat Emperor Zurg in comfort with the Buzz Lightyear costume featuring a discreet flap opening at the front for easy tube access, with self-stick fabric closure. There is also an opening at the rear for wheelchair-friendly wear, and longer-length inseams to accommodate seated guests. To infinity and beyond!
An added bonus: many of the costumes offer a coordinating wheelchair cover set to add a major boost of fun. Kids can give their ride a total makeover—all covers are made to fit standard size chairs with 24" wheels—to transform it into anything from The Mandalorian's Razor Crest ship to Cinderella's Coach. Some options even come equipped with sounds and lights!
Catch our friends @Rollettes_LA dancing their way into spooky szn with our adaptive Halloween offerings, available… https://t.co/U6uPnf8EVl

— shopDisney (@shopDisney)1629144012.0
From babies to adults and adaptive to the group, shopDisney's expansive variety of Halloween costumes and accessories are inclusive of all.
Don't forget about your furry companions! Everyone loves to see a costumed pet trotting around, regardless of the occasion. You can literally dress your four-legged friend to look like Sven from Frozen, which might not sound like something you need in your life but...you totally do. CUTENESS OVERLOAD.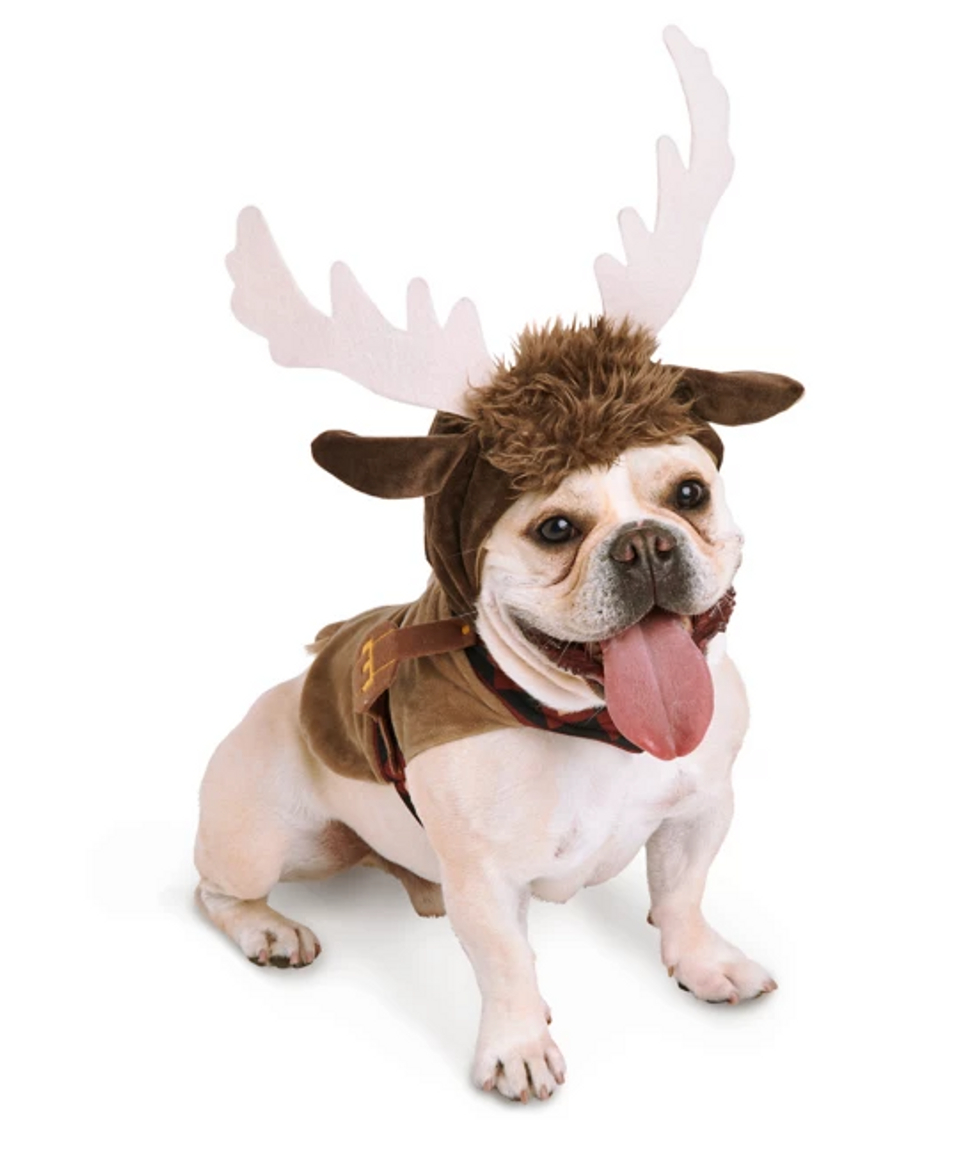 This year has been tough for everyone, so when a child gets that look of unfettered joy that comes from finally getting to wear the costume of their dreams, it's extra rewarding. Don't wait until the last minute to start looking for the right ensemble!
*Upworthy may earn a portion of sales revenue from purchases made through affiliate links on our site.
From Your Site Articles
Related Articles Around the Web
Get stories worth sharing delivered to your inbox