Culture
I Lived Mas at The Taco Bell Hotel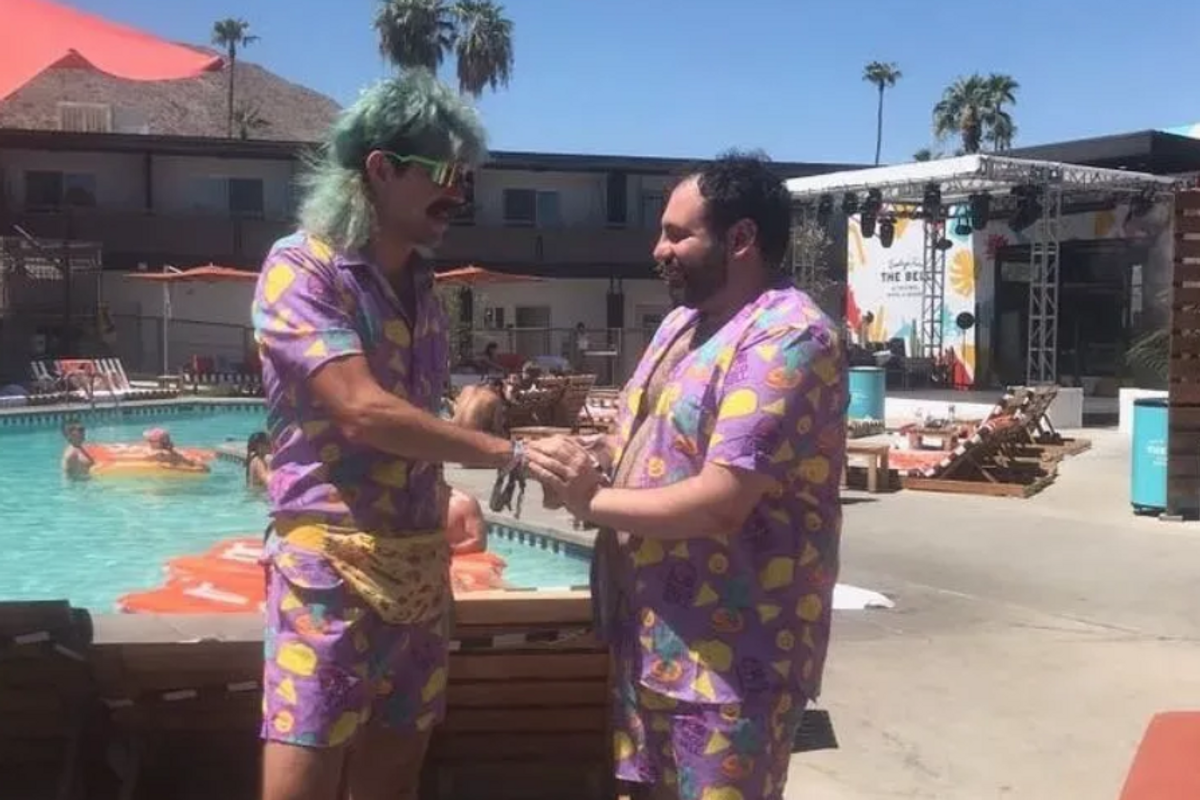 Today, I'm a 35-year-old man with a flame shaved into my beard. If the '80s movies I love so much are any indication, this is a sure sign I'm going through some kind of existential crisis. Next week, when the semester starts and I begin teaching again, it will not be strange if my colleagues start to worry about me just a little. A sports car or a neck-jerking pivot to physical fitness — that's an understandable response to the realization that life is fleeting. But a large meticulous flame carved out of facial hair? What does one do with that?

At this moment, though, I'm showing my face proudly to a woman wearing a swimsuit with a taco cat on it. We have only recently met, but she's telling me that she's so into my "fade" that she wants to kiss it. Then she does, blowing a raspberry into my cheek so hard that her hat falls off. Neither of us can stop laughing.
"Live Mas!" she yells with the excitement of someone who's never had trouble fully seizing the moment.
"Live Mas!" I shout back without any irony. There is no irony here in Palm Springs, where, for four days only, hundreds of people celebrate their love for Taco Bell.
Here, there's only swimming and hot sauce-themed leisure wear, and the warm pleasant feeling that comes from eating too much and knowing that you're with your own people. Even if the only thing that connects you is a love for a fast food giant that feeds you when you're hammered and shameless at 2 a.m.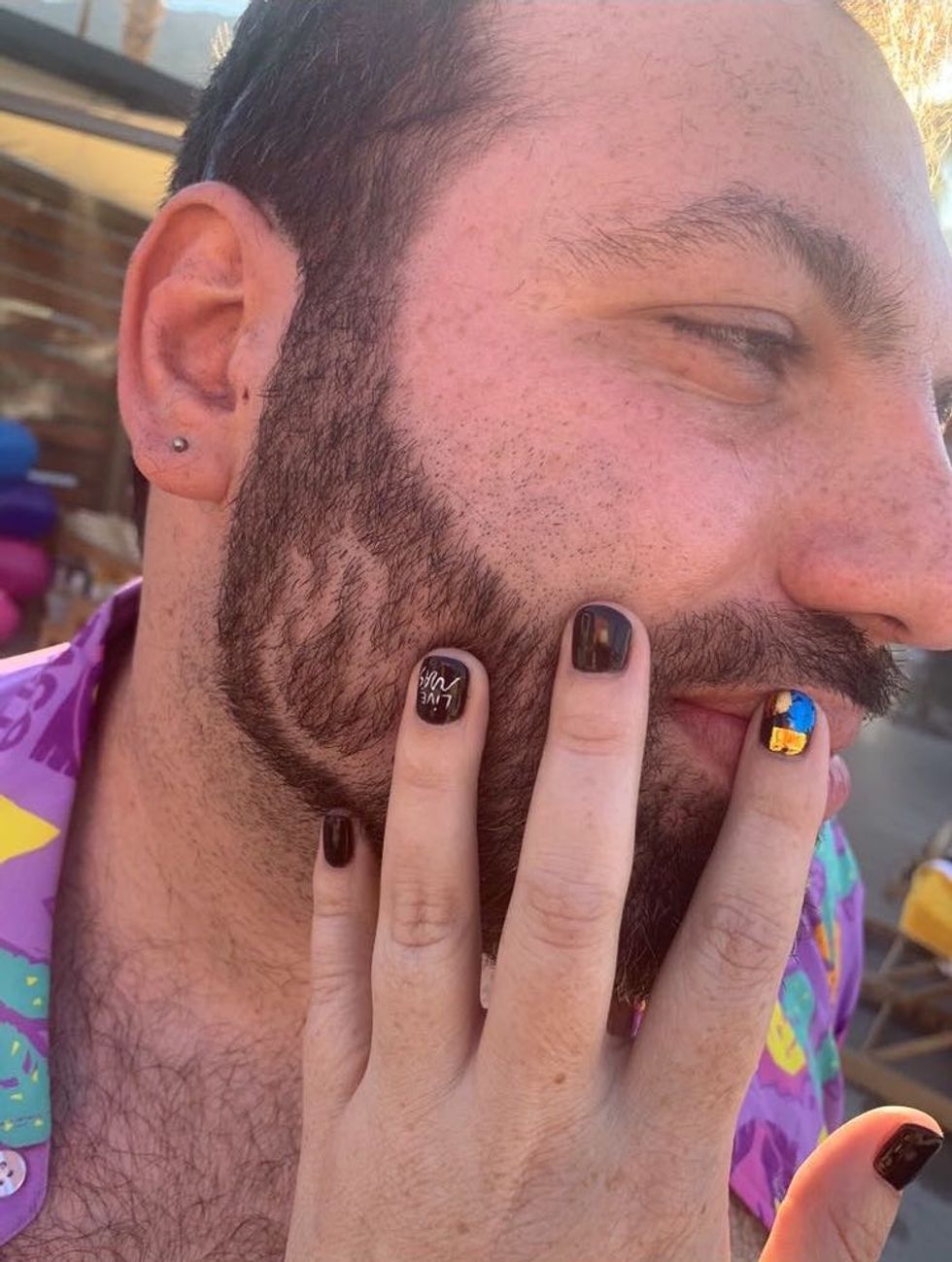 We drank the Baja Blast! My Taco Bell fade and my friend's specialty manicure!Mark Shrayber
What does it mean to Live Mas? This is a question I am forced to ask myself over and over during my 24-hour stay at "The Bell," where I have stowed away as a friend's plus-one. We are, of course, both politely pretending that I'm a full-on guest with all the perks that entails, but we also both know that I wouldn't be here eating unlimited quesadillas poolside without her.

So maybe that's the first thing Live Mas means: To build strong lifelong connections which you can, with some luck, exploit to your benefit. :) :) :)
But this is too cynical an interpretation, because everyone here is so happy. Happy that they've gotten a reservation; happy that they can cool off in a room themed after an iconic Mountain Dew Drink, and happy that they can share their own personal story of what Taco Bell means to them. (Though there's no formal essay contest — I've checked.)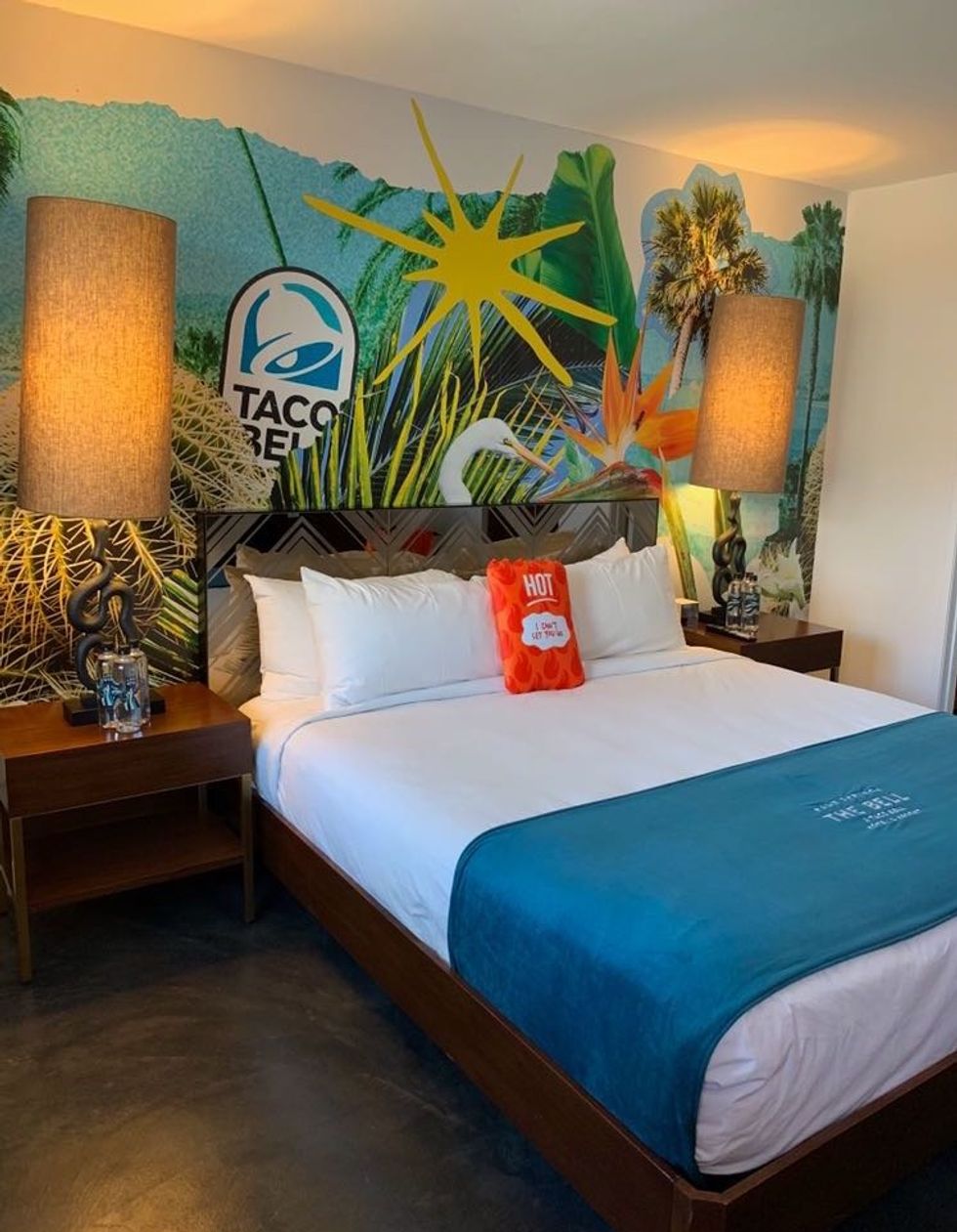 Me: This room won't be that cool. Also me: OH MY GOD, THIS IS THE COOLEST ROOM I'VE EVER BEEN IN!!!Mark Shrayber
Snatches of this story float around the "Fire" pool, where all the entertainment is concentrated: One couple canceled their trip to Prague because "Prague will always be there" — a brave stance considering climate change; another met last year on Tinder after the girlfriend's Taco Bell senior photos went viral; at the opening ceremony on Thursday, where sauce packets were cut instead of a ribbon, a city official brought others to tears with both her Taco Bell fashion and a memory of how her parents would feed an entire family with 19-cent-tacos from the first-ever Taco Bell in Downey, California.
Oh, I forgot one: The guy who skipped out on Prague? He got a giant bell shaved into the side of his head, so he might have to miss out on a black-tie event happening later this week. But it's all good. Bring on the nacho fries.
I make fast friends with four women who are here for a bachelorette party, the bride overwhelmed with good vibes and prosecco. This year, for her 30th, she rented a party bus. Inside? $100 worth of Taco Bell that her fiancee was worried might not be consumed.
"But little did he know," she shouts in the hot tub where we're "cooling off" after a long day of 108-degree sunning, "we ate it all!"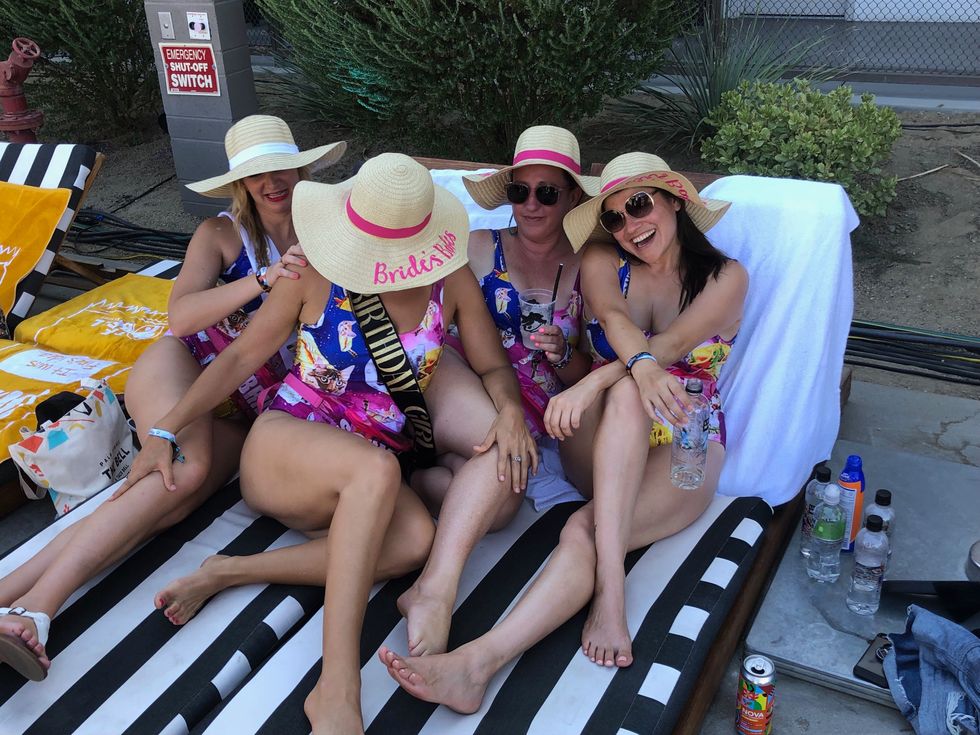 A bachelorette party and a birthday! We're really living it up (but also staying hydrated.)Mark Shrayber
Others whoop it up at the twist, but we all get it. Though there's no essay contest, I don't mind telling you that when my first boyfriend dumped me 14 years ago, I stuffed my face with chalupas. When I lost a job I really loved four years ago, I once ordered so much Taco Bell that the delivery app of my choice informed me I'd exceeded the maximum number of items they could comfortably fill in one order. We get it — though none of us can truly explain it.

There are, if you look at the The Bell from a literary perspective, many other writers who deserve this experience more than me. They could talk about the blue of the pool. Or the insouciance of youth. Draw parallels between marketing stunts such as this and the end-stage capitalism. Or envision a "Demolition Man" future where Taco Bell is fine dining and none of us know how to use the three shells in the bathroom to get ourselves clean.
And I wish these writers could be here to paint you these landscapes, but what you've got is me, a literal Taco Bell super-fan, and what I'm doing is eating and getting sunburned and taking a synchronized swimming class with the Aqualillies, who refer to themselves as "the world's most glamorous water ballet entertainment," but have very little idea of what to do with 10 eager recruits who can't stay afloat or on beat.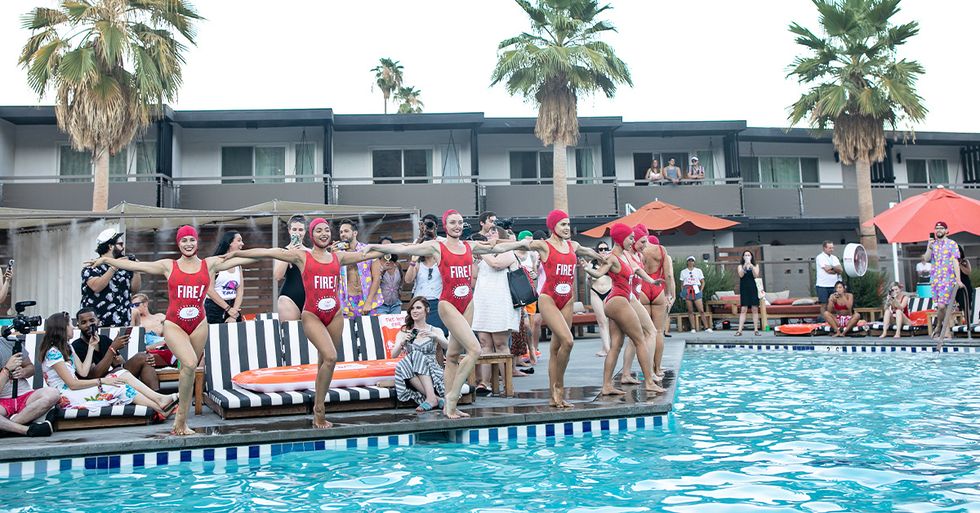 G-L-A-M-O-R-O-U-S!!Photo courtesy of Taco Bell.
"It's okay," one of the instructors comforts me just before the Tacolilies (the name of our "team") are invited to perform our watery version of "Senorita" — which was supposed to be two minutes long, then 1:15, and has now been judiciously cut down, due to talent, to about 45 seconds — in the bigger pool. "We regularly teach five-year-olds. And you're doing much better."
Usually, I would take offense at such blatant reads, but today I'm unbothered. I'll continue to be so right until I get home and discover that I've left all my electronics on United Flight 5223 (if anyone wants to get them back to me). And even then, I rage at myself for all of five seconds before checking that I've still got what's important: A certificate that says I did not drown while doing water ballet.
It's still there. As is my phone, which is blowing up with messages from people who took pictures of me in what Taco Bell calls its "power suit," and which is best described as "cult outfit, but kinda make it fashion." I bought my husband one, too, and I look forward to the argument we're going to have about holiday cards later.
This is "Live Mas."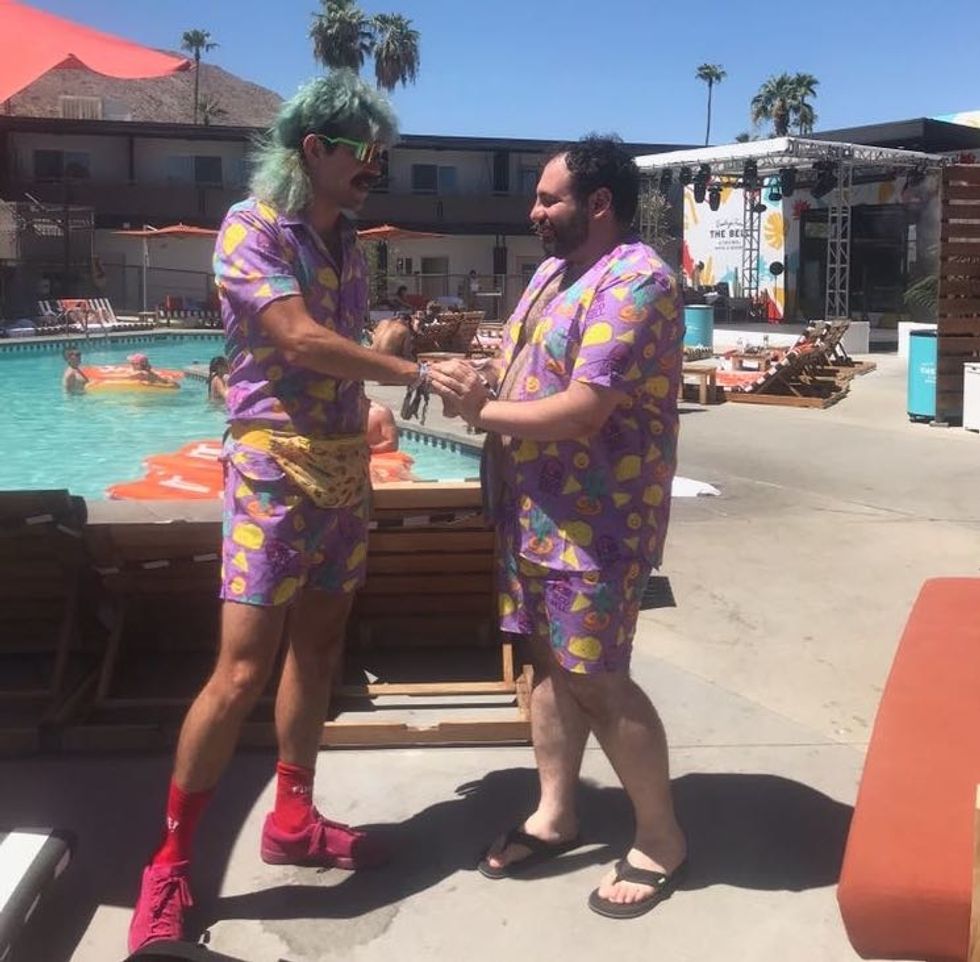 I've never been so happy to match with someone else in my life. MaMark Shrayber
Or maybe it's the moment another stranger tells me that we'll be friends forever. Such friendships are forged quickly when you've got less than 24 hours to make lifelong connections and I'm pleased to get the full experience.
"We may never meet again," he says while we're swimming, "but we'll always have this time together."
Then we establish that he lives just across the park from me in San Francisco.
"Aw, man," he says, floating away to take pictures of the people he came with, "I've got lots of close friends I neversee because they live across that damn park."
But the sentiment holds.
We Live Mas it on.