Family
High school senior is going to Harvard after inspiring essay on losing her mom goes viral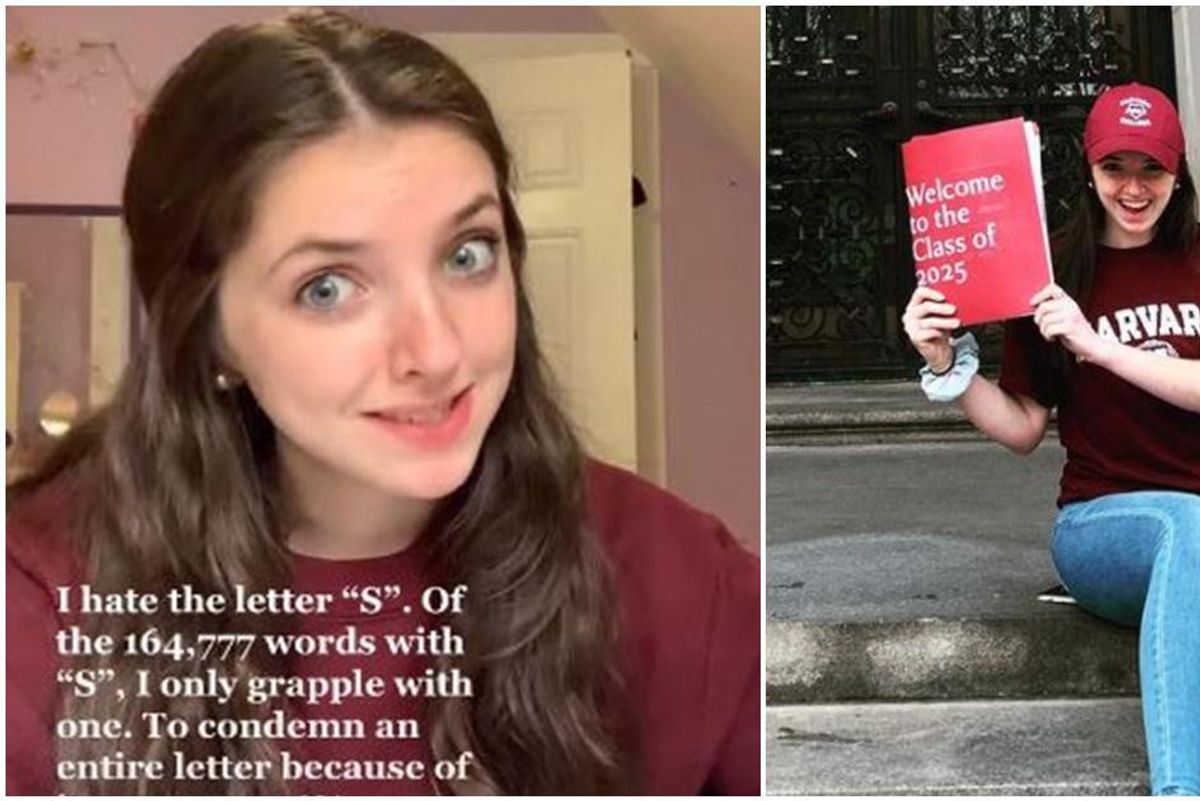 via Abigail Mack / Instagram and Abigail Mack / TikTok
Abigail Mack, an 18-year-old high school senior from Massachusetts, is over the moon after being admitted to Harvard during the most competitive admission season of all time.

Applications to the university skyrocketed during the pandemic and it was only able to accept 1,968 out of 57,435 first-year applicants, less than 4%.
However, Abigail didn't just overcome long odds during the application process, she was accepted because she was able to thrive as a high school student after losing her mother to cancer. Her experience losing a parent was the topic of her inspiring admissions essay which has touched countless lives.
---
A TikTok post of her reading a portion of the letter went viral with millions of views.
Her essay begins with a meditation on the letter "S" and how it has affected her life.

"I hate the letter 'S,'" Abigail's essay begins. "Of the 164,777 words with 'S,' I only grapple with one. To condemn an entire letter because of its use .0006 percent of the time sounds statistically absurd, but that one case changed 100 percent of my life. I used to have two parents, but now I have one, and the 'S' in 'parents' isn't going anywhere."
"'S' follows me," she continued. "I can't get through a day without being reminded that while my friends went out to dinner with their parents, I ate with my parent. As I write this essay, there is a blue line under the word 'parent' telling me to check my grammar; even Grammarly assumes that I should have parents, but cancer doesn't listen to edit suggestions."
"I won't claim that my situation is as unique as one in 164,777, but it is still an exception to the rule — an outlier," she continued. "The world isn't meant for this special case."
Abigail then shares that after losing a parent she got involved with as many extracurricular activities as possible to get her mind off of the gut-wrenching loss.

"You can't have dinner with your parent...if you're too busy to have family dinner," she said. "I couldn't fill the loss that 'S' left in my life, but I could at least make sure I didn't have to think about it. There were so many things in my life I couldn't control, so I controlled what I could — my schedule."
But eventually, she decided to go from mourning the loss of one "S" to embracing two by whittling down her activities to three "paSSions": Theater, academics, and politics.
"'S' got me moving, but it hasn't kept me going," Abigail concluded in her essay. "I don't seek out sadness, so 'S' must stay on the sidelines, and until I am completely ready, motivation is more than enough for me."
Abigail's mother opened up a dance studio which is still run by her father, a musician, so theater is a natural extension of her upbringing. She excelled at academics, becoming the valedictorian of her school. Politics is a passion she developed over the summer of 2020.

"When the Black Lives Matter demonstrations were occurring this past summer, I realized how passionately I felt about politics," she told Buzzfeed. "I knew that I could no longer stand idly by and watch as the world made leaps forward without me. I became a fellow on Senator Ed Markey's re-election campaign and also taught volunteers how to phone bank for Joe Biden's campaign. It was extremely gratifying to feel like my voice was being heard."
Abigail is unsure what her major will be at Harvard but she plans to pursue social sciences, the humanities, and possibly French.
She has some great advice for high schoolers coming up behind her to get into their dream schools.
"Your college application is a culmination of everything you've done in high school," she said. "You've already put in the work, so the hardest part is done. Now, you just have to put pen to paper, share what you've accomplished, and, most importantly, illustrate how you plan to make a difference going forward in your own, unique way."