Business
Everyone agrees with this guy's rant about job postings that don't mention how much they pay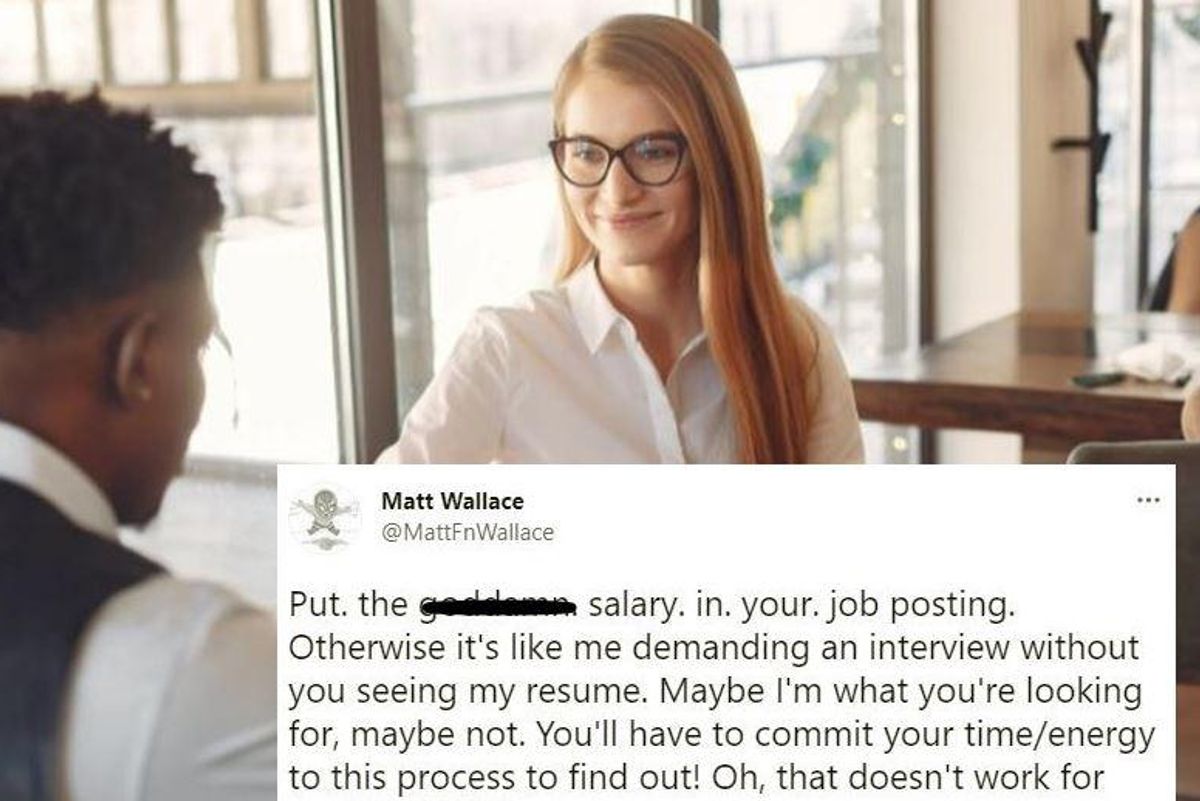 via Pexels and Matt Wallace / Twitter
There are few things more frustrating than going through the job interview process and not being told how much the position pays. It takes a lot of time and effort to update a resume, write a cover letter, and fill out an application. After that, there could be multiple interviews.

So, for an employer to make someone go through all of that effort only to find out that the pay is insufficient is seriously unprofessional. However, it happens all the time.
Companies that refuse to disclose a salary or hourly pay in a job posting are also perpetuating racial and gender pay gaps because people who already work for the company have no idea what the new employee is getting paid.
---
Employers that claim to believe in diversity and inclusivity surely are not walking the walk if they are hiding what they're paying new hires.
Writer Matt Wallace sounded off on his frustration with companies that don't disclose their salaries in job postings and he got a lot of agreement.
Seriously I'm sick to my fucking gills of job postings, especially freelance , that list NINE GODDAMN PAGES of educ… https://t.co/3AwP954KNa

— Matt Wallace (@Matt Wallace) 1579287478.0
And for folks applying for those vague-ass gigs: When they preemptively hit you with, "So what are you looking for,… https://t.co/eETVQCrbFC

— Matt Wallace (@Matt Wallace) 1579287971.0
So why are some employers less than transparent about compensation throughout the interview process? One reason is that withholding salary information gives employers better negotiating power. It also allows them to avoid competition with other companies in the same industry.

Keeping quiet about money also avoids competition between current and new employees, especially in a tight job market.
"In certain labor markets or in a tight labor market situation, employers may have to pay higher salaries to attract new employees than existing ones (a situation known as salary inversion). This can cause resentment among existing employees," Professor Eddie Ng, the James and Elizabeth Freeman Professor of Management at Bucknell University in Lewisburg, Pennsylvania, told Bored Panda.
Wallace's tweets inspired a lot of people to share how they handle salary negotiations with new employers.
What I've been saying when they ask me what payrate I'm going for, I tell them straight up what I'm being offered in other places. Or at least what I've seen in positions that are the same. Pressures them subtly that I'll probably skip if I don't get something similar
— Noula//Jack Shrk (@NoulaJack) January 19, 2020
Recruiter: What is you current salary?
Me: That's confidential. What's the range offered?
Recruiter: I need to tell them what you're making now before they give me a number.
Me: Then I guess that's the end of our conversation.
— Yzzie (@opYzzie) January 18, 2020
I always am amazed at HR managers who try to discourage anyone sharing compensation information. They are amazed when I tell them that is illegal.
— Paul Meisel (@PaulMeisel) January 18, 2020
Unfortunately, employers are going to continue to keep potential new hires in the dark over compensation for the foreseeable future. But there's a growing movement to make it illegal for new employers to ask about your salary history. So when you do get the chance to discuss money, ask for as much as you can. In about half the states in the U.S., your pay history is no longer holding you back.