Design
Jill Biden explains why she wore a 'LOVE' jacket during first European visit as First Lady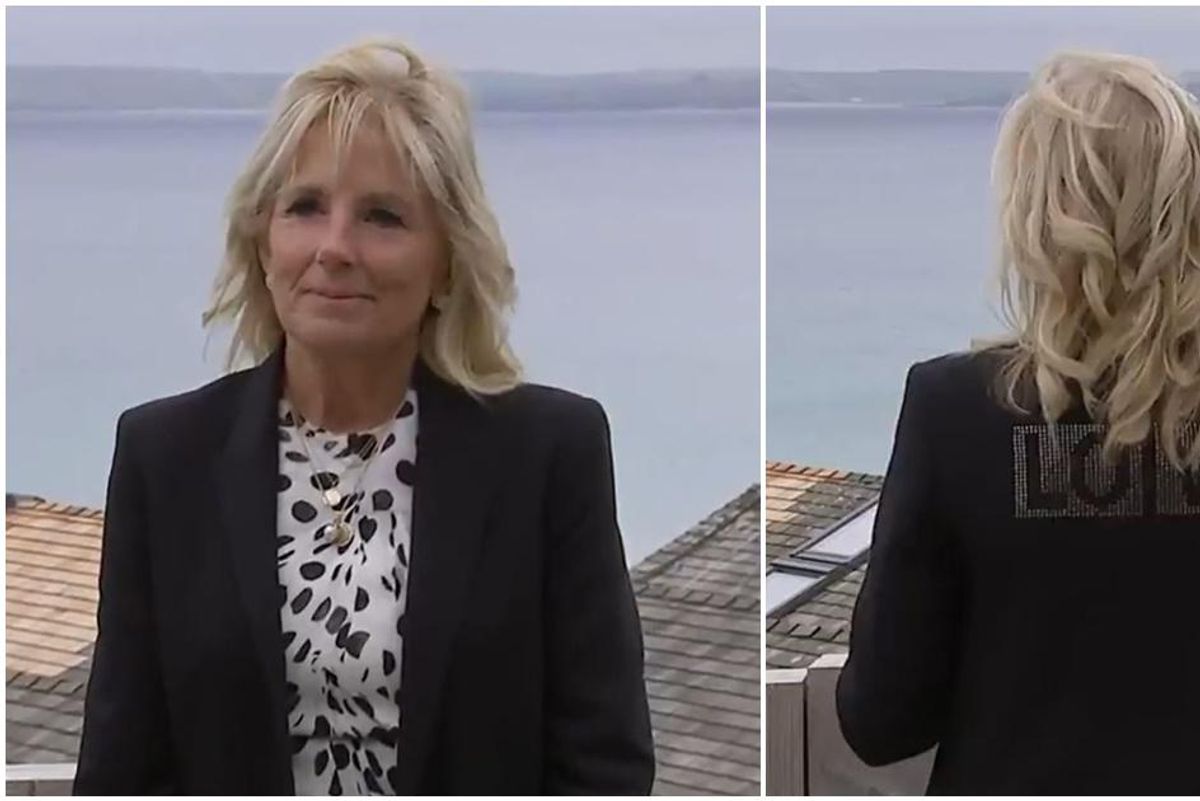 via CSPAN / Twitter
Joe Biden arrived in the UK on Wednesday, marking his first overseas trip as president. One of the main goals of his trip is to let European leaders know that America is back after Donald Trump mocked our closest allies and promoted an "America First" agenda during his presidency.

The White House says this trip will focus on America's commitment to rallying world democracies and defending shared values.
He'll participate in the G7 and NATO summits and meet with Russian President Vladimir Putin during his trip.
---
First Lady Dr. Jill Biden backed up the president's message of unity on Thursday by wearing a black jacket with the word "LOVE" emblazoned on the back when the couple met with UK Prime Minister Boris Johnson and his wife, Carrie.
When asked about the meaning of the jacket, Dr. Biden didn't mince words.
"I think that we're bringing love from America," she told reporters. "This is a global conference, and we're trying to bring unity across the globe. And I think that's important right now that people feel a sense of unity for all the countries and feel a sense of hope after this year of the pandemic."

If the jacket looks familiar, it's the same one she wore two years ago to kick off her husband's presidential campaign.

This isn't the first time Dr. Biden has sent a direct message through her clothing. Last year, during a campaign trip to Iowa she wore black skinny jeans with the word "VOTE" written on each calf.
It's hard not to juxtapose Dr. Jill Biden's message of "LOVE" with a notorious jacket worn by former First Lady Melania Trump in 2018 that read: "I really don't care, do u?"
Trump wore the jacket while visiting children separated from their parents at the U.S.-Mexico border. The message appeared to be incredibly callous given the Trump administration's cruel treatment of migrant children.
A spokesperson for the former First Lady said that she hadn't intended to send a secret message through her jacket. Her husband later tweeted that the message was directed at the press.

President Biden shared his message of unity during a speech at the Royal Air Force Mildenhall on Wednesday.
"We're going to make it clear that the United States is back and democracies of the world are standing together to tackle the toughest challenges and the issues that matter most to our future," the president said. "Our alliances weren't built by coercion or maintained by threats. They're grounded in democratic ideals, a shared vision of the future, where every voice matters."
Before his speech, Dr. Biden made some remarks about supporting the U.S. military and their families. She got a big laugh from the crowd when she demanded her distracted husband "pay attention" to her speech.