popular
Here's to the dedicated dad who pushed his son through more than 1,000 races over 40 years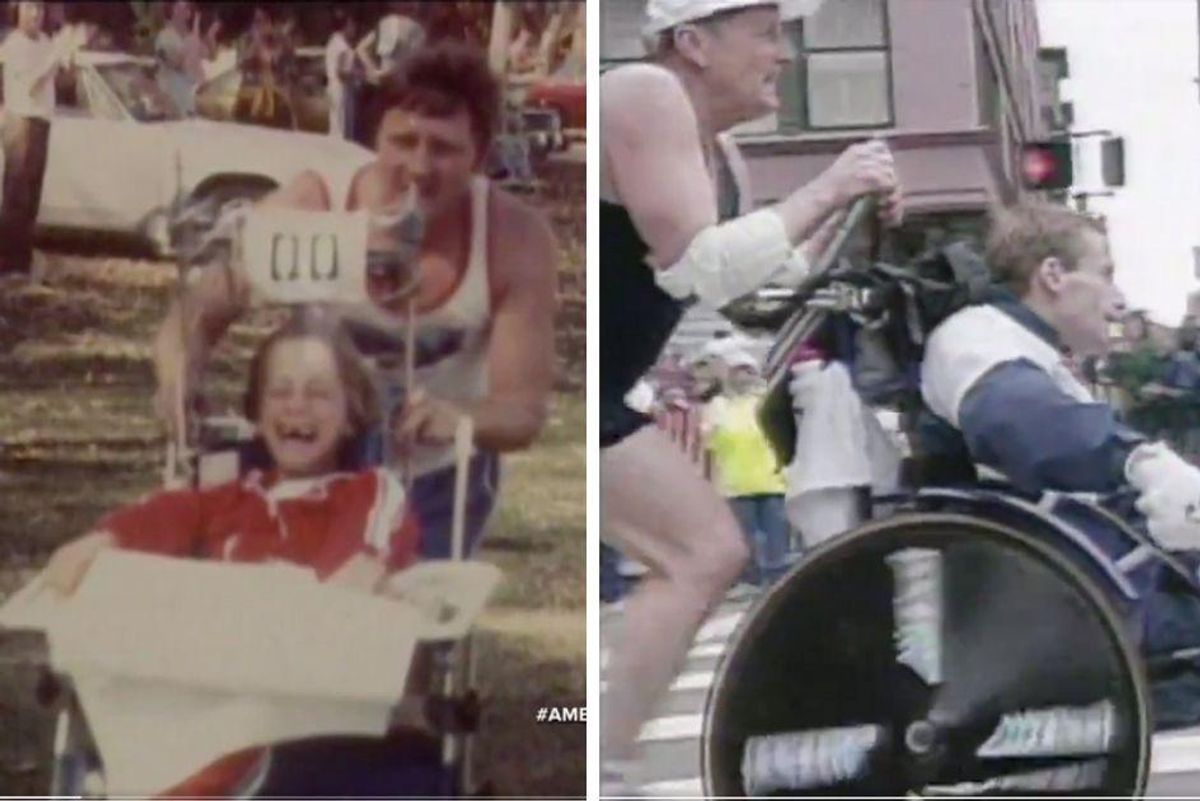 Dick and Rick Hoyt were an unforgettable team.
The father and son duo ran their first race together in 1977, after Rick told his dad that he wanted to participate in a 5-mile charity run for a lacrosse player who'd been paralyzed in an accident. Rick has cerebral palsy and is a quadriplegic, so Dick agreed to push him in his wheelchair while he ran. They came in next-to-last, but the experience opened up a whole new world for them.
"Dad, when I'm running, it feels like my disability disappears," Rick told his dad after that race. From then on, Dick ran as many races with his son as he could.
Over the next four decades, Dick and Rick would participate in over 1,000 races together, including completing the Boston Marathon 32 times. They even completed duathlons and triathlons, with Dick using a bungee attached to a vest he wore to pull Rick in a boat while he swam, and using a two-seater bicycle during the cycling portions of the races.
---
What Dick helped Rick achieve was extraordinary, especially considering the fact that when he was born, doctors had told Dick and his wife Judy that Rick should be institutionalized since he had little chance of ever living a "normal" life. Instead, Dick and Judy embarked on a mission of inclusion for Rick in school, community, sports, and the workplace. They worked with engineers at Tufts University to get Rick an interactive computer in 1972 so he could communicate with taps of his head. Their tireless efforts eventually led to Rick graduating from Boston University with a degree in Special Education in 1993.
Throughout it all, Dick and Rick would run races together. In 1992, they biked and ran together across the entire U.S.—a full 3,735 miles in 45 days. After some health concerns, Dick was set to retire from marathon running after the Boston Marathon in 2013, but the bombing made it so they couldn't participate, so they ran it in 2014 instead. In 2015, he served as the Grand Marshall of the race.
Dick Hoyt, this loving father who embodied dedication, passed away peacefully in his sleep on Wednesday. He was 80 years old.
REMEMBERING AN ICON: Dick Hoyt, the inspirational father known for pushing his son in a wheelchair through 32 Bosto… https://t.co/bvQyDRnSpS

— World News Tonight (@World News Tonight) 1616036400.0
The Boston Athletic Association released a statement:

"The B.A.A. is tremendously saddened to learn of the passing of Boston Marathon icon Dick Hoyt. Dick personified what it meant to be a Boston Marathoner, showing determination, passion, and love every Patriots Day for more than three decades. He was not only a fan favorite who inspired thousands, but also a loyal friend and father who took pride in spending quality time with his son Rick while running from Hopkinton to Boston."
Dick's other sons, Russ and Rob Hoyt, broke the news to Rick about their father's death.
"He's sad, as we all are, but he's OK," Russ told the Associated Press. "You could see it in him, it was like someone hit him."
Rick was once asked what he would give his father if he could give him one thing, and Rick responded, "The thing I'd most like is for my dad to sit in the chair and I would push him for once."

But Russ Hoyt wants the world to know that Dick's dedication went beyond running with his disabled son.
"I know it's a cliche, but I want people to know that I thought my father was a hero, not just because he pushed Rick in the marathon, but because he was a great father to all of us you could talk to about anything," he said. "He inspired people to look at all their children as equals no matter their disability."
In addition to his service to his family, Dick Hoyt was a 37-year veteran of the Air National Guard, retiring as Lt. Colonel in 1995.
Rest in peace, Mr. Hoyt. Thank you for serving as a tireless example of dedication and determination for us all.