Well Being
After 16 years sober, Dax Shepard bravely announced a reset of his sobriety clock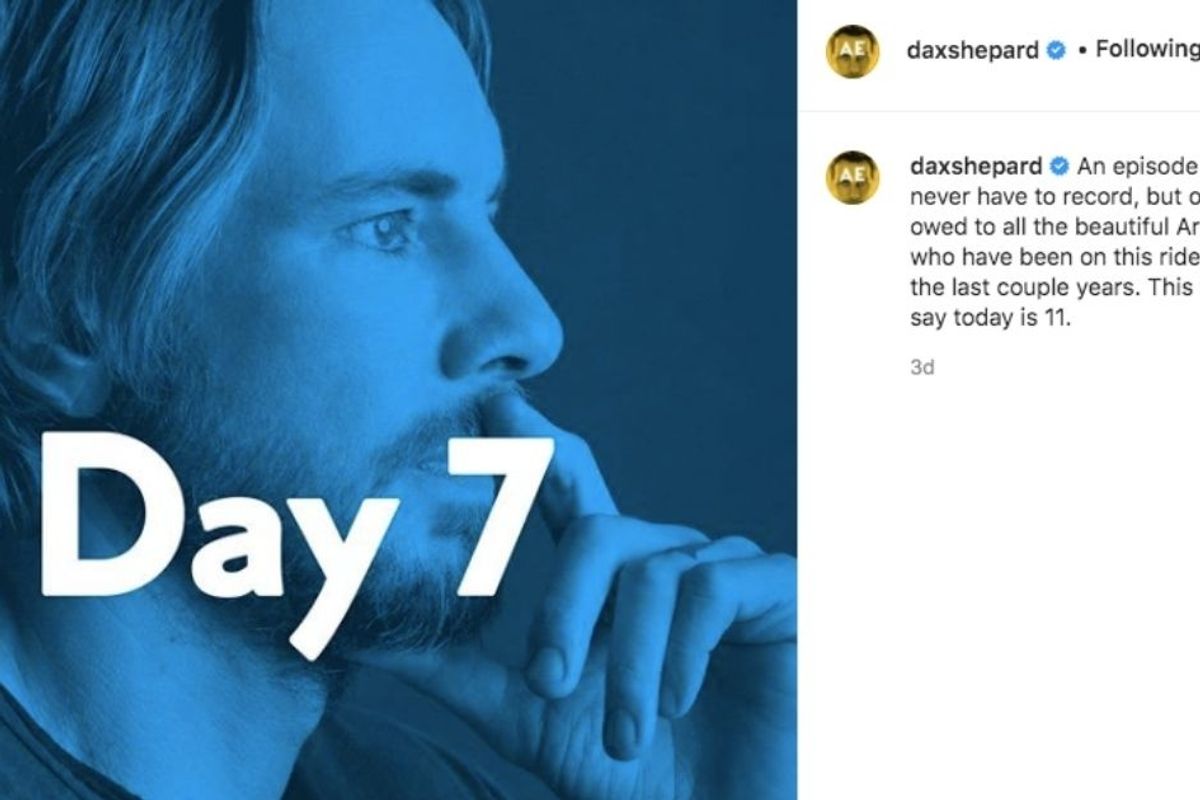 With 16 years of sobriety under his belt, Dax Shepard has served as a beacon of hope for people in recovery. With a reset of his sobriety clock last week after confessing to a slip with prescription painkillers, he still is.
The actor has been open about his addiction to alcohol and cocaine, and that transparency and honesty has undoubtedly helped many people through their own recovery journeys. But recovery from addiction is not always a one-way, detour-free road. Even people who have been sober for years must be diligent and self-aware or risk relapsing in ways that are easy to justify.
That's the scenario Shepard described in his recent podcast, in which he announced that he's now seven days sober. For people who struggle with addiction, it's a cautionary tale. He didn't take a drink, and he didn't touch cocaine. His slide into addiction relapse happened with prescription painkillers—Vicodin and Percocet. He started taking prescription pain pills after a motorcycle accident in 2012, moved to taking pills with his dad who was dying of cancer, and then came a gradual spiral of justifications, lying, gas lighting, and other addictive behaviors that enabled him to abuse those pills without acknowledging he was doing so.
---
Shepard laid it all out to his podcast partner, Monica Padman, last week. The way he was careful at first to only take the pills his wife, Kristen Bell, administered. Then how he'd save his two nighttime pills, because they made it hard to sleep, only to take them the next day with his morning pills to get the high he wanted. How he'd ask himself if this was a slip, start feeling like he was maybe in trouble, then convince himself he had it under control.
He talked about how easy it was to convince himself it wasn't really a problem because the pill use felt "manageable." He knew if he started drinking or doing cocaine, he'd be out of control—he understood those to be unmanageable addictions. But the pain pills didn't keep him from doing his work or his dad duties or his normal daily life, so it was easy to keep using them.
Then he explained how, after more injuries this year, his painkiller use got "shadier and shadier." He started buying pills instead of just using the ones he was prescribed. When he started lying to his loved ones and was high at his 16-year sobriety celebration earlier this month—which he called "the worst hour of my life"—he knew he was in trouble.
So in recent weeks, Shepard came clean to Bell and Padman privately and gave them all of his remaining pills. He spoke to a friend he looks up to, who frankly told him that his biggest character flaw was arrogance, that he basically thought he was smart enough to outsmart addiction. He realized the only antidote to that was extreme humility.
Shepard attended an AA meeting and shared the whole story with them as well. He said it was one of the most powerful experiences he's had ever had.
"So Tuesday really was day one. Yeah. And then, so I went to this meeting and I…man, I've known the men in this meeting for seventeen and a half years because I had many attempts before I got going. And I told my whole story and I told it honestly. And I went first and I was crying and it turned into the most incredible, like, 90 minutes I've ever experienced, where there was just so much love and there was so much understanding and kindness in unconditional love.
And it's the only—there's probably been many others—but it's the only experience I can remember having that was just grace, the definition of grace, and it was very emotional and it was a really, really surreal kind of experience.
And when it was over, I actually mentally, for the first time in a very long time, felt optimistic because for the last while, a long time, I've known intellectually that things are going to get worse, that each encounter with it has gotten more shady and more dangerous, and I recognize that the next go around would be, oh, I can't get pills, let's snort heroin. And, you know, and I've had a lot of friends that I've watched go through this whole cycle.
And I finally have the humility to say I will not be any different, I won't be special, I won't be smarter. I will be exactly like everyone else."
Then he decided to come clean publicly, despite a great deal of fear and embarrassment in doing so. He said he worried about how it affect opportunities for Kristen, how it might impact him financially due to companies that might not want to work with him now, how the bombardment of judgments about what he should have done or could have done might feel, how people who looked up to him for his sobriety might feel betrayed or misled.
He ultimately decided that total and complete honesty was the only way to go. And of course, that authenticity is what his fellow recovering addicts really need to see.
"So if you got more than seven days, you got more than me. So you're my elder and I look up to you," said Shepard. "And, you know, onward and upward for all the people who have been along on this whole journey for the last few years. I feel—and this is not to sound cheesy, but I feel the same responsibility to the people who love the show and are with us, because I think it's such an emotional connection we all have."

Congratulations on your sobriety and thank you for your honesty, Dax. Onward and upward.
You can listen to Shepard's Armchair Expert "Day 7" podcast episode here.