Joy
New documentary celebrates the beautiful kinship between the Dalai Lama and Desmond Tutu
The friendship between these two "mischievous" spiritual icons is enough to bring hope and joy to any heart.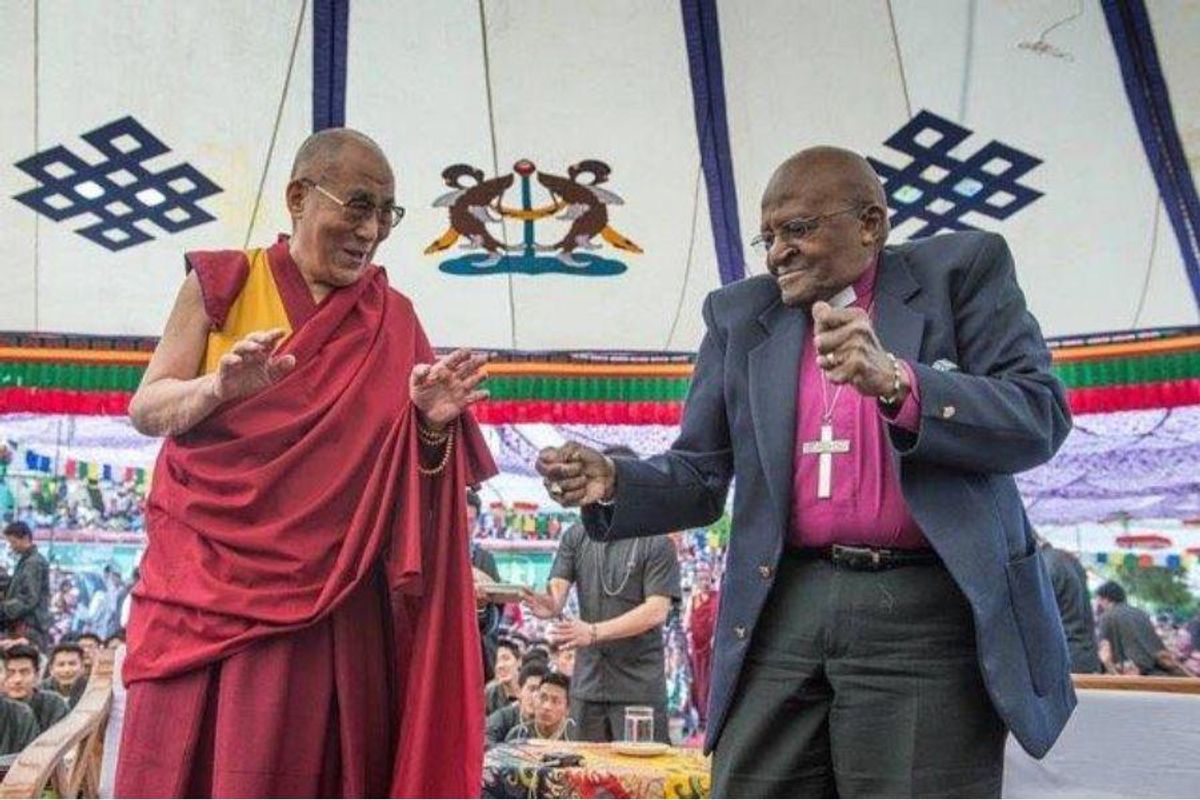 Mission: JOY
When Archbishop Desmond Tutu passed away, I wrote a bit about the unique friendship he shared with the Dalai Lama. Though they came from very different worlds—different nationalities, different faiths, different backgrounds—they shared a kinship based on compassion and joy.
And when I saw them together in "Mission: JOY"—a documentary on five days the two leaders spent together—I saw how beautiful that kinship truly was.
"Mission: JOY" is as much a reminder of what connects us as human beings as it is a celebration of these two iconic spiritual leaders. I laughed at how they teased one another like schoolboys. (It's also just impossible not to laugh along with Desmond Tutu's infectious laughter.) I teared up as they described how they responded to their own sufferings and showed so much care for one another. I smiled each time one of them lovingly reached out to take the other's hand as they shared stories, wisdom and jokes together.
---
But mostly, I walked away with a sense of calm hope for what is possible. If a Christian theologian from South Africa and a Buddhist monk from Tibet can form a strong bond of friendship like this with one another, then anyone can. This is a film the whole world needs to see. I think it's safe to say that every person would take something valuable away from it.
MISSION: JOY • Official Trailer • Documentary About the Dalai Lama & Desmond Tutu's Friendshipwww.youtube.com
Filmmaker Peggy Callahan shared some of the extraordinary experience of making "Mission: JOY" with Upworthy. Our Q&A with her provides some personal insight into the film and what it felt like to spend five days with two of the most influential spiritual leaders of our time.
How and why did you get involved in making this film?
"It was Thanksgiving Day almost seven years ago when I got a call from my 'brother from another mother,' Doug Abrams. He said, 'Do you want to come to Dharamsala and film a conversation between His Holiness the Dalai Lama and Archbishop Desmond Tutu?'
"Of course, there is only one answer to a once-in-a-lifetime invitation like that. And that is how I got to spend five days with two of the people on the planet that I admired most.
"His Holiness the Dalai Lama and Archbishop Desmond Tutu shared deeply about how they managed to create joy for themselves, even during their darkest days. Doug and the two holy men used the transcripts from that days-long conversation to co-author 'The Book of Joy,' which became an international bestseller. And the footage from that conversation was the basis for our film, 'Mission: JOY - Finding Happiness in Troubled Times.'

"It seems to me that documentaries—and most meaningful things in life—require an unreasonable love. The kind of love that propels you. Compels you. Sustains and inspires you to get off the ground and keep going. It's been a seven-year journey to create this film with a great team of artists. But I suspect the film recreated us all in some way. Unreasonable. Beautiful."
Why was it important to you personally that you create this film?
"I grew up in South Carolina at a time when racism was even thicker than the humidity. My mom is from Canada and didn't buy into it one bit. You can imagine the salty words she'd whisper in my ear about systemic racism, as if systemic and racism were four-letter words.
"I remember parents of my white friends not allowing their kids to play at my house because my African American friends were there. The prejudice was so stark and so ugly that it never made sense on a primal level, leaving me out of step with the world I walked in. I think there is value in feeling like an outsider who sees the world differently. It's easier to question. Examine. Appreciate or not. It's perfect for a journalist or storyteller. Fighting injustice can be a great motivator in your career, and tricky in your personal life.
"Archbishop Tutu and His Holiness, along with people like Nelson Mandela, Martin Luther King Jr. and Mary Robinson were beacons for me because not only did they get up and do something about injustice, their actions were effective at changing power relationships. Their actions made a measurable difference in the daily lives of people who most of the world had forgotten.
"Also, many years ago Archbishop Tutu joined the International Advisory Board of an anti-slavery organization I co-founded called Voices4Freedom, so we had that personal connection as well. It's the honor of a lifetime to help share Arch's and His Holiness's messages with the world, especially now when so many are hurting so much."
What words would you use to describe the relationship between these two global icons?
"These two are FUN, as is obvious within just the first few minutes of the film. They joke and tease each other with abandon. Having lunch with them in the Dalai Lama's compound was an absolute riot. It had the feeling of getting together with your long-time friends where you knew going in that your stomach was going to hurt from laughing so hard.
"And they are congruent within themselves. There are lots of impressive, powerful leaders in the world that garner respect. Admiration, even. But few of those are so beloved. Why?
"I think it's because with these two, what is real for them on the inside is what we see on the outside. They lived/live out their values in ways big and small every day, in every interaction, with everyone they encounter. What you see is what is actually real within them. It's utterly compelling. As evidenced by the fact that, even though they are/were leaders of their respective faith traditions, people from ALL faith traditions and no faith tradition are inspired by them."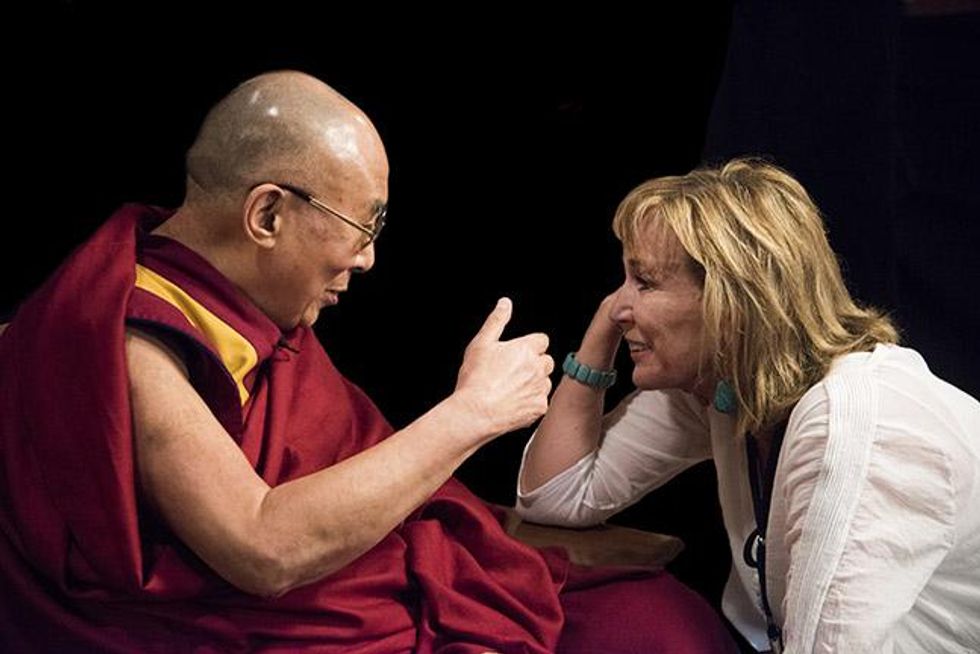 Filmmaker Peggy Callahan talking with the Dalai Lama during filming.
Mission: JOY
What were some things that surprised you as you were making this film?
"Can you believe that we had not one technical glitch during the filming in Dharamsala? We had the team members from four countries and needed to truck in equipment from Delhi, which is 12 hours away. If any equipment broke we had no way to get replacements in fast enough. But not one thing went wrong. Which is all the proof I need that holy men were in the house.
"Another surprise was that despite the complications of COVID, we were able to complete the film on time and within budget. Hollywood has technical terms for such occurrences: A miracle. Once in a blue moon. When pigs fly. You get the picture. That's a huge tribute to the phenomenal team that came together to make this film, including four Academy Award winners."
Why do you think this story is important right now?
"Wouldn't it be wonderful if no one was hurting and a film like this wasn't needed? And everyone on the planet already knew about the latest neuroscience and psychology research-based actions to help ourselves feel better? That, incidentally, look astonishingly like what spiritual traditions have been telling us for millennia?
"Even before the pandemic, there was a dramatic uptick in anxiety and depression, especially among young people. Now, one in four people report they are experiencing anxiety and depression. We see this even in our own families and circles of friends, right? People are hurting.
"That's why we took the messages of the film one step further and operationalized what the Dalai Lama and Archbishop Tutu shared. We partnered with researchers at UC Berkeley's Greater Good In Action, UC San Francisco, Harvard and a consortium of other universities to create The BIG JOY Project. Anyone can sign up for free, and spend seven minutes a day for seven days trying out a different micro action that science shows boosts moods. At the end of seven days, you'll get a cool BIG JOY Report that will show you which micro-act of joy works best for you!
"Already people from 108 countries have participated and have completed 38,572 micro-acts of joy! The BIG JOY Project is now the largest ever citizen-science project on joy. You've got to see the map of these people from all over the world. It's a tidal wave of joy! We get excited about each and every additional dot on the map that appears, because we know that means that one more person is getting the quick start owner's manual of how to be human and create more joy for themselves!"
If there were one lesson you hope people will take from this film, what would it be?
"Arch and His Holiness wanted everyone to know that, no matter their circumstances and no matter how broken they may feel, they are worthy of joy, and they are capable of creating it for themselves. If after seeing the film, people walk away with only that message, we have done our job.
"Archbishop Tutu and His Holiness joined forces one last time before the Archbishop passed away for a final shared mission: to help us create more joy for ourselves. They saw joy as that critical. To me, joy is the ultimate 'clean fuel' that powers everything we want to do in life. These great teachers put their hard-earned wisdom about the how-to of joy into movie form, as their final gift to each of us. It is yours to enjoy."
The Dalai Lama's team has organized a global watch event for the film via Facebook on June 2. You can learn more about the film and how to host a screening at missionjoy.org