popular
Canada just passed the "Free Willy" bill, making it illegal to keep dolphins and whales in captivity.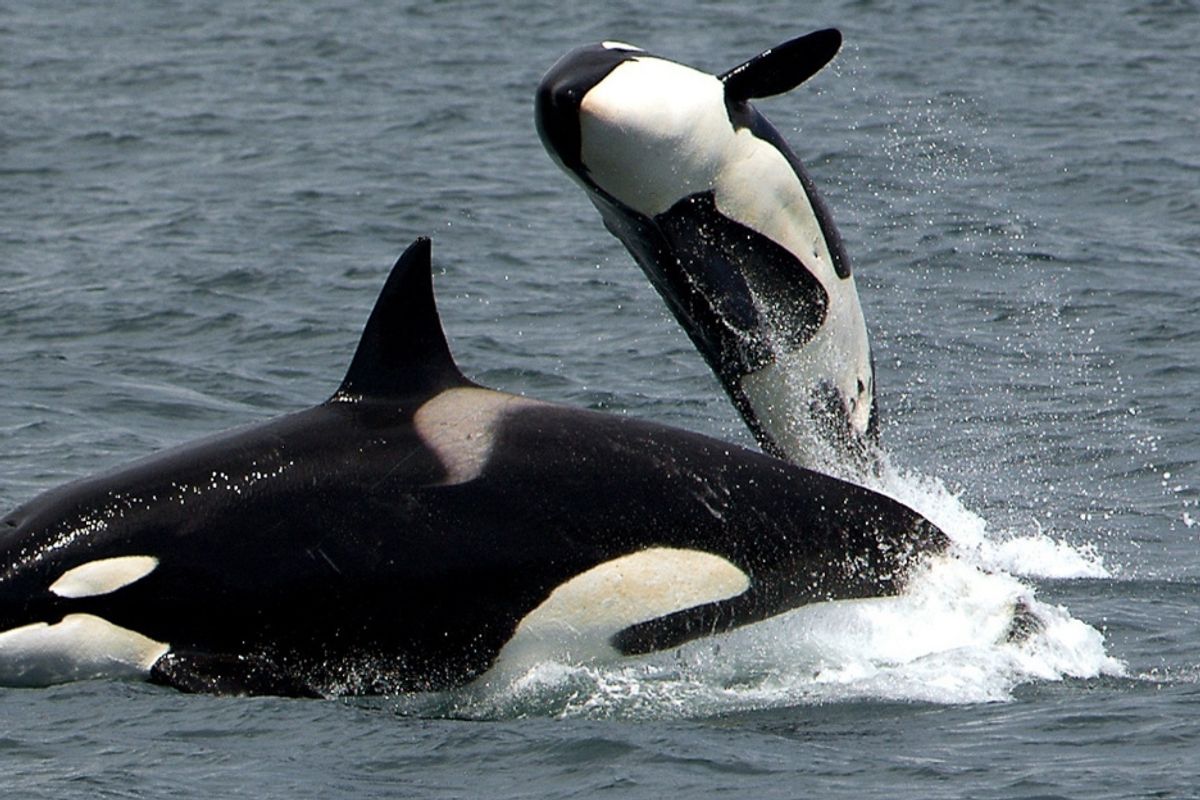 Canva
In a historic win for cetaceans and animal-rights activists, Canada is banning the practice of keeping whales, dolphins, and porpoises in captivity.
Remember the scene in Free Willy when the Orca who had been living in an amusement park finally leapt into the wide open ocean and the whole audience cheered? Well, that iconic scene is taking on new significance in Canada this week, as the nation's House of Commons just passed a bill making it illegal to keep dolphins, whales, and porpoises in captivity for breeding or entertainment purposes.
Bill S-203, or The Ending the Captivity of Whales and Dolphins Act (known colloquially as the "Free Willy Act") means anyone found capturing the animals, holding them captive, or procuring their embryos or sperm, can be fined up to $200,000.
---
"The passage of Bill S-203 is a watershed moment in the protection of marine animals and a victory for all Canadians," Rebecca Aldworth, executive director of the Humane Society International/Canada, said in a statement. "Whales and dolphins don't belong in tanks, and the inherent suffering these highly social and intelligent animals endure in intensive confinement can no longer be tolerated. We congratulate the sponsors of this bill and the Canadian government for showing strong leadership in responding to public will and sound science on this critical issue."
INCREDIBLE! Keeping whales and dolphins in captivity is going to be banned in Canada! Legislation that bans keeping… https://t.co/wcmaKe1fF4

— HSI/Canada (@HSI/Canada) 1560184560.0
The bill makes exceptions for animals that are being rescued and rehabilitated, and for limited scientific research.
Not everyone who holds cetaceans captive are exploiting them for money or entertainment. There are legitimate research and rehabilitation reasons to temporarily keep an animal in captivity.
"A person may move a live cetacean from its immediate vicinity when the cetacean is injured or in distress and is in need of assistance," the bill states. Researchers must obtain a license from the government in order to hold a cetacean for research purposes.
The bill allows the two facilities in Canada that currently house cetaceans—Vancouver Aquarium and Marineland in Niagara Falls—to keep the animals they have as long as they do not breed them. The Vancouver Aquarium has a dolphin named Helen, and Marineland houses an Orca named Kiska and around 50 beluga whales.
According to Mongabay News, the bill was supported by animal welfare organizations like the Humane Society International/Canada, Animal Justice, Humane Canada, the Jane Goodall Institute, and Ontario Captive Animal Watch. It was also supported by cetacean experts like Lori Marino and Naomi Rose of the Whale Sanctuary Project, and Phil Demers, the former head trainer at Marineland.
It was a hard-won victory, taking four years for the bill to pass through the Canadian legislature.
The bill was first introduced to the Senate in 2015. It will now return to the Senate for "royal assent," or final approval before it officially becomes law.
Renowned marine scientist Hal Whitehead said, "The living conditions for captive marine mammals cannot compare to their natural ocean environments in size, nor in quality. We thank the federal government and all those involved in the passage of Bill S-203, so that our laws can finally align with the Canadian peoples' values and end this cruel practice."
"This is a major victory for cetaceans," Lori Marino of the Whale Sanctuary Project said in a statement. "They are among the most cognitively complex of all animals. Confining them to life in a concrete tank is truly unbearable for them."
Wilfred Moore, the senator who sponsored the bill, said, "We have a moral obligation to phase out the capture and retention of animals for profit and entertainment. Canadians are calling upon us to do better — and we have listened."
Thank you, Canada, for passing this bill protecting these magnificent creatures!