Universal Orlando employee fired for flashing a hate symbol in a photo with a biracial child
10.04.19
The Anti-Defamation League (ADL) added the "OK" hand gesture to its list of slogans and symbols used by extremists last month.

Why would the ADL take a universal sign for everything being copacetic and call it a hate symbol? Is nothing sacred? After all it's used by people of all races, colors and creeds.
Well, unfortunately, it's been co-opted by white supremacists to secretly signal their hate.
---
Annie Reneau from Upworthy gave a brief history of how the OK symbol went from being an in-joke on the 4Chan web forums to a legitimate gesture of the alt-right.
The OK sign as a symbol of white supremacy started out as a joke. Apparently, some basement-dwelling 4Chan dudes with a severe lack of purpose in life decided to "troll the liberals" by making people think that the OK sign—something super commonplace and innocuous—was a symbol of white supremacy. (Seriously, people. Get a life, please.)
Then, because white supremacists are stupid, they actually started flashing it during their pity party rallies and it actually did become a symbol. The symbolism was solidified when a photo of the mosque shooter in New Zealand flashing the sign became public. One can no longer argue that a sign is a joke when someone flashes it after having committed a white supremacist massacre.
Is that fair? No. Is it reality? Yes. Will people blame the "PC police" for this? Yes. But let's put the blame where it belongs—on 4chan fools and white supremacist idiots for creating this ridiculous controversy in the first place.
Here are the Proud Boys, a far-right neo-fascist organization, flashing the symbol.
Context, Jim. You are a smart man, and you know this. You are capable of more nuanced thought than you let on. Please don't be disingenuous. The Proud Boys here are an example of the OK sign used as a racist symbol. pic.twitter.com/hcAOe0Mbpb
— Switters88 (@Switters1951) September 27, 2019
Some more Proud Boys throwing up the OK.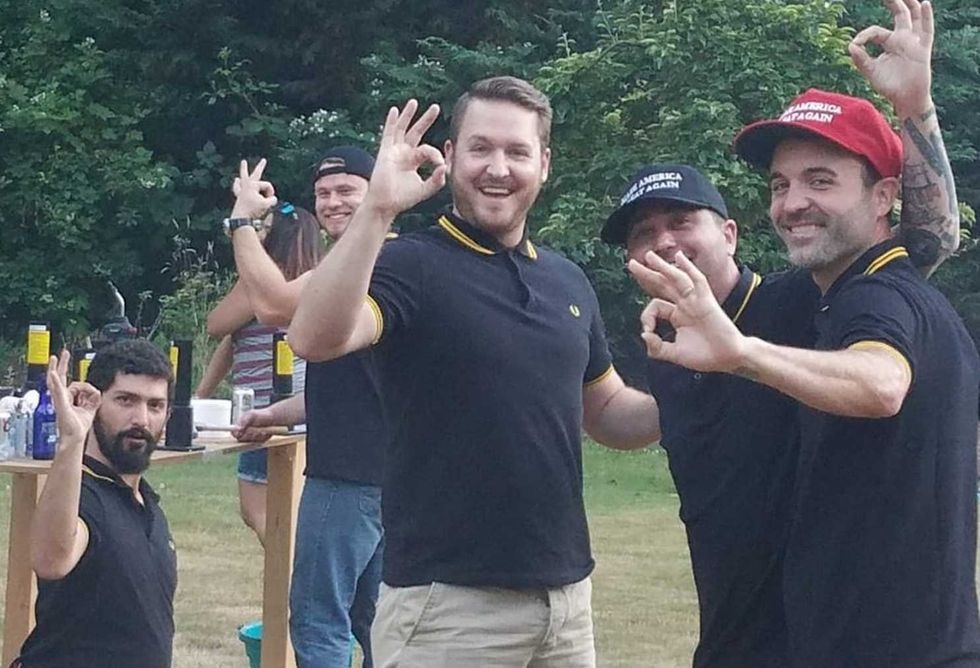 via Thicc Beat / Twitter
Christchurch shooter Brenton Tarrant flashing the symbol.
Australian white supremacist Brenton Tarrant flashed the OK symbol during a March 2019 courtroom appearance soon after his arrest for allegedly murdering 50 people in a shooting spree at mosques in Christchurch, New Zealand. pic.twitter.com/y9ST5KCwJt
— BernardZ (@BernardZZ) September 27, 2019
Alt-right raconteur Milo Yannopolis throwing up a big "white power" in his Trump hat.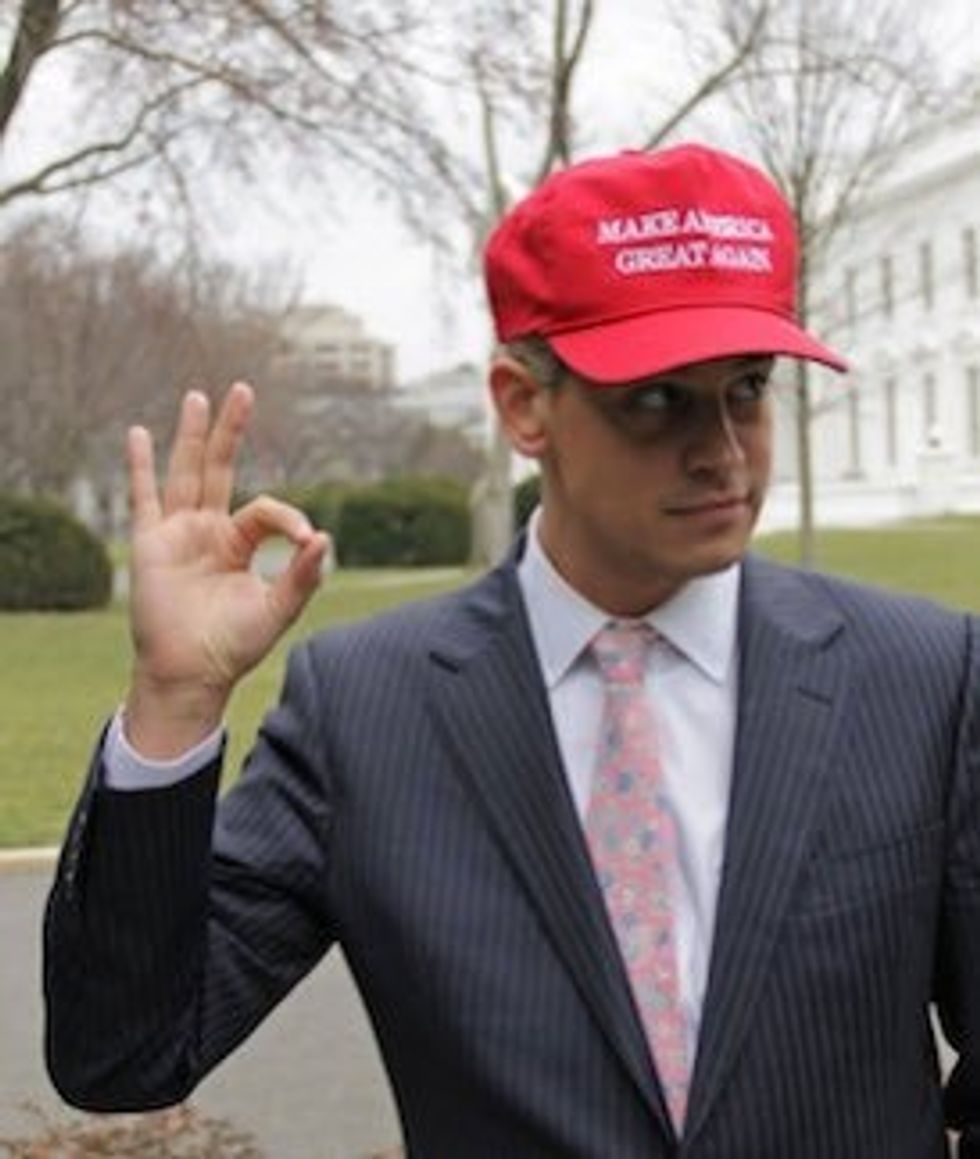 via Thicc Beat / Twitter
Charlie Kirk, founder of Turning Point USA, a conservative non profit student organization, that's been called "alt-lite" by The ADL.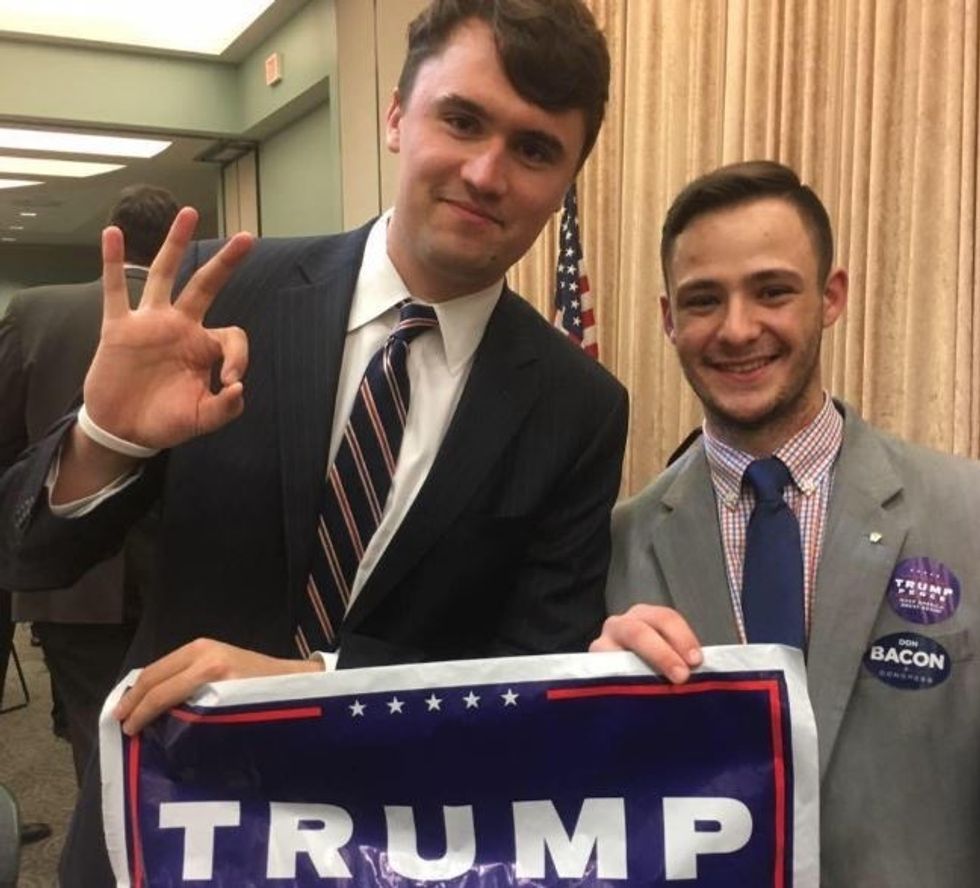 via Thicc Beat
According to the ADL, the OK symbol also makes a W and P, which to some, stands for "white power."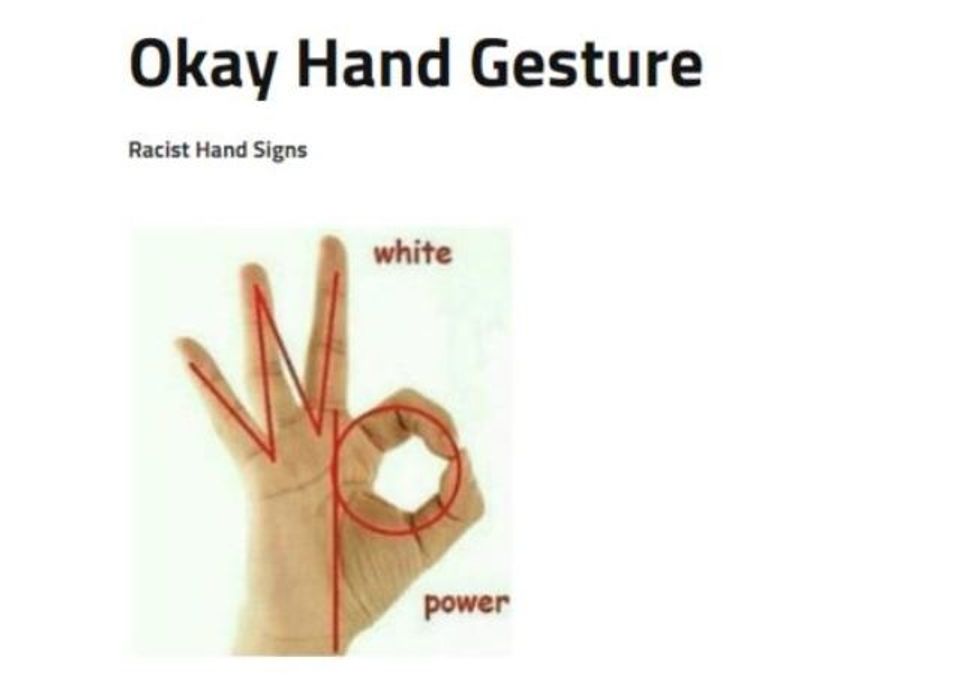 via ADL
A Universal Studios Orlando actor dressed as Gru from "Despicable Me" lost his job recently after it was discovered he flashed the symbol on the shoulder of a biracial six-year-old girl earlier this year.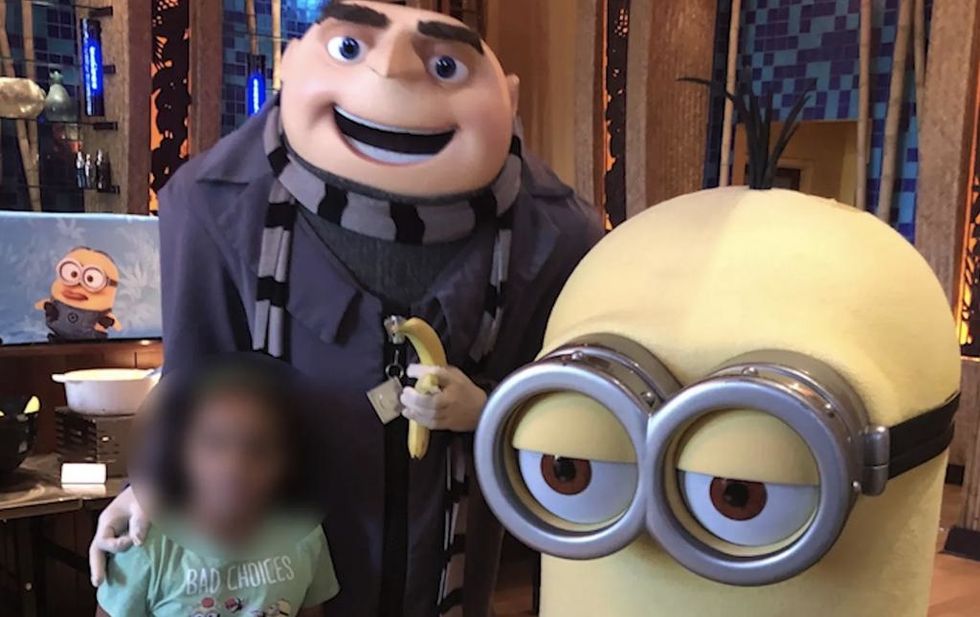 via Yahoo News / Twitter
Tiffiney Zinger, 35, an African-American U.S. Army veteran and her husband, Richard, who is white, took their daughter and three-year-old son to have breakfast with the "Despicable Me" characters when the video was taken.
Months later, as the couple were looking through photos from their trip, she noticed the symbol.
"Oh my gosh. Oh no. What is this? Am I seeing what I really think I'm seeing," Zinger said she thought when she first realized what happened.
Zinger then reached out to Universal Studios and received a generic response.
"It seemed like protocol," Zinger said according to NBC News. "It didn't feel genuine."
She reached out again in September and Universal Orlando didn't seem interested in taking any action, so she sent the video of the character making the hate symbol.
"When I found this video and sent it to them, everything went into motion," Zinger said.
Theme park officials took action and fired the employee.
"We never want our guests to experience what this family did. This is not acceptable and we are sorry — and we are taking steps to make sure nothing like this happens again," Universal Orlando spokesperson Thomas Schroder said.
"We can't discuss specifics about this incident, but we can confirm that the actor no longer works here," Sschroder continued. "We remain in contact with the family and will work with them privately to make this right."
Zinger said the situation was especially painful because they are both veterans who had multiple deployments to Iraq.
"All of that hard work soldiers do for Americans...it feels awful that someone would use their freedom for hate," Zinger said.
There has been some push-back in conservative circles over the idea the OK sign can be a hate symbol. Possibly because those who are accused of flashing it as a sign of hate are Trump supporters.
The ADL has officially recognized the 'OK' hand gesture as a hate symbol.

I'm really happy these racists will no longer be able to spread covert messages of hate and racism! pic.twitter.com/Caj3pgi6wz
— Ashley StClair 🇺🇸 (@stclairashley) September 27, 2019
But those of us who know our history understand that symbols can evolve over time. The swastika was also a sign of of well-being in ancient societies, including those in India, China, Africa, native America, and Europe, until it was co-opted by Adolph Hitler and the Nazis in 1920.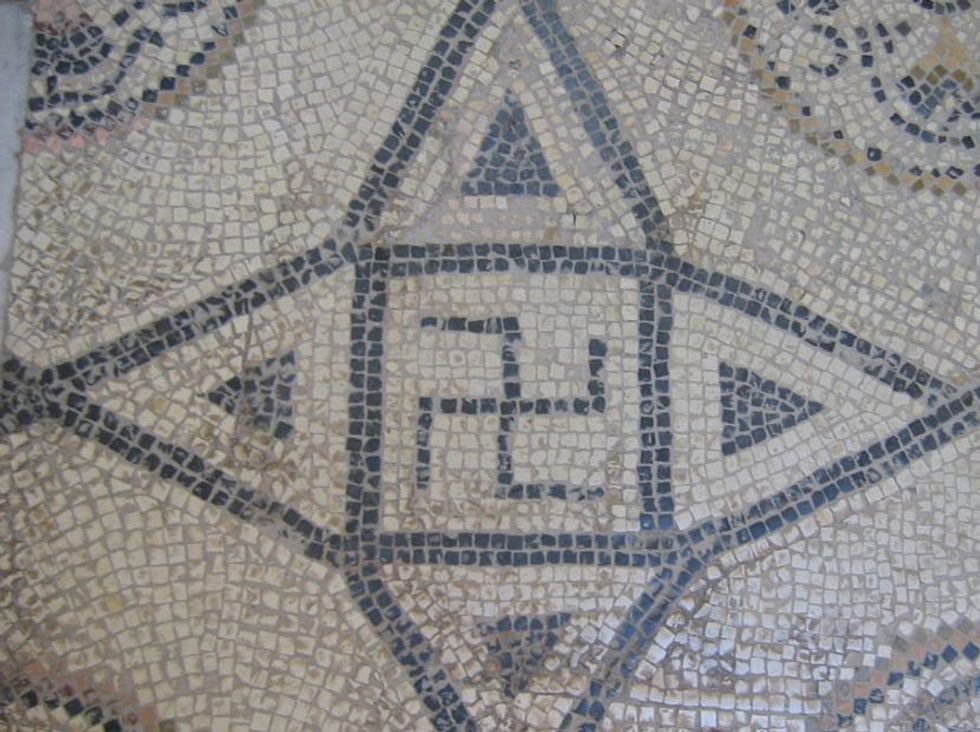 Swastika from Roman mosaic II cent. A. D. Sousse Tunisiavia Wikimedia Commons
popular