Planet
Bill Nye launches experimental satellite that runs on solar power, sails around space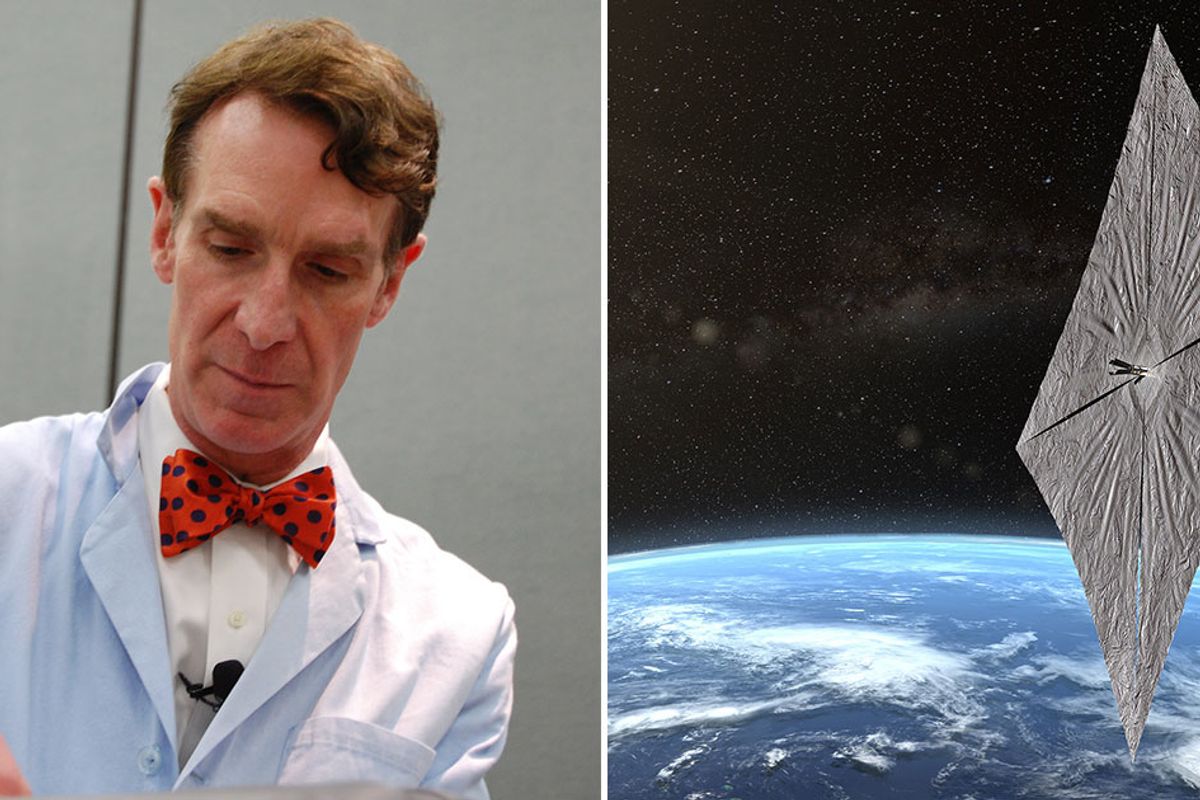 Wikipedia / LightSail2
Sometimes the most advanced forms of technology are also the simplest. The LightSail 2, a satellite conceived by Bill Nye's non-profit Planetary Society, has proven that a satellite can orbit the Earth fueled completely by the sun. The concept, dreamed up 400 years ago by Johannes Kepler, has finally become a reality.
MISSION SUCCESS! We just raised our orbit around Earth using sunlight alone, something that's never been done bef… https://t.co/0x09DKXolT

— Planetary Society (@Planetary Society) 1564599961.0
The LightSail 2 doesn't run on solar panels but instead solar sailing – an entirely different concept. It's kind of like a sailboat, but instead of using wind to make it move, it's powered by photon particles from the sun that bounce off of a sail made from a large reflective surface. The photon particles give it a "tiny push no stronger than the weight of a paperclip," Nye told CNN.

---
Photons (aka light particles) have no mass, however they do provide momentum and can be used to push the satellite through space. "It's counter-intuitive, it's surprising, and to me it's very romantic to be sailing on sunbeams," Nye said.
Years of computer simulations. Countless ground tests. They've all led up to now. The Planetary Society's crowdfund… https://t.co/WKW3Tlg5eF

— Planetary Society (@Planetary Society) 1564600135.0
The LightSail 2 was completely crowdfunded. Nye and Neil deGrasse Tyson launched a Kickstarter campaign in 2015, which raised over $1.2 million for the project. All in all, the project cost $7 million, which took 10 years to collect. 50,000 supporters from 109 countries contributed, getting the most valuable return on investment of them all.
"The type of return on investment these people get is just knowledge," Planetary Society COO Jennifer Vaughn told CNN. "It's capability. That's the kind of returns these people are looking for."

A perfect day for sailing! Images from the spacecraft confirm the solar sails deployed on 23 June 2019 at 11:47 PDT… https://t.co/81pEB3RJbb

— Planetary Society (@Planetary Society) 1563997439.0
As of now, Nye said there are no plans to do a third light sail. However, the success of the LightSail 2 could mean the technology gets incorporated into larger projects, such as those that extend beyond the orbit of the Earth. Nye wants to see the LightSail 2 complete exploratory missions such as those that monitor the sun and provide warning of solar flare-ups.

"Solar sailing is in its infancy, but it may become a game-changer," Nye said in an interview with Digital Trends. "We'll soon be able to send our solar sail spacecraft to all sorts of destinations in our solar system, and perhaps to another star system one day."
SAIL DEPLOYMENT COMPLETE! We're sailing on SUNLIGHT!!!!! https://t.co/PA74NMa7Ry

— Planetary Society (@Planetary Society) 1563909475.0
The LightSail 2 will orbit the Earth for a year and you can track its progress via a new dashboard here.