College is expensive. Parents work multiple jobs, put pressure on their children to perform at the top of their class in order to earn merit scholarships, all in the hopes for college to be mostly paid in full. Inevitably many students and parents have to take out student loans in an effort to fill in the gaps left by financial aid.
In the case of one Twitter user, Michelle Miller, her mother agreed to pay back half of Michelle's student loans to ease the burden on the new graduate. After graduation the daughter owed approximately $30,000 and, split between the two of them, it meant they would each need to pay back $15,000.
Michelle lamented on Twitter about how her mother insisted on paying back her agreed-upon portion of the student loans though the daughter offered to take over payments. When Michelle's mother informed her that the original $15,000 turned into $40,000 after interest, Michelle decided to save money in preparation to take over payments. However, her mother refused to allow it. Miller's mother was expected to pay $400 a month on the student loans, but this would cut into her retirement, leaving her below the poverty level. To her mother, it was worth it to hold up her end of the bargain. Unfortunately her mother became unexpectedly ill and passed away before she was able to retire or pay back the loans. When going through her mother's paperwork after her death, Michelle was met with a shock.
The loan amount had doubled. Michelle's mother hid that the interest rate on the loans had brought the grand total to $80k that she could never afford to pay back. But this story is not unique. Many borrowers go into debt thinking the benefit of the degree will outweigh the burden of student loan debt but the cost of an education continues to skyrocket and the interest rate on loans makes paying it back nearly impossible. When you go to school and take out loans, you expect to be able to afford monthly payments and hope to pay it back in a timely manner, eventually freeing up income, but that's not always the case. A lot of people find themselves in a similar situation as Michelle's mother. They take out a dollar amount that is repayable, only to look up and see they've repaid the original balance but they still owe more than they originally agreed to borrow.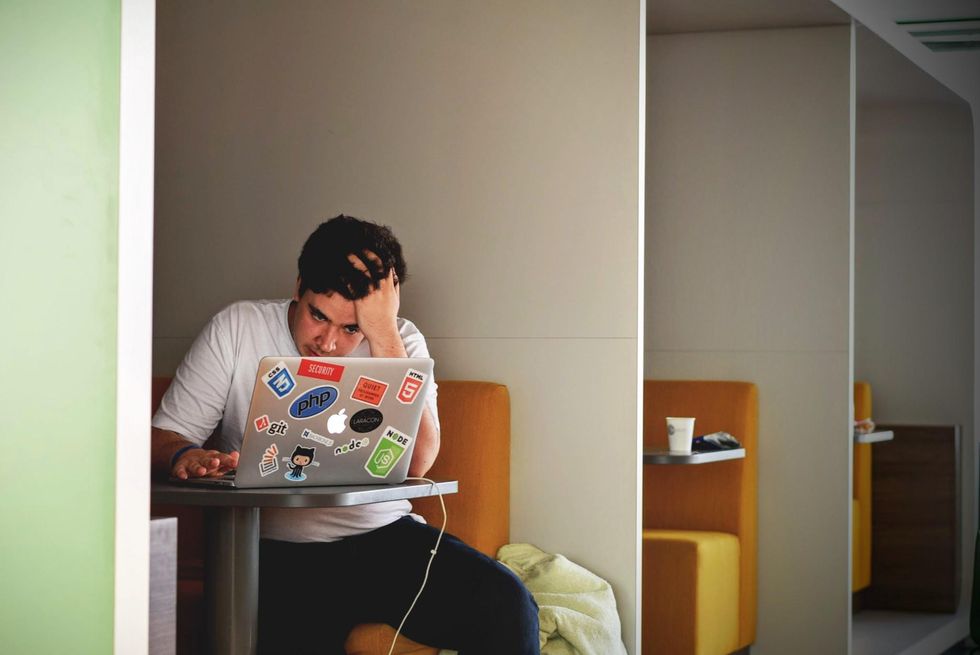 man wearing white top using MacBookPhoto by
Tim Gouw
on
Unsplash
If stories like Michelle's are the norm, why aren't we doing more to regulate student loan companies? Presidential candidates like to talk about student loan forgiveness, and some have come up with actionable plans, but it doesn't solve the long term issue of student loan practices. The truth of the matter is that children who three months prior had to ask permission to use the bathroom are now expected to understand the long term implications of borrowing money from a company that doesn't care that the average person can't pay it back plus interest.
Seventeen- and 18-year olds with a dream of attending college and questionable loan practices is a perfect storm for continued crisis in the student loan arena. Until we can figure out how to better regulate the lending companies in charge of student loans, the next generation will repeat the cycle. People shouldn't have to choose between pursuing their dreams and taking debt to the grave.
Aging is a weird thing. From one perspective, it's something we should be grateful for. Few people would wish for the kind of short, uneventful life that would remove aging from the equation completely. The longer we live, the more we grow and learn and experience life, and "aging" is simply the mathematical sum of those experiences. All good, right?
On the other hand, our society does everything in its power to hide the fact that aging happens. Especially when it comes to women. According to Statista, the global anti-aging beauty market is estimated to be worth $58.8 billion. People will try all manner of creams, serums, masks, acids, lights, technologies and surgeries to try to prevent wrinkles, lines, sagginess, spots and other signs that our bodies are changing with time.
Most of us live our daily lives somewhere in the middle of these two realities, wanting to embrace our aging selves but also hoping to stave off some of the more obvious signs that we're getting older. It's natural to resist it in some ways, since the older we get, the closer we get to the end of our lives, which we certainly don't want to hasten—especially if we actually love living.
It can be helpful to see people who are embracing their age, which is why it can be inspiring to see someone like former supermodel Paulina Porizkova confidently sharing photos of her 57-year-old self.
In posts on social media, Porizkova shared a photo of herself in a bikini and a screenshot of a comment made by a person who felt the need to comment on her aging body. And phew, was it something. The commenter wrote:
"You must be in so much pain to keep posting bikini pictures at your age. I've always thought that getting old and ugly is hardest on the pretty people. The fall from grace is so much farther when you were beautiful. Ugly people were always ugly so getting old and ugly isn't a change. In summary, I feel your pain. I pray you can come to terms with your mortality. We all get old and ugly…you just had to fall from a greater height than the rest of us. Tears Times Infinity!"
So many things to unpack here.
Porizkova shared her thoughts on the comment on Instagram.
A thoughtful reader comment on IG need an equally thoughtful response.\nThank you for feeling my pain, rickaroo777. As you can see, I\u2019m suffering indeed.pic.twitter.com/mWijP55iAS

— Paulina Porizkova (@Paulina Porizkova) 1651241361
"Here's a good follower comment- echoing a few others," Porizkova wrote. "A woman of 57 is 'too old' to pose in a bikini - no matter what she looks like. Because 'Old' is 'Ugly.' I get comments like these every time I post a photo of my body. This is the ageist shaming that sets my teeth on edge. Older men are distinguished, older women are ugly."
"People who believe prettiness equals beauty do not understand beauty," she continued. "Pretty is easy on the eyes, partly because it's a little bland, inoffensive. It's easy to take in and easy to forget. Not so beauty. Beauty can be sharp. It can wound you and leave a scar. To perceive beauty you have to be able to SEE."
"This is why I believe we get more beautiful with age," she added. "We have earned our beauty, we understand what it is, and we can see it so much better. There is no such thing as ugly and old. Only shortsighted and ignorant."
On Twitter, Porizkova was a bit more sarcastic, writing, "Thank you for feeling my pain, rickaroo777. As you can see, I'm suffering indeed."
That tongue-in-cheek response prompted others to share their aging selves in photos, sharing how their "old and ugly" phase of life is going. The thread turned into a veritable celebration of middle-to-late age, with posts about how much more comfortable people feel in their bodies as they get older and the freedom that comes along with not caring what other people think.
You suffer beautifully
There are two big ironies with the original trolling comment. Most obviously, Porizkova obviously looks freaking amazing in a bikini, so the whole "ugly" and "fall from grace" line of thought is object and off base. The second is that if you look through Porizkova's Instagram feed, she doesn't pose in bikinis very often at all. It's not like she's plastering her bikini selfies all over social media trying to make herself feel better about herself, as the commenter implies. She just…sometimes wears a bikini. Whoop dee doo.
Do it anyway! Every body is valid. Every body is a bikini body.pic.twitter.com/slDLHLWQo7

— \ud83c\uddfa\ud83c\uddf8Noel Giger\ud83c\uddfa\ud83c\uddf8 (@\ud83c\uddfa\ud83c\uddf8Noel Giger\ud83c\uddfa\ud83c\uddf8) 1651248625
People don't have to wear bikinis if they don't want to. But to tell strangers what they can wear crosses a line. All bodies are bikini bodies, and if the person in the body wants their body to be in a bikini, more power to them.
The "suffering" and "pain" in the posts were so funny to see.
I'm 49 and I haven't yet put on a bikini. Steph, thanks for showing me it's not too late! Tho, somehow I feel like I won't fill it as well as you & Paulina. But it's all about attitude, right? So let's the 3 of us hit the beach! (I'll stay in the shade of an umbrella, tho.)

— Spark The Genius (@Spark The Genius) 1651262083
The thread brought inspiration to those who may fall prey to the idea that people shouldn't wear certain things after a certain age or that only people with certain body sizes or shapes should wear certain things.
The hashtag #oldandugly started trending as people responded to Porizkova's call for a celebration of aging beautifully.
"Todays thread has been my absolute favorite of all time," Porizkova wrote on Twitter. "Thank you all you 'old and ugly' women (and a few men) showing the world how much we 'suffer' at in our old age. You're all breathtaking!"
The love continues! 57 and proud! Keep posting your wonderful beautiful selves and tag #oldandugly so we can keep sharing the pic.twitter.com/Veg72kQOqt

— Paulina Porizkova (@Paulina Porizkova) 1651454555
May we all age beautifully and gracefully in whatever way those words are meaningful to us, and show those who think that aging means "suffering" and "pain" due to being "old and ugly" that they have no idea what they're talking about.
(And here's an extra shout-out to Porizkova for using her beauty and her age to make an important point—not only about celebrating getting older, but also about how propaganda works. Brava.)
From Your Site Articles
Related Articles Around the Web
Get stories worth sharing delivered to your inbox
Get stories worth sharing delivered to your inbox