Heroes
New Anthony Fauci interview shows he's a unifying hero bringing concerned Americans together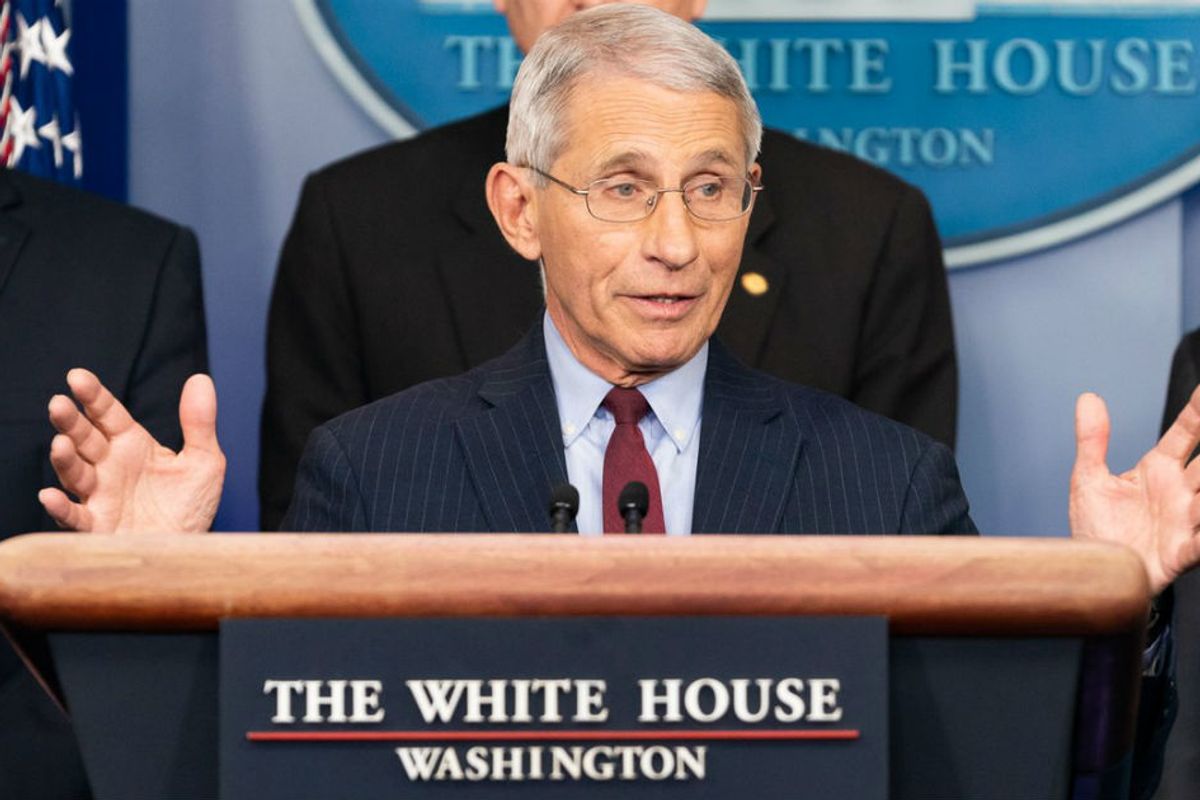 Anthony Fauci is a name that will come to define this generation. The 79-year-old head of the National Institute of Allergy and Infectious Diseases was most likely preparing to wind down an already historic career having helped lead the fight against other world changing epidemics like AIDS and Ebola. But it is almost surely his work as the face in the war against the coronavirus for which he will be most remembered.
And it's increasingly obvious that the main reason Fauci will be seen as perhaps the leading hero of this pandemic is in the masterful way he has risen above politics, steered clear of the catastrophic governmental incompetence that has plagued this crisis and in how his honest, blunt and occasionally reassuring tone has helped steer our collective psyche into calmer waters.
Part of Fauci's job has been making the rounds giving interviews to a long list of media outlets. But it was an interview he gave on Tuesday that has so far best encapsulated the way his persona is bringing most Americans together, united against this terrible disease. Some highlights:
---
In an interview with Vanity Fair,Vanity Fair,Fauci offered some never-before-seen insights on what life is like at the forefront of battling the virus.
On how much he dealt with President Trump before the virus and how much he interacts with him now:
"Well, I had some interaction. And now I see him for at least an hour or more every single day ... I see him so often and for so long I almost never have to call him directly because I know that literally I'm within a few feet of talking to him if I want to anyway."
On he and Trump both being New Yorkers:

"He's an action person. I mean he likes to get things done. He doesn't want to waste a lot of time. He wants to just get right to it."
On navigating the pandemic in an era of heightened political partisanship:

"Well, I just stick very strictly to the science and the evidence base. I'm not new to this. I've been doing this now for over 30 years, starting with the HIV/AIDS issues with President [Ronald] Reagan, and I have found, and it's proven time and time again: stick with the science, stay completely out of the politics. I have no ideology. My ideology is health, public health, and science. You do that. You can make it uncomplicated. If you get involved in political rhetoric, then it gets complicated."
Fauci has regularly appeared on the Fox News Channel where they earlier were resistant to his claims about the threat of the virus. On how he reacts to an overly skeptical media and if that forces him to be political even in subtle ways:

"One of the great things about messaging is consistency. If you consistently stick with the science, sometimes you might be contradicting something that someone says and sometimes you may be agreeing with it, but as long as you're consistent with the science then you are fine."
Fauci has publicly disagreed with Trump on several occasions. Typically, that leads to someone quickly exciting the White House, either voluntarily or by direct order. But Fauci's position -- and relationship with Trump -- only seem to be getting stronger by the day. On if it's "tough" debating your boss when your boss is the commander-in-chief:

"Has it been stressful? Uh, yeah. This is a very, very stressful situation for everybody, including me."
And if he's ever worried those disagreements will cost him his job:

"Not at all. I take the tack that I will say what's true and whatever happens, happens. As a matter of fact, in fairness to him, the president has listened very carefully to what I've said. He's taken my recommendations almost invariably, and he has never really contradicted things that I have recommended to him. He listens. I mean, there's a lot out there in the press about conflict between the both of us. There's absolutely none. There really isn't."
Finally, Fauci explained what has been the biggest challenge so far. In short, other people:

"It wasn't any particular event that happened. It was just a realization a few weeks ago when the stress was overwhelming. I was getting 3,000 emails, a couple of hundred phone calls, every senator, every governor, every congressman wanted to speak to me and I was getting like two to three hours sleep. I realized then that I could not go on that way. I'm a very conscientious person. I like to answer calls. But I had to get myself used to the fact that I cannot do that. I've got to focus on what my primary responsibility is."
Read the full interview with Vanity Fair here.Vanity Fair here.