More
A server accidentally served a $5,750 bottle of wine and her manager told the world about it on Twitter.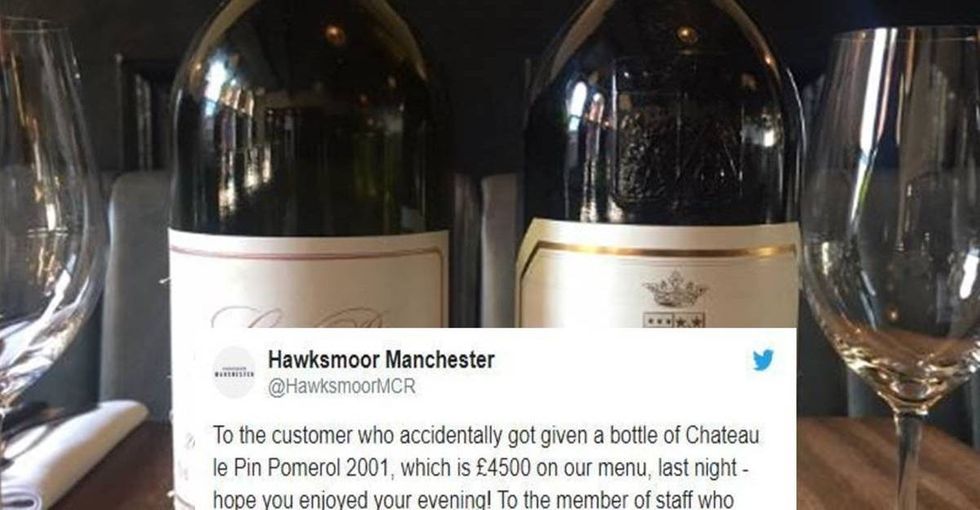 Ever screw up royally at work? There's nothing worse than that sinking feeling that comes when you realize you have to fess up to your manager. Next comes the uncertainty over whether you'll keep your job or not.
A server at the Hawksmoor Manchester steakhouse and cocktail bar in England went through that same experience recently. She accidentally served a customer a £4500 ($5750) bottle of Chateau le Pin Pomerol 2001 instead of the £260 ($33) Bordeaux they ordered.
The server's manager brought it to the world's attention on Twitter, and instead of chastising her, told her "One-off mistakes happen and we love you anyway."
---
To the customer who accidentally got given a bottle of Chateau le Pin Pomerol 2001, which is £4500 on our menu, las… https://t.co/9Gp3M7lGFF

— Hawksmoor Manchester (@Hawksmoor Manchester) 1557994534.0
The manager even went a step further and excused the mistake by saying the bottles "look pretty similar."
THEY LOOK PRETTY SIMILAR OK?! 😉 https://t.co/JWFW81cbe8

— Hawksmoor Manchester (@Hawksmoor Manchester) 1558006069.0
Hawksmoor founder Will Beckett later clarified the story to BBC News saying that the server had been working with a manager from another location because it was a busy night. The manager accidentally grabbed the wrong bottle and the customer apparently didn't notice the mistake.
Beckett said the server is "brilliant," but he's still going to "tease her for this when she stops being so mortified."
The story inspired some people to share the times when they screwed up at work and were let off the hook.
@Andrew_Taylor @otteradrift @HawksmoorMCR I once by accident released a £90k payment for work that hadn't been deli… https://t.co/BWKAaZMPq1

— YourFavBlackAuntie (@YourFavBlackAuntie) 1557996143.0
Others congratulated management for not punishing the server.
@HawksmoorMCR This is such a great way to deal with a member of staff who has made a genuine mistake - great to rea… https://t.co/UTAI3zImER

— DCC Serena Kennedy (@DCC Serena Kennedy) 1558028627.0
While others thought that drinking a £4500 bottle of wine was amoral.
@HawksmoorMCR @MAM12CP #Oliverscampaign just give me a glass of Prosecco I don't like or appreciate the posh stuff.… https://t.co/5S3ODmRFWC

— Paula McGowan (@Paula McGowan) 1558013752.0
The restaurant responded to the morally outraged by sharing the work it does for charity.
I'm sure you're all getting tired of this now, so one last thing, to the people who put homelessness in Manchester… https://t.co/REwhCS12oY

— Hawksmoor Manchester (@Hawksmoor Manchester) 1558010085.0