True
Making new friends as an adult is challenging. While people crave meaningful IRL connections, it can be hard to know where to find them. But thanks to one Facebook Group, meeting your new best friends is easier than ever.
Founded in 2018, NYC Brunch Squad brings together hundreds of people who come as strangers and leave as friends through its in-person events.
"Witnessing the transformative impact our community has on the lives of our members is truly remarkable. We provide the essential support and connections needed to thrive amid the city's chaos," shares Liza Rubin, the group's founder.
Despite its name, the group doesn't just do brunch. They also have book clubs, seasonal parties, and picnics, among other activities.
NYC Brunch Squad curates up to 10 monthly events tailored to the specific interests of its members. Liza handles all the details, taking into account different budgets and event sizes – all people have to do is show up.
"We have members who met at our events and became friends and went on to embark on international journeys to celebrate birthdays together. We have had members get married with bridesmaids by their sides who were women they first connected with at our events. We've had members decide to live together and become roommates," Liza says.
Members also bond over their passion for giving back to their community. The group has hosted many impact-driven events, including a "Picnic with Purpose" to create self-care packages for homeless shelters and recently participated in the #SquadSpreadsJoy challenge. Each day, the 100 members participating receive random acts of kindness to complete. They can also share their stories on the group page to earn extra points. The member with the most points at the end wins a free seat at the group's Friendsgiving event.

If you want to meet the group in person, NYC Brunch Squad, along with many other locally-based New York groups, is participating in the upcoming Facebook IRL event on December 2. This pop-up experience in New York City's West Village will provide a space to discover new hobbies, find new friends, and connect with others around the things they love.
Learn more about the event and sign up to attend here.
Not in the New York area but still want to get involved? As a result of NYC Brunch Squad's popularity, the group is expanding across the country.
"With a robust community established in NYC, we're now excited to announce our expansion with pop-up events in the works in 15 additional cities. What's more, we're launching a travel club, extending our mission to foster connections beyond the city limits and to help people build life-changing friendships in new and exciting places," Liza says.
If you're ready to make new meaningful connections, join NYC Brunch Squad! You might just meet your new best friends.
Education
They were doing trigonometry 1500 years before the Greeks.
via UNSW
Dr. Daniel Mansfield and his team at the University of New South Wales in Australia have just made an incredible discovery. While studying a 3,700-year-old tablet from the ancient civilization of Babylon, they found evidence that the Babylonians were doing something astounding: trigonometry!

Most historians have credited the Greeks with creating the study of triangles' sides and angles, but this tablet presents indisputable evidence that the Babylonians were using the technique 1,500 years before the Greeks ever were.
Mansfield and his team are, understandably, incredibly proud. What they discovered is that the tablet is actually an ancient trigonometry table.
Mansfield said:
"The huge mystery, until now, was its purpose – why the ancient scribes carried out the complex task of generating and sorting the numbers on the tablet. Our research reveals that Plimpton 322 describes the shapes of right-angle triangles using a novel kind of trigonometry based on ratios, not angles and circles. It is a fascinating mathematical work that demonstrates undoubted genius."
\u201cAussie mathematician cracks code of famous 3,700-year-old Babylonian clay tablet https://t.co/f7h6oIfBDr\u201d

— China Xinhua News (@China Xinhua News) 1503639811
"The tablet not only contains the world's oldest trigonometric table; it is also the only completely accurate trigonometric table, because of the very different Babylonian approach to arithmetic and geometry. This means it has great relevance for our modern world. Babylonian mathematics may have been out of fashion for more than 3,000 years, but it has possible practical applications in surveying, computer graphics and education. This is a rare example of the ancient world teaching us something new."
The tablet predates Greek astronomer Hipparchus, who has long been regarded as the father of trigonometry. Mansfield's colleague, Norman Widberger, added:
"Plimpton 322 predates Hipparchus by more than 1,000 years. It opens up new possibilities not just for modern mathematics research, but also for mathematics education. With Plimpton 322 we see a simpler, more accurate trigonometry that has clear advantages over our own."
"A treasure trove of Babylonian tablets exists, but only a fraction of them have been studied yet. The mathematical world is only waking up to the fact that this ancient but very sophisticated mathematical culture has much to teach us."
People were understandably excited by the news.
\u201cA 3,700 year olf Babylonian tablet revealed as the world's first trigonometry table https://t.co/AQlpsndM92\u201d

— The Conversation (@The Conversation) 1503613440
Some mathematicians actually think studying the Babylonians back then could help us improve the way we do trigonometry today.
\u201cBabylonian tablet Plimpton 322 will make studying maths easier, mathematician says https://t.co/s13ReWdD0c | @abcnews\u201d

— ABC Australia (@ABC Australia) 1503644411
\u201c"With Plimpton 322 we see a simpler, more accurate trig. (with) clear advantages over our own."\n@n_wildberger: https://t.co/xoZBNxvxZ8\n#TOK\u201d

— Roo Stenning (@Roo Stenning) 1503658186

Of course, there were the haters...
\u201cFind someone who loves you as much as this guy dislikes a hypothesis about Babylonian math: https://t.co/AznQgoYxFP\u201d

— Miles Brundage (@Miles Brundage) 1503605001
But all in all, Twitter users were pretty impressed with the Babylonians' skills.
And they figured it out 3,700 years ahead of me...and counting.— Marty (@Marty) 1503631905
\u201c@prophiphop And we're over here trying to figure out how to do trig with our TI-83s... man I love it when the ancients show what real intelligence is.\u201d

— Kenny Hayse (@Kenny Hayse) 1503633184
Congratulations to Dr. Mansfield and his team on their incredible discovery... and for making trigonometry exciting!
This article originally appeared on 07.10.21
Joy
He tries making himself so small in the kennel until he realizes he's safe.
Democracy
Your purchasing power can swing by 30% from state to state.
Get stories worth sharing delivered to your inbox
Health
A childhood game went very wrong.


A childhood game can go very wrong in the blink of an eye.
"You'll never get me!"
"Freeze! Put your hands up."
If you've ever played cops and robbers, you know how the game goes.
John Arthur Greene was 8 and he was playing that game with his older brother Kevin. Only the two brothers played with real guns. Living on a farm, they were both old hands at handling firearms by their ages.
The blast from the gun must have startled them both.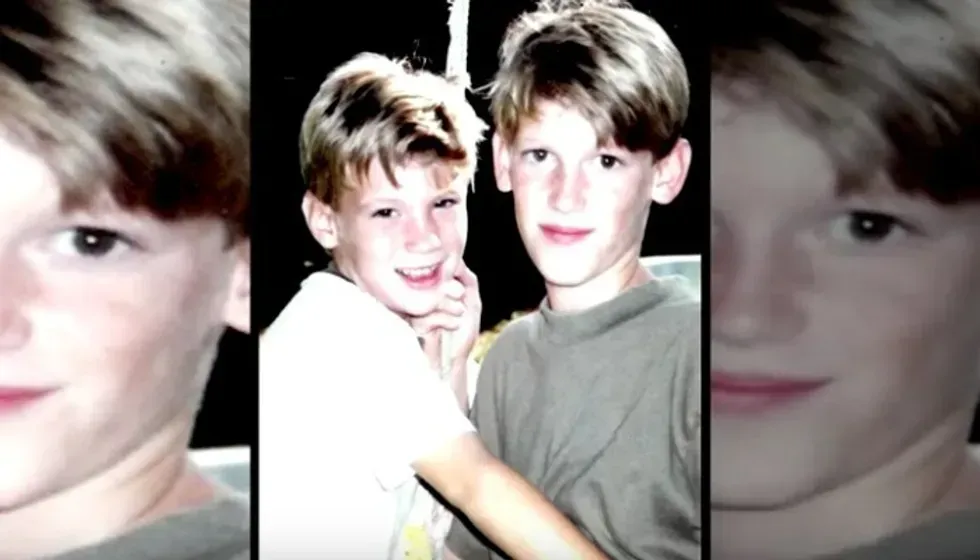 John Arthur Greene (left) and his brother Kevin.
Image from "American Idol"/YouTube.
"We were always extremely safe. They were never loaded," John said.
Except this time it was. And John's brother died in his arms while he watched.
It happens more often than you would ever want to imagine.
In federal data from 2007 to 2011, which is likely under-reported, an average of 62 children were accidentally killed by firearms per year.
Here's a chilling example from Everytown for Gun Safety:
"In Asheboro, North Carolina, a 26-year-old mother was cleaning her home when she heard a gunshot. Rushing into the living room, she discovered that her three-year-old son had accidentally shot her boyfriend's three-year-old daughter with a .22-caliber rifle the parents had left in the room, loaded and unlocked."
And the numbers may actually be getting worse.
With an increase in unfettered access to guns and philosophical opposition to gun regulations, the numbers seem to be on the rise. Here's how many accidental shootings happened at the hands of children in 2015 alone, by age: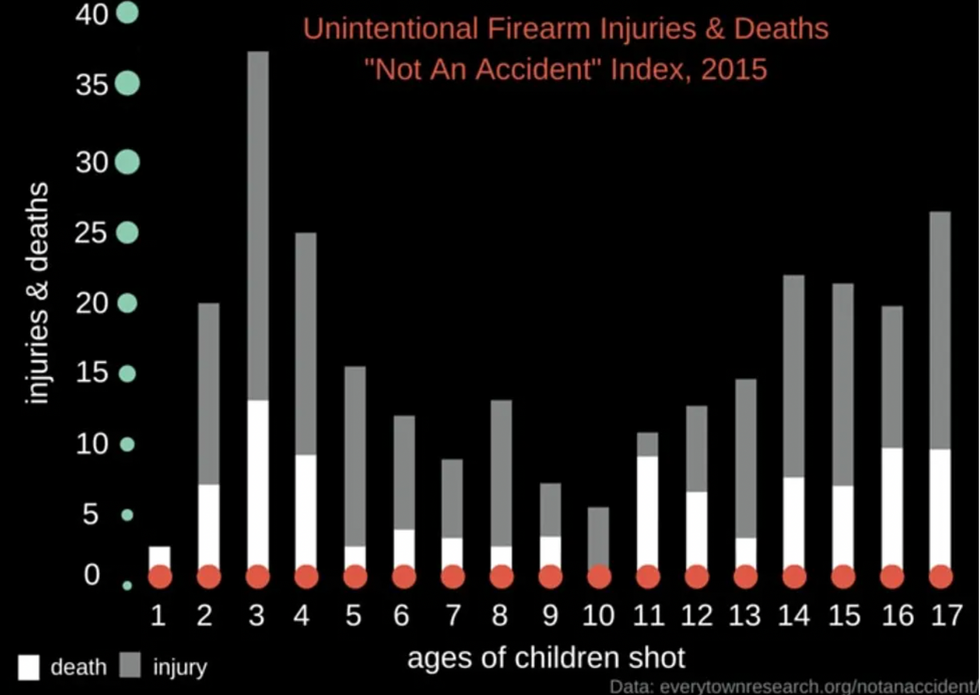 Unintentional Firearm Injuries & Deaths, 2015.
From January 19-26 of 2016 — just one week — at least seven kids were accidentally shot by another kid.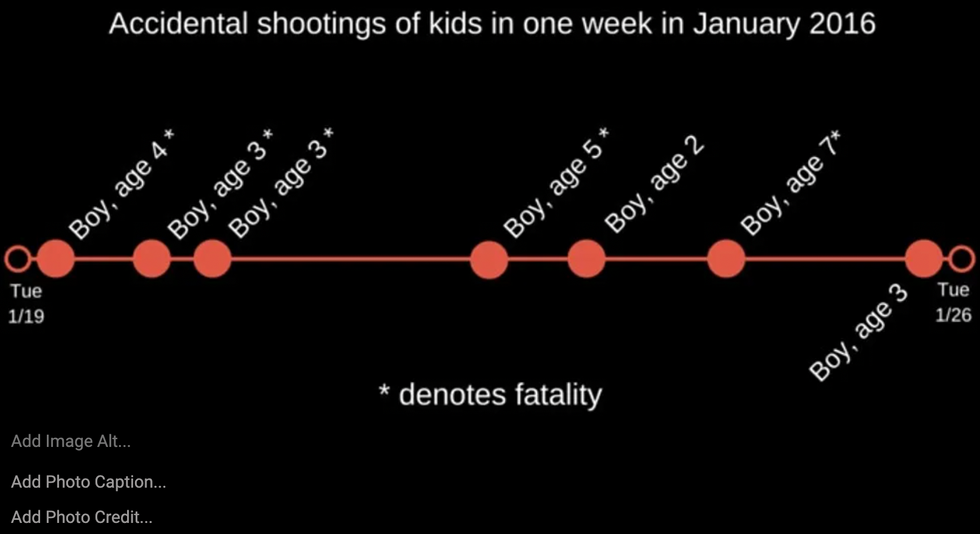 Accidental shootings of kids in one week, January 2016.
If the pace holds up for the rest of the year, America would be looking at over 300 accidental shootings of children, in many cases by children, for the year. That's far too many cases of children either carrying the guilt and pain of having shot a loved one or hurting or killing themselves by accident.
John Arthur Greene has been able to manage his feelings of guilt and sorrow through music and by sharing his story for others to hear.
He told his story during an audition for the final season of "American Idol." He says music has helped him keep his brother's memory alive:
"Right now I lift him up every day and he holds me up. Music is how I coped with everything."
It's a powerful reminder. No matter how we each feel about gun safety laws, guns should always be locked away unloaded and kept separately from ammunition.
Our babies are too precious to leave it to chance.
Watch John Arthur Greene's audition for "American Idol" here:
This article originally appeared on 03.07.16
via NASA
Back in the late '80s, NASA was looking for ways to detoxify the air in its space stations. So it conducted a study to determine the most effective plants for filtering the air of toxic agents and converting carbon dioxide to oxygen.
Get stories worth sharing delivered to your inbox