More
We'll start seeing more lasting peace when women get more seats at the negotiating table.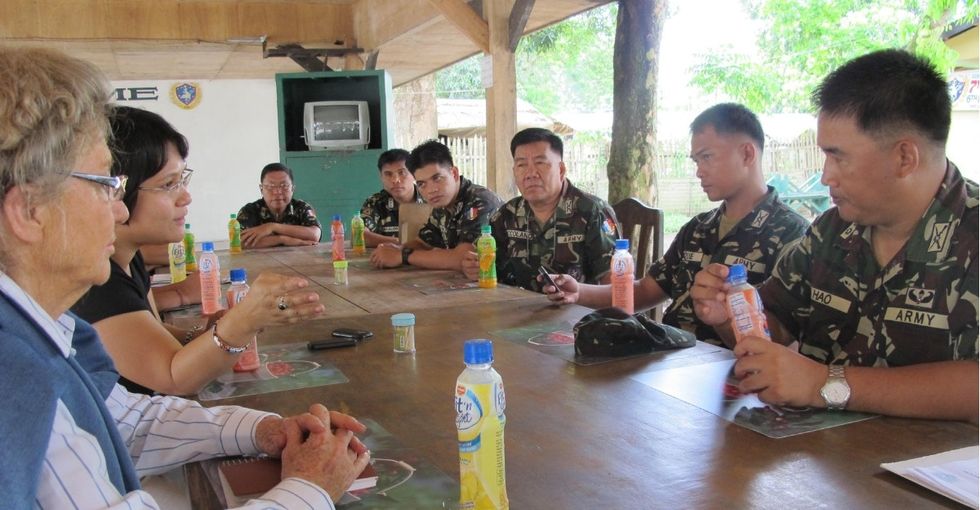 Peace agreements last 35% longer when women are involved in the negotiating process. But too often, they're not.
For most of human history, war and peace have been decided at tables full of men. But as the world moves slowly but surely towards more gender equality, the contributions of women to the peace process are becoming more prevalent and more visible. Women have always played a big grassroots role in building peace; they've just largely been excluded from formal decision-making processes that have the power to create lasting change.
Such exclusion has a cost for humanity. According to research shared by UN Women and the Council on Foreign Relations, peace agreements in which women meaningfully participate are 35% more likely to last 15 years or more. And yet between 1990 and 2017, women made up only 2 percent of mediators, 8 percent of negotiators, and 5 percent of witnesses and signatories in all major peace processes.
---
That's a problem.
Women are effective peacemakers, but multiple barriers still keep them away from formal negotiating tables.
Jennifer Bradshaw, Program Officer for Women PeaceMakers at the Joan B. Kroc Institute for Peace and Justice at the University of San Diego, says that safety and security are big obstacles for women working for peace. She told Upworthy:
"Given the countries and cultural contexts women peacebuilders are operating in, more times than not they are taking on greater security risks than their male counterparts. While this is the case, they are the ones who are not provided the security and protection they need to build peace. What is more, they are often the caretakers of dependents — and hold a greater level of responsibility to ensure their children and extended family are safe. Women peacebuilders have to make decisions around building peace, or taking on great personal risk to themselves and/or family, or even flee their country to seek refuge."
Another barrier stems from "traditional power structures where "big men" still dominate," says Bradshaw. "In such societies, women are viewed as second-class citizens and excluded from any areas of influence and power—and, even if they manage to enter these areas, views or concerns marked as 'feminine' are less likely to be taken seriously."
Women also struggle to get the funding and support they need to get to the table, Bradshaw adds:
"Even if all other obstacles are removed for women, at the end of the day, they still need support and resources to be physically present at the peace building table. Unfortunately, women do not have access to simple things such as funding to purchase plane tickets and lodging to be present at peace talks. Or visa regulations are preventing them from being present in countries where peace talks are occurring (e.g., Yemen peace talks being held in Sweden). These obstacles are keeping out vital voices and perspectives, and ensuring only a small subset of society, the elite, are present at peace talks."
Programs like Women PeaceMakers and Women Waging Peace provide support for women doing this important work.
The Kroc School at University of San Diego is deeply invested in women who are building peace locally and globally. Its Women PeaceMakers program, which is in its seventeenth year,  works with leading women peacemakers from around the world to collaborate on improving peace efforts. In 2016, the school became home to the Women Waging Peace network, and the two programs bring together over 1,000 women peacebuilders from 55 different countries to share insights and opportunities.
"We work alongside women who are countering violent extremism, protecting human rights, building transparency and rule of law within their governments, helping re-educate and reintegrate former militarized soldiers, negotiating local and global peace agreements, bringing vital perspective to traditional security and military operations and operating directly within the security sector," says Bradshaw.
"We work with these women to document their stories and insights, learn and share their lessons, connect them with each other to amplify their impact. Together we develop powerful new strategies to end violence and build peace on both local and global scale."
On International Women's Day March 8, four extraordinary women will share their peacemaking insights.
The Kroc school's Women PeaceMakers Fellowship supports the work of extraordinary women peacebuilders. The fellowship is a highly competitive program for women who have been working on the front lines of conflict for 10 to 20 years, and four are chosen each year from 100 to 150 applicants.
Four previous fellowship recipients are taking over the @WomenPeaceMaker Twitter account for International Women's Day, sharing their stories and experiences and lessons, and engage in conversations.
Bradshaw says the social media takeover is an effort to amplify the voices of women peacemakers doing extraordinary work most of us don't see: "These are voices that are often silenced, dismissed and ignored. This is despite the vitalness of their expert words, insights and knowledge on how to build more peaceful communities."
Here are the women taking over the @WomenPeaceMaker account:  
Wazhma Frogh (@FroghWazhma) of Afghanistan. She is the director of the Women & Peace Studies Organization, one of the few civil society organizations in Afghanistan that is working for women's inclusion in security sector reform processes, with a particular focus on women in the police force.
Jane Anyongo (@nyasigoti) of Kenya. She is the founding director of the Polycom Development Project, based in Africa's largest informal settlement, Kibera, and the founder of Kibera Women for Peace and Fairness.
Stella Sabiiti of Uganda. She is the founder of the Center for Conflict Resolution, an NGO addressing conflicts in the Horn of Africa and Great Lakes Region. In 2012, she joined the AU's Women, Gender and Development Directorate (WGDD), strengthening African women's voices to be heard in peace processes within the framework of United Nations Security Council Resolution 1325 and the AU's Gender Architecture (AUGA).
Irene Santiago (@irenesantiago) of The Phillippines. She is Chair Emerita and CEO of the Mindanao Commission on Women, and convener of the national Mothers for Peace movement. She is well known internationally as a strong advocate of gender equality to transform society.
We can support women working for peace by amplifying their voices and sharing the contributions they make to build peace around the world. We can also find ways to work for peace in our own communities and countries.
"We all have the potential to be peacebuilders," says Bradshaw. "If you ask any of our women peacebuilders we work with, they believe they are average people. They are average people who made important decisions at key points. Anyone can do this. So when you see injustice, oppressions, violence — do not ignore it. Do not be complacent, do not shy away from having hard conversations — the time for this is over."