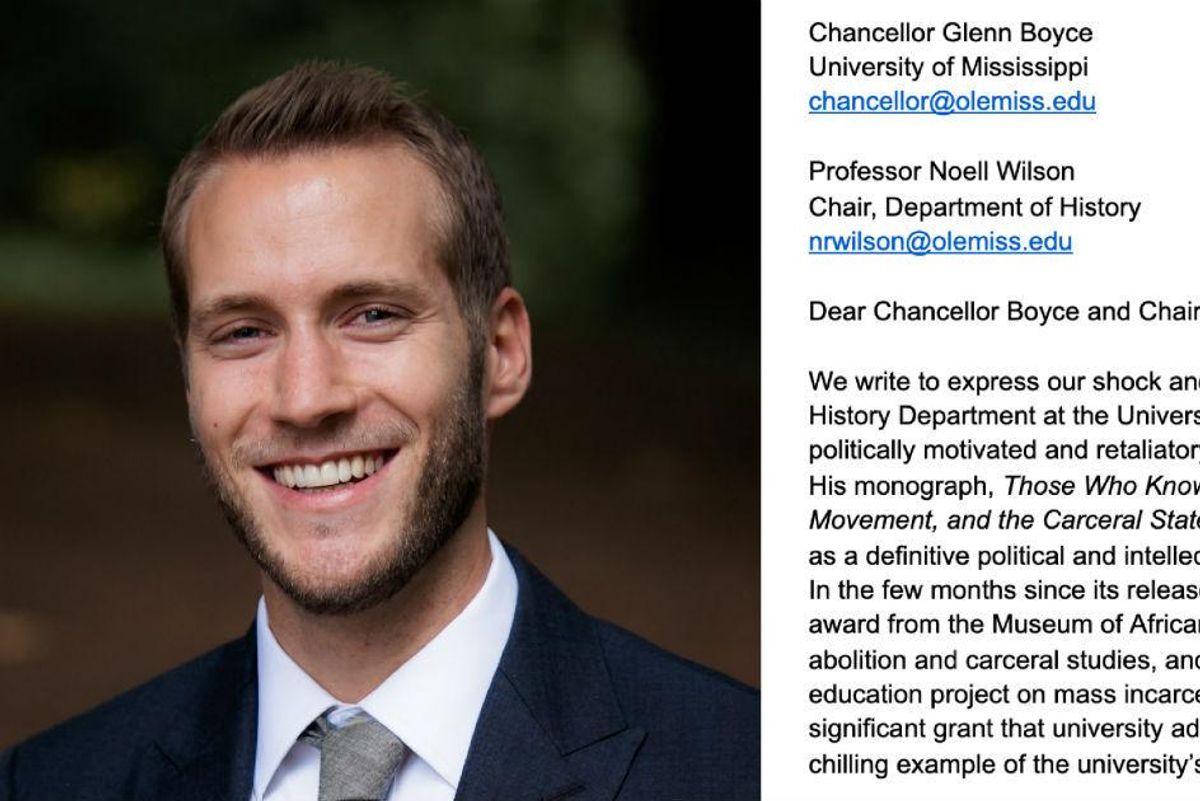 Dr. Garrett Felber/Image via University of Mississippi
Up until last week, Dr. Garrett Felber was on track to become a tenured history professor at the University of Mississippi. Dr. Felber studies race and incarceration in the U.S. and is a dedicated advocate for people who are imprisoned. He's also a published author, having written "Those Who Know Don't Say: The Nation of Islam, the Black Freedom Movement and the Carceral State" and co-written "The Portable Malcolm X Reader" with Pulitzer Prize-winning Malcolm X biographer Manning Marable.
In August, Felber was awarded a one-year fellowship at Harvard University's Hutchins Center for African and African American Research and is working there during the 2020-2021 school year. Dr. Noell Wilson, University of Mississippi's history department chair, praised Felber for the award at the time.
"Garrett is an indefatigable researcher and community builder whose knowledge of the carceral state stems not merely from archival digging, but also from his volunteer engagement with prisons as a teacher," Wilson said. "We are thrilled with this award because it both recognizes his national profile in the field of African American history and provides critical space for him to advance two pioneering interpretive projects."
Four months later, Wilson notified Felber of his termination.
---
In a letter dated December 10, the department chair informed him that his employment with the university would be terminated as of December 31, 2021. Though she cited communication issues between her and Felber in her letter, some believe his termination has more to do with his speaking out about the university kowtowing to racist donors.
Felber has been involved with a project called "Study and Struggle," which he describes as a political education project on mass incarceration and immigrant detention. Wilson rejected a grant for the project in October, saying it was a political instead of historical project and might jeopardize department funding.
"The real issue is that (UM) prioritizes racist donors over all else," Felber tweeted. "So it's not some mythic politics v. history binary, but that this antiracist program threatens racist donor money. And racism is the brand. It's in the name."
A statement from the university's communications office said that the grant refusal "was made after several considerations and in consultation with the relevant campus offices. Dr. Felber did not follow the appropriate process for seeking external funding, a process for which he has been briefed individually by representatives of several administrative offices across campus. Dr. Felber submitted his proposal to a private charitable foundation without the knowledge of his department chair or other officials."
"If he had followed UM's process of engaging with external funders," the statement continued, "his department chair would have had the opportunity to advise him on how best to align his proposal with the Department of History's research, teaching and service mission as articulated in its mission statement. As a public research institution, the university is committed to supporting the work of all faculty, being good stewards of both public and private grants and ensuring that all work on behalf of UM aligns with the mission of our collective schools and units."
However, at a time when anti-racism research, education, and academic projects are under attack—not just by society but by the federal government—it's hard to separate what might be legitimate personnel issues and what might be pressure from funding soruces.
Another UM professor told the Mississippi Free Press: "Feel free to note the increasing levels of paranoia on campus." Professors from around the country have come to Felber's defense, with some even having predicted that his anti-racist academic work would lead to Felber being ousted.
While some scold academia for being intolerant of views that don't align with "liberal" thought, the opposite can be just as true, especially where money is involved. While the University of Mississippi has made some strides in coming to terms with its racist history, the roots of racism run deep.
"I'm just so deeply dismayed by the willingness of faculty and administrators at all levels of the university who acquiesce to the will of these powerful racist, donors," Felber told the Mississippi Free Press in October. "Individually, these people will continue to tell me they respect the work, and appreciate it, and support it, and will until the push from above comes, and then they willfully misrepresent and do things like what my chair did."
"It's all very calculated and it feels—it's not just structurally racist, it's also personally betraying to say that you support these things, then when it actually matters they always acquiesce. It just has a profound effect on all of us doing the work to actually continue to do the stuff that matters and not get mired in calling the university out for its lies continually. The people that that harms the most are the people who benefit from these projects. People who are already excluded from the university through structural racism."
When asked what people can do to support him, Felber has encouraged people to donate to a campaign to buy toiletries for people who are incarcerated in Mississippi.
That's called putting your money where your mouth is. The world—academic and otherwise—could use a whole lot more of that kind of integrity.