Culture
The first trailer showing Tom Hanks as Mr. Rogers is here, and the world can't handle this much goodness
We need more Mister Rogers in our lives.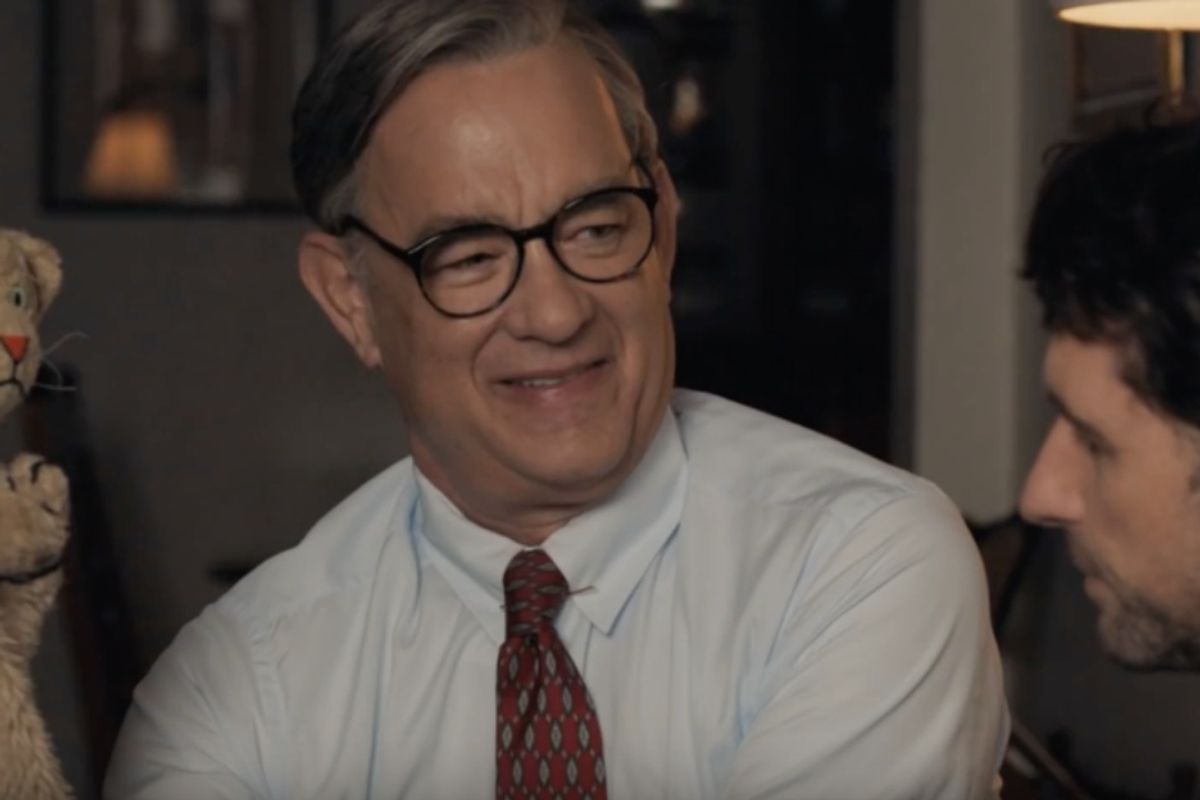 Sony Pictures Entertainment/YouTube
A BEAUTIFUL DAY IN THE NEIGHBORHOOD - Official Trailer (HD)www.youtube.com
As a child, I spent countless hours with Mister Rogers. I sang along as he put on his cardigan and sneakers, watched him feed his fish, and followed his trolley into the Land of Make Believe. His show was a like a calm respite from the craziness of the world, a beautiful place where kindness always ruled. Even now, thinking about the gentle, genuine way he spoke to me as a child is enough to wash away the angst of my adult heart.

Fred Rogers was goodness personified. He dedicated his life not just to the education of children, but to their emotional well-being. His show didn't teach us letters and figures—he taught about love and feelings. He showed us what community looks like, what accepting and including different people looks like, and what kindness and compassion look like. He saw everyone he met as a new friend, and when he looked into the camera and said, "Hello, neighbor," he was sincerely speaking to every person watching.
---
Though I'd never met him, I cried the day he died. I loved Mister Rogers. Losing him felt like losing a childhood friend.
When I heard that Tom Hanks was going to play him in a biopic, I said, "Yes, of course. How perfect." A dream come true. Goodness upon goodness.
And now the much-anticipated day has arrived. The first trailer for "A Beautiful Day in the Neighborhood" is here, and it's everything I imagined it would be. Honestly, I'm not sure if the world can even handle this much goodness. I barely can.
The movie, set to be released at Thanksgiving, loosely follows the true story of a journalist who wrote a profile of Fred Rogers for Esquire in 1998 and whose entire life perspective was changed by the experience. I watched the trailer this morning, and within the first three seconds—just upon hearing Hanks say, "Hello, neighbor"—the tears started to flow. I couldn't help it. This right here—the story, the man, the gorgeous goodness of it all—it's just everything.
I know that might seem over the top, but I honestly don't care. Mister Rogers taught me to express my feelings, and doggone it, I have big feelings about this.
The more I've learned about Fred Rogers as an adult, the more I've come to realize what a precious gift he was to humanity. The TV personality wasn't an act—who Mister Rogers was on his show is who he was. Tom Junod's Esquire piece gives us a glimpse of Rogers' unique personality—his faith, his "fearlessness," and his "unashamed insistence on intimacy." The excellent documentary, "Won't You Be My Neighbor," also offers behind-the-scenes footage where we see that fearlessness and intimacy in action. No one could say a bad word about Fred Rogers, which is almost unheard of. How often do our heroes turn out to be exactly what they appear to be?

Mister Rogers was a national treasure, and we need him more today than ever. When I see people trying to justify prejudice and racism and lacking compassion for people who are suffering, I think, "You need a little more Mister Rogers in your life." When I see people who deride emotional sensitivity as weakness and dismiss courtesy and consideration as "political correctness" I think, "You could use a little more Mister Rogers in your life." When I see cruel, childish name-calling coming from grown-ups in power, I think, "You clearly didn't get enough Mister Rogers in your life."
Tom Hanks as Fred Rogers is just the balm the world needs right now to remind us what goodness truly looks like.
Now pardon me while I go binge watch this trailer on repeat with my box of Kleenex.